New year, new you. It's that time of year, reinvention, renewal, and of course, revamping your look…starting with your accessories collection. After all, it's the details that make the outfit. So to make things easier, we've gathered the top trends for the coming year so that your style and shine stay ahead of the game.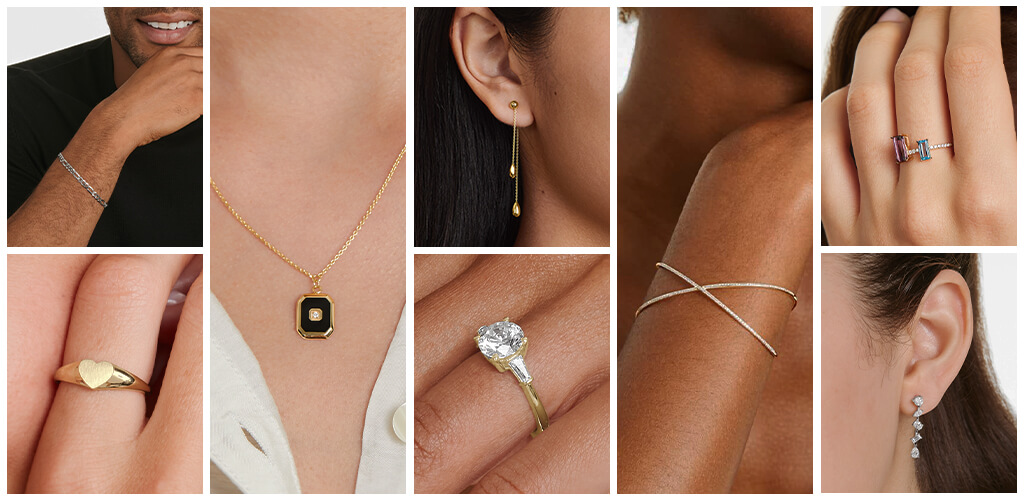 Jewelry Trends We Expect To See In 2023
Every year different looks make their way to the forefront of fashion. It's no different with jewelry. This year we're seeing lots of color, shine, and personal expression. The best part is that all these trends involve timeless classics, making each one a drool-worthy purchase.
We all know it is the accessories that complete the look. So check out these unique pieces and create a look that makes a statement.
Top Trends at a Glance
Silver's Back
Pearls & More Pearls
Cocktail Rings
Drop Down Earrings
Cuff Bracelets
Punk Pieces
Signet & Pinky Rings
Enamel Accessories
Silver's Back
Sumptuous silver is back! (But did it ever really leave?) Not that gold is going anywhere, but 2023 is giving silver its moment in the spotlight. This budget-friendly metal looks fabulous alone or mixed with other metals for a nice, layered look. Silver chains, in particular, create a modern vibe perfect for literally anyone. Check out these options below and get your silvery shine on!
The More Pearls, The Better
Have pearls ever really been out of style? We say no! Thankfully, pearls are getting their due this year as a top trend. Pearls on pearls on pearls, wear them on your ears, your wrist, your neck, and your finger! Give your pearls some pearls! What we love most about pearls is not just how classic and timeless they are but that they are pretty versatile too!
Pearls are perfect for Sunday brunch with the in-laws, yet they can be styled up for an endless night of dancing with the girls. Whether you prefer a classic string of pearls, a modern necklace, or a pearl enhanced by dazzling diamonds, we have the perfect pearl piece for you (say that three times fast!) See some of our favs below and check out more pearl jewelry here!
Cocktail Rings
Better believe that cocktail rings are at the top of that comeback list. Known for their fabulosity, cocktail rings make a fashionable statement with minimal effort.
Cocktail rings are larger than your average ring and were originally intended for special occasions. And while they are perfect for such events, we say wear them everywhere! Amp up an everyday outfit with a colorful cocktail ring. After all, happy hour has no limits with the fabulous accessories!
Drop Down Earrings
Earrings are making a comeback, and this year the runways were filled with long, dangling earrings. Not only do they elongate the face, but drop down earrings can go from casual to dressy and are always elegant. These effortlessly luxurious accessories are easy to wear, work with your hair up or down, and are simply a must-have.
Cuff Bracelets
Who doesn't love a cuff bracelet? One piece that just pulls a whole look together makes a statement and is endlessly stylish. Oh, and it's trendy now too? Fab! Wear them right on your wrist or higher up on your arm. Stylization is all you! Dainty or big, dazzling or minimalistic, a cuff is the perfect way to elevate any look. Check out some inspo below.
Punk Pieces
Punk is back baby! If you loved the bold shapes and looks of the punk era, then you will love 2023. With sharp shapes and mixed metals, the counterculture is making its way right into the mainstream. Get on board with the Westwood-inspo and try on these picture-perfect punk looks for size.
Signet & Pinky Rings
Have you thought, what is a signet ring? And how do I pull off a pink ring anyways? We're here to help! Signet rings, simply put, are rings bearing a mark or seal, and are frequently worn on the pinky finger. Signet rings are part of the perfect pinky ring category.
Pinky rings aren't just for the Godfather anymore. Pinkies provide one more opportunity to make a stylish, sparkling statement. There's a reason it's called the power pinky. Some argue pinky rings are the most feminine piece of jewelry one can wear. Dating back to the suffragette movement, back then women wore them as a symbol of self-love, and we are here for it!
Enamel Accessories
Dating back to Mycenaean goldsmiths of the 13th century, the decorative art of enameling jewelry became particularly popular during the 1920s Jazz Age, when flapper girls wore jewelry and vanity cases accented with graphic blocks of color.
Now in 2023, these vibrant enamel accessories continue to prove a popular choice among jewelry lovers. This is a trend that's been growing over the past few years, and doesn't seem to be going away anytime soon!
FAQs
Are pearls in style in 2023?
Yes, yes, and yes! While pearls are timeless and never really go out of style, in 2023 pearls are making a major statement as part of this year's jewelry trends. From a classic string of pearls to big bold pearls and everything in between. Mix your pearls with diamonds and gold or let them shine on their own, pearls are back in a big way, and you won't want to be left out of this gorgeous trend.
What jewelry will increase in value?
Jewelry made with diamond, gold, platinum, and even silver is likely to increase in value thanks to the rareness of the materials. Pieces with a more classic look will also retain their value better than pieces considered to be more trendy.
What jewelry does not depreciate?
Generally, fine jewelry does not depreciate and, in some cases, can appreciate or increase in value. Jewelry made from gold, platinum, silver, and diamonds will usually hold or increase its value.
What should I buy instead of gold?
Try silver or platinum if you are interested in fine jewelry but prefer a metal different from gold. And, of course, don't forget about dazzling diamonds!
Stay Trendy
The trends ahead for 2023 are some of the best yet! In fact, most of these looks are actually timeless trends just finding their way to the current spotlight.
From sumptuous silvers, precious pearls, bold, beautiful cocktail rings, dazzling drop earrings, show-stopping cuff bracelets, raging punk pieces, and perfect pinky rings. The trends this year are some of the yummiest yet. So get yours today at JamesAllen.com to set the trends others follow.
Subscribe to our email list for access to secret sales, practical ring-buying tips, and $100 off your first order!