Time-honored and elegant, solitaire engagement rings are easily one of the most popular ring settings available. While simple, these rings are always on trend, affordable, and look great on every finger.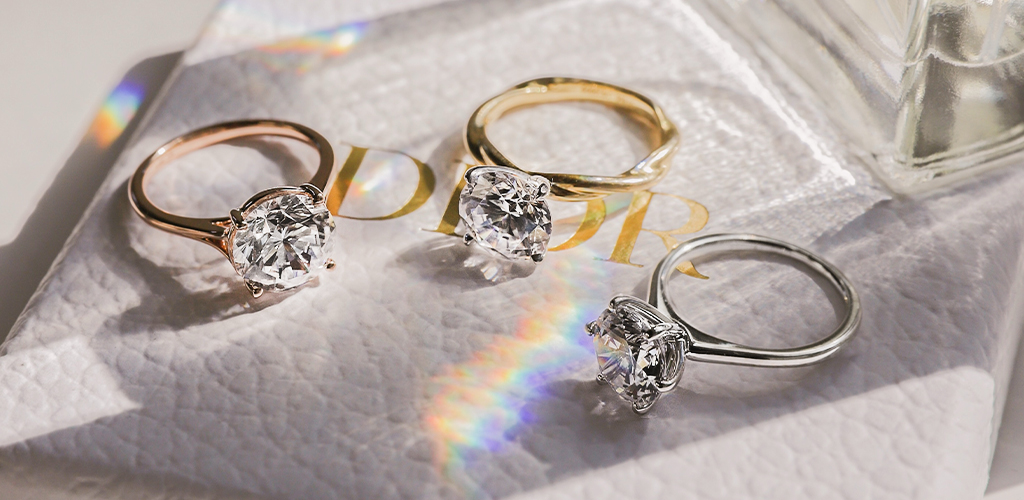 Loved for their crisp design, engagement rings with solitaire settings feature a single stone placed on the metal band. These rings highlight the diamond like no other, no matter its shape.
As the most iconic and popular ring style, the minimal design of solitaire rings has come to symbolize life's most precious moments, and for good reasons. From proposals to special anniversaries, the sophistication of its sleek band, whether traditional or contemporary, it's no wonder these have remained a firm favorite over the years.
We've rounded up some of our most popular solitaire engagement rings to celebrate these classic beauties, as well as help you learn all there is to know about the forever timeless solitaire setting.
What Is A Solitaire Engagement Ring?
The word "solitaire" comes from the Latin word "Solus," which means alone or sole.
Therefore, solitaire engagement rings feature a single diamond in the center. The classic engagement ring has been around for decades and often makes for a true statement piece.
Typically, there are no other diamonds or gemstones on the ring, and the band is plain without pavé diamonds. But, do not let the simplicity of this style fool you. In fact, there is plenty of room to customize it to create the ring of your dreams.
Why Choose A Solitaire Engagement Ring?
For those with a simple yet refined sense of style, a solitaire setting is a perfect choice. With its polished design and uncomplicated beauty, it is the ideal complement to any outfit and occasion.
As there are no additional stones or elaborate details to distract from the center stone. Meaning, that there's more diamond to see and more light to pass through, adding to the diamond's brilliance. In other words, the design allows the diamond to take center stage!
Solitaire engagement rings are also extremely versatile, which allows the wearer to pair them beautifully with a variety of other pieces such as gemstone jewelry or wedding rings.
Other elements such as metal color can give a solitaire ring a distinct look, tailor-made to the preference of each wearer. For example, rose gold solitaire engagement rings give off a blended vintage and modern appearance. While the rosey, warm hue looks striking against many skin tones.
These are just a handful of the many reasons why you should choose a solitaire engagement ring. Despite changing fashion trends, you can be sure that your ring will remain stylish and sophisticated.
Solitaire Engagement Rings For Every Diamond Shape
Solitaire settings are designed to fit a selection of diamonds in various shapes and sizes. This is because of their classic design and perfect prongs. Regardless of the diamond's shape or size, it will remain well secured so you won't have to worry about it falling out.
The timeless elegance of solitaire rings also means they can accommodate various diamond shapes and sizes. Round diamonds are the traditional choice for solitaire engagement rings, but fancy shaped diamonds such as oval, pear, cushion, marquise, and emerald cut are some of the most popular options.
So, which one do you think you'll pick?
What To Look For In A Solitaire Engagement Ring
Finding the perfect solitaire engagement ring isn't just about finding something you love to stare at. But what exactly is the most important part of a solitaire engagement ring?
Here are a number of things to consider before making a big purchase.
As we mentioned before, the design is basic and all eyes are on the diamond, it is best to try to focus on making sure that the diamond is not only magnificent but is also of great quality. Experts highly recommend that the diamond you choose is certified and details the nitty-gritty of your diamond.
Another question on many customers' minds is, "what is the best stone cut for this type of ring?"Due to the beauty of a solitaire ring, there is actually no optimal diamond cut, as its simplicity makes it suitable for practically any diamond shape.
Additionally, it's good to note that solitaire rings can be customized with a variety of prong settings and designs. The most common include comfort fit, knife edge, classic split shank, bezel set, cathedral, and four and six-prong solitaire settings.
Pros and Cons of a Solitaire Setting
There are plenty of good things to say about solitaire engagement rings, which is one this ring setting is so popular. It will never feel trendy or out of style, and it's easy to pass down. However, there are also just a few disadvantages to selecting a solitaire engagement ring.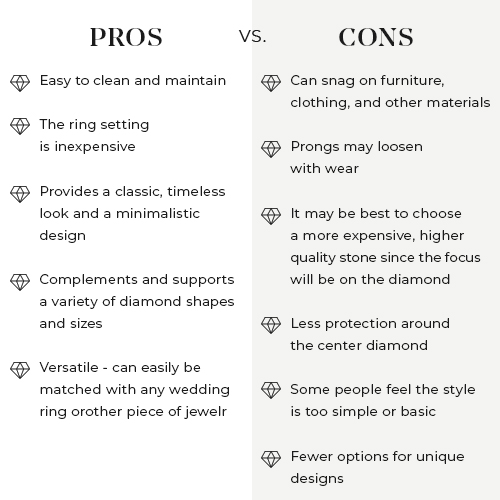 Lab Created Diamond Solitaire Ring Price
If your goal is to shop for an affordable engagement ring, then solitaire is definitely your best option.
But, if you're looking for guaranteed affordability, you should definitely consider a lab created diamond. Lab created diamonds are 100% real diamonds, and just like earth created diamonds, they come with their own GIA certificate.
Lab grown diamonds have the exact same optical, physical, and chemical properties as their mined counterparts. The only significant difference is their origin. One comes from a natural and uncontrolled environment, while the other is physically created in a controlled laboratory. In fact, if you examined both types of diamonds under a professional jeweler's loupe or on a molecular level, you would not see any differences.
There is a fast-growing trend in the diamond industry for buyers to purchase these diamonds. Why you may ask? Well, there are several reasons why lab created diamonds are so beneficial:
Environmentally friendly & ethically sourced
At 30% less than an earth created diamond of similar size, color, and clarity, there is greater affordability
Available in various diamond shapes and sizes
Known origin of every diamond
Greater purity and improved quality
This ring style offers several creative opportunities, which is perfect for those also looking to design their dream engagement ring. In fact, at JamesAllen.com, we allow you to jump into the designer's seat and fully customize a truly unique engagement ring with The Ring Studio. You can choose from hundreds of different designs and a selection of beautiful lab created diamonds. By creating your own ring within your budget, you can create exactly what you want.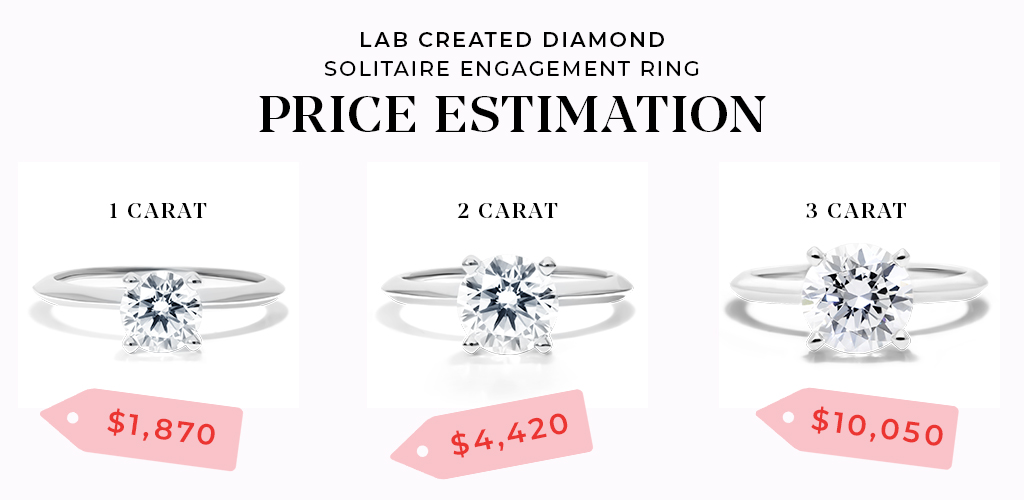 Solitaire Engagement Rings With A Wedding Band
The truth is that solitaire engagement rings can look great with just about any wedding ring.
In general, it's best to choose a wedding band that matches the metal and style of your fiancé-to-be's engagement ring. However, there are no set rules to follow. If you also feel the urge to spice things up from time to time with your solitaire ring, one of the things to do is add stackable rings. Stacking multiple bands on both the top and the bottom of your engagement ring is a stunning way to add the perfect amount of sparkle and dimension you may be looking for.
Our guide on How To Wear A Wedding Ring Set can also give you the answers you need as it goes into more detail on what you should look for when choosing a wedding band to match a solitaire engagement ring.
FAQs
What is the difference between a solitaire and a diamond?
Solitaire and diamond are often used interchangeably by jewelers. However, the two actually have different meanings. Solitaire refers to the gemstone setting, e.g., a single stone mounted on a piece of jewelry, while a diamond is a type of gemstone.
Does an engagement ring have to be a solitaire?
No. There are a variety of engagement ring styles to choose from. Although a solitaire engagement ring is the most popular.
Why are solitaire rings the best?
Solitaires are unrivaled when it comes to practical versatility; They pair up stunningly with most wedding bands. Since the engagement ring didn't set a very defined style, you're free to play with classic, vintage and bolder band combinations. They all look great!
We're Here To Help
Finding the perfect engagement ring can come with stress and a lot of questions. At JamesAllen.com, our non-commissioned diamond and jewelry experts are always available to help and answer any queries you may have. We look forward to assisting you! Contact us here.
Subscribe to our email list for access to secret sales, practical ring-buying tips, and $100 off your first order!