If you're looking for an affordable alternative to a traditional diamond, you've come to the right place. We're explaining the pros and cons of real diamonds and diamond simulants, so you can choose the right stone for you.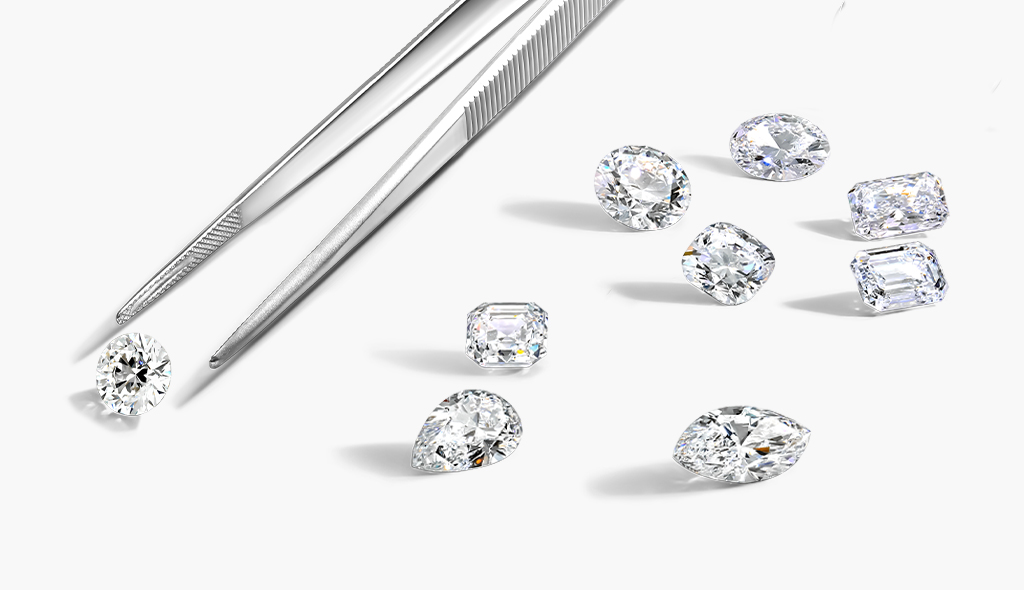 Note: At James Allen, we sell only U.S. Federal Trade Commission-certified true diamonds, which include both lab created diamonds and earth created diamonds.
What's A "Real Diamond"?
The term "diamond" refers to a very specific stone: the crystalline form of carbon. While other forms of carbon exist, what makes a diamond special is its particular atomic configuration.
A carbon atom can bond with a maximum of 4 other atoms – and in diamond, all the available spots are taken by…other carbon atoms! That's right, it's carbon all the way. And this results in an extremely stable, super hard, super sparkling stone.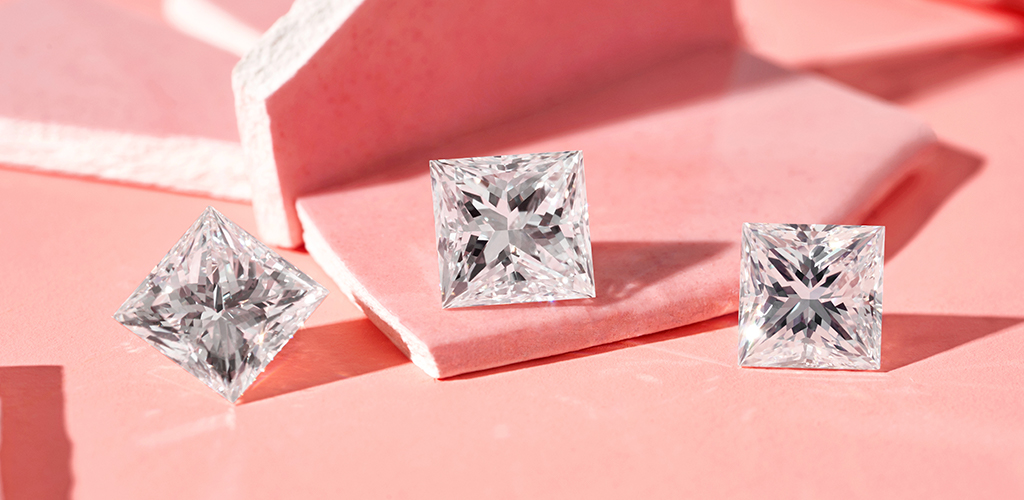 Lab Created Diamonds
The crystalline form of carbon we call "diamond" can be attained only through intense heat, constant pressure, and a good amount of time. Nowadays, we can achieve that in a lab in specialized machines that knock a few billion years off the cooking time. The result is a lab-made diamond that differs from an earth created diamond in name only.
If you were to look at both types of diamonds through a professional jeweler's loupe, or if you were to inspect both diamonds on a molecular level, you would see no difference. The same result was achieved through very different processes.
Lab grown diamonds and earth created diamonds are optically and chemically identical, the only difference being their relative origins. And this difference in origin leads lab grown diamonds to flaunt a much lower price point.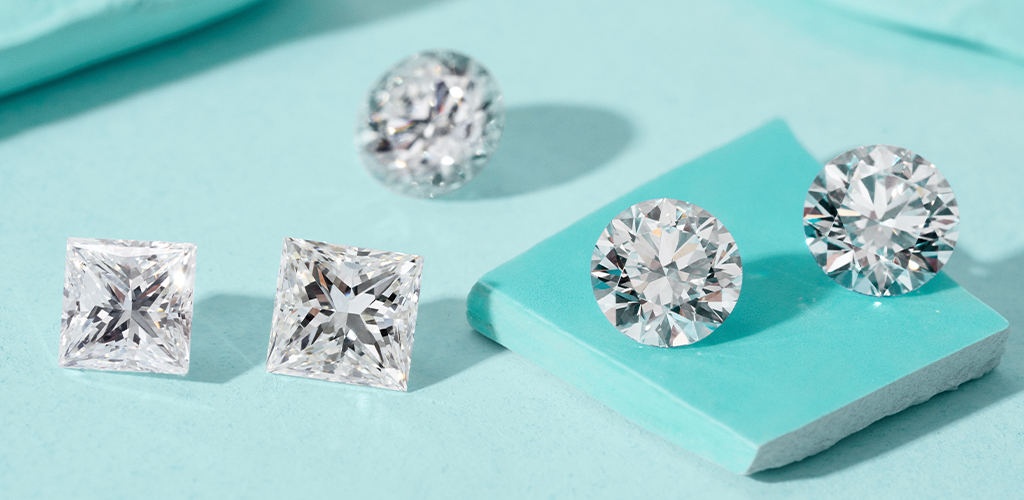 Simulants, however, are not diamonds. They're different minerals that bear a resemblance to diamonds. We'll dig into two of the most popular diamond simulants: cubic zirconia and moissanite.
Diamond Simulants: Cubic Zirconia and Moissanite
Diamond simulants are various types of man-made stones that are synthesized for the purpose of being diamond lookalikes. These clear, sparkling stones mimic the beauty of a diamond, but at a much lower cost. However, they do display marked differences to both lab created and earth mined diamonds in non-visual traits.
Why does this matter? It's important to remember that clarity is only one characteristic of jewelry stones. Color, resilience, and sparkle vary between these different stones; stones' specific characteristics can greatly affect how you wear them in jewelry, and their lifetime cost to you.
Cubic Zirconia
What is cubic zirconia?
Cubic zirconia is arguably the most popular diamond simulant. It's a man-made, crystalline form of zirconium dioxide.
How is cubic zirconia made?
In a laboratory, zirconium oxide powder is melted into various stabilizing agents at a super-high temperature of nearly 5,000 degrees F. When left to cool, this mineral mixture forms crystals, which can then be cut and polished into jewelry-grade stones.
Moissanite
What is moissanite?
Moissanite is a form of silicon carbide crystal that's synthesized in a lab. The result is a clear stone that, on the surface, bears a striking resemblance to real diamonds.
How is moissanite made?
Moissanite occurs naturally, but it's incredibly rare. Thus, all the affordable moissanite on the market today is created in a lab.
How to distinguish between a real diamond and a simulant diamond:
Durability
The standard measurement to determine a stone's strength is the Mohs scale of mineral hardness. It describes a mineral's resistance to being scratched and is measured from 0 (maximum softness) to 10 (maximum hardness).
Lab created diamonds and earth created diamonds:
Diamonds are the toughest stones out there. They score a maximum of 10 on the Mohs scale, meaning they can withstand absolutely anything you throw at them in your daily life. This durability is one of the reasons diamonds are the go-to stone for engagement rings, which are worn daily for decades at a time.
Because diamonds' structure never changes, they can be passed on as family heirlooms. Both lab grown diamonds and earth created diamonds will last for, well, forever. 
Moissanite
While moissanite isn't the hardest mineral out there, it's close. It scores a 9.25 on the Mohs scale. It's more susceptible to scratching than diamonds are, but it still holds up extremely well to daily wear-and-tear.
Cubic zirconia
Cubic zirconia is moderately hard. At an 8 on the Mohs scale, its resilience is comparable to that of other jewelry stones like emerald, beryl, and amethyst. Because it's scratch-resistant, but not scratch-proof, cubic zirconia (particularly much-worn stones like those in engagement rings) often acquires many tiny scratches that cloud its appearance. When this occurs, a professional jeweler can recut the stone to restore its clarity.
Lifespan
Lab created diamonds and earth created diamonds: 
How long do diamonds last? Well, you'll never have to throw one out due to deterioration. As the famous De Beer's slogan correctly claims, "A diamond is forever." The oldest diamonds found have existed for nearly 4 billion years, and they're holding strong.
You can rest assured that any diamond you buy, whether earth mined or lab created, can be comfortably passed down through the generations. 
Moissanite
Though not as long-lasting as diamonds, moissanite will comfortably last for decades without any significant degradation in quality. However, since it's a relatively newly recognized mineral, its exact lifespan is unknown.
Although discovered over a century ago, jewelry-grade moissanite crystals only began to be synthesized in the 1970's and only became widely available in the 1980's. Meaning, many couples getting engaged today with moissanite engagement rings were born before moissanite engagement rings became a thing.
Cubic Zirconia
Cubic zirconia is made for short-term wear. With daily wear, you can expect them to last less than 5 years. This means cubic zirconia is a great "for the time being" stone; you can wear it as a placeholder until you replace it with your dream diamond.
Be advised that contact with common chemicals will cause cubic zirconia to lose its shine, making it wearable for shorter periods of time. So make sure to remove cubic zirconia jewelry before doing daily tasks like putting on lotion, using cleaning supplies, or using hairspray.
Color
Lab created diamonds and earth created diamonds
Colorless isn't the only option! Due to trace elements in their composition, diamonds can display a range of colors. Plus, diamonds' color is permanent. It won't change at high temperatures or fade over time.
Moissanite
Moissanite exhibits "thermochromism," meaning that it is sensitive to a color change at temperatures above 150° F (65 C). These are usually temporary, but these heat-sensitive color changes can sometimes be permanent.
Cubic zirconia
Cubic zirconia doesn't change color when exposed to heat, but under UV radiation it can turn color, albeit temporarily. Most commonly, it turns yellowish, light green, or white. Indoors your stone will remain clear, but if you go outside on a sunny day it may change hue.
Sparkle
A diamond's sparkle is largely thanks to two qualities: brilliance and fire.
"Brilliance" is a specific term describing a gemstone's ability to return white light. It's measured by the refractive index; a higher refractive index indicates a greater amount of white light reflected. The more white light reflected, the brighter the gemstone appears to the human eye.
"Fire" refers to a gemstone's ability to return colored light, and is measured by the dispersion score. The higher a gemstone's dispersion, the more it will display a rainbow of colors.
Lab created diamonds and earth created diamonds 
Diamonds have a refractive index of 2.42 and their faceting pattern returns light remarkably. They're strikingly bright, but not too much so. Its dispersion is relatively low, at 0.044, so diamonds remain quite bright, with only minimal colorful sparkle. The combination of this brilliance (reflected white light) and fire (refracted color) give diamonds a truly balanced and unparalleled sparkle.
Moissanite
Moissanite actually has a higher refractive index than diamonds, at 2.65, and thus appears incredibly bright under natural light. However, moissanite has crazy high dispersion: 0.104. This is why it reflects back a ton of colored light, leading to a "rainbow effect" that tends to overshadow its brilliance.
The rainbow effect tends to make moissanite look fake to the well-trained eye, and is especially noticeable under natural light and in larger stones. In short, moissanite can often appear "too sparkly" under certain lights.
Cubic zirconia
With a refractive index of 2.15, cubic zirconia is the least brilliant of the bunch. Its lower score means that it reflects less light back to the eye, appearing duller than both diamond and moissanite under identical light.
It has a slightly higher dispersion than diamond, around 0.058, but isn't very noticeable. Under natural light, it will appear quite white, but it will definitely lack the sparkle of either diamond or moissanite.
Ideal Size
Lab created diamonds and earth created diamonds: 
Diamonds come in every carat. At James Allen, we sell loose diamonds in a huge range of carat sizes: from petite diamonds in 0.20 carats, all the way to large diamonds that are upwards of a whopping 20 carats. Diamonds' stunning bright white brilliance and minimal color dispersal look amazing in any carat weight.
Moissanite:
Moissanite's intense rainbow effect increases as the stone get larger. For this reason, it's best to avoid large moissanite stones in jewelry. Stick with the smaller sizes; under 1 carat is best. Think: diamond for center stones, and moissanite for accent stones.
Cubic zirconia:
Cubic zirconia comes in as wide a range of carat sizes as diamonds do. While you can find cubic zirconia in as large a carat as you'd like, it's best to choose an average-sized carat (around 1 carat) both to maximize the amount of light that hits the stone and to avoid the relatively dull shine that becomes obvious in larger stones.
Cost
Earth created diamonds
Traditional diamonds are the most expensive choice. The process of discovering, mining, and shipping earth created diamonds is resource-intensive; the high cost of bringing them to market has helped diamonds achieve their luxe reputation.
Lab created diamonds
For when you want a real diamond, but want to pay 30% less. Because the process of creating a diamond takes significantly less time and resources than mining a diamond from the earth do, lab made diamonds cost significantly less than earth mined diamonds.
Moissanite
This is quite affordable compared to diamond, but it's the more expensive of the diamond simulants. Moissanite costs about half of what a traditional diamond under 1-carat costs. As a traditional diamond increase in carat weight, comparable moissanites become relatively more affordable.
Cubic zirconia
Cubic zirconia is the most budget-friendly choice. It costs next to nothing compared to a traditional diamond. While a colorless, eye-clean 1-carat diamond could cost thousands of dollars, comparable cubic zirconia will cost only a few dozen dollars.
The Low-Down
Choose a classic earth created diamond if:
You love diamond's sparkle
You'll wear your diamond jewelry often
You admire the billions of years of history contained in each stone
Choose a modern lab created diamond if:
You love diamond's sparkle
You'll wear your diamond jewelry often
You want a large diamond at a lower price
Choose moissanite if:
You're on a budget
You like small-carat stones
You'll wear your jewelry intensively
Choose cubic zirconia if:
You're on a budget
You'll wear your jewelry carefully and not every day
You're saving up for a more expensive stone
Choosing the stone that suits your lifestyle is an important part of designing meaningful jewelry that will last you throughout your life. And if you choose to buy either lab-created diamonds or earth-created diamonds, you can choose from 1000's of beautiful options at James Allen.
Keep up on your diamond reading:
Subscribe to our email list for access to secret sales, practical ring-buying tips, and $100 off your first purchase!