Torn between diamond vs gemstone engagement rings? We're breaking down our favorite reasons to take the plunge and invest in a colorful precious gemstone ring for your bride or groom-to-be.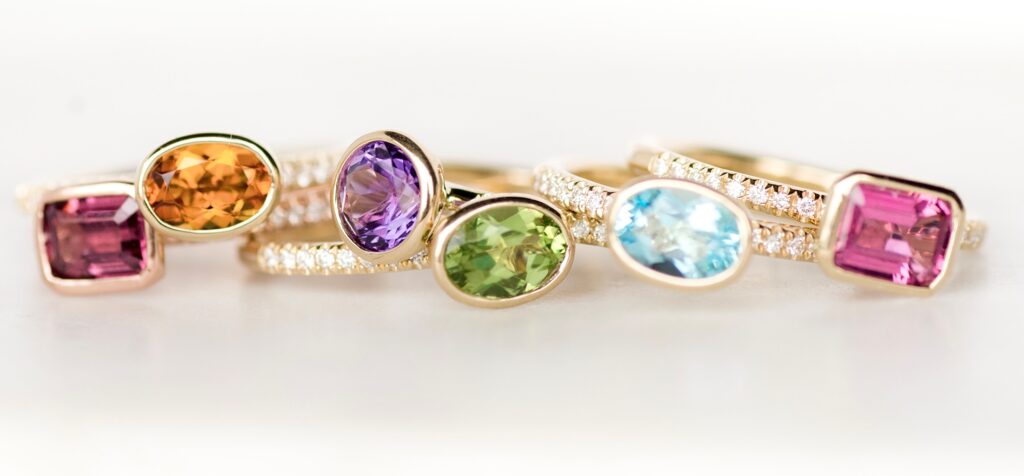 Picking an engagement ring is not a task done lightly. We understand the time and effort that goes into choosing and even creating the perfect ring for your partner. As far as engagement rings go, diamonds are usually the first choice given their sparkle, durability, and brilliance.
On the other hand, Gemstones make for equally stunning center stones on engagement rings of all styles and settings.
Gemstone engagement rings aren't a new trend. We've seen for centuries the most glamorous royals and celebrities styled in gemstone jewelry. Unlike diamonds, unique gemstone rings come in any color across the spectrum and add something special to the ring.
Gemstone engagement rings can add sentimental value to the ring and also allow you to show your partner how well you know them. Whether it's gifting them with a center stone gem that is their favorite color or one that holds a certain meaning to them. And trust us, gemstones of all kinds are filled with beautiful symbolism and unique characteristics, just like your future fiancé.
Take a walk with us as we explore the endless pros of getting a gemstone engagement ring.
Popular Gemstone Engagement Ring Types
The four most sought-after precious gemstones are diamonds, sapphires, emeralds, and rubies. We'll be taking a deep dive into the last three and explain why each of them have unique and worthwhile features that match the value of a diamond centerpiece.
Blue Sapphire Engagement Rings
Not sure if you're into sapphires yet? Let's count the many ways these precious gemstones will take your engagement ring to the next level.
Sapphires don't just come in popular blue tones but can occur in nature from pink to violet. In fact, you can find any fancy sapphire and pick your favorite color from the rainbow. Like fancy-shaped diamonds, you'll also find that your gemstone center stone can be cut to your desired shape.
These gems are also incredibly tough and durable. On the Mohs Scale of Hardness, sapphires score a 9 out of 10. That means that the only material strong enough to scratch them is a diamond. When you aren't considering how stunning they are, it's good to know that your gemstone engagement ring also has endless durability.
Yellow Sapphire Engagement Rings
Replacing a diamond center stone for a sapphire could increase the sentimental value of the engagement ring for you and your partner.
For example, we mentioned gemstone symbolism before, and it so happens that sapphires hold the perfect meaning for the start of a lifelong promise. Truth, peace, prosperity, and faithfulness are just some of the many special feelings this gemstone represents, making it quite fitting as an engagement ring choice.
Pink Sapphire Engagement Rings
Let's put a spotlight on one of our favorite romantic gemstones. Sapphires are rare but the rarest of all are pink sapphires, commonly found in Sri Lanka. These gemstones range from a pinkish-orange color to bright pink and can add the perfect touch to your engagement ring.
Finally, if all the other impressive facts haven't convinced you, we'll play our final card. Did you know that sapphires are mystical gemstones that have the ability to change color throughout the day?
Yes, you heard right. Blue sapphires can take on a more purplish hue under incandescent light at night time, making them all the more alluring and unique, like your love.
Emerald Engagement Rings
When we think of emerald engagement rings, several A-list celebrities come to mind, from Jackie Kennedy to Halle Berry and the style icon that is Victoria Beckham.
Their rings are among the most famous gemstone engagement rings and there are plenty of reasons why emerald center stones are unforgettable statement pieces.
To begin with, high-quality emeralds are rarer than diamonds and have a lower density, making them appear larger than a diamond with the same carat weight.
While emeralds are softer gemstones, they can still be cut and polished to your preferred shape. No matter what size and shape your emerald is, you can count on it to be vibrant and eye-catching.
Ruby Engagement Rings
Ruby engagement rings come in shades of red, starting from pinkish hues to blood-red colored gemstones. They're just as strong as sapphires, registering as 9 on the Mohs Scale of Hardness, making them a resilient choice for center stones.
Rubies often come flawed, and those that are without imperfections are known as, "Burmese Rubies." Even though there is no perfect ruby it's hardly cause for concern, as they are the boldest and most breathtaking gemstones, in our humble opinion.
These unique gemstones symbolize richness, success, and romance, the perfect representation for an engagement ring. They pair well on three stone ring settings and shine brighter when they have diamonds alongside them.
Key Takeaways
Gemstone engagement rings are always there as an option and a colorful alternative to a diamond engagement ring. So, talk to your partner if choosing an engagement ring together is an option.
At James Allen, we love the idea of customizing your glow, so take a peek into our ring studio or customer-inspired engagement ring designs and find out which gemstone engagement ring is the one for you.
For any and all questions about the ring of your dreams, feel free to contact our non-commissioned diamond and jewelry experts who are here for you 24/7.
Want to know more about gemstone jewelry and engagement rings in general? Read our related articles below:
Subscribe to our email list for access to secret sales, practical ring-buying tips, and $100 off your first order!