In the world of how to wear wedding rings and engagement rings, there are no hard-and-fast rules. Even the most "universal" traditions, as you'll soon see, are subject to variations. It all depends on the ring wearer's particular culture and style.
So what should YOU do? Read on to find out.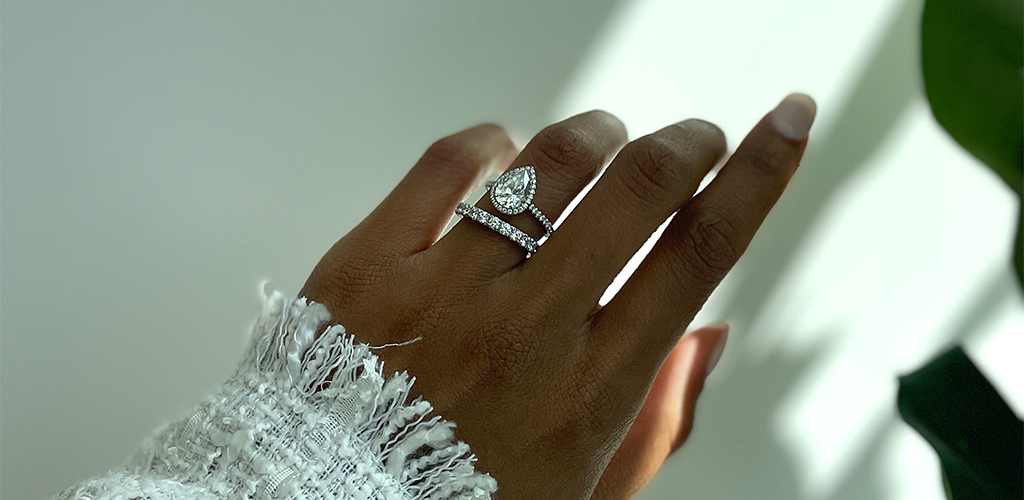 What's the right way to wear my wedding ring?
With all the traditions and rituals involved in marriage, it's easy to get lost in the whirlpool of the wedding "should"s. And there are a lot of them. But as far as how to wear a wedding ring, where to wear a wedding ring, and what your wedding ring should look like – there is quite a bit of room to express yourself! On the whole, the world of wedding rings is less rigid than that of engagement rings. 
Wedding Ring Pros: you have lots of flexibility in your style choice.
Wedding Ring Cons: you still have to navigate numerous, and possibly conflicting traditions.
That's why we're here to set some order to the complicated world of how to wear a wedding ring.
#1: What's the difference between a wedding ring and an engagement ring?
Though there are a few key design differences, the main thing that sets these two types of rings apart is when they're given. An engagement ring is typically given during the proposal (from the proposer to the proposee), while wedding rings are exchanged during the marriage ceremony between both partners.
And while an engagement ring typically features a prominent center stone, wedding rings don't have one focal point per se. They feature either rows of smaller stones or simply a clean solitaire band. In this they're more like the super-talented backup singer whose role is to gracefully point the attention to the star – your engagement ring.
In contrast to engagement rings, there are relatively few restrictions on how wedding rings should be worn and how they should look. Even so, navigating the myriad of loose cultural traditions and style possibilities can often be overwhelming. So let's answer all your most pressing wedding ring questions, one by one!
#2: How should my wedding ring look?
Again, the answer is: any way you'd like! There are very few customs concerning the actual design of a wedding ring. Here is a rundown of the most popular options.
ETERNITY RINGS
In some cultures, it's a custom to wear circular eternity rings. In this case, eternity rings are considered to symbolize eternal love. A meaningful expression between a couple on their journey of everlasting love – a promise of lifelong commitment.
However, an eternity ring isn't for everyone – non-circular rings are also a lovely option. This is particularly the case for anyone whose center stone is elongated – like a marquise, oval, or pear – and prevents the engagement ring from sitting flush with a round wedding ring. Two excellent alternatives are custom-curved rings or open rings.
CURVED WEDDING RINGS
If your engagement ring has a distinct shape, your wedding ring can curve to accommodate your center stone. This gives your wedding set a unique interlocking quality. As an added bonus, the curved wedding rings' complementary shapes reduce friction on your skin by preventing unnecessary slippage.
In some cultures, it's a custom to wear circular eternity rings. In this case, the continuity of an eternity ring is considered to represent a couple's endless love and their everlasting unity.
OPEN WEDDING RINGS
Or, you can choose to wear an open ring. Though less common, open wedding rings are gaining popularity. These unique pieces complement many wearers' unique styles, and they go beautifully with an elongated center stone.
Stones or classic?
In Judaism, the wedding ring is traditionally an unadorned, simple band that's free of engravings or precious stones. In other cultures, there are no specific customs regarding wedding ring decoration. Diamonds? Yes. Gemstones? Yes. Classic? Yes.
GEMSTONES
The beauty of gemstone rings is the huge selection! Sapphires, rubies, pearls, emeralds…it's a positive smorgasbord of sparkle. You can always choose a particular stone simply for its beauty, but you can also embrace certain stones' meanings. For instance, you may inlay your wedding rings with your respective birthstones, zodiac signs, or stones that are particularly lucky for you.
CLASSIC
Classic wedding rings complement absolutely any engagement ring. The simplicity of a classic metal band directs all the attention to your engagement ring. So if you're struggling to find a matching wedding ring, or you simply want to highlight your engagement ring, then a classic wedding ring could be the style for you.
#3: Which hand should I wear my engagement and wedding ring on?
Which hand, and which finger, on which rings are worn changes radically around the world. Even in Europe, in which rings are almost always worn on the fourth finger – the ring finger – there are at least 3 common ways to wear a wedding set.
On The Right Hand:
Catholic and Eastern European tradition dictates that the wedding and engagement ring both be worn on the right hand. The engagement ring is removed before the wedding ceremony, and after the wedding ring is slipped on during the ceremony, the engagement ring is replaced on top of it. The custom of wearing the wedding set on the right hand comes from an ancient Roman belief that the left hand was untrustworthy. In fact, the Latin word for "left hand" shares the same root as the modern-day word "sinister."
On The Left Hand:
On the other hand – *chuckle* – the Anglican church started doing things a bit differently following its separation from the Catholic church. By wearing both rings on the left hand, they rang in a new era of reformation by eschewing old "sinister" traditions. And this custom continues in Protestant cultures today, where the wedding ring is placed on the left hand during the wedding ceremony, and then the engagement ring is slipped on after it. Many people enjoy the symbolism of wearing their wedding ring closest to their heart, since it highlights the importance of marriage.
Since the engagement ring is worn on the left hand after the proposal, many brides make this work by temporarily changing the hand on which they wear their engagement ring; during the wedding, they slip it onto their right hand before returning it to their left, over their new wedding ring.
On Different Hands:
However, the engagement ring and wedding ring don't have to be worn on the same hand. If it's more your style, you can wear them on opposite hands. Spread the glitter around, as it were. In Spain, for instance, the engagement ring usually goes on the left hand, while the wedding ring usually goes on the right.
So – there's no dominating tradition regarding where to wear your wedding ring. It all depends on local tradition, religion, and personal style; not all of your personal traditions may line up. It's possible that religiously, you prefer to wear your wedding ring on your right hand, but local custom dictates that you wear it on your left.
In the end, it's all up to you. However, you prefer to wear your wedding ring is the right way to wear it.
#4: How do I match my wedding ring to my engagement ring?
The answer: however you'd like. This is where you have utter freedom to express yourself – there are very few, or no, customs regarding how to match your wedding set. So what's this mean for you? You have three main elements to mix and match: metal, stones, and style.
MATCH BY METALS
There are truly no wrong answers when it comes to engagement rings and wedding bands. You might prefer to have a perfectly matching set of rings, while others might prefer a mix of metals. 
All ring metals look great together, as long you love what you're wearing!
MATCH BY STONES
Diamonds are definitely marriage material, but so are gemstones. Gemstones are a gorgeous alternative for those who prefer a twist on the classic wedding ring. Don't be shy to choose a wedding ring with the right stones to make you smile.
MATCH BY SETTING STYLE
There are no set rules for this one either, and it's all about personal taste and preference. At James Allen, you can choose from many different, beautiful settings in a range of popular styles.
The options are truly plentiful, from stunning pave rings to bezel set wedding rings.
If you're wondering how to match your and your partner's wedding rings, click here to get all our James Allen tips and tricks.
#5 What should I do if I can't wear my wedding ring the "traditional" way?
Remember that tradition is purely just a suggestion.
If you can't wear your wedding ring on the "right" finger, wear it on another one!
If you can't wear it on your hand, slip it onto a chain and wear it as a pendant necklace.
If your wedding ring doesn't fit with your engagement ring, wear them on separate fingers.
If you don't like rings, bracelets can be excellent substitutes.
The bottom line is – it's your wedding, your marriage, and your ring. You can choose to wear it in whatever way suits you!
Wedding ring styles: our team's picks!
Subscribe to our email list for access to secret sales, practical ring-buying tips, and $100 off your first purchase!