Rose gold jewelry is trending – and we can confidently say that this is a trend that won't pass. But which rose gold pieces are the most popular right now, and how should you wear them? Read on for the hottest pieces in this warm-toned metal.
What Is Rose Gold?
Let's start with the basics. Rose gold is a blend or alloy of gold, copper, and silver. It is the copper that gives rose gold its gorgeous, characteristic pink hue. The more copper in the alloy, the pinker it looks. While there is a common misconception that rose gold is not "real gold" because it's a mix of metals, in reality, rose gold is real, but it's just not 100% gold.
What Color Is Rose Gold?
Rose gold, also referred to as pink gold, gets its unique pinkish-red color from a mixture of classic yellow gold and copper. The higher the copper content in the mixture, the richer the pinkish hue of rose gold appears.
What Are The Advantages & Disadvantages Of Buying Rose Gold Jewelry?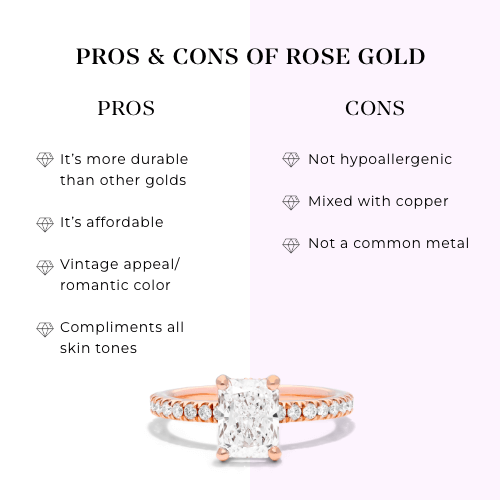 How Is Rose Gold Made?
Rose gold is an alloy made from a combination of pure gold and copper. It's made with a blend of the two metals, which changes the final product's color and its karat weight. The most common alloy of rose gold is 75 percent pure gold to 25 percent copper, which makes 18k rose gold.
What Colors Go With Rose Gold?
Don't be shy to pair rose gold with any gemstone that you particularly enjoy. But there are a few gems that complement rose gold particularly well.
Warm-toned gems: The pink undertones of gemstones like pink sapphire, morganite, red rubies, and purple amethyst complement the pinkish color of rose gold particularly well.
Green gems: Green is on the opposite side of the color wheel from pink, so green gemstones like emerald or peridot look especially striking when set in rose gold jewelry. It's not a particularly intuitive combination, but trust us – it's a successful one!
Clear & white gems: Neutral-colored gems like diamonds, white sapphires, and pearls enhance the features of any jewelry metal they're set in. And when set in rose gold jewelry, they evoke whimsy, femininity, and classic romance.
Rose Gold Engagement Rings
If you're looking for an engagement ring that is not just unique but also features a soft and romantic touch, then opting for a rose gold metal is exactly what you need to stand out from the crowd. An engagement ring should not just be a symbol of your love but also needs to be a reflection of your personal style.
Whether you're after something vintage or a more chic and contemporary ring, rose gold has the flair to complement any kind of setting and style. While tradition suggests that yellow gold best suits 'cool' skin and white jewelry suits 'warm' skin tones, the rosy pink hues of a rose gold look equally beautiful on every skin tone.
Related post: Your Guide To Rose Gold Engagement Rings
Rose Gold Wedding Rings
A rose gold wedding ring symbolizes epic love, whether you choose to pair it with a rose gold engagement ring or an engagement ring of another metal. That's not to say that rose gold wedding rings are only for women — rose gold wedding bands are also a classy and distinctive choice for men.
How To Clean Rose Gold Jewelry?
To care for your rose gold diamond engagement ring, simply soak it in warm water with mild soap for a few minutes before giving it a light scrub with a very soft toothbrush or a cloth. To avoid damaging your ring, please do not use any type of vinegar solution.
Use a mixture of lukewarm water and a small amount of dish soap to soak the ring for 1-2 hours.
Gently use a toothbrush to clean the crevices
Dry with a clean towel
FAQs
Is rose gold real gold?
Rose gold is real gold, made from a combination of pure gold and copper alloy.
Is rose gold more expensive?
The copper that's used to create rose gold costs less than other types of metal alloys, making it slightly less expensive than yellow or white gold.
Does rose gold fade quickly?
Rose gold is less prone to damage from everyday wear compared to other golds. Given its durability, it also requires no additional plating like other golds.
The Romantic Choice
We hope we've helped you to make a clear choice about buying rose gold jewelry. However, if you're still on the fence about which metal you'd like to invest in, visit us at JamesAllen.com and chat with one of our experts today!
Subscribe to our email list for access to secret sales, practical ring-buying tips, and $100 off your first purchase!