Whether you're searching for the perfect fit for your dream engagement ring or surprising your fiance' to be, our ring size guide will point you in the right direction. Let's see how you measure up.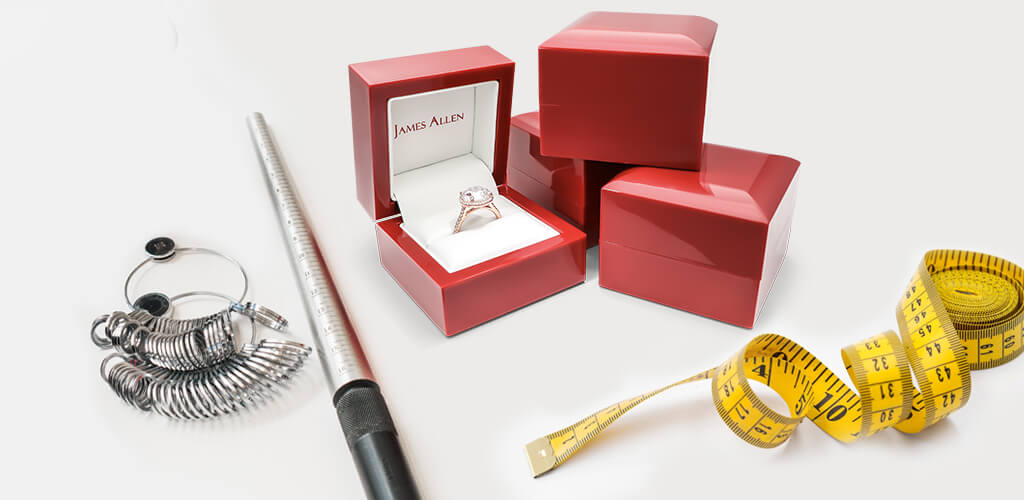 Wedding and engagement rings have long been a symbol of love and devotion. The circular ring has neither a start nor a finish, which is emblematic of an everlasting union. With such rich meaning and symbolism, designed to last a lifetime—so it makes sense that the ring size needs to be spot on.
If you're not sure how to measure ring size, you're in the right place.
How To Measure Ring Size At Home?
You may be asking yourself, how is this even possible? It's true, James Allen can help you figure out your ring size all from the comfort of your own home. Take a look at our free online ring sizer
Alternatively, you can simply request a free ring sizer that will be delivered to your home.
Nervous that you've ordered the incorrect ring size? Don't fret! We will resize your ring once, for free up to 1 year after the purchase.
Different Ring Size Conversions
While you may wear one size in the U.K., your sizing in the states may be completely different. Thankfully, though, conversion charts are available to ensure you order the right size regardless of which country the ring was sized in, which ensures complete accuracy.
Ring sizes in the United States and Canada range from 3 to 13, which includes half and quarter sizes. A ring's size is determined by its diameter or circumference and is measured in inches or millimeters. The diameter measures the inside length of the ring, whereas the circumference measures the length of the entire band.
International ring sizing involves the same measurement process, but the numbered sizes run on different scales, which vary by country. Australia and the United Kingdom actually use an alphabetical letter sizing system.
How To Measure Ring Size With A Tape Measure
Using a measuring tape is considered to be the best and most accurate method to determine your ring size. Give yourself enough space to accommodate your knuckles for the best results. Also, you should measure the finger where you plan to wear the ring, since the finger size on your left and right hands may differ.
STEP 1: 
Place the measuring tape over your finger and pull it around into a circle.
STEP 2: 
You should adjust the size of the circle, move it over your knuckles, and make sure it fits comfortably.
STEP 3: 
Take note of the measurements in millimeters and use the comparison chart if needed.
How To Measure Ring Size With A String
This next method is simple and works well for those who don't have a ring nearby. All you need to do is take some string or ribbon and wrap it comfortably around your ring finger.
Once the piece of string is around your finger, carefully mark the spot where the string overlaps. For an accurate result, try to make the smallest mark possible. Then, take the string and measure it against a ruler or measuring tape. Enter your measurements here in either millimeters or inches. We'll do the calculations for you and, voila, you now have your ring size.
Still unsure? Find out more by watching this video.
More Ring Sizing Tips
Measure your finger in the evening – For best results, measure your finger at the end of the day. In the morning, your fingers are colder and therefore smaller than usual.
Measure a few times – Be sure to measure your finger size a few times to make sure your calculations are accurate.
Use non-stretchable material – If you're measuring your finger on your own, you want an accurate measurement! Good materials: ribbon, twine, even paper.
Measure your finger close to your knuckle – This is where the ring will usually sit, so you want it to be comfortable.
Measure your finger in the middle of the day – Our fingers tend to swell overnight, so it is recommended not to take your measurement in the morning as you wake up.
It's also recommended to not measure your finger, When the weather is either too hot or cold, after an intense workout or if you are sick.
Tips for Buying a Ring as a Surprise:
Ask people If you don't know your partner's ring size, ask their close friends or family members to assist. Tell them to keep it hush-hush so that they don't accidentally ruin the surprise!
Borrow a ring that fits Borrow their ring (from the correct finger!) and use James Allen's virtual ring sizer to determine the ring's size.
Shop for the ring on a private device And log out of all your shared accounts! You don't want your partner running across your cookie trail.
Other Ways To Find The Ring Size
Taking an existing ring to a jeweler
Even though you won't be shopping for a ring in the store, this is still one of the most professional ways to find your ideal ring size. Head over to your local jewelry store and have the jeweler measure your ring size. In addition to their nifty gadget, consider trying on a few of their engagement or wedding rings to ensure comfort and a perfect fit.
What Is The Average Ring Size For Men?
The average size of a men's wedding band is 9. For men with bigger hands and long fingers, a wider ring band is recommended. While men with smaller hands or shorter fingers, a wider band may not be the best choice. Then again, this also depends on your personal style and how much of a statement you want to make.
What Is The Average Ring Size For Women?
According to the Gemological Institute of America (GIA), the average ring size for a woman is a size 6. However, they also add that depending on their lifestyle, on average most women tend to fluctuate in weight, so adding a quarter size to the ring is often recommended. Fingers also tend to swell during seasons such as summer, so keep that in mind as well when measuring your ring size.
James Allen Ring Sizer Tools
You don't have to worry about sizing a ring. James Allen's Virtual Ring Sizer can help you determine your ring size online for free. There are two options available, you can either measure your finger, or you can measure a ring you already own to discover your ring size. Both are accurate and will give you your exact ring size.
What Happens When My Ring Is Resized?
During the resize process, small amounts of metal will be added or removed to increase or decrease the size as needed. As a result, your ring may be slightly thicker or thinner when completed. This is a minor difference and is often invisible to the naked eye.
Your resized ring will be inspected by quality assurance to ensure that our high standards are met and that your ring has been fitted to the size that you need.
What If I Order The Wrong Ring Size?
It's worth noting that approximately 40% of rings end up being resized. But don't worry, as we know that this is something that can happen when you're buying a ring online, we offer free ring sizing for up to 1 year after purchase
Rings That Can't Be Resized
Unfortunately, some rings are not able to be resized. This may be because of the specific design or material that has been used. Rings made from unconventional materials such as resin, ceramic, jade, or wood cannot be resized because there's no way to cut and bend the ring- its composition isn't amenable to the process,
These include:
Ceramic rings
Rings made from wood
Tungsten
FAQs
How will I know if I have the right size?
A good ring size should fit snug around the base of your finger without bulging or leaving any indentations. However, the ring should also be loose enough to slide over your knuckle. Check if your ring fits right by pushing it up from underneath and making sure there is a small space between it and your finger. This means there is enough room.
Does band thickness affect size?
Yes, band thickness can affect your ring size. The more a ring covers your finger, the tighter it will fit. In addition, stacking many types of bands, such as a wedding ring set, will increase your ring size. We recommend measuring your ring size with a sizer that's close to the thickness of the ring that you'll be wearing.
How to secretly find someone's ring size?
Planning a surprise romantic and creative proposal? You can easily find out your partner's ring size without them knowing. One of the easiest options is to simply ask their family or friends. Another way to measure your partner's ring size secretly is by measuring a ring they already wear.
Are men's and women's rings measured using the same scale?
Yes, women's and men's ring sizes are measured on the same scale. The average size of men's hands tends to be larger than that of women's, so they will fall into the larger category.
We're Here To Help
Concerned about how to measure your ring size? At JamesAllen.com, our non-commissioned diamond and jewelry experts are always available to help and answer any queries you may have. We look forward to assisting you! Contact us here.
SHOP RELATED PRODUCTS