Don royal purple with the February birthstone: amethyst! This unusually-hued gemstone will make any wearer into an instant queen.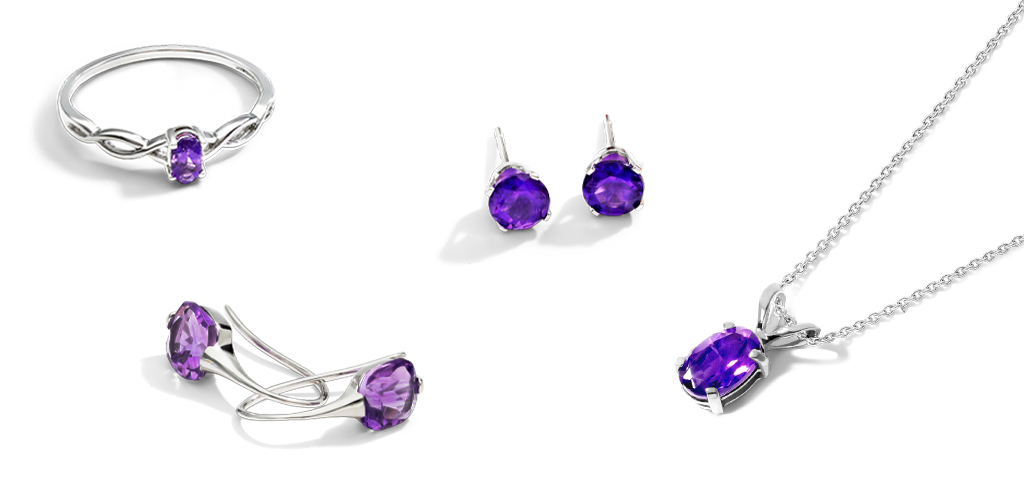 Amethyst jewelry is the go-to purchase for February birthdays and Valentine's gifts. The February birthstone is stunning yet graceful, rewarding those bold enough to wear it with plenty of turned heads!
What is the Birthstone for February?
It's amethyst! Amethyst is a violet type of quartz, the crystalline mineral silicon dioxide. This is a great jewelry gemstone, as it's not only gorgeous, but also sufficiently resilient to withstand day-to-day wear. It rates a 7 on the Mohs Scale of Hardness, indicating that it's pretty difficult to scratch. Amethyst is a jewel that's ready to keep up with your active lifestyle.
The History of Amethyst
Amethyst isn't only good in the form of birthstone jewelry. This gemstone takes its name from the ancient Greek belief that it could protect its bearer from poison and drunkenness: a- (not) + methysko (intoxicating). Not only was amethyst worn as talismanic jewelry, but it was also carved into cups to prevent over-tipsiness.
With all due respect to the ancient Greeks, we disagree. Amethyst is positively intoxicating!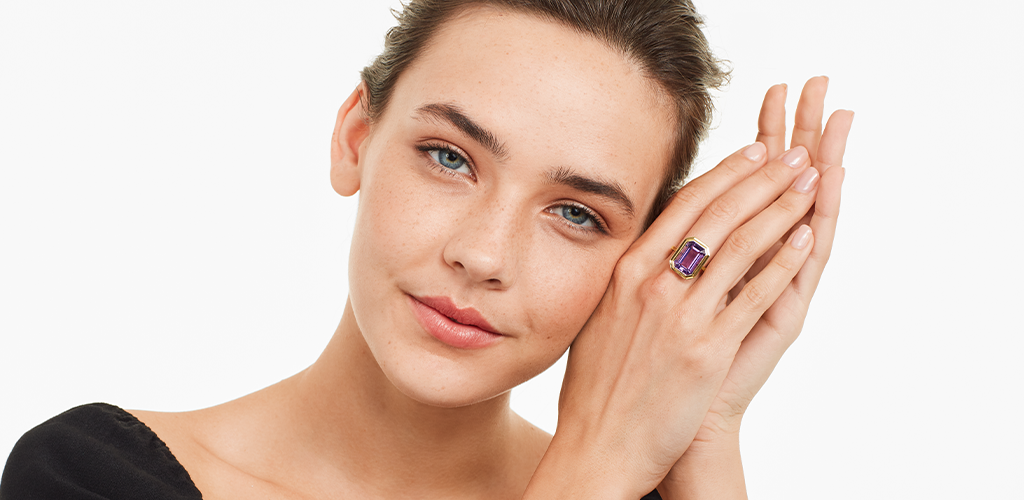 How to Style Amethyst
Purple can be a tricky color to style, and a trickier one to style well. When it comes to amethyst, it looks best when paired with certain colors of clothes.
similar shades of purple
neutral shades: black, white, gray, silver or gold.
As for who can wear amethyst, everyone's in luck. Amethystian purple hedges both cool and warm tones, and as such it complements any complexion. Jewelry-wearers of the world, rejoice! This is your sign to rock amethyst jewelry.
Who Wears Amethyst?
Perhaps because of its royal connotations, but most certainly because of its beauty, amethyst is a solid favorite among red carpet celebrities. And as you can see, stars like Diane Kruger and Zoe Saldana are also fans of pairing their jewels with purple fabrics.
The Value of Amethyst Birthstone
Amethyst is valued primarily by the quality of its color rather than its carat weight. Meaning that you can score a heftily-sized gemstone for a much more reasonable price than other jewels.
Amethyst Stone Meaning
The February gemstone is also rife with meaning. In the past, Tibetan Buddhist monks considered it holy and carved prayer beads from it and English royalty reserved it for themselves due to its sacred properties. And amethyst became the February birthstone thanks to the legendary St. Valentine, who donned an amethyst ring as he performed illicit marriages; this eventually led to the modern-day practice of gifting amethyst jewelry on Valentine's Day. Modern-day lore claims that it is a powerful protective stone with cognitive and emotional stimulating properties.
Amethyst Rings
Deck your digits with a purple ring or two (or three), so you can punctuate every gesture with lavender. Choose a small stone for everyday wearing and stacking, or pump up the purple and go crazy with an oversized amethyst cocktail ring.
Amethyst Earrings
Frame your face with two delicate purple gemstones. Amethyst earrings look particularly lovely on wearers with blue and brown eyes. And of course, they're absolutely plum-colored stunning on those with violet-colored irises!
Amethyst Necklaces
A single amethyst worn around the neck is known to protect its wearer from boring jewelry choices. Flaunt your unique personal style with a unique purple gemstone, set in precious metal.
The February Birthstone: Purple Reign
If you're a February baby, or you're looking for the perfect February gift, you are in luck! Amethyst is strong, affordable, and complements every complexion. Take your pick of any of the amethyst fan favorites listed above.
January Garnets * February Amethysts * March Aquamarines * April Diamonds * May Emeralds * June Pearls * July Rubies * August Peridots * September Sapphires * October Opal * November Citrines * December Blue Topaz.
Read up on more birthstone beauties
Subscribe to our email list for access to secret sales, practical ring-buying tips, and $100 off your first purchase!