Thinking about popping the question this Valentine's Day? Keep reading to find out what V-Day proposal trends for 2023 will sweep your significant other off their feet.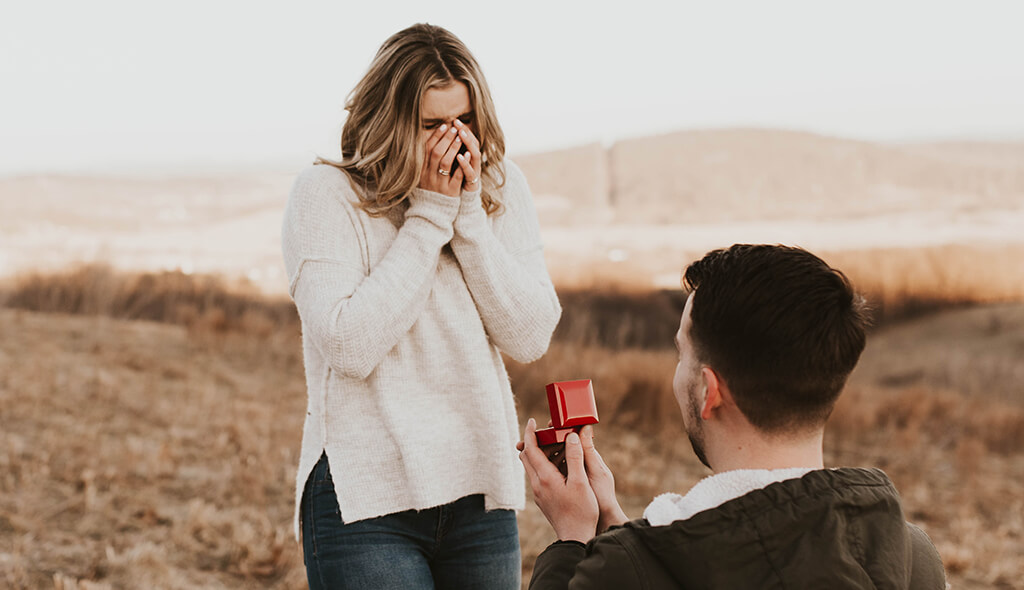 Love is in the air, and it's time to take advantage of cupid's magic. At James Allen, we know every day is a special day with your someone special, but there's only one day dedicated to pure romance and sweetness.
If you're set on proposing on Valentine's Day, we're here to offer you some adorable proposal ideas and give you a look at some of our customers' yes moments! Let their bright smiles and glowing rings inspire you to plan an unforgettable moment for you and your love.
Wine 'Em And Dine 'Em
This may be a tad simple, but for many people, being present with your partner with some added yummies is all you need.
Think before you pop the question: is your partner the type of person who would love being proposed to in a crowded restaurant, or is an intimate picnic/ candlelit homemade dinner the better way to go? If you're both foodies, we suggest either booking a spot at their dream restaurant or cooking their fave dish at home.
It's All About The View
We call this the double jaw-dropper: a proposal plus a breathtaking view. A Valentine's Day proposal may call for some extra effort. Let's start with the most extreme to a simple yet sentimental backdrop.
If you and your partner are fond of traveling, met abroad, or have a favorite destination, we suggest you start making your travel plans now and get that perfect spot for your V-Day proposal.
You could also keep it a little more low-key. Take your someone special to your favorite local hangout, the place you first met, or skip back in time to a key moment in your relationship, like your first kiss.
No matter where you propose on Valentine's Day, we're almost certain that no view will be as stunning as the twinkle in your partner's eye when they say yes. Your chosen picturesque setting will be a bonus for your Insta-worthy engagement shots.
The Cliché That Works
There's no Valentine's Day without a box of chocolates, and we don't think there's anything wrong with embracing a few of cupid's tasty clichés. Assuming your partner has a sweet tooth, a hidden engagement ring inside a heart-shaped box of chocolates could be your ticket to a cute chocolate-stained tooth YES!
If you want to make it more personal, you could pick out their favorite types of chocolates and create a customized chocolate box.
There are a few ways you could go about the proposal. Firstly, you could gift them the box, and as they open it, you'll have time to drop it down to one knee. Alternatively, keep the ring at your side and have them open the box with the words "will you marry me?" written on the inside of the top lid.
It's sweet, it's simple, and you'll have a delicious snack to celebrate in between happy dances, fiancé selfies, and joyful phone calls to friends and family.
Related posts: Valentine's Day Gift Guide For Her 2023
A Surprise Party
Good at keeping secrets? If yes, maybe a surprise party is the perfect way to propose on Valentine's Day.
It's also the perfect way to kill two birds with one stone- a proposal party morphing into an engagement party. You're also able to celebrate with all your loved ones, and what could be more special than that?
Take your time to plan it perfectly, the food, music, location, and how you're going to propose. You could get someone to create a video of you and your partner as a pre-proposal intro. If you're not shy, you could even serenade them or get your family and friends involved in a game that will lead to the big question.
A Scavenger Hunt
Set yourself up for the perfect proposal with a meaningful scavenger hunt. This way, you can hit all those special places that mean a lot to you and your love. It's also super fun!
You will need to set this up perfectly, so make sure you plan your scavenger hunt well, including who you need to be involved in it.
We suggest you keep your partner on their toes without making the hunt impossible to figure out. Each clue should lead them to a different location (part of your house), and you could be waiting at another place (or room), ready to pop the question.
Want to keep it interesting? Have your partner do it with some friends or family members if you want the proposal to be a complete surprise.
Show Your Love Story
We've seen this done in the sweetest ways in our favorite family sitcoms and films; this method is foolproof. Take your partner down storybook lane and show them all the places, moments, and memories that have meant the most to you throughout your relationship.
This can be something that you do as a Valentine's Day getaway, a small road trip around your town, or even in the comfort of your own home. Each particular spot can add to the buildup of your big questions and will only make that final moment all the more precious.
Your proposal doesn't have to be laced with sentimental Easter eggs, but we'd be lying if we said it wasn't setting you up for the epitome of romantic proposals. You could even end the entire story off with all your family members and close friends.
Need inspo- grab your tissues and check out episode 19, season 7 of The Office (US), where Michael Scott proposes to his girlfriend Holly using the storybook lane method.
Related Post: Valentine's Day Gift Guide For Him 2023
With A Book Or Homemade Movie
Are you and your partner creatives at heart? You could propose using that creativity in the cutest way.
Google is filled with customizable love books, and any simple editing app can help you design a homemade love story using your best moments as a couple. You could even rewrite their favorite love story using the two of you as main characters.
Nothing says I love you more than your words and reminiscing over your memories together. So take the time to create your happily ever after chapter one, and leave your big question at the end of your story to start your chapter two with a bang and some new sparkle.
Need More Valentine's Day inspiration?
Check out our related Valentine's Day-inspired posts, and get in touch with our 24/7 customer service if you have any questions about your perfect sparkler!
Looking for inspo? Follow us on Instagram and see how other happy customers have got their proposals right!
Subscribe to our email list for access to secret sales, practical ring-buying tips, and $100 off your first purchase!