Part of the fun of getting engaged is taking gorgeous photos! Every newly engaged couple wants to capture their relationship at this special time and treasure it for years to come. But with so much pressure to take the best photos, it's easy to feel daunted by an upcoming photoshoot. So, let's break down how to get the best photos without stress!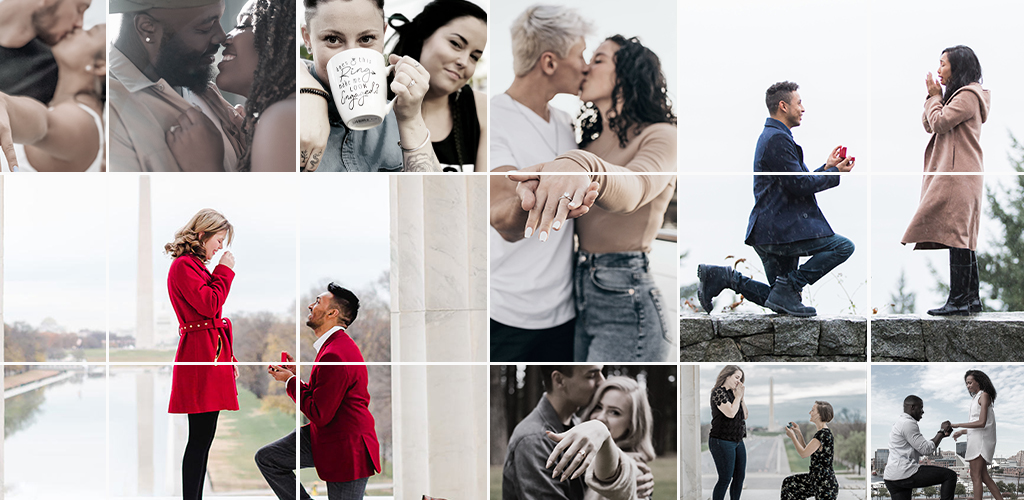 Introduction
Everyone loves an excuse to dress up and take pictures! With your proposal behind you, you can immortalize the moment with beautiful engagement photos. Whether you're a professional photographer yourself or looking to hire one, taking insta-worthy engagement photos can be both fun and rewarding.
In this blog, we'll share all the tips and tricks to get the most out of your engagement photoshoot! From posing to lighting, we got you covered. So, let's get started!
Finding The Right Photographer
A photographer can make or break your photo shoot, so choose wisely!
If you're looking to hire a professional, take extra care to look at previous photoshoots they've shot. This will help you determine if their style and approach suit your needs.
Take plenty of time to talk with your photographer before the big day. Discuss what you're looking for to determine if they're easy to work with and open to suggestions. The key to looking great in photos is trusting the photographer, so ensure you feel confident in their abilities!
If you're not looking for a professional, don't worry! There are plenty of other options out there for you.
There are many benefits to asking a close friend or family member to take your photos! Friends and family members will know you and your taste better than any photographer- plus, they'll know exactly how to get you to laugh.
Ask someone who you can be yourself around, and you'll be good to go!
Choosing The Right Location & Time Of Day
We all know that location will make a massive difference in your engagement photos' overall feel and look! Before settling on a site, consider the following:
Your Style: Choose a location that suits your personal style and interests. For example, if you and your partner love the beach, take photos by the water. If you met your significant other in the city, take your pictures in a downtown area. If you both love calm and serene settings, let this shine in your images. Make the location meaningful to you!
The Season: Consider the time of year when choosing a location. Different seasons will significantly impact how your location looks and feels. You can choose a spot with colorful leaves if you have an Autumn shoot. And, if it's winter, you can take photos in the snow- but don't be surprised when it's cold! And make sure you prepare for the weather, too- if it's sunny, double-check that there is shade and water. If it's cold, make sure you can stay warm.
Avoid Crowded Areas: Choose a relatively quiet location, as crowds can be distracting and stressful. Instead, choose a setting that allows you to make outfit changes (if needed), take breaks, try different poses, and communicate with your partner and photographer.
Lighting: We all want our photos to be adequately illuminated but not too bright. Don't shoot right before sunset (unless you're planning on catching Golden Hour), as you will be pressed for time. Discuss with your photographer the perfect time for the lighting you want.
Remember, this is supposed to be a fun experience. Choose a location that will be beautiful and a joy to shoot at!
Posing Tips For Natural & Flattering Shots
Some people can act naturally in front of a camera, while others freeze up. If you fall into the latter category, here are some ways to loosen up:
Use Flowers: Having something in your hands is a great way to keep them from looking aimless and awkward. Flowers add a romantic element to any image! You can hold a bouquet or pose, giving one flower to your partner.
Bring Along Your Pet: If you and your partner already have a furry little one, bring them along! Pets are a great way to lighten the mood and add a playful element. Plus, they're part of the family too!

Show Affection! Put your arm around your partner, rest your head on their shoulder, hug, kiss, hold hands, give your partner a piggyback ride—whatever it may be, try to pose together! Before your shoot, figure out which poses you'd like to try so you're not scrambling for ideas on the big day. Affectionate poses always show up great on camera!
Outfit Ideas For Engagement Photos
Dress for the occasion! Even if something looks beautiful, it may be tough to pose in. Your outfit should make you feel confident and be something you can move freely in.
Remember to avoid patterns and logos, as these can be distracting in photos. Stick to solid colors or subtle patterns instead.
You can even choose outfits that match the location or theme of your photoshoot. Keep things simple; wear more formal attire if you're taking photos in a traditional setting. Wear more relaxed clothing if you're taking pictures in a casual setting.
Coordinate with your partner! Choose outfits and colors that complement each other. You don't have to match exactly, but you should be wearing styles that look good together. You don't want to show up in a ballgown while your partner is wearing a t-shirt!
FAQs:
How long does an engagement photo shoot typically last?
An engagement photo shoot usually lasts 1-2 hours, depending on the location and number of outfit changes. Because of this, ensure you are well fed, well rested, and free of other commitments!
Do we need to bring our own props?
It's not necessary to bring your own props, but it can add some fun and personality to your photos if you do. If you don't bring any, it's expected that your photographer will be prepared with some of their own.
How many photos can we expect to receive from our photo shoot?
This will vary depending on the photographer and package you choose. Most photographers will provide a set number of edited photos, typically between 20-50.
Conclusion
Capturing Insta-worthy engagement photos is a fun and rewarding experience that anyone can enjoy. By following these tips and tricks, you will surely create memorable photographs you will treasure for years to come!
Remember to have fun, be yourself, and let your love shine through your photos. Happy shooting!
Subscribe to our email list for access to secret sales, practical ring-buying tips, and $100 off your first purchase!