Choosing who you want to spend the rest of your life with may be a no-brainer, but choosing the engagement ring that you or your future spouse will wear may not be an easy task.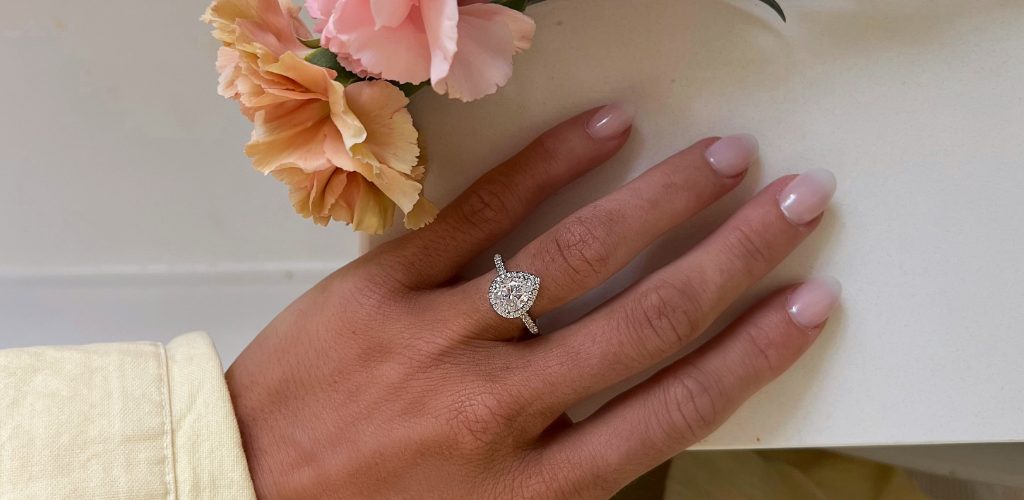 Today on the blog, we're focusing on the pear shaped diamond. There's no denying that pear shaped engagement rings are experiencing a major comeback, and it's easy to see why.
These stunning teardrop-shaped pieces are not only timeless and eye-catching but they can also be easily customized because they have so many distinguishing characteristics.
Keep reading to learn everything you need to know about this unique yet gorgeous diamond shape.
What Is a Pear Shaped Engagement Ring?
Pear shaped diamonds have graceful curves and a flattering, elongated teardrop shape. Essentially, this diamond shape is a combination of a marquise and a round diamond. Also sometimes called "teardrop engagement rings," pear engagement rings have one rounded end and one pointed.
The teardrop diamond first originated in Belgium during the early 1400s. Created by Lodewyk, van Berquem was also responsible for the placement of facets in modern diamond cuts and for the use of symmetry in diamond cutting. Unfortunately, at the time, the pear shaped diamond was not so popular.
However, today, there are pear shaped engagement rings for every aesthetic, from minimalistic solitaires to vintage-inspired styles with captivating colorful gemstones. Even famous celebrities such as Victoria Beckham, Elizabeth Taylor, Emily Ratajkowski and Cardi B rock out-of-this-world pear-shaped engagement rings.
Pros and Cons of a Pear Shaped Engagement Ring
As with all diamond cuts, the pear cut has both advantages and disadvantages.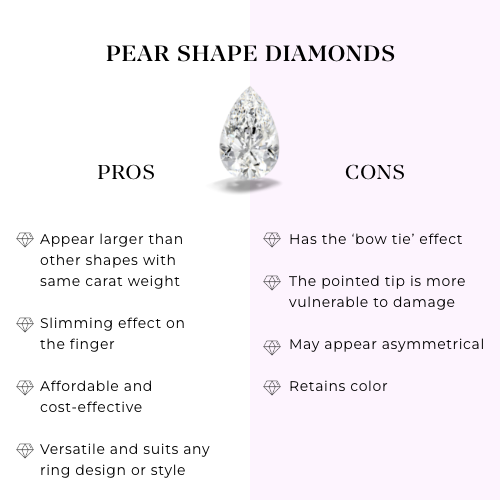 What to Look for in a Pear Shaped Engagement Ring
When searching for your perfect pear shaped diamond, there are a few important characteristics to keep in mind! Remember to look for…
Even Shoulders & Perfect Symmetry
Diamonds with pear shapes should have even rounded edges when viewed from above. In an instance where one edge is slanted more than the other, the value of the diamond decreases. Additionally, the point of the teardrop should lie directly between the two rounded edges. In other words, if you fold the diamond in half lengthwise, the point of the diamond should be right on the folding line
As these types of diamonds are modified round brilliants, they should retain all of the sparkle and magnificence of the round brilliant diamond. Diamonds occasionally display a dark "bow-tie" shape within the diamond's facets (center) that can be seen at a certain angle. It's important to make sure that your pear-shaped diamond does not have this imperfection!
Good Length To Width Ratio
The length-to-width ratio of your pear-cut diamond will impact how wide or narrow the diamond will look. This ration also refers to how long a diamond is in comparison to how wide it is. If the width of the pear shaped diamond is 1, it is generally agreed upon that the ideal length is about 1.5 to 1.7 times that. Using this ratio, you'll be able to create the perfect ring shape for your engagement ring.
A Setting to Protect the Pear Shape
We have five different yet ideal types of settings that will perfectly protect your pear-shaped engagement ring from damage.
Prong setting – this refers to the metal claws that hold a diamond in place. Not only does this allow for maximum light reflection and a beautiful display of the diamond, but a prong setting offers a large amount of protection for the diamond. This is ideal for smaller pear diamonds and offers excellent protection for the point.
Halo setting – glamorous and stylish, the halo setting offers protection all around the diamond. Edges are kept secure while adding an extra sparkle to the stone.
Bezel setting – offering the best possible protection for any diamond cut. The entire diamond is beautifully wrapped in metal and kept in place. Contemporary, trendy with a minimalistic look, are also perfect for fancy-color pear diamonds.
Pear Shaped Diamond Anatomy
Understanding the parts and characteristics of a diamond, as well as its terminology can help you shop wisely for your desired stone.

How To Wear A Teardrop Engagement Ring
There are no rules when it comes to the 'right' way to wear a pear shaped engagement ring. But the most common way to wear a pear shape is to have the tip pointing upwards to your fingertips, with the round bottom towards the hand. This gives it the upright figure of a falling teardrop or pear standing up.
What Wedding Rings Go With Pear Shaped Engagement Rings
Choosing a stand-out engagement ring style can make it a little trickier to pair it with a wedding band, so we've put together some of our favorite ideas to help you style your dream ring.
While the simplest way to pair your fancy-shaped engagement ring might be with a straight wedding band, you can also jazz it up with an unusual wedding ring style. For example, a curved or contoured wedding ring will beautifully follow the curve of your pear shaped ring and accentuate its size.
One of the most beautiful ways to ensure your engagement and wedding rings perfectly match is to opt for a bridal set. In a bridal set, both rings are designed to fit seamlessly together. As teardrop engagement rings are often a unique style, you're guaranteed that your rings will complement one another perfectly.
FAQs
What does a pear shaped ring symbolize? A pear-shaped ring often represents the strong will, empowerment, independence, and unique style of its wearer. It is believed that these stones also symbolize tears of joy or wedding tears, both appropriate choices for an engagement ring.
Are pear shaped diamonds more expensive? Generally, pear-shaped diamonds are less expensive than round diamonds of the same carat and quality. Since pear-shaped diamonds produce less waste when cut from raw diamonds, they are usually less expensive to cut. Additionally, pear-shaped diamonds will look larger than round diamonds of the same carat weight.
Are pear shaped rings pretty? If you're looking for an elegant, unique shape that's different from the rest, a pear-shaped engagement ring is perfect for you! Pears give great sparkle, look larger than rounds of the same size, and are rarer than many other shapes. They're a beautiful engagement ring choice!
Do pear shaped diamonds sparkle? Yes! Pear-shaped diamonds are "brilliant" cut diamonds which are faceted in triangular and kite shapes. In other words, they sparkle like crazy!
We're Here To Help
Looking for pear-fection? Why not put one of these gorgeous pear-shaped stunners in your cart?
Plus, don't forget, you can view all of these pear-shaped diamonds' cut, color, clarity, and sparkle on JamesAllen.com in 360° HD views and up to 40x magnification so you can truly understand your diamond's features.
Then, once you've picked the pear you wish to wear, feel free to share it with us on one of our social channels: Instagram, Facebook, TikTok, or Twitter.
Subscribe to our email list for access to secret sales, practical ring-buying tips, and $100 off your first purchase!