Sure, the jewelry looks fantastic online…but what do customers really think? Read on to find out! We've arranged a lineup of the year's most-reviewed items: engagement rings, wedding rings, and fine jewelry.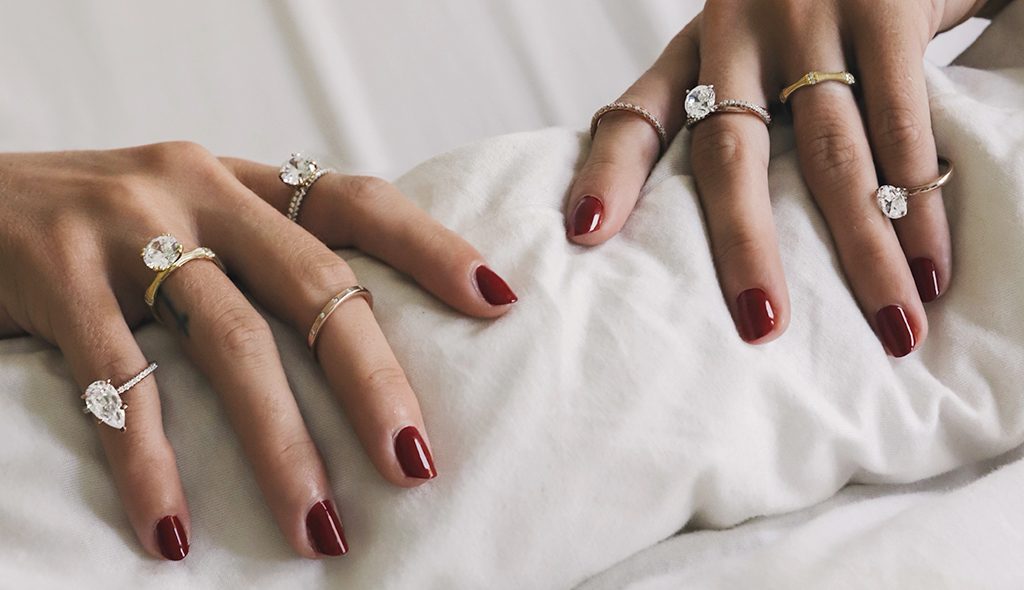 The reviews are in! Which items are James Allen customers totally in love with? The trends are clear: rose gold, pavé, and classic settings are in.
Rose gold jewelry
Rose gold jewelry got the lion's share of rave reviews! Our lineup below includes rose gold engagement rings, rose gold wedding rings, and a rose gold necklace.
Pavé jewelry
This glittery lineup of popular jewelry is studded with pavé settings. Not only does pavé add sparkle, but when designed in a halo it makes its center stone appear larger!
Classic jewelry
Simple, unadorned jewelry makes a strong showing alongside its sparkling peers. Solitaire engagement rings, minimalist stud earrings, and gold-forward pendant necklaces are clearly popular.
Read on for a snapshot of our most-reviewed items…
Rose Gold Petite Pavé Engagement Ring
The Petite Pavé is one of our most popular engagement ring styles, and it's clear that rose gold is rising in popularity. This delicate, feminine ring has just the right amount of sparkle…and it had our customers raving!
White Gold Knife Edge Engagement Ring
A simple solitaire engagement ring – with an edge. The strong lines of this unique solitaire engagement ring draw all eyes to the featured center stone. Affordable, minimalist, and stylish, this engagement ring drew a storm of chatter.
Yellow Gold Solitaire Engagement Ring
with Oval Diamond
This yellow gold engagement ring is an utter classic. It's designed for comfort – not only is it beautiful, but you can wear it all day. And customers loved it! This setting is suitable for mounting with any cut of a diamond – and customers took advantage of this, choosing (for instance) the oval diamond featured below.
White Gold Pavé Rope Engagement Ring
This white gold engagement ring really puts a twist on pavé. It's composed of two thin bands – one pavé and one classic – twirled together for just the right amount of subtle shimmer.
Rose Gold Cathedral Halo Engagement Ring
With an arching, many-armed backet, this rose gold engagement ring is pure royalty. Its unique halo is slightly almond-shaped, tapering gracefully into the curved pavé-set band. This is a super-sparkler! And thanks to the surrounding small stones, the center stone actually appears larger than it is.
Platinum Flush Fit Pavé Wedding Ring
This is a timeless wedding band that adds a good amount of sparkle. The pavé-set diamonds are set perfectly to allow the maximum amount of light to hit their facets. And if that's not enough, it's also effortlessly comfortable to wear.
Thin Pavé Wedding Ring
For those who love a solid stack of sparkle, this delicate pavé wedding ring is a perfect choice. Slim enough to accommodate both an engagement ring and an anniversary ring, this adds a graceful line of complementary glitter to any ring compilation.
Platinum Prong-Set Diamond Wedding Ring
This platinum wedding ring is set with 10 sparkling diamonds that cover half the band's length. This wedding ring is gracefully bold. Its stones are larger than that of a pavé and, as such, they capture a good amount of light.
Rose Gold Vintage Marquise Wedding Ring
A wedding ring with all the romance of vintage jewels, but made to modern quality standards. The entire length of the rose gold band is set with alternating round and marquise diamonds that give off an uncommonly romantic whimsy.
Yellow Gold Four-Prong Diamond Earrings
These diamond studs became many of our customers' go-to earrings this year! With their sturdy yet vanishing prongs, these yellow gold earrings upgrade your wardrobe for any occasion. You really can't go wrong with diamond studs, especially these.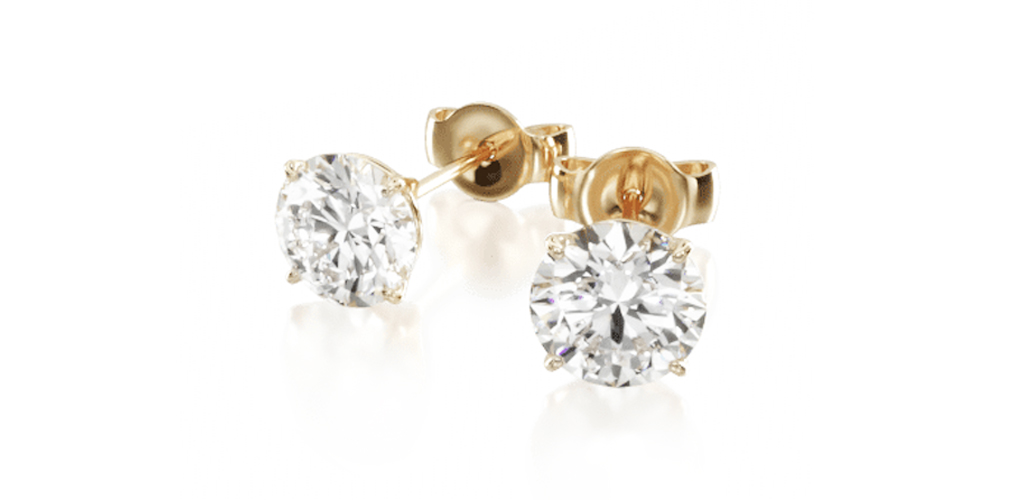 White Gold Four-Prong Diamond Tennis Bracelet
Diamond tennis bracelet: the ultimate in shine! This bracelet is straight-up, elegant, in-your-face sparkle. A continuous line of diamonds makes this bracelet shimmer from every angle on your wrist. Sturdy four-prong settings hold 53 brilliant-cut diamonds in a single, beautifully-crafted row.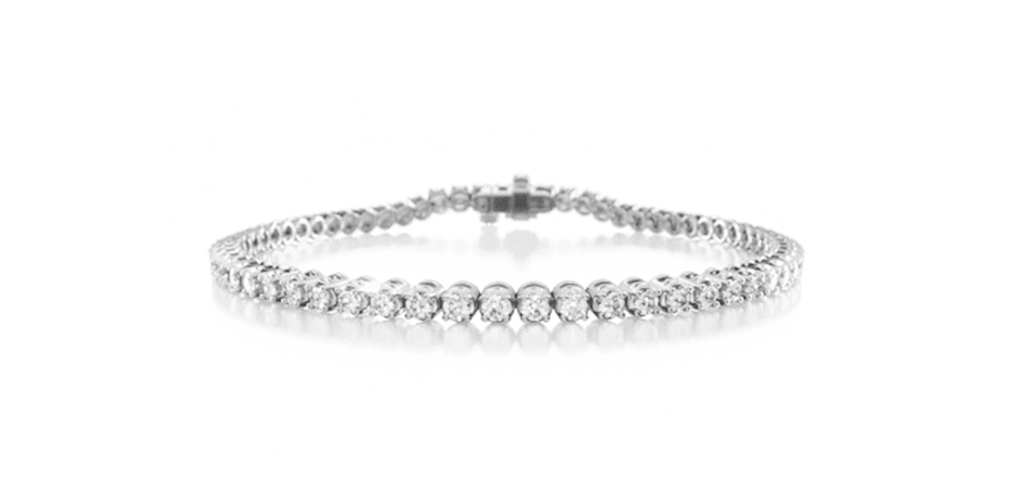 Rose Gold Curved Bar Diamond Necklace
A minimalist piece with personality! This diamond necklace features a curved row of round-cut diamonds gracefully suspended by a rose gold chain. The delicate line of glitter brightens up the wearer without being too in-your-face, and the rose gold lends this necklace a feminine touch.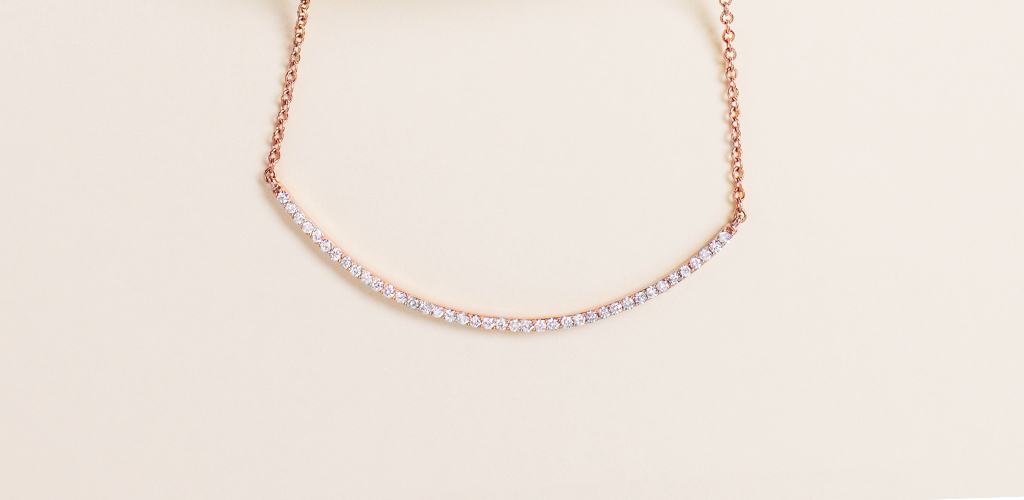 Yellow Gold Bezel Diamond Pendant
A minimalist diamond pendant necklace with an understood, practical grace. This diamond pendant necklace takes your everyday wear to the next level. The thin bezel setting makes it a fantastic option for active lifestyles, thanks to its strong, no-snag mounting and comfortable flattened back.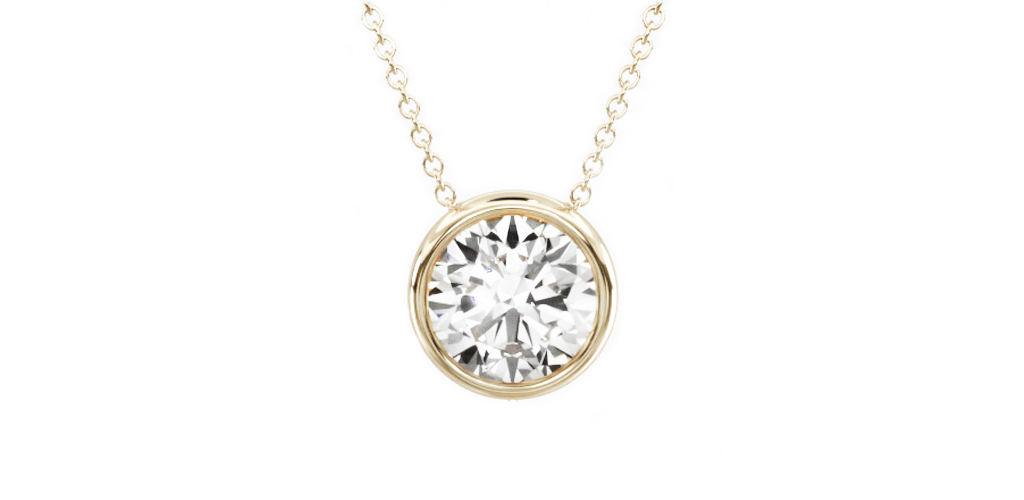 Platinum Milgrain Bezel Diamond Pendant Necklace
This milgrain setting keeps your diamond secure and stylish. Its beading is the perfect mix of modern and vintage jewelry design. The smooth, curved back adds a gorgeous element of movement, ensuring that your pendant will always move slightly to catch the light and your diamond's facets will sparkle.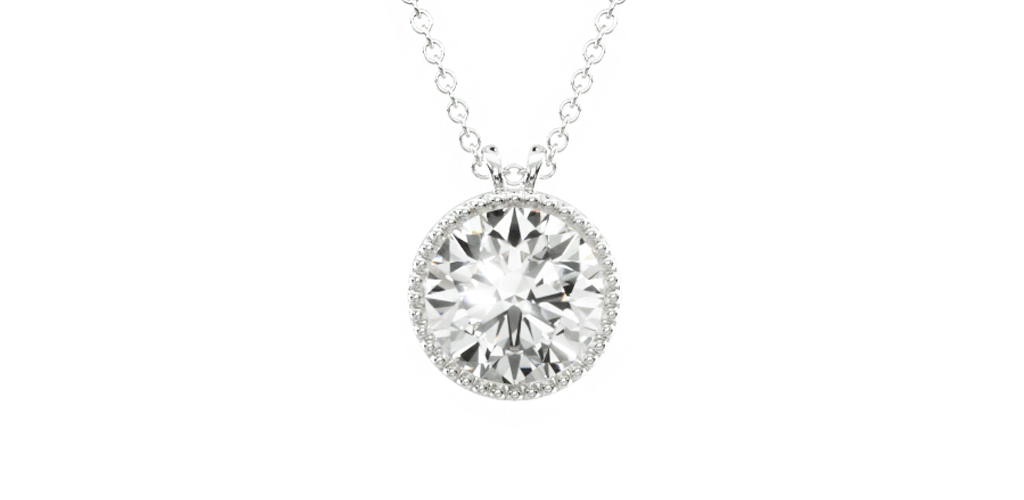 Customer-favorite jewelry styles:
Subscribe to our email list for access to secret sales, practical ring-buying tips, and $100 off your first purchase!