Getting the ring of your dreams may sometimes seem impossible, but we're here to answer one very important question. How much should you really spend on an engagement ring? We've got all the tips and tricks to ensure you get the perfect ring for your buck!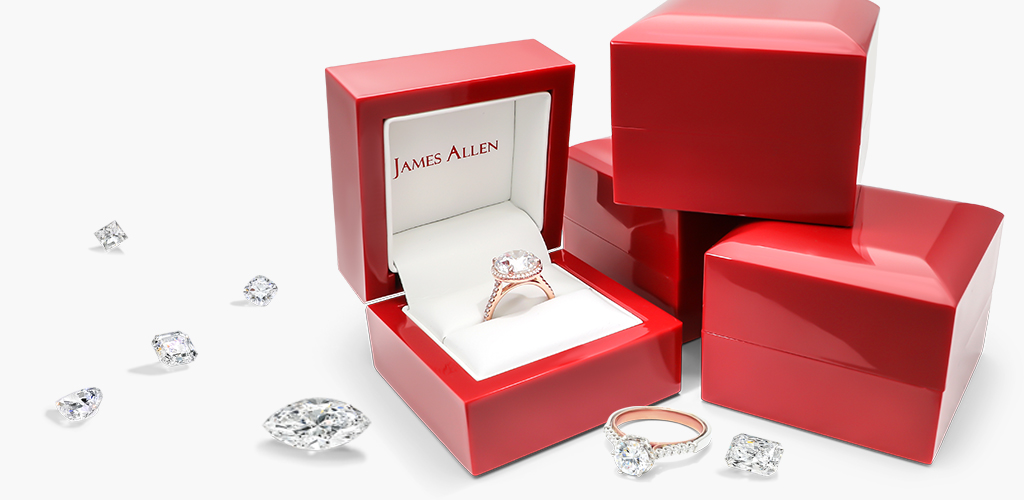 Shopping for engagement rings can be stressful, time-consuming, and even a little confusing at times. We know the assumption is that an engagement ring will cost a pretty penny, but most people don't know all the ways they can get their dream ring without breaking the bank.
We'll discuss unrealistic engagement ring cost myths and share all the clever ways to avoid them and still get the best ring for your buck. From diamond hacks to where you should shop for your ring, our tips and tricks are sure to help you avoid unnecessary ring costs.
What's the Average Cost Of An Engagement Ring?
Today, the average price of an engagement ring ranges between $2,500 to $5,000. However, plenty of people purchase rings that are both below and beyond that price.
As you plan to buy your engagement ring, it's important to remember that there is no one size fits all way of doing things. Each person has their own income, ring budget, and, of course, ring preference.
Engagement Ring Cost Myths
Outdated myths about engagement ring shopping and societal expectations can lead you down an expensive path. Let's take a look at some of those assumptions and how you can avoid them.
Spending Three Month's Worth of Your Salary
Spending three months' worth of your salary was a campaign started by De Beers in the 1930s. It was traditional until it wasn't. It changed to two months' salary as time passed, and then the diamond needed to cost one month's salary. Slowly but surely, those ideas changed with time, and now there are no ironclad rules about what to spend on an engagement ring.
The Bigger the Better
The bigger, the better- we must politely disagree. While the idea of a big and brilliant diamond sounds incredible, there are so many other ways to maximize your diamond's appearance without having to purchase a huge diamond.
For one, most jewelry retailers have a large selection of diamond shapes and ring settings. So how do you go bigger without breaking your budget?
Try out an elongated diamond center stone, like emerald, oval, marquise, or pear. These diamonds can give off the idea of being larger than other round or square diamonds of the same carat weight.
Or you could invest in a setting that adds more sparkle to your ring. Side stone, halo, and pavé settings can give you the extra diamond accents you want without having to invest in a bigger diamond.
As Brilliant and Colorless as Possible
Color grading for diamonds isn't as tricky as it seems- especially when picking a center stone for your engagement ring.
As you can see on the chart below, near-colorless diamonds barely have any yellow tint and are often cheaper than colorless diamonds. The diamonds below are exactly the same except for the color grade. The slight tint of color in these diamonds is almost impossible to detect with the naked eye.
For faint yellow diamonds, if cut in a flattering diamond shape and set with the right metal color, their slight color will also be disguised. In that case, you can walk away with a stunning diamond engagement ring for a fraction of the price you would've paid for a colorless diamond.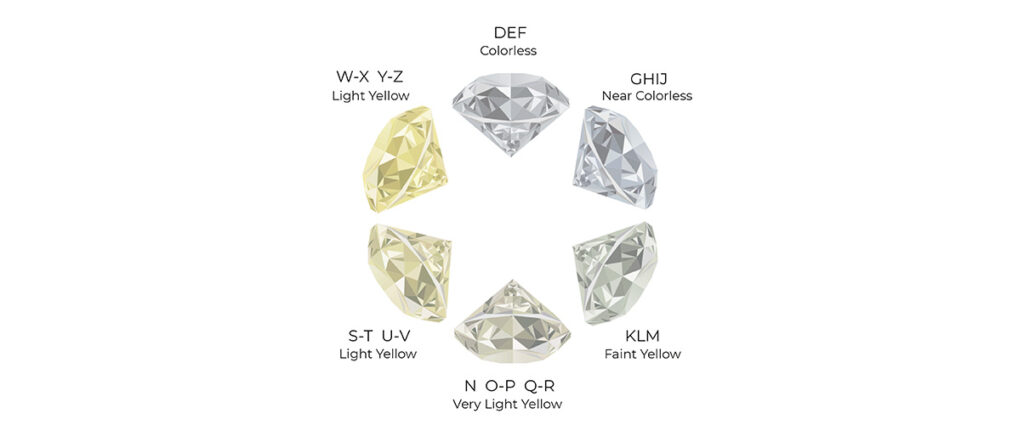 How Much Is Too Much to Spend On An Engagement Ring?
There is no correct answer to this question. How much you spend on an engagement ring depends on your personal budget and your partner's expectations. If you are looking to save costs and get the absolute best ring for your budget, then you need to shop smart and do your research.
Overspending on an engagement ring can mean anything from picking a colorless diamond instead of a near-colorless diamond that would've looked just perfect in your chosen ring setting. But you won't know which mistakes to avoid if you don't utilize all the information at your disposal. Many ring shoppers use free online jewelry consultants- like our diamond consultants at JamesAllen.com.
How To Cut Costs On An Engagement Ring
Manipulate the 4Cs
Cut
The cut of the diamond is the first, arguably most important, C. Here you can decide between several fancy shapes like pear, oval, marquise, and cushion-cut, to name a few. If your partner wants their diamond to really sparkle and shine, spend some extra time choosing which cut might match their preference best.
Color
The color grade of your diamond can range from D-K. Most diamonds have a visible trace of yellow in their body color, whereas white diamonds are colorless.
Clarity
The clarity of your diamond may differ depending on whether it has any natural external blemishes or internal inclusions. Here, you may be looking for a diamond with zero imperfections or maybe one with a bit of character to it. The clarity of a diamond is directly impacted by its cut, something for you to keep in mind.
Carat Weight
The final C is carat, referring to the standard weight of your diamond or gem. One carat is 0.20g, and most couples are comfortable choosing an engagement ring with a center stone from 0.50 to 1.5 carats.
So, how do you manipulate the 4Cs? Here are our top tips:
Find a balance between color and clarity. While that balance varies by diamond shape, you can save money without sacrificing quality by staying on the high end of the color scale but the lower end of the clarity scale, as long as there are no visible inclusions.
With round, emerald, and asscher cut diamonds; you can typically go as low as a J color grade without seeing any incredibly noticeable color.
Cuts such as oval, cushion, radiant, pear, princess, marquise, and heart require quality a bit higher on the scale (G and up) so as not to see any color.
Well-cut diamonds like round and princess shapes have an incredible firey brilliance, no matter the size of the diamond.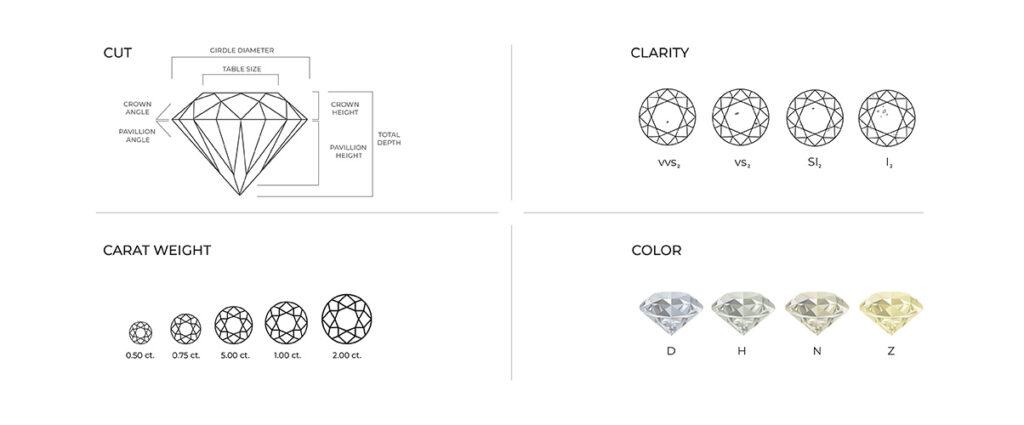 Opt For Lab Created Diamonds Instead
When buying an engagement ring online, you'll find a wider variety of diamond and gemstone center stones. While some people prefer the traditional natural diamond, the perks of investing in lab created diamonds are growing.
Lab grown diamonds and earth-created diamonds are optically and chemically identical. If you were to have both diamonds professionally inspected, you would find no differences. The only noticeable difference is the price tag. A lab created diamond is by far the more budget-friendly option.
Ditch The Diamond Altogether
If you're on the fence about gemstones, remember this. All gemstones are rare, like diamonds, but more affordable per carat. They certainly put an alternative twist on a classic engagement ring, and they can be a more budget-friendly option compared to diamonds.
Gemstones can be set in ring settings with diamond accents or on their own in solitaire bands and still produce that show-stopping effect you want in your engagement ring.
If you want a larger yet inexpensive center stone on your ring, try a classic gemstone from sapphires, rubies, emeralds, and even morganite.
Buy Your Engagement Ring Online
We know shopping online comes with many what if's, and we're sure you've been left with some trust issues. However, if you find a known and trustworthy online jewelry retailer, you can end up getting the most incredible engagement ring for much less.
Pros of shopping for your ring online:
Special services and technology (education center, 360° HD diamond viewing)
Online engagement ring customization
More variety for your budget
Lab created diamonds in all shapes, sizes, and colors
Affordable gemstones alternatives
Great shipping and return policies
24/7 customer service
Ethically sourced diamonds
Jewelry insurance assistance
0% interest payment options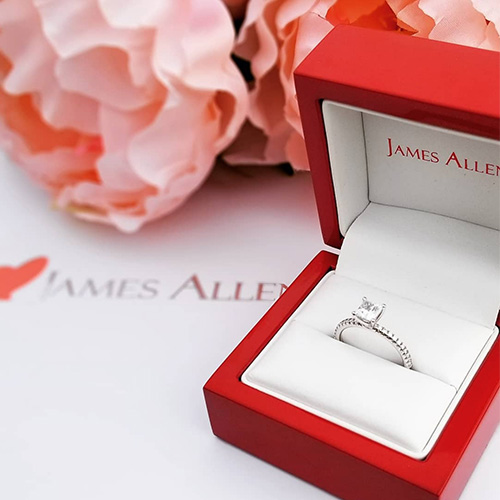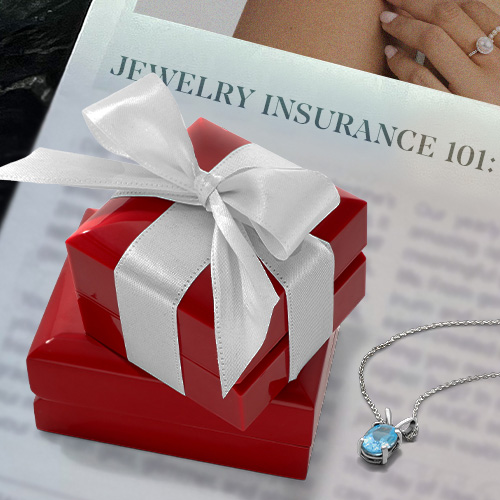 Wait For Sale Periods
The holiday season is an excellent time to shop for your engagement ring. This is a promotional time for many jewelry and diamond retailers, and you could end up saving a significant amount on your engagement ring.
Once you've researched and found your potential go-to retailers, subscribe to their newsletter to get regular updates on upcoming sales.
Customize Your Ring Online
Customizing your ring online is not only an incredibly personal experience but one that can ensure you get a ring within your budget that meets all of your wants and needs.
Our Ring Studio offers online customization on a whole new level. You are the leading designer instead of telling someone in a store what you like and having them create it for you. You don't need to settle for an engagement ring that doesn't quite suit your or your partner's style because you can design one that is the exact representation of what you want down to every minute detail.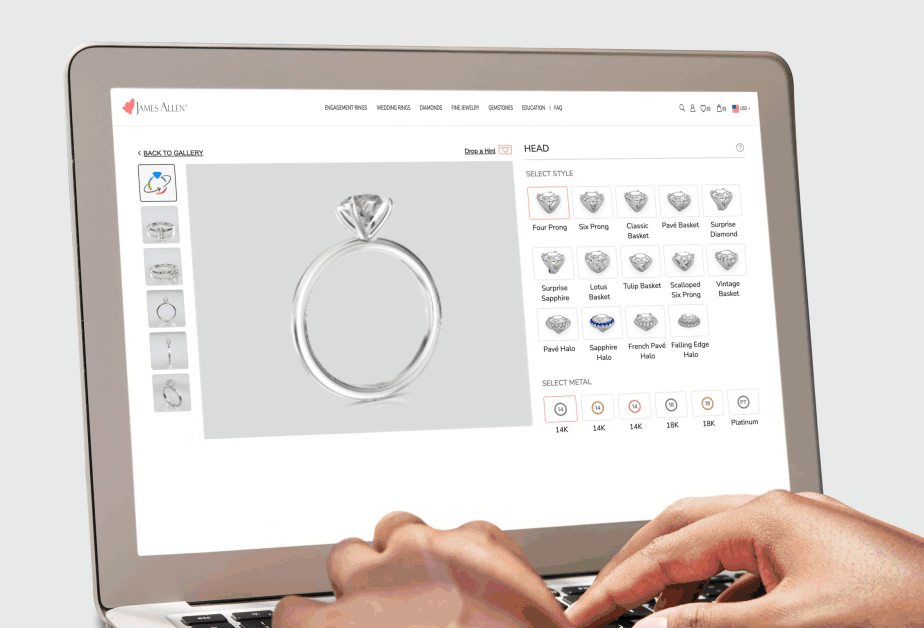 Trends Shaping Engagement Ring Spending
Engagement ring spending has changed significantly due to how millennials and older couples who are remarrying have shifted the dynamic of buying engagement rings.
Many individuals and couples choose to marry later in life after they've had their personal, professional, and worldly development. As a result, these people are more sure of what they want in an engagement ring regarding style, originality, price, ethics, and how they make their purchase.
These expressions of individuality and broader consumer awareness have manifested in several trends like unusual center stones, settings, colors, shapes, and styles. More couples opt for gemstones or lab grown diamonds because they are often more socially responsible, unique, and affordable.
We're Here To Help
Finding the perfect engagement ring comes with stress, questions, and a lot of second-guessing. At James Allen, we offer you 100% free advice and will assist you in understanding the best diamond quality for your budget and unique preferences.
Contact our customer service team and chat with non-commissioned diamond and jewelry experts 24/7 regarding any questions you have about buying an engagement ring online and the process around it.
Happy shopping!
Subscribe to our email list for access to secret sales, practical ring-buying tips, and $100 off your first purchase!