Keeping up with trends can be difficult. If you're planning for 2022 to be the year of your proposal, start off on the right foot by taking a look at what's trending in the world of engagement rings.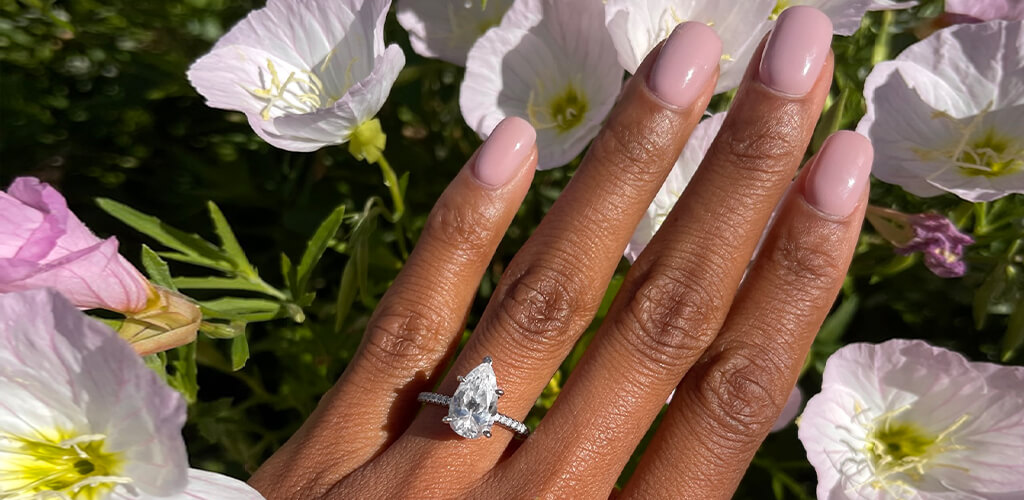 As we make our way through 2022, we see what engagement rings are already trending. Whether you are shopping together or planning a surprise proposal, you want a ring you'll both love forever.
After the upheaval of the past few years, it's becoming clear that ring-shoppers are finally feeling more stable and certain regarding the future – and they're no longer holding back on the sparkle. 2022 is shaping up to be the year of the bling. Get ready for large diamonds and lots of them!
Pavé Engagement Rings
Pavé is popular, has always been popular, and will likely always be popular. It is no wonder why pavé engagement rings are dominating in 2022. They're beloved due to their impact: size ratio.
Pavé diamonds are tiny – so they're affordable, and pavé rings normally contain dozens of them – so you get ALL the facets. Pavé-set diamonds give rings a uniquely glittery quality, thanks to the hundreds of delicate facets that refract light in different directions with even the slightest shift of the finger.
Why aren't pavé rings more expensive if they're set with so many stones? Well, it's because diamonds increase in value as their carat weight goes up, but the price increase is somewhat exponential.
In other words, a ring with a handful of tiny diamonds with a total weight of 1 carat will almost always cost less than a single, 1 carat diamond engagement ring. You get more diamonds, and you pay less.
Vintage Engagement Rings
We have all seen how thrifting and second-hand shops are all the rage in fashion, and engagement rings are no exception. Vintage engagement rings give that one-of-a-kind, antique feel. You get the style of today, inspired by the best styles from the past.
Cathedral settings are part of this popular trend thanks to their style, which mimics the arches of old church cathedrals. Whether you are choosing a classic diamond or a colorful gemstone, this eye-catching design will highlight your choice beautifully.

Cushion cut engagement rings are also part of this trend. With their timeless style and vintage appeal, cushion cut diamond engagement rings are a classic choice that will always be on the cutting edge of fashion.
Contoured Ring Sets
Everyone loves a matching set, right? Well, that's why this style is at the top of 2022's trends. These sets, which include a curved wedding ring to match your gorgeous engagement ring, were made to go together…just like you and your beloved!
There's something particularly satisfying about a wedding ring that's literally made for your engagement ring. Your center diamond is lovely on its own, wait until you see how it looks with your custom-made wedding band!
Advantages of matching wedding sets:
No need to search for a wedding band
It's guaranteed that your wedding set will sit perfectly flush to your engagement ring
More of a good thing: if you love your engagement ring, you'll get more of what you love in your wedding ring
All-in-one purchase: you can purchase both your rings at once, which can save you money.
Check out this inspo and get your own matching set!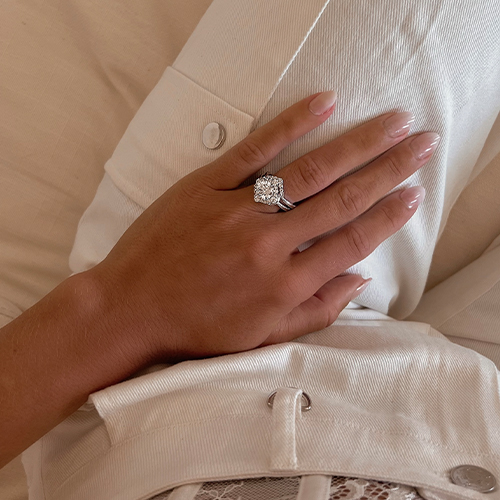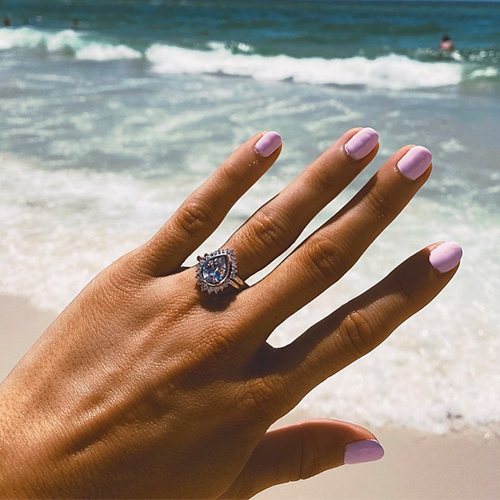 Rose Gold Engagement Rings
Rose gold just oozes romance. Its vintage appeal with modern flair makes it doubly trendy and its warm color makes it irresistible. Rose gold engagement rings are a great choice in addition to the more traditional yellow or white gold options and are ideal for the lover who wants a ring that is timeless, elegant, and effortlessly stylish.
This gorgeous metal looks great with both classic colorless diamonds and gemstones that share the metals warm hue. A favorite of many celebs, rose gold engagement rings are no longer just the choice of those seeking an "alternative," rose gold is now a mainstream trend that looks like it is here to stay.
Hidden Diamond Details
They say the devil is in the details, but in this case, the dazzle is in the details. Hidden diamond details are all the rage for 2022 and why not? Who doesn't want to sparkle more?
Hidden diamond details are simply, small diamonds hidden in details on your engagement ring. More sparkle where you'd least expect it. Nothing wrong with that!
At James Allen, we believe sparkle is life, the more the better! That's why our Ring Studio has this feature.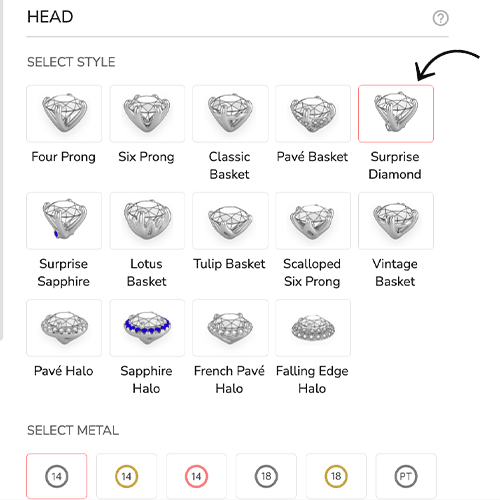 But wait, what's the Ring Studio? Our Ring Studio allows you to design your engagement ring with the metal, stone, and setting of your choice. Numerous personalization options will have you feeling like a jeweler yourself!
One of these many options is the "Surprise Diamond." This diamond is neatly placed at the base of the prong setting on your engagement ring. Adding just a bit more bling for the love that makes you shine.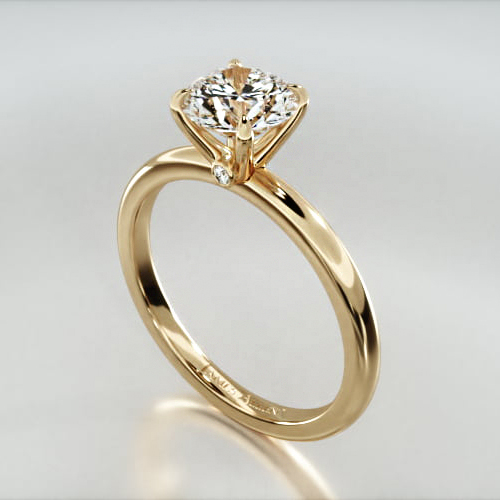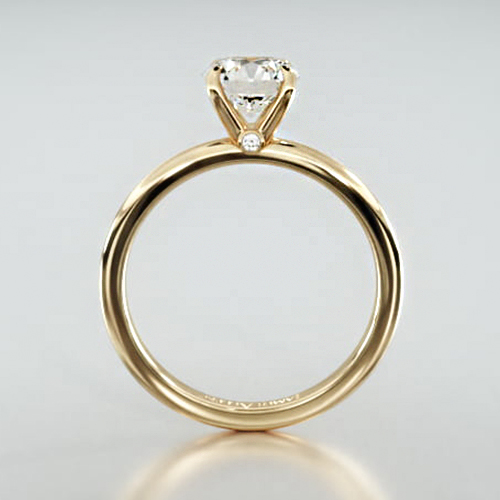 Gemstone Engagement Rings
A pop of color doesn't just complete a room, it can also complete your dream engagement ring. While diamond engagement rings often get all the glory, gemstone engagement rings have been popular since time immemorial and have fast become a top trend of 2022.
Gemstone engagement rings don't just add color, allow you to express your personal style, or look gloriously glamorous; gemstone engagement rings add that something special you just can't put your finger on (pun intended!).
Check out this inspo and create your own colorful masterpiece!
Fancy Black Diamond Engagement Rings
A black diamond to match your black heart? Try a fancy black diamond to match your incredible style and stay with 2022's top trends. Nothing goes against the grain of traditional colorless diamonds while staying chic AF, as a fancy black diamond engagement ring.
Rock that Main Character Energy when you sport one of these black beauties; whose popularity has only grown since being spotlighted by the one and only Carrie Bradshaw in the hotly anticipated Sex and the City reboot.
Oval Diamonds
Oval diamond rings have always been popular and continue to find their spotlight in 2022. The way the oval elongates and flatters just about any finger makes this stone a modern classic. The soft edges allow the diamond to look stunning on its own or shine extra bright when highlighted by a pavé or halo setting.
Seen on the hands of royals for centuries and consistently worn by a bevy of celebrities, oval diamond engagement rings are a trend that will forever be in style.
Lab Created Diamond Engagement Rings
We've said it before, and we'll say it again: lab created diamonds are the stones of the future. Though lab diamonds were popular before 2022, the COVID pandemic and supply chain disruptions made them an even more attractive choice for ring shoppers.
Their alluring pricing and superb quality earned them first place on diamond enthusiasts' wishlists, particularly those who are budget-conscious; for the same price as an earth-created diamond, consumers can get a lab grown diamond that's 30% larger!
We don't see this trend waning; on the contrary, sales of lab created diamonds have continued to increase year after year. Despite their different origins, earth created and lab grown diamonds are 100% chemically and structurally identical.
The difference in price comes from the fact that it's much easier, and quicker, to grow a diamond in a lab than it is to locate and wrest it from deep within the earth. Creation process aside, once they arrive at your door they are completely identical in terms of quality, durability, and sparkle. That's why we consider lab created diamonds to be the ultimate life hack.
Final Thoughts
If you're shopping for rings in 2022, keep an eye out for pavé, vintage-inspired, lab created diamonds, and more! Creativity is king in 2022, and you are the designer.
Go for a classic oval diamond or a bold fancy black diamond, be perfectly seamless with a contoured set and grab a rock bigger than you imagined with a lab created option, either way, these 2022 trends will be in style long after we ring in the new year.
But most importantly, choose what you and your partner will love. Still unsure? Check out our Virtual Engagement Ring Try On so you can try it before you buy from the comfort of literally anywhere! Learn more about our virtual try on here.
Got more questions? Just Ask! At JamesAllen.com we're at your service 24/7.