Looking for the perfect holiday gift for that special someone? Or maybe you're looking to reward yourself with some end-of-year sparkle? James Allen is here with the best holiday gift ideas for 2021.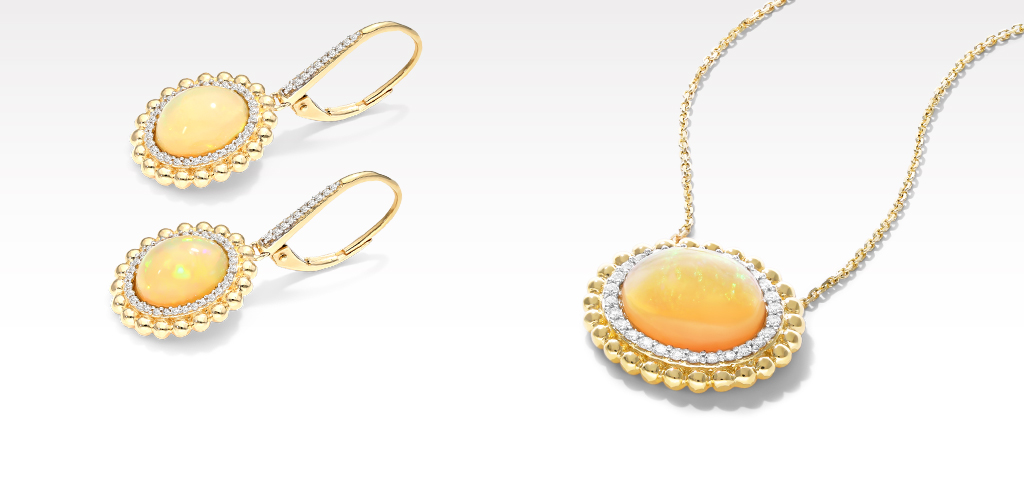 The 2021 gift-giving season is a complicated one. Supply chain issues and shipping delays have made it even more difficult to find – and receive – great gifts in time for the holidays. But no worries! Below you can find a list of unique Christmas gifts that, yes, will ship in time for you to put them under the tree.
For the 2021 holiday season, we're focusing on gemstone jewelry sets. Gemstone holiday gifts are particularly popular this year, and as you read on you'll learn why.
What Are Jewelry Sets?
What's a jewelry set? It's a pair, or trio, or quartet of matching or complementary jewelry pieces. Any combination of earrings + necklace + ring + bracelet counts as a jewelry set.
Why Should I Purchase Jewelry As a Set?
Purchasing a few pieces of jewelry at once is a greater commitment than purchasing them one at a time. So why do it?
Because wearing matching jewelry makes a much larger visual impact than wearing disparate pieces. Jewelry sets look extremely professional, put-together, and they take the stress out of coordinating your jewelry "wardrobe." Just throw on the matching set and you're good to go!
It's a versatile purchase. Any jewelry set can be worn separately for any occasion.
Gifting a jewelry set is guaranteed to drop some jaws. Unwrapping multiple pieces is an experience that any gift recipient will remember for ages.
How Should I Gift a Jewelry Set?
Holiday jewelry sets are a way to take your gift-giving to the next level. We recommend gifting them one of two ways.
Option 1: gift the whole set together. You can wrap them in a single package or draw out the excitement by wrapping each piece individually. Now that is an unforgettable Christmas jewelry gift!
Option 2: gift the set gradually over the course of a year. For example, gift the necklace during the holidays, then give the matching earrings on Valentine's day, and finish with a bang by wrapping up the matching ring as a birthday present.
The Pros of Colorful Jewelry
Diamonds are a classic choice, and purchasing them as a set is a great way to ensure their wearability across a variety of wardrobes. However, don't be afraid to go for nonstandard pieces or ones that feature a bit more color.
While the disadvantage of colorful gemstone pieces is their suitability with only certain outfits, the main advantage is the statements that they make. As a rule, matching gemstone pieces make a greater impression than matching colorless pieces thanks to the striking effect of their unique hues.
The Affordability of Gemstone Jewelry
Another advantage of gemstone jewelry sets as Christmas gifts is their relative affordability to more expensive stones. Usually, your budget will go further when you buy gemstone jewelry as compared to diamond jewelry – meaning that for the price of one diamond piece you can often buy a couple gemstone pieces.
Unique Holiday Gift Ideas:
Diamond Jewelry Sets
Unique Holiday Gift Ideas:
Ruby Jewelry Sets
Unique Holiday Gift Ideas:
Pearl Jewelry Sets
Unique Holiday Gift Ideas:
Emerald Jewelry Sets
Unique Holiday Gift Ideas:
Opal Jewelry Sets
Unique Holiday Gift Ideas:
Diamond Jewelry Sets
More Gift-Wrappable Ideas
Subscribe to our email list for access to secret sales, practical ring-buying tips, and $100 off your first purchase!