One of the biggest rising trends in the jewelry world is the growing popularity of mainstream accessories and men's jewelry.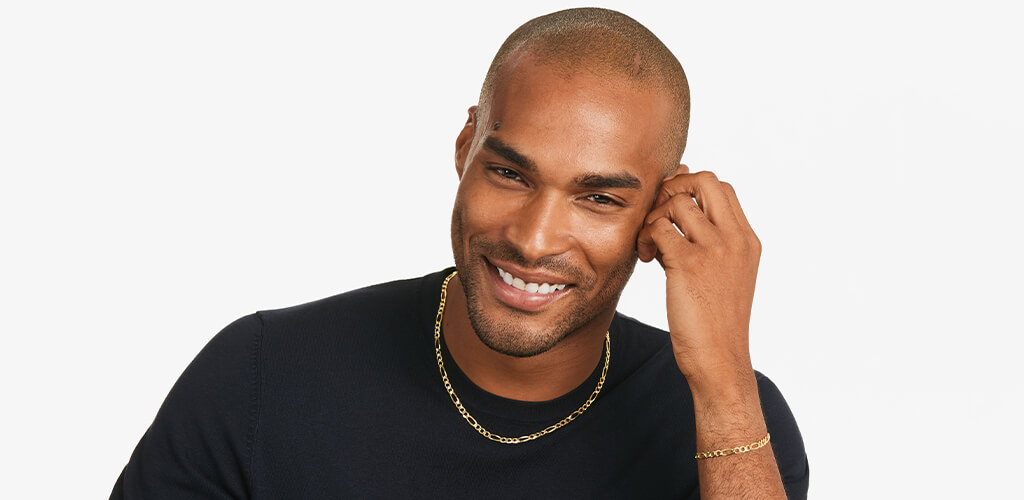 Intro
Aside from watches, men's jewelry is frequently neglected. However, with an ever-expanding arena of celebrities and athletes wearing jewelry, such as Maluma, Harry Styles, and Neymar, this truly shows that more men are experimenting with jewelry than ever before. And, contrary to popular belief, there are plenty of options! But you might be wondering how to wear men's jewelry. Ready to learn more? Let's jump in!
What Jewelry Is Best For Men?
The most popular choices for men include necklaces, bracelets, gold chains, and rings. These are classic styles that never go out of fashion, meaning they can be worn for years when you purchase quality pieces.
Though, as men's jewelry rises in popularity, we're seeing more interesting pieces pop up that would make the perfect addition to any man's wardrobe. Ultimately, there are no rules as to what jewelry a man should wear!
Can Men Wear Jewelry?
The short answer is yes! Throughout history and across cultures, there have been differences in what accessories men can and cannot wear. However, men wearing jewelry is something completely normal and even more trendy in modern fashion.
Different Types Of Jewelry For Him
It would seem that the most obvious piece of jewelry for a man to wear is a watch or ring. Apart from the obvious wedding ring, signet rings are gaining popularity along with simple chains and bracelets amongst the most sought-after men's jewelry.
When searching for a gift for a special man in your life, we recommend starting with the basics.
Silver Jewelry For Men
Not only is silver a great choice and alternative to white gold or platinum, but it's significantly more affordable. Silver can be worn every day as it's safe for wear and hypoallergenic. If you're looking to invest in silver jewelry, know this metal is quite easy to maintain and lasts a lifetime.
As a gift, silver jewelry for men is typically a good place to start.
Men's Jewelry Sets
All good things come in pairs and trios. Handsome hardware is no exception. Men's jewelry sets are a great gift for the guy who enjoys wearing more than one accessory.
For daily wear or a fun night out, a matching chain and bracelet are sure to give him that added layer of confidence.
Necklaces For Men
A well-crafted chain necklace is among the most quintessential accessories. A classic chain fashioned in gold or silver adds a thoughtful touch to even the simplest of outfits. From small, subtle links to more bold and substantial chains, there's an option that's right for every man.
Providing that you choose the right chain style, a necklace can be one of the best masculine accessories. Getting started with jewelry or looking to buy your first necklace can be daunting, but a chain necklace will ease you in. Plus, a minimal style will go with anything! If you're looking to buy your first necklace, we suggest going for something minimal.
If you'd like to build a collection of necklaces, choose a few chains of different lengths.
Related post: Necklace Size Chart: How To Find The Best Necklace For You
Dog Tags For Men
Not only are clothes from the '90s re-emerging, but jewelry is too. Dog tags, also known as I.D tags, were a practical military accessory that fashion later adopted as a form of identity and self-expression. Dog tags are great for pairing with other chains or worn alone.
Dog tags are the perfect piece for any man who wants to add a statement to his look or perhaps a bolder piece he can layer with his other favorite chains. So if you're looking to gift something more personalized to someone special, you now have the perfect idea!
Men's Diamond Jewelry
Think diamonds are only a girl's best friend? Think again!
There are plenty of men's diamond jewelry options, from men's earrings to rings and everything in between. Plus, the modern man doesn't need any special occasion or anniversary milestone to rock diamond jewelry.
Where Should You Buy Men's Jewelry?
Online shopping is not just convenient, it is often the most affordable option. However, jewelry Jewelry for men is not always available at every jeweler. There are only a few well-known brands that carry and a handsome collection of men's fine jewelry. But fortunately, at JamesAllen.com we stock a great amount of men's jewelry. This includes a great selection of men's engagement and wedding rings.
Love the idea of online but aren't sure it's for you? Check out an in-person showroom in Washington, D.C.
FAQs
What jewelry do men wear most?
It's safe to say that the most common piece of jewelry that men wear is a watch. However, rings generally come in second place.
What kinds of necklaces should guys wear?
As most guys have thicker hair (and they shave) on their necks, finding a chain that won't pinch and pull hair isn't a big deal. But if this is something you're worried about it, opt for ball chains, box chains, curb chains, or a Figaro chains just to be extra safe. Additionally, the thickness of a chain truly depends on its purpose, but the most practical and versatile necklaces for men are those that are 4–5 mm thick.
Which ring should guys wear?
Although there are no set rules, when it comes to an engagement or wedding ring, nearly all men opt for a simple yellow or white gold band. In terms of metals for men, rose gold is one of the less popular choices. There are a number of different styles and designs of rings available for men nowadays. These include diamond rings, signet rings, alternative rings and black wedding bands for men.
Final Thoughts
We hope that covers the basics of how to wear men's jewelry and which men's jewelry you should be wearing. With jewelry basics for your everyday outfits and a couple of bolder styles for those special occasions, we think there's plenty there to get you started wearing men's jewelry. If you need any help styling your next outfit or want to know what jewelry to buy, we're always here to offer you our expert opinion.
You can also contact us if you need help finding the perfect piece of jewelry. Our jewelry experts at JamesAllen.com are always available to answer any questions you may have.
Subscribe to our email list for access to secret sales, practical ring-buying tips, and $100 off your first purchase!