Hey, what are you waiting for? Aquamarine jewelry, that's what! Learn more about the meaning behind these March birthstone jewelry pieces and find the perfect aquamarine gift for a March birthday.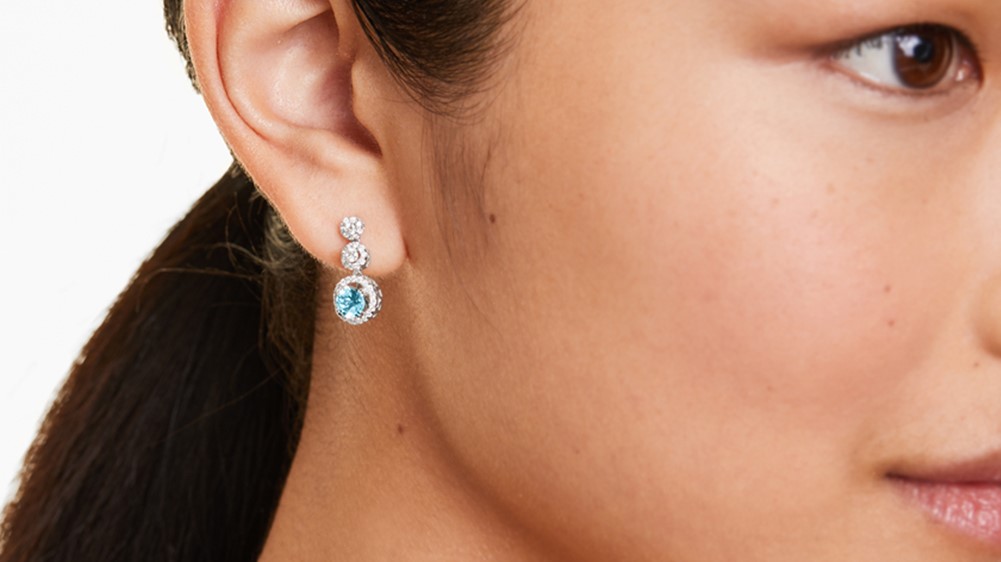 What Is The March Birthstone?
Aquamarine, the March birthstone, evokes the clarity and serenity of ocean waters – literally. Its name comes from the Latin "aqua marinus," which means "water of the sea." Aquamarine is a blue variant of the beryl family, which includes other distinctly colored gemstones like pink morganite, golden heliodor, and green emerald. Why the spectrum of hues?
Each color variation is thanks to specific trace mineral and metal content; in the case of aquamarine, iron ions (Fe2+ and Fe3+, to be precise) tint the otherwise colorless beryl to a clear, watery blue. This blue gemstone ranges in color across the spectrum, from pale to deep azure. What's consistent, however, is this gemstone's exceptional clarity.
Aquamarine Birthstone Symbolism And History
What better way to celebrate the first month of spring than with a slice of clear blue sky? Aquamarine jewelry symbolizes tranquility, serenity, and good luck. Ancient Greek sailors used to carry aquamarine aboard their ships to ensure smooth journeys at sea – and protect them against drowning. Nowadays, it's still a symbol of protection, with many people carrying it with them for good health. They're perfect for those days when you need to shout, "SERENITY NOW!" That's because the March birthstone has historically been worn in order to soothe the wearer's temper and to nurture love. 
What Is The March Birthstone Color?
Aquamarine naturally occurs in hexagonal facets, which catch a spectacular amount of light. Its blue is exceptionally bright. Plus, it's a 7.5–8 on the Mohs scale, making it a perfect choice for strong, durable birthstone jewelry that stands up well to daily wear. So whether or not you're a March baby, the aquamarine is a stunning blue gemstone that deserves to be a centerpiece of any jewelry collection.
Celebrity Aquamarine Jewelry
And don't forget about the celebrity endorsements. Celebs have been rocking aquamarine jewelry since – forever! Lucille Ball flaunted a 40-carat multi-faceted aquamarine ring from Desi Arnaz. Jessica Biel's now-husband Justin Timberlake proposed with a whopping 6-carat center diamond accented with two aquamarine side stones. And Princess Diana was an ardent fan of the March birthstone. She had a jaw-dropping collection of aquamarine jewelry, whose standouts included pear-cut aquamarine earrings, a huge emerald-cut aquamarine ring, and a pearl and aquamarine bracelet. 
Aquamarine is a beautiful accent stone, but it deserves to take center stage in its own right. At James Allen, we believe people don't wear aquamarine enough! Its "pale blue" hue, despite its name, is anything but lackluster. It's radiant! Aquamarine's distinct color, combined with its characteristic light-grabbing hexagonal faces, means that this bright and vibrant jewel is perfectly suited to be worn as a center stone.
So here are just a few of our most eye-catching, aquamarine-forward pieces. Happy March!
Aquamarine Rings
Aquamarine Stud Earrings
Aquamarine Necklaces
The March Birthstone & More
January Garnets * February Amethysts * March Aquamarines * April Diamonds * May Emeralds * June Pearls * July Rubies * August Peridots * September Sapphires * October Opal * November Citrines * December Blue Topaz.
Read More About Birthstones!
Subscribe to our email list for access to secret sales, practical ring-buying tips, and $100 off your first purchase!