Need inspiration for picking out the best wedding jewelry for brides? We've got several useful tips for choosing the perfect wedding jewelry to make you glow on your special day.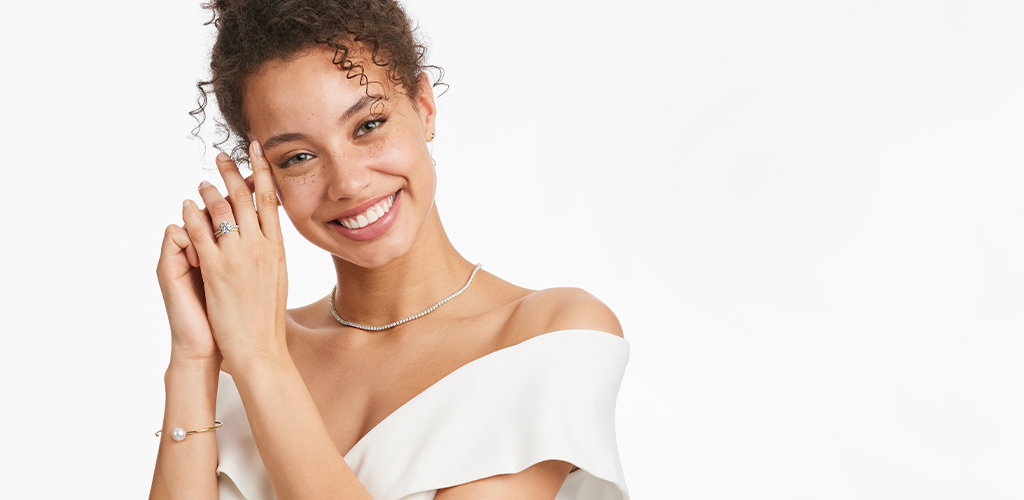 Congratulations, you're about to walk down the aisle!!! We know it's stressful, with all the wedding planning and last-minute hurdles, but it's still a one-of-a-kind moment you'll remember forever. And at this moment, it's only fitting that you look and feel your absolute best!
First, you say yes to the dress, and then you get to accessorize! But what wedding jewelry fits you best as a bride? We're here to help you figure that out.
Keep reading to learn how to choose the best wedding jewelry for your chosen bridal style.
Wedding Jewelry Ideas & Inspiration
Picking out all the little bits and bobs for your wedding day can be tiring, especially if you have pesky opinions following your every move. But remember, this day is all about you and how you want to look and feel. Ignore the noise and follow your heart.
Easier said than done, we know! It goes without saying that every bride and groom needs a little inspo, whether you're adding ideas to your Pinterest board or looking online.
So let's start by understanding what type of look you're going for. Our hot tip here is to keep your wedding dress style in mind. It's the simplest way to go about choosing your wedding jewelry.
Classic Wedding Jewelry
The classics are loved for a reason. It's known that bridal jewelry usually sways toward the ever-popular pearl. Pearl jewelry sets are a traditional choice for brides-to-be because they add the perfect chic aesthetic.
If your bridal look is classic chic, make a play for pearls. You can always find pearl jewelry in various colors, from white, pink, gray, and black. Shop online to find a wider variety of styles, designs, and metal choices.
Romantic Wedding Jewelry
Romantic wedding jewelry moves more towards fairytale-inspired styles, from floral designs to jewelry set in rose gold. Here, you want to pick pieces that are a little softer on the eyes, perhaps with light colors that speak to the romantic element you're adding to your bridal look.
This look is especially memorable for daytime weddings that are set in gardens, vineyards, or any nature-centric venue. Captivate your groom and guests by choosing wedding jewelry that makes you look like the woodland bride you dreamed of being.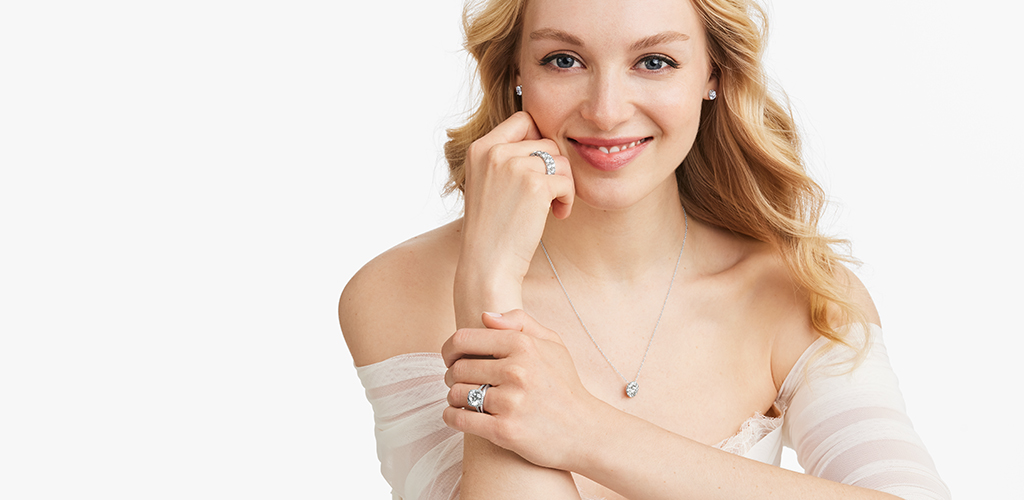 Diamond Wedding Jewelry
This one is for the bride who wants to make a glittering statement and remain the center of attention throughout her special day. Diamond wedding jewelry and, more importantly, diamond wedding jewelry sets are perfect for the bride who wants all eyes on her.
In this case, you should be looking out for a tennis bracelet, diamond necklace, and diamond earrings. We know the word "diamond" might shake the wedding budget. But fear not; you can always opt for lab grown diamond jewelry at a third of the price of earth created diamond jewelry.
Let this be your "something new" gift if your family and friends are so inclined!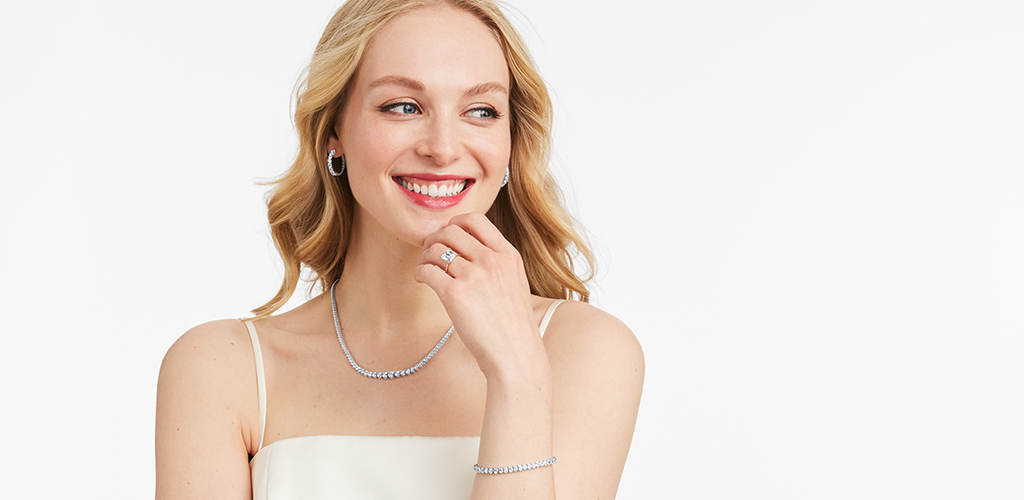 Boho Wedding Jewelry
Now, this is for the bride who loves all things boho. Boho weddings have been on-trend for many years now, and their popularity isn't slowing down anytime soon. For the bride who wants to throw tradition to the wind (or tone it down a bit), we've got the perfect tips for picking your wedding jewelry.
Don't be afraid to mix and match metals and add several mismatched designs to your wedding day look. Try jewelry designs with textures, organic gemstone colors, and don't be afraid to try on some larger-shaped jewelry.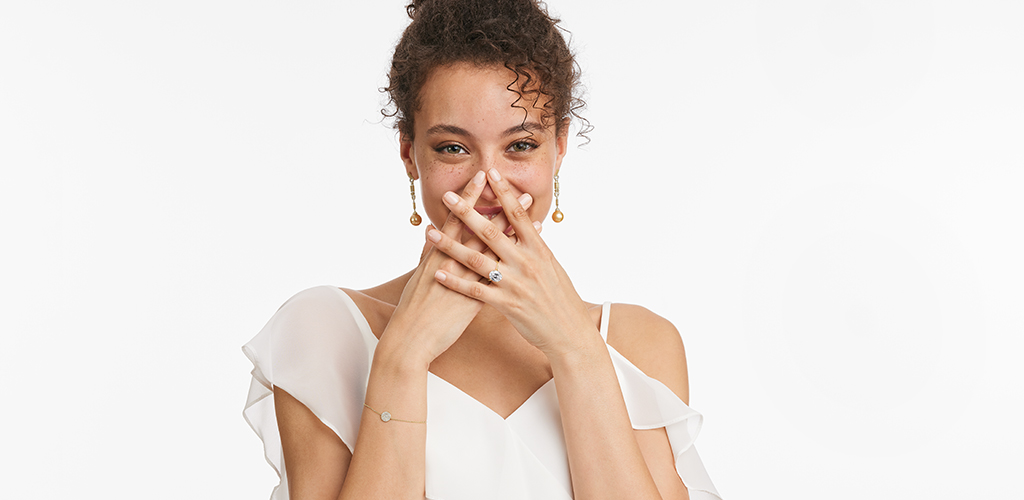 Our Top Tips For Picking Bridal Jewelry
Once you've put your bridal style into a specific category, remember to keep these top tips in mind for choosing your wedding jewelry.
Incorporate Your Sentimental Accessories
Make your day even more meaningful by adding your family heirlooms to your bridal accessories. Whether it be an old piece of jewelry from a special woman in your life or an accessory given to you by a close family member or friend, there's always a way to fit it into your day.
Some brides make sure their "something borrowed" is more than an afterthought by taking it with them as they look for a dress, ensuring it'll match. If you don't want to center your style around one piece of jewelry, you can always alter your look for the wedding reception and have it be a significant part of that moment.
Related post: Something Borrowed & Something Blue: Meaning And Ideas
Mismatched Pieces Can Work
Too many styles to choose from? We've been there! Do some research, and you'll find that some metals definitely work to complement each other, and it can be done in a classy way. While some metal colors fight each other, it's easy to tell which works. You only need to trust your eyes.
Getting out of your comfort zone may be challenging, especially knowing your wedding pictures are there forever. That being said, why not look back at those photos and think, "wow, I made a statement."
Change Your Look
Think of weddings as a two-part series. First, you have the ceremony, your all-eyes-on-me moment, and then you have the wedding reception. Apart from speeches, this is the time of your wedding when you can let loose and have fun.
So, why not change your look? Many brides take a moment to swap out of their first dress and put on something more moveable for the reception. This will give you the perfect excuse to throw on new wedding jewelry. And if you don't want a second dress, an accessory switch-up will be just as noticeable and fun!
Match Your Necklace To Your Neckline
Here's one of our more practical tips for choosing wedding jewelry. Always match your necklace to your neckline. Why is this important?
Well, some believe the general rule of thumb is to pick one that follows the neckline of your dress.
If you're wearing a V-neck, accessorize with a pendant. For off-the-shoulder gowns, a choker or a statement piece works best for strapless dresses. If you're not into those options, simply remember the necklace should sit on your skin, never the dress.
Generational Trends Aren't For Everyone
We know it's hard to say no to mom and grandma, but sometimes they don't know best. Your wedding is a celebration of you and your soon-to-be spouse. They're hoping to recognize the person they marry while you walk down the aisle. That's why it's so important that you dress and style yourself according to your preferences and personal tastes.
When it comes to your wedding jewelry, trust your instincts and go with the pieces that make you feel like you.
Your Personal Style Is More Important Than Current Trends
We all jump on trends. No one's hating. But remember that terrible feeling you get when you look at your old photos and ask yourself, "what was I thinking?" When reminiscing about your wedding album, let's avoid that feeling at all costs.
Stick with what you love! Trust your preferences and your style, and don't go too crazy with current trends. Some statements are groundbreaking, and others make us cringe, so use caution when choosing your wedding jewelry based on what's in right now.
FAQs
What jewelry is appropriate for a wedding?
As a wedding guest, your accessories shouldn't be overly flashy with the chance that you might upstage the bride. However, if you're close with the bride or groom, consult with them if you want to wear a piece of jewelry you're unsure of.
Should you wear silver or gold jewelry for your wedding?
The metal you choose to wear for your wedding is entirely your preference. There are no right or wrong answers. But it might help to see if the metal you want suits your dress and then decide.
What kind of earrings should a bride wear?
A bride can wear anything from classic pearl earrings to diamond or blue gemstone studs. In reality, it's best to choose the style of earrings based on your hairstyle for the event and the dress style you've chosen.
Visit us At JamesAllen.com where you will find no shortage of personalized and trendy jewelry pieces for every budget and for every bride.
Subscribe to our email list for access to secret sales, practical ring-buying tips, and $100 off your first purchase!