Now that you've successfully chosen the perfect sparkler, the next challenge is to keep the ring a secret so you can successfully pull off your surprise proposal.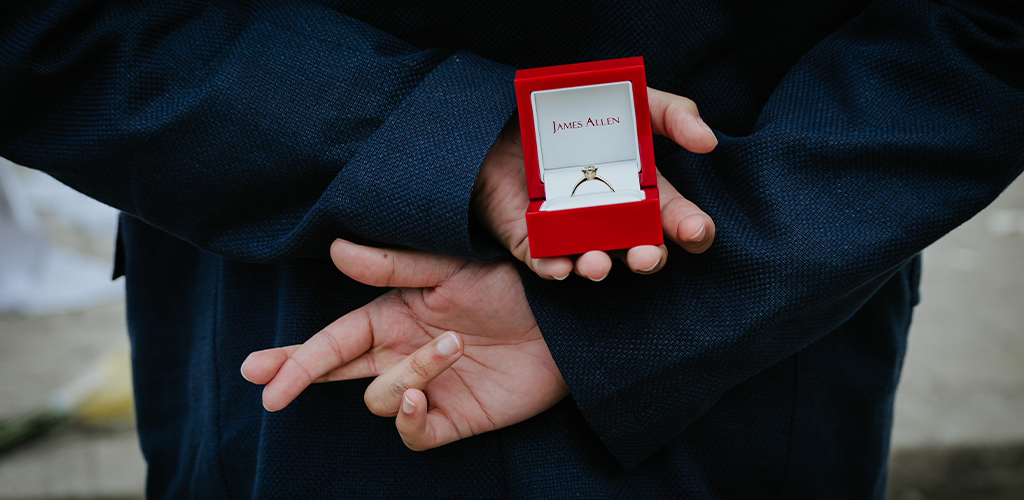 Buying the engagement ring was way easier than you thought! Maybe you even designed it yourself! But the hard work isn't over! Now you have to keep it a secret from your SO. You're up against an opponent whose curiosity knows no bounds. To pull this off, you're going to need an airtight game plan and nerves of steel!
How To Shop For Your Engagement Ring In Secret
We've already discussed the benefits of shopping for a surprise ring versus collaborating with your SO. If you're going the route of keeping the ring a secret, you'll want to ensure you don't leave a footprint – digital or otherwise – that could blow your cover.
Shopping For The Ring Offline
First, never use a joint bank account! One option is to set up a new account specifically for buying the ring (you can close it once they say Yes!). Or you can pay with an old credit card that only you know about. Oh, and don't withdraw a large sum of money from the ATM; that's a dead giveaway.
Shopping For The Ring Online
When ring shopping online, if you share computers/devices with your SO, make sure you sign out of all their accounts before starting to plan your surprise proposal. If you absolutely must print something out, don't leave that smoking gun sitting in your printer tray.
The Best Places To Hide Your Engagement Ring
Normally there's no safer place to store your ring than the ring box it came in. However, there's no getting around the fact that it's still a box that will draw curiosity, and unless your partner is already aware of the ring, you might want to consider switching the box for something less obvious.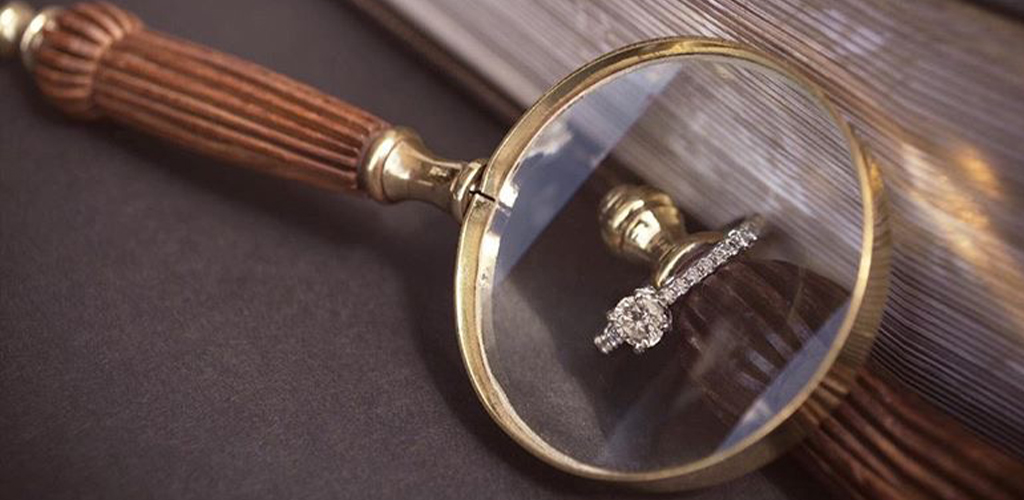 With Trusted Family/Friends
Storing the ring with a trusted friend or family member until you're ready to pop the question is great because it literally keeps the ring off your property. They can't find something that isn't there! Just be careful not to choose anyone who would be tempted to "spill the beans."
Hard-To-Reach Places
Every home has a nook and cranny your partner just can't reach, or a dark closet they never go in. These can be great options! Just make sure there is NOTHING in there they will need to go searching for! Pick the deepest, darkest, least convenient place and you will be good to go.
In An Old Pair Of Shoes
Finally, those old shoes you never wear have a purpose! Make sure it's a pear your partner never touches, would not clean, and would not throw out! (Can you imagine?!) Throw in some potpourri, so the shoe stink doesn't transfer, put them in a secure place, and wait for that big moment!
At Work
If your office is secure or there is a secure option, your work can be a great place to store the ring! After all, even if your partner is visiting, they are not rifling through your office! And if they are, try a co-worker's office, a safe, or similarly secure place at work.
In A Gym Bag
Whether you're a gym junkie, a little league coach, or have a leftover gym bag from your high school glory days, this is another great option. Just make sure it's not in a pocket where your partner might need something, say your water bottle or to get your gym towel for the laundry.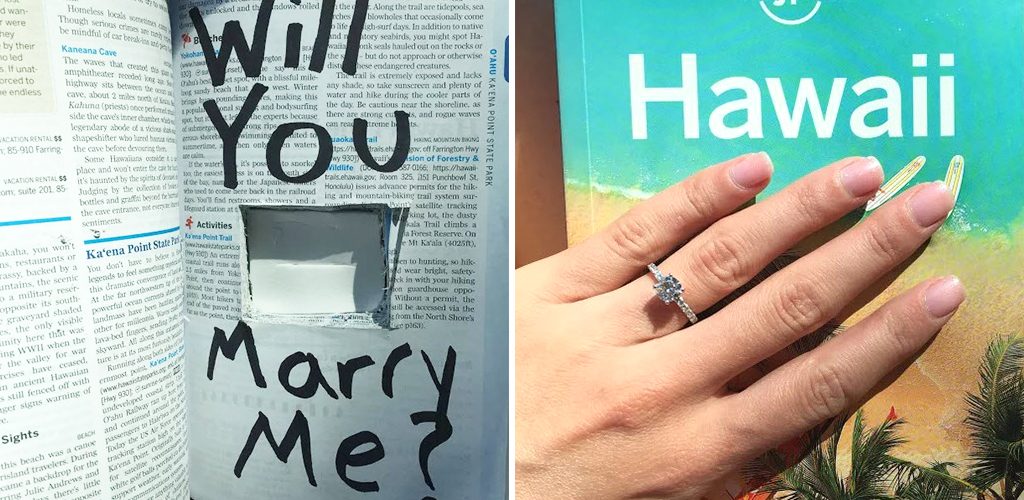 In A Book
Make sure you are choosing a book that 1) your partner does not use (like a cookbook) or 2) was intending to read. 3) Make sure it is not a book they would recommend to a friend, and 4) choose a book you don't mind cutting a ring-box size hole in!
How To Hide A Ring While Traveling
Whether going by car, train, plane, or even by foot, if you are planning to pop the question while traveling, you'll want to review our tips below to ensure your partner gets the surprise of a lifetime!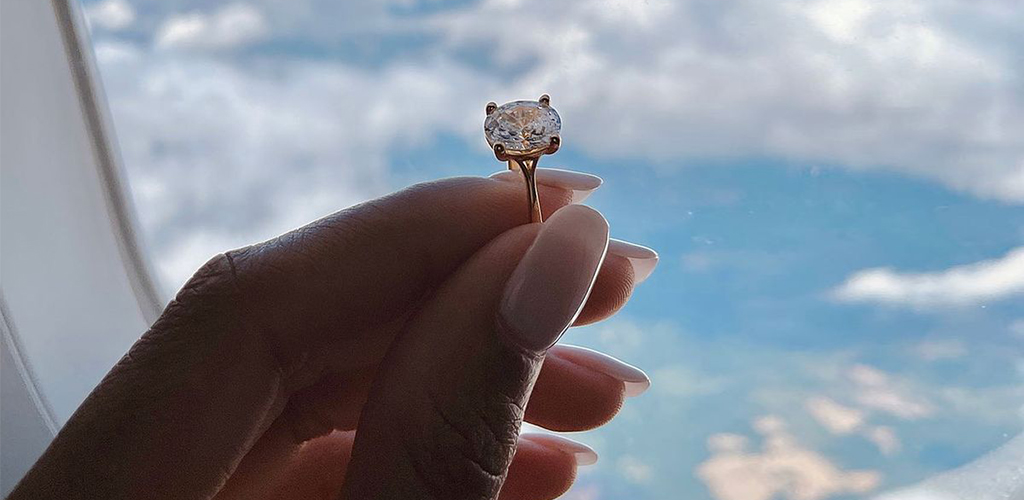 Pack the Ring in a Carry-On Bag
Pack the ring in your carry-on, never a checked bag. Unfortunately, bags get lost all the time. Don't chance it. Make sure the ring is always with you!
Follow Airport Security Rules
Don't let a TSA agent blow your surprise proposal! Make sure you know airport security rules and make sure it's very secure. And, of course, follow all airline security rules to avoid being stopped and searched.
So pack it discreetly! Your bag may be searched and you don't want your cover blown! Consider using non-traditional packing in case this happens.
Look Into Engagement Ring Travel Insurance
Safety first! Another option is travel insurance for your engagement ring. James Allen has partnered with Jewelers Mutual Insurance Company to help you protect your ring with comprehensive coverage.
Anything can happen at any time, and this can be especially useful if you or your beloved are frequent travelers. Be sure to check if coverage is domestic, international, or both.
Find a Discreet Safe
Once you arrive at your destination, you need to keep the ring both hidden and secure. If you are staying at a hotel, find out in advance if there is a hotel safe you may store the ring in.
Another option is to keep the ring in an indiscreet spot in your suitcase. Once you have unpacked, slip the ring into a location your SO won't be checking, and keep the suitcase tucked away until it's time!
Keeping The Ring A Secret: Unboxing Your Engagement Ring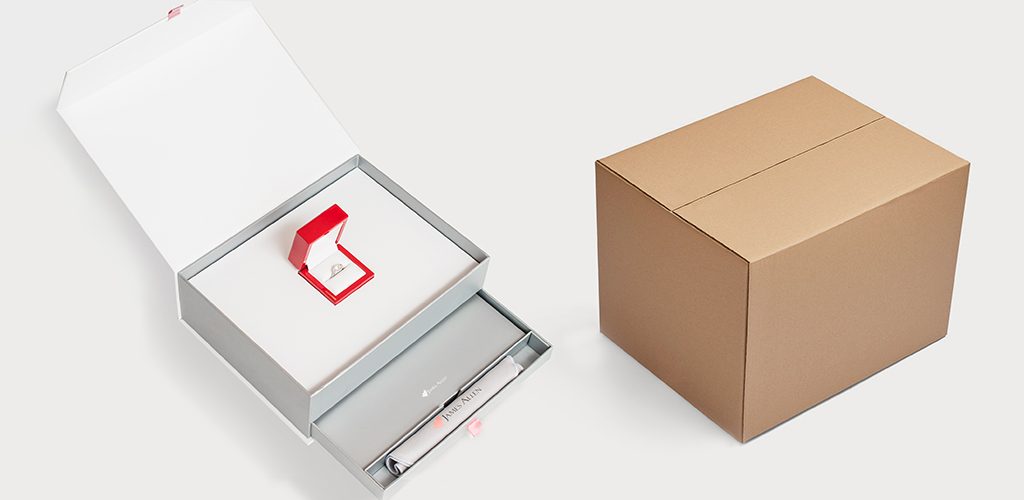 The Hidden Presentation Box
Only once you peel back the outer carton does it start to get more interesting.
The first thing you'll notice is an elegant presentation box embossed with the James Allen logo. This doubles as a jewelry box and even has a drawer for keeping your diamond certificates, cleaning cloth, and whatnot. Nestled on top is a small red box that houses the main attraction: the engagement ring.
Keeping the Ring A Secret: Customer Service
If the logistics of keeping the ring a secret seem like Mission Impossible, our Customer Service reps are on hand to help. These masters of misdirection can be reached 24/7 via live chat, phone, and email. They know every trick in the book and can even suggest ways to distract your unsuspecting SO.
FAQs:
What if my partner receives the package?
It's worth noting that our packages require a signature upon delivery. If you're uncomfortable receiving yours at home or are worried that your partner or someone else might intercept it, we can help you find the best place to ship to.
What about the safe in the hotel room?
Don't leave it in your hotel room safe if your SO is likely to use it; instead, ask the concierge if you can leave it in the safe at the front desk.
Is it safe to leave the ring unattended?
If you need to leave the ring unattended, just make sure it is safe. Invest in a VERY good lock, ensure it is a secure location, or leave it where someone is around 24/7 to guard it.
Final Thoughts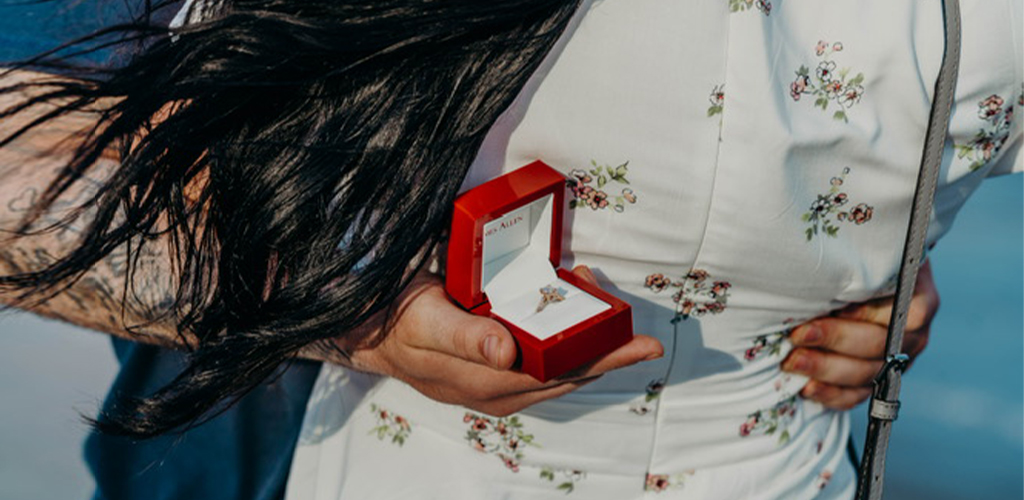 Perfect partner? Check! Fabulous ring, stashed safely? Double check! Now just wait for that big moment. They'll say yes, start showing off the ring, and you can sit back and revel in a job well done! Let us know where you stashed your sparkler on Instagram, Facebook, Snapchat, or Twitter.
SHOP RELATED PRODUCTS