Is 2022 the year to reinvent your personal style? We're taking a good look at what fine jewelry our favorite stylists, celebs, and customers are rocking with confidence. Some of the new trends may surprise you, while others are a blast from the past. Let's get inspired!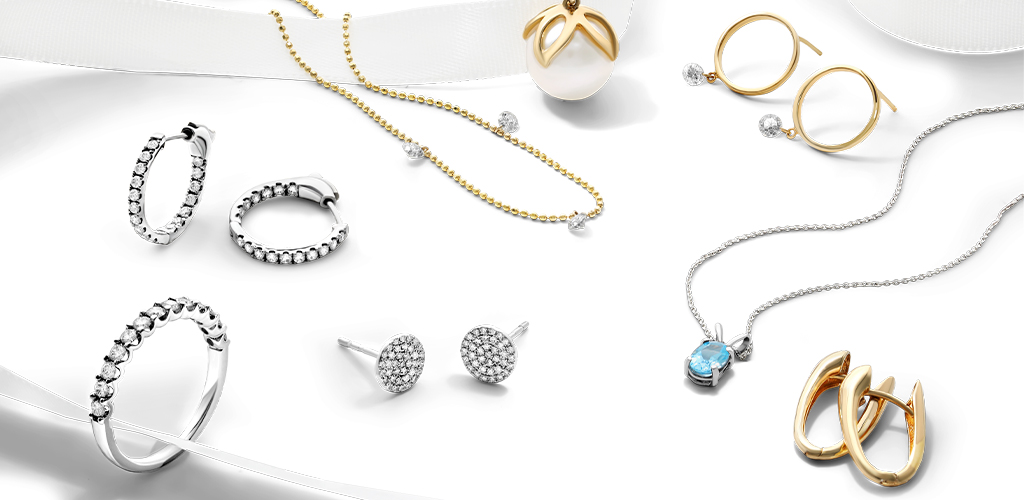 Fashion is forever changing, giving us the chance to explore different avenues of our unique style and allowing us the opportunity to leap out of our comfort zones and try something new.
So what boundaries will you be pushing in 2022? Well, we've kept a close eye on what fine jewelry designs are growing in popularity and what to watch out for this year! From contemporary takes on classic styles to some beloved trends that are making a comeback, we're going to show you what's in and how to rock these jewels right.
Get ready to explore all-new designs in stacking and layering necklaces, rings, earrings, and bracelets. We're highlighting the end of minimalist style and saying a happy hello to fine jewelry pieces that go together to create the most amazing impressions of your individual style.
Trend 01: Layering Necklaces & Pendants
In 2022, layering your favorite necklaces and pendants is more about adding different styles, metal colors, and a mix of diamonds and gemstones than it is about adding varying chain lengths.
This trend is also about making your look more personalized. Take your favorite medallion, pendant, or themed necklace, and layer it with other items like solid gold chains to complement your main piece. Take your go-to diamond shape and dare to play around with different diamond cuts this year.
Elongated diamond shapes like oval and marquise appear to be the ones to look out for in 2022, and rightly so, they simply look good on everyone.
Style tip: Pairing a diamond or gemstone pendant with a thin gold chain, along with a clustered necklace or simple medallion is one way to achieve a layered look with colorful and textured dimensions.
Trend 02: Sleek Gold Bracelets
Whether you like yellow gold or not, this traditional metal is here and ready to make your 2022 fine jewelry experience extra golden. Sometimes life can get a little hectic, and keeping your style fresh and playful requires those easy-to-slip-on jewelry pieces. Our recommendation: more is more with a yellow gold layered wrist.
Choose from a variety of uniquely designed cuffs, paperclips, chains, and tennis bracelets, and pile up your wrist to your heart's content. Stacked bracelets aren't for everyone, so take the time to work out where your limits are and which bracelets work best for your comfortability.
Not loving yellow gold on its own? Don't be afraid to mix and match your other metals with your chosen yellow gold pieces. Adding different metal colors is a great way to brighten up your look and showcase your unique style.
Style Tip: Combine multiple cuff bracelets with a gemstone tennis bracelet or dainty diamond bracelet on one hand. Balance out the look with a tennis bracelet or unity bracelet on the other hand.
Trend 03: Hoops & Earring Stacks
This one is a definite favorite. Whether you've got multiple piercings on each ear or single piercings, we've got two fun ways to get this year's ideal stacked ear look.
If you're one of the former, play around with drop earrings or some bold hoops and place them in your lowest piercing. From there, you can get creative and either move up the ear with some cute huggie hoops or studs– remember to play around with different sizes and shapes.
For those of you with single piercings, you can start with hoops or drop earrings and then move up the ear with single cuffs and crawlers.

Style Tip: Put pavé or plain metal hoops in your lowest piercing, followed by diamond or gemstone studs in your second piercing. Stack single or even triple cuffs higher up the ear to complete the layered look.
Trend 04: Stackable Rings
Stacking rings is one trend we see flowing with ease from one year to the next. The exciting part is seeing all the new ring styles, of course. In 2022 we've seen chic signet rings grow in popularity and we can see why. These stackable rings aren't only bold and fun but they're made to be personal.
From zodiac signs to customized initials and personal motifs, getting your hands on your very own signet ring is one trend you'll want to hop on, and soon!
Eternity or infinity bands are also making the rounds this year as a fine jewelry favorite, and why not? Who doesn't love to shine from every angle? Last but not least, don't forget to add one or two gemstone rings to your collection for those looks that need just a pop of color.
With stacked rings, there are two ways to go about the trend. First, you can choose to stack a single finger with different plain metal bands or other rings of your choice. This works particularly well if you want to add a little more sparkle to your engagement ring. 
Or, you could achieve that stacked look by taking your favorite ring styles and wearing one on every other finger. We suggest wearing your chunkier rings on one hand and having your more dainty rings on the other to create that ideal balance.
Style Tip: Start with a signet ring on one hand and balance it out with several plain metals or eternity rings on the other. For a single stacked finger, start with a birthstone ring and pair it with plain metal bands or dainty gold rings with diamond accents.
We hope you feel inspired and we would love to see your new fresh and fun spring fine jewelry looks. Share your style with us on Instagram by tagging us @JamesAllenRings.
Looking for more 2022 trends? Check out these related posts:
Subscribe to our email list for access to secret sales, practical ring-buying tips, and $100 off your first order!