Get your partner and your loved ones in on the act with our Drop A Hint feature. Because friends don't let friends lack luster!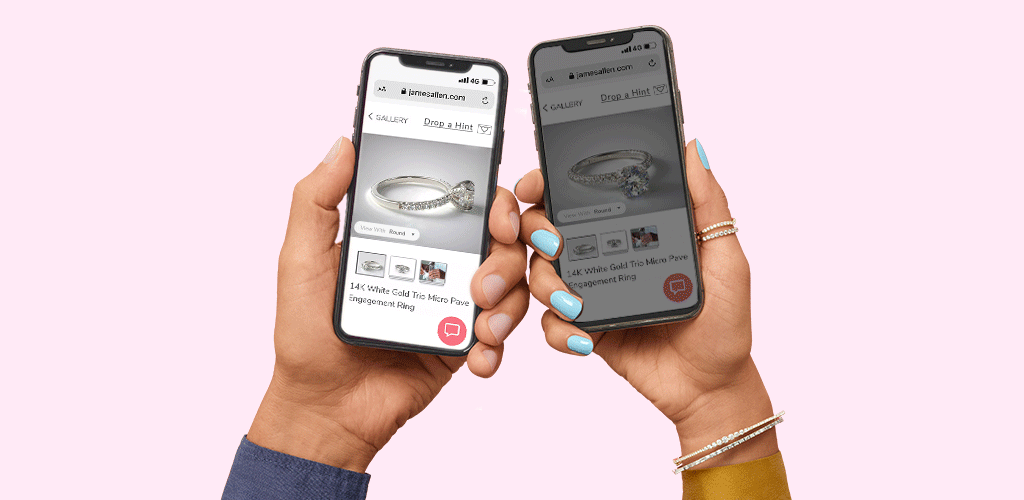 Okay, so you've found your dream engagement ring on JamesAllen.com. You've spun it around 360° until you were dizzy with sparkle. Perhaps you've even tried it on for size using our Virtual Ring Try-On. So now you know what you want, what do you do?
DROP A HINT!
Drop a Hint to Your Significant Other
The world of engagement rings is diverse and complex; it's easy for proposers to get lost in the details. Avoid confusion and get your dream ring by sending the exact ring directly to your partner. But why limit yourself to only one ring? Send a handful of possible rings to your partner so you'll be sure to be surprised and delighted when they propose with the one you love!
Drop a Hint to your Friends
If you don't want to tell your partner directly, get a loved one on your side! Who's got your back? A friend? A sibling? A coworker? Send them the ring(s) you have your eye on so they can pass the info on to your partner. Either tell your SO to contact your loved one or vice versa.
Dropping a hint to your friends is also a perfect way to get second opinions. Can't decide between two rings? Send them to your posse for a vote. Not sure what the difference is between a comfort fit and a knife-edge band? Your cousin who worked in a jewelry store in college would know. Channel-set or side stones? See what your mom thinks. Who better than your partners in shine to give your SO a nudge and a wink to ensure you're both in perfect sync?
Drop a Hint on JamesAllen.com
To drop a hint via James Allen's website, simply find a ring you like and click the "Drop a Hint" link above the photo of the ring. Click on it, and you'll be prompted to choose a platform over which to send your hint: Facebook, Twitter, Pinterest, or Gmail. Or, you can simply copy the link and send it however you'd like. Click on any of the icons and you'll be taken to that site.
Of course, with hundreds of exquisite rings to choose from, sometimes it's hard to pick just one. If you find yourself torn between a number of sparklers, add them all to your wish list and share that with your SO.
First, either create an account or log in. Click the heart icon next to each ring to add to your wish list. Once you're logged in, your preferred rings will be saved and you'll be able to view them whenever you want.
Split Band Diamond Engagement Ring
"The ring was 100x what I expected. All the diamonds are set perfectly and catch everyone's attention. My fiancée is constantly stopped by random people who are absolutely captivated by how stunning the ring is."
-Kyle K.
Intertwined Bypass Diamond Engagement Ring
"Ring is beautiful and service from start to finish has been exquisite!"
– Stephen L.
Pavè Cathedral Diamond Engagement Ring
"A very delicate setting that's not gaudy with diamonds, but still sparkles. The micro-pave diamonds are slanted on the sides of the band so the main diamond has all the attention, but the pavè gives it a slight sparkle to enhance it."
-Carol L.
Infinity Milgrain Diamond Engagement Ring
"For me, this ring is perfect in every way. I love the unique rhombus shape of the setting when viewed from above and the gorgeous infinity knot detailing."
-Katie O.
Subliminal Sparkle
There are other ways to signal your ring preference off JamesAllen.com. If you want to distract your partner with something shiny, here are some other surefire ways to drop a hint.
Drop a Hint on Instagram!
There are a couple of ways to share your sparkly find via Instagram. Browse our feed for inspo and save your favorites to a dedicated engagement ring collection. Review the collection at your leisure, and when you've decided on a particularly lovely ring (or rings), DM them to your SO! Alternatively, send them to your best friends so they can tell you what great taste you have in jewelry. Follow us to get a sparkling feed, educational info, and insider sale info!
Alternatively, if you're the type to yell your love from the rooftops, tag your SO on Instagram using the hashtag #jamesallenrings. If they're on IG frequently, tag them in your stories. It will disappear after 24 hours, but you can publish as much and as frequently as you want! Create an IG post and your partner will be able to review the featured rings (up to 10) as often as they'd like. However you post, don't forget to include the ring's style number so they can easily identify it.
Three-Stone Diamond Engagement Ring
"She loved the ring and just can't stop looking at it. She said it's beautiful!!!"
-James B.
Scalloped Diamond Engagement Ring
"My fiancé has been told her ring is a work of art, and it's brought many tears to people's eyes. I'm in love with it and she is too (obviously)."
– James L.
Channel-Set Diamond Engagement Ring
"This is a beautiful, stunning engagement ring! Sturdy setting that will take everyday wear well."
-Wagner L.
Drop a Hint on Pinterest!
Pinterest is a great platform for collecting engagement ring inspiration. Both you and your partner can benefit hugely from utilizing Pinterest boards properly. When you're in the early stages of getting ring-spired, collect any and all eye-catching rings on one board. As you refine your ring tastes, separate your pins into more specific boards, like "Princess Cuts" or "Pavé," or simply start deleting rings that are no longer in the running. Once you've figured out your unique ring style, it's time to drop a hint.
Pin a ring (or two) to your board or repin one of our expertly curated pins. When you're done, make your board public and share it with your SO, or keep it private and invite them to be a collaborator. Learn how to use Pinterest to find your dream ring and you'll be sure to get the one you love.
Pinned all your hopes on a James Allen ring? Check out our most popular pins – you'll want to pin them to your board!
Twin Crossover Diamond Engagement Ring
"What a great purchase. She loves the setting and the sparkle and other people have already commented on how beautiful it is."
– Dan L.
Engraved Solitaire Diamond Engagement Ring
"AWESOME ENGAGEMENT RING!!! The setting is beautiful and the diamond is spectacular! I am so impressed with this diamond after seeing it in person."
-Marc P.
Intricate Basket Diamond Engagement Ring
"The ring looked exactly how I wanted it to and my girlfriend absolutely loved how beautiful it turned out!"
– Tyrone J.
Psst!
Partner clueless about what to get you? Give them an inkling about what's twinkling!
Get Ahead of the Ring-Shopping Game!
Subscribe to our email list for access to secret sales, practical ring-buying tips, and $100 off your first order!