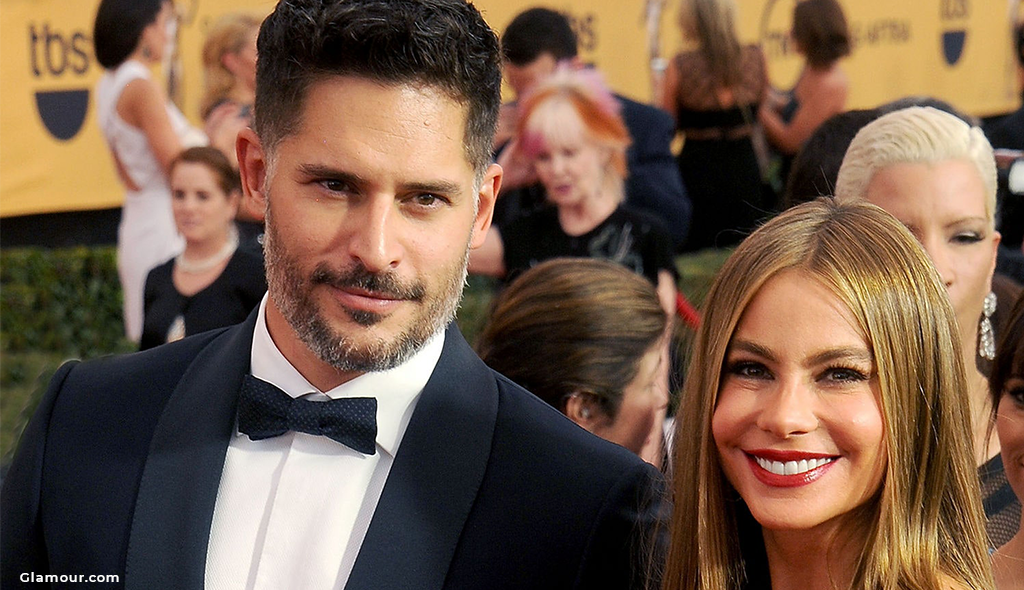 Sofia Vergara and Joe Manganiello's relationship is a classic tale of "when you know, you know." The two stars got engaged a mere six months after they began dating, and their love is still going strong six years later.
The pair are often heard speaking fondly (and hilariously) of one another during their talk show appearances, and they're not shy when showing off their wholesome and beautiful relationship on Instagram.
Joe proposed to Sofia in a stunning display of romance, promising her forever with the view of Hawaiian mountains in the background. Did we mention he did this all in her native language, Spanish? *Swoon*
Here's all we know about Sofia's humongous diamond sparkler and where you can find a ring just like it at JamesAllen.com.
We're going to share the following fun facts with you:
The style of Sofia's engagement ring
The diamond shape
The diamonds carat size
How much Sofia's engagement ring cost
Sofia's engagement ring lookalikes
Sofia's Vergara's Engagement Ring Pictures
Sofia and Joe have had many public appearances together, but this one was by far the most jaw-dropping. The stunning couple showed up to the 2015 SAG Awards, dressed to the nines, and had all eyes on them with her showstopping diamond sparkler on full display.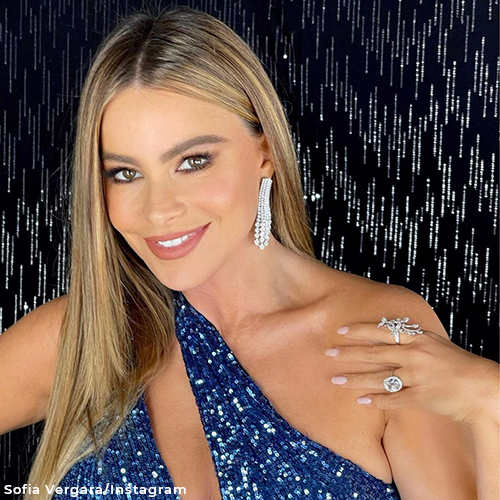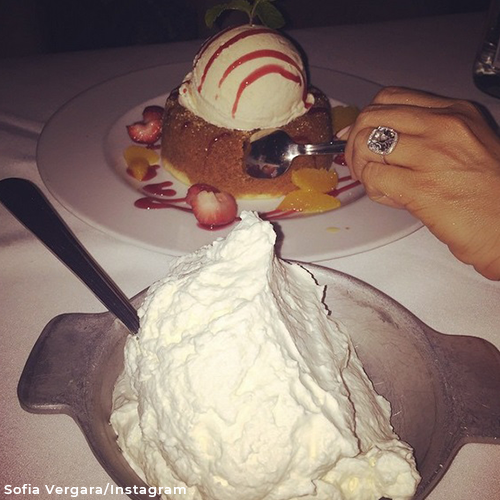 What Style Setting is Sofia Vergara's Engagement Ring?
Sofia's Vergara's engagement ring is a sparkling pavé halo setting with a cushion cut center stone, held firmly in place by four prong claws. The platinum band has intricate diamonds adorning it, a detail that only adds to the ring's unique aesthetic.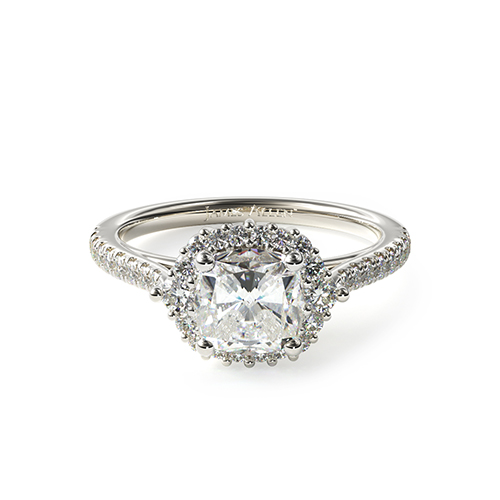 The halo setting is a highly popular trend right now for brides and grooms-to-be. This setting is ideal for anyone who wants to bring that extra sparkle to their engagement ring. A halo accent is also a sure way to make the center stone appear more striking than what it would on its own.
A halo setting is one way to make your ring all the more spectacular, but a band studded with tiny diamonds is one embellishment that suits modern and vintage engagement rings alike. The more diamonds you have, the more you'll glow.
What Diamond Shape is Sofia's Engagement Ring?
The center stone on Sofia Vergara's engagement ring is a cushion cut diamond.
Cushion-shaped diamonds are ranked the third most popular diamond cut after the round brilliant and princess. Like round diamonds, they are incredibly versatile and fit perfectly in just about any setting. They're especially liked for the illusion they give off, appearing like crushed ice.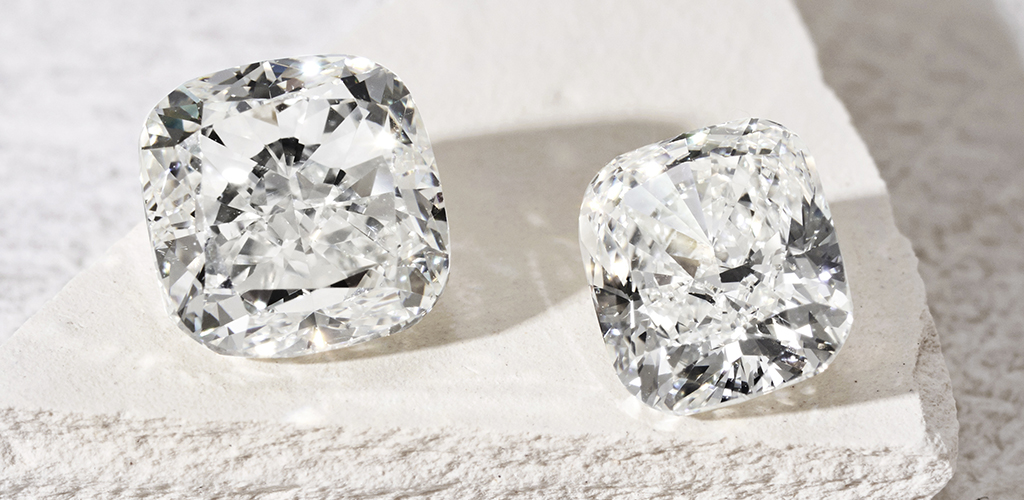 Cushion cut diamonds tend to experience less damage because they don't have any sharp edges. Their smooth outline makes it difficult for chipping to occur. Overall, this pillow-shaped diamond is an excellent investment and low maintenance. 
Another fantastic bonus is that these diamonds are budget-friendly. They're less expensive than round-cut diamonds and often produce the same fire and brilliance.
How Many Carats is Sofia Vergara's Engagement Ring?
Sofia's engagement ring is practically impossible to miss. Experts estimate her engagement ring to be between 5-7 carats.
The diamond seems to be at least an F or higher on the color scale.
How Much Did Sofia Vergara's Ring Cost? And What's It Really Worth?!
Sofia's ring has been featured on many sites as one of the most expensive celebrity engagement rings. Joe is said to have paid around $500,000 for the engagement ring that could be mistaken for a miniature ice-rink. 
Looking at an ideal cushion cut diamond with excellent specifications (E Color, VVS2 Clarity) at James Allen, the estimate seems accurate.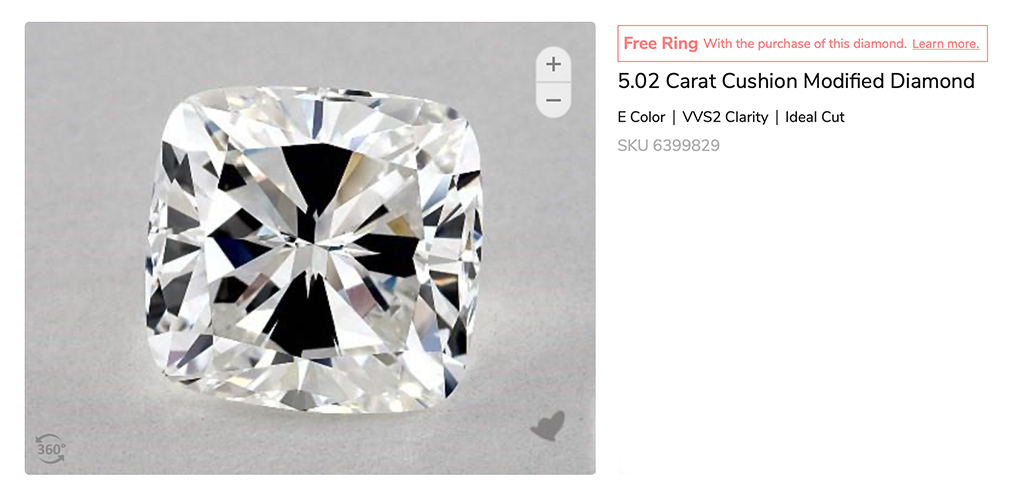 Sofia's Engagement Ring Lookalikes
If you're looking for a replica of Sofia Vergara's engagement ring but need to stay true to your budget, this platinum cathedral pavé halo diamond engagement ring has all the same features with some variations in size. At James Allen, you can even opt for a lab grown diamond and get the cushion-cut size you want at a third of the price you'd pay for an earth-created diamond.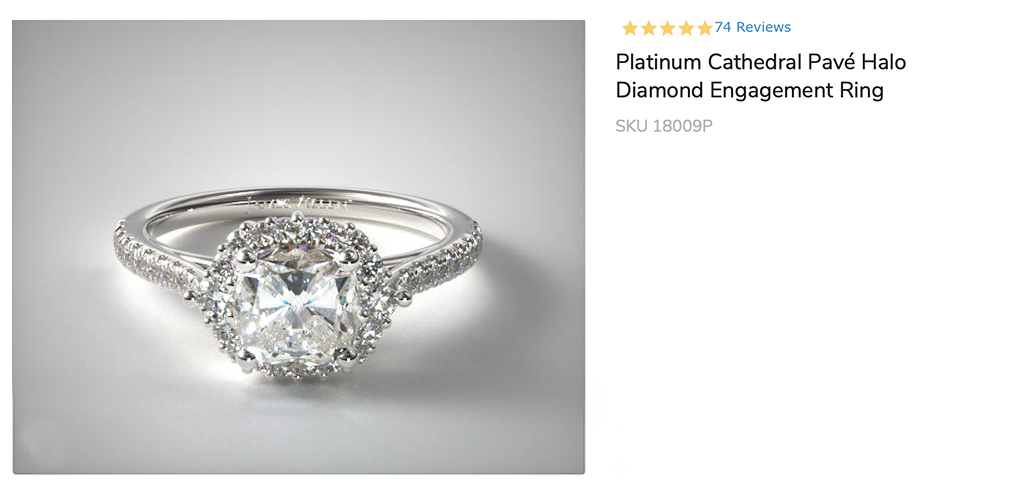 In love with the halo setting? This lookalike is our 14K white gold falling edge pavé diamond engagement ring. The halo is layered in a way that makes the cushion-cut center stone appear much bigger with a sparklier appeal. It consists of a 14K white gold band, with the center diamond held firmly in place with four prongs.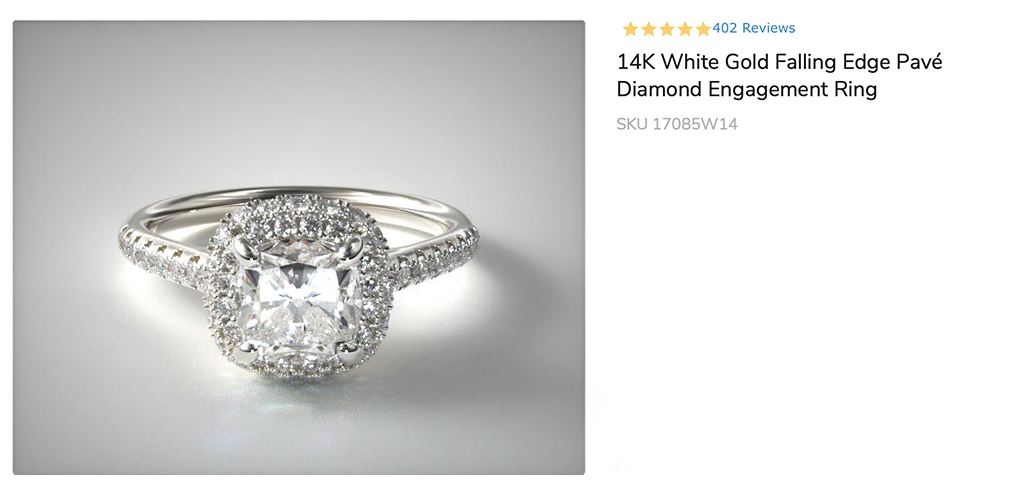 Our final lookalike has all the same features – a cushion-cut center diamond set beautifully in a diamond halo band for a magnificent display of sparkle from all angles. The difference with this lookalike is the amplified sparkle in a multi-layered diamond band and four-prong design.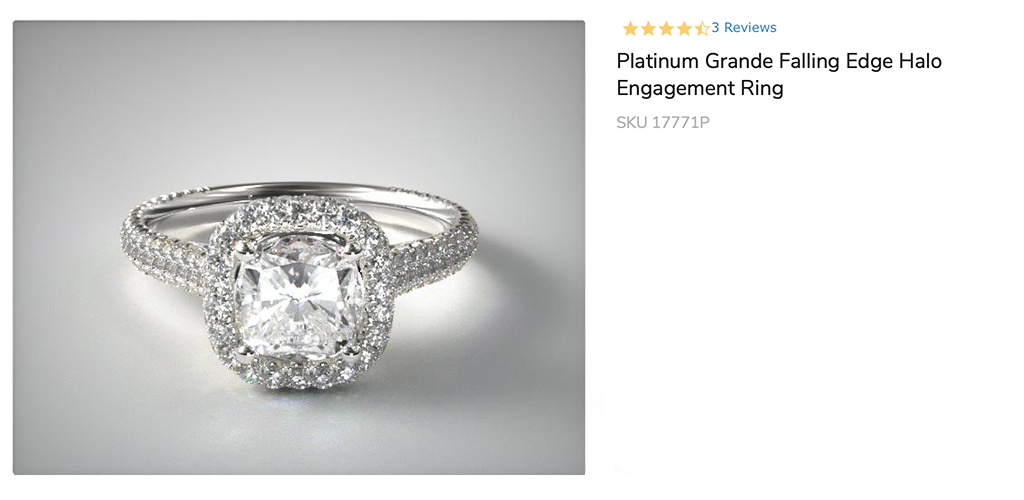 We're Here To Help
Buying an engagement ring comes with stress, questions, and a lot of second-guessing. At James Allen, we're here to offer you 100% free advice and will assist you in understanding the best diamond quality for your budget and unique preferences.
Contact our customer service team and chat with non-commissioned diamond and jewelry experts 24-7 regarding any questions you have about the ring-buying process.