Think you can tell the difference between earth created diamonds and lab grown diamond engagement rings? We'll put you to the test with some of our best diamonds!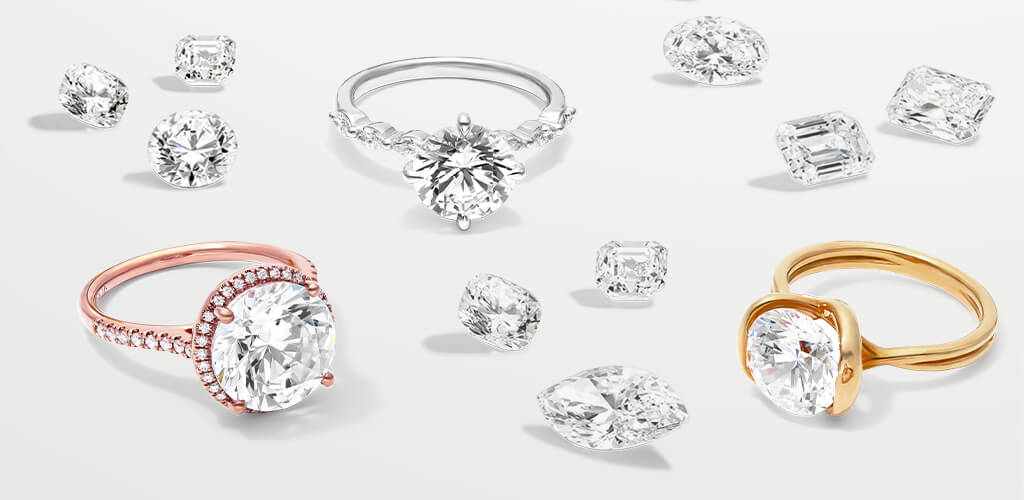 Although lab grown diamonds are created in a lab, they are real diamonds and have the same physical, chemical, and visual properties as earth created diamonds.
This striking similarity begs the question: Is it possible to tell the two apart?
You don't need to be an expert to try and give it a go. We're showing off some of our customers' favorite custom-designed engagement rings. Some have lab diamond center stones, and others are set with mined diamonds. Keep scrolling to see if you can spot which is which.
Did you know that it takes earth made diamonds billions of years to form, whereas a lab grown diamond can be created in under 10 weeks? That's right! Scientists have managed to recreate special chambers which replicate the exact environment needed for diamonds to form.
Another fun fact about lab created diamonds is they come in every shape, size, and color as earth created diamonds. While some fancy color diamonds are extremely rare, you wouldn't struggle to find your favorite color as a lab diamond.
Any luck differentiating between the diamonds? Don't fret if not. Even the experts can't tell the difference between lab created diamonds and mined diamonds with the naked eye.
Let's tally up your scores and see if you guessed correctly. For each set, we'll go from left to right:
Lab grown | Earth
Earth | Lab grown
Earth | Lab grown
Lab grown | Earth
So, how'd you do??
What's The Difference Between Lab Created Diamonds And Earth Created Diamonds?
If you found it difficult to spot the difference, just know you're not the only one! Lab created diamonds are optically and chemically identical to earth created diamonds. The only difference between the two is their origin.
Earth created diamonds are sourced from below the earth's surface.
Lab grown diamonds are created in simulated 'below-ground' conditions in a lab.
Getting The Best Diamond Ring For Your Buck
Modern-day consumers will be happy to hear that lab grown diamonds are generally more affordable than earth created diamonds, giving you a 30% larger stone for the same cost!
Why?
The diamond-growing process is less resource-intensive than the diamond-mining process. It simply costs less to grow a diamond in a lab than it does to mine a diamond from the earth, and those savings are passed along to diamond shoppers. If you're looking to maximize your budget without compromising on quality and sparkle, lab created diamonds are a great choice for you.
Worth It? We Think So
There's no doubt that earth created diamonds contain millennia of history, tradition, and romance. While these diamonds are the classic choice, lab grown diamonds are an affordable option and equally fresh. No matter what you decide, both diamonds hold their magnificent sparkle forever!
Final Thoughts
Were you able to tell our lab grown and earth created diamonds apart? Here's the bottom line: Both are winners! Lab grown diamonds offer equal brilliance and sparkle as earth created diamonds. That being said, if you're looking to maximize your budget without compromising on quality, a lab grown diamond may be calling your name.
Something sparkly catches your eye? At James Allen, we've got loads more jewelry up our sleeve. Browse our stunning assortment of wedding rings, tennis bracelets, men's engagement rings, and more to spoil your significant other (or yourself!) today.
Subscribe to our email list for access to secret sales, practical ring-buying tips, and $100 off your first purchase!