If you're looking to check off your holiday gift list and save money, then it's your time to shine…literally! James Allen's Black Friday deals are here! Read on to check out the best bling at the best prices. Shop early, save, and, best of all, sleep in on November 25th.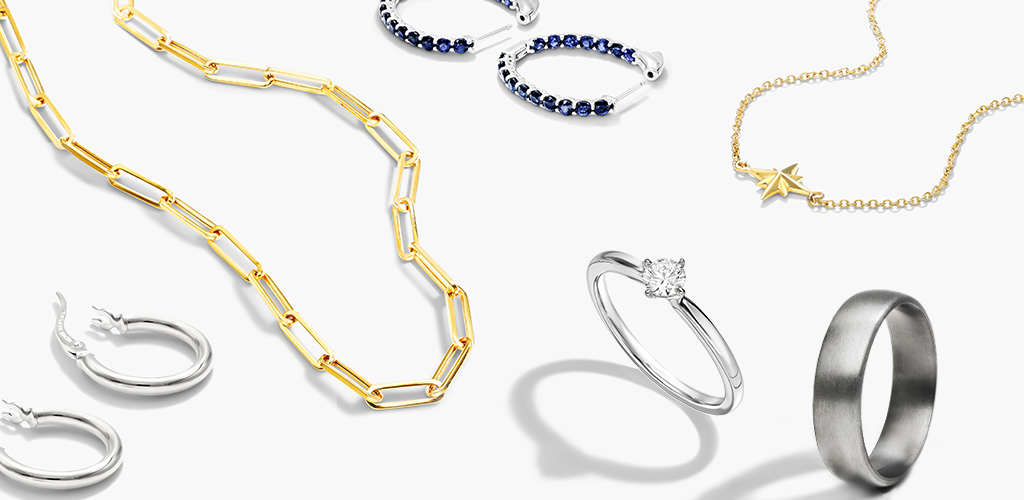 James Allen Black Friday Deals
It's that time of year again, the annual James Allen Black Friday sale! 25% off SITE WIDE! Save on everything! That piece you've been eyeing all year? Treat yo self! That engagement ring your love has been sending hint after hint for? Blow their mind with the bling!
Sparkle so bright they won't remember you forgot their birthday? They'll wish you would forget it every year! Shop early, save, avoid the chaos, and savor those turkey day leftovers.
Best Selling Black Friday Engagement Rings
A chill in the air and some ice on the finger. The most romantic time of year is upon us once again, the perfect time to pop the question or upgrade your current hardware. Whether you prefer a perfect pavé, a sophisticated solitaire, or a heavenly halo engagement ring, this is the ideal time to grab one of our 2022's top trends.
Solitaire Engagement Rings
Oh, how we love a solitaire engagement ring! You just can't go wrong with this timeless, classic, and simply stunning style. Not only are solitaire settings budget-friendly and allow the focus to be solely on your center stone, but they also give an understated elegance beloved by all.
Worried a solitaire is too simple? Pshaw! Go for a thick or thin band, get modern with a knife edge or a six prong shank, or amp up the style with a rope or cable band. The options go on and on!
Choose from timeless yellow gold, romantic rose gold, brilliant white gold, or go for the strength of platinum. Whichever metal or style you choose, a solitaire engagement ring will always be in style. Check out these best-sellers for inspo, and go to JamesAllen.com for more!
Halo Engagement Rings
Stand in the light of a halo when you give your loved one of our halo engagement rings. This style, where your center stone is surrounded by a literal halo of diamonds, gives your already shining ring enhanced elegance and sparkle.
Do you subscribe to the bigger is better theory? Then halo rings are for you! The halo of diamonds around your center stone will make your ring look even bigger than it is. It's no wonder their popularity continues to grow.
After all, is more shine ever a bad thing? Take a look at some of the halos our customers just love, and check out more here!
Pavé Engagement Rings
Love the look of being surrounded by diamonds but don't have the budget of being surrounded by diamonds, then look to the pavé! Pavé literally means to cover, as in to pave something. Pavé engagement rings feature bands that are covered in diamonds.
What is great is that the diamonds are tiny, making them affordable and allowing you to satisfy that champagne taste! All these tiny diamonds reflect light, allowing a beautiful sparkle that can be seen from every angle.
A ring that dazzles this bright is sure to get that yes! Need some inspo? These beauties are best sellers for a reason!
Fine Jewelry Black Friday Deals
Figuring out what to get all the people on your list can be a pain in the you know what! Fine jewelry to the rescue! It always makes a great gift! Whatever their style, whomever the recipient, whichever pieces are preferred, jewelry is the gift that never fails.
Gold Jewelry
There's a reason it's called The Gold Standard. Gold is always great; whether you prefer yellow, white, or rose, gold is the gift that keeps on going. Get in on the minimalist trend with gold pieces that you'll never want to take off. Sport a perfect pair of gold hoop earrings, a cute cuff, an initial necklace, and a statement ring.
Speaking of statement rings, why go for just one when you can stack 'em? Wear them on the same finger or get multiple for different fingers because when it comes to stackable rings, it's like holiday guests, the more the merrier!
Wear your gold jewelry together, separately, or mix and match for a clean, elegant look.
Lab Created Diamond Jewelry
Love diamonds but want to save even more? Then our lab created diamond jewelry collection is for you! Lab created diamonds are great because they are 100% real diamonds, cost less than their counterparts found in the earth, and at James Allen, are certified conflict-free.
Lab grown diamonds are also the perfect way to build your fine jewelry basics collection. Go for a timeless tennis necklace, a perfect solitaire ring, a set of cluster earrings, and a station dash bracelet to pull the collection together.
Is your best friend such a Libra? Is your sister the ultimate Gemini? Sounds like they need a piece from our gorgeous constellation collection. No matter their sign, we got the shine to match!
Complete the set with a pair of lab grown diamond hoop earrings, go for a heavenly halo ring, or choose a perfect pendant. No matter what you choose, our lab created diamond pieces are just what every jewelry box needs.
Birthstone Jewelry
Celebrate a birthday this holiday season, no matter when you were born! Rock the wintery gem of December with beautiful topaz pieces and feel hot hot hot while sporting these icy cool blues. Choose the deep red of January's garnet and feel regal everytime you put it on.
From the deep shades of September's sapphires to the engaging greens in May's emeralds, birthstone jewelry looks good every month of the year. Were you born in October but have the soul of an April baby, pair a stunning opal necklace with a diamond bolo bracelet. Throw in a ruby ring for a pop of color to honor all those July babies you know and love.
James Allen's collection of birthstone jewelry is so gorgeous you'll wish you had a birthday every month of the year!
Black Friday Wedding Rings For Women
The James Allen Black Friday sale is also a great time to get that dream wedding ring! Whether you're looking for your perfect wedding ring for the big day, to add a beautiful piece to your wedding ring collection, or simply want to upgrade your current wedding ring, we have the style for you.
Want a classic ring to match your timeless love? Go for one of our simply sophisticated classic wedding rings. Available in yellow, white, rose gold, and even platinum, as well as different widths, and even styles (check out our knife edge for a classic ring with a twist); we've got the right ring for you!
Do you need a ring that sparkles as bright as your smile? Our collection of diamond wedding rings will leave you wanting for words.
Whether you want diamonds that go on and on, like our dazzling eternity rings, or maybe you want a pavé wedding ring to match your pavé engagement ring, our seemingly endless collection of women's wedding rings has the perfect ring waiting for you.
Black Friday Wedding Rings For Men
Your man deserves a ring that will make everyone go wow! We know this is an important purchase, one of the most important pieces of jewelry you'll ever buy, and you don't want to buy just any old ring.
Classic men's wedding rings are simply timeless. Whether you prefer a slimmer 4mm ring, or want a slightly thicker 6mm band, these enduring rings are available in varying widths, metals, and finishes. From comfort fit to slightly flat or slightly curved, these stylish rings allow you to take a classic look to the next level.
Do you love the classic look but want to give it a twist? Go for a bold, black tantalum ring. Whether you prefer one with a pattern, a satin finish, or one mixed with gold, there are so many choices for men's wedding rings that you are sure to find your favorite.
Final Thoughts
It's never a bad thing to be ahead of the game, at least when it comes to holiday shopping! Get that list, check it twice, and finish shopping before everyone else has even started. As they elbow their way through the crowds and set their alarms before the sun, you'll be fast asleep, dreaming of how you got gifts everyone will love and at a discount. So head on over to JamesAllen.com because sparkle season starts now!