Time to be well-red! Find the perfect jewelry gift with garnet, the January birthstone.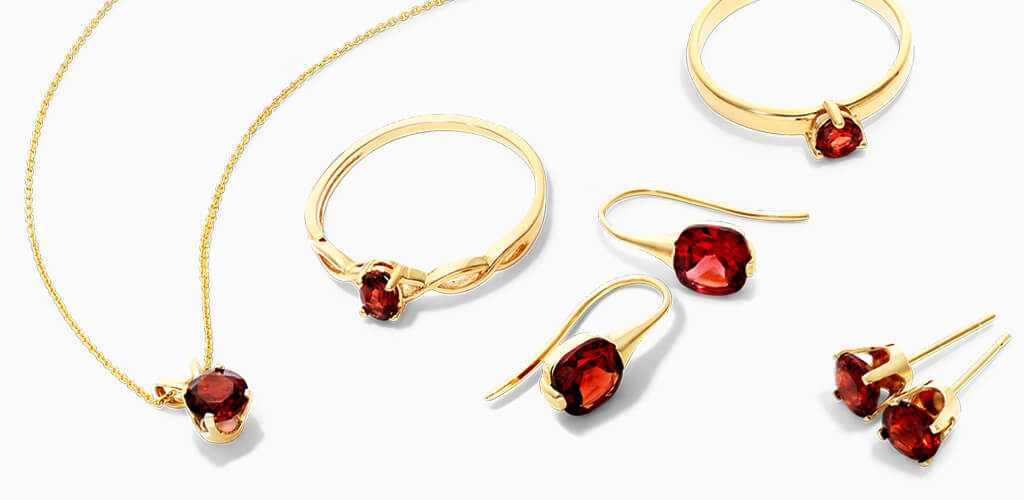 Start off the new year by shining in garnet's fierce red. Garnets get their name thanks to their resemblance to pomegranate seeds. In face, the name derives from the Latin granatum, meaning seed. While garnet comes in multiple hues, red is the most popular color, and perfect for someone born in January…or anytime!
What Is The January Birthstone?
January's birthstone is garnet, which can be found in mines and streams, where the water has worn away the rock and exposed the gem. They naturally occur in green, yellow, and even colorless, but the vibrant and deep red option is its most popular color.
While the garnet we are most familiar with is the gemstone found in fine jewelry, it can also be mined for its industrial abrasive version, which is used to polish glass and metal.
At James Allen, our collection of garnet fine jewelry is strictly for looking fabulous. In this case, garnets are for fashion…not function.
Garnet Birthstone Facts
The sparkle from garnets is so extraordinary it is often described by gemologists as fire. The best sparkle can be seen in soft, romantic lighting, such as candles.
The hardness of garnets is not as impressive as their sparkle and they should be handled with care. However, rating between 6.5 and 7.5 on the Mohs Hardness Scale, out of a maximum of 10, garnets are still quite strong.
Garnet Birthstone Symbolism
Garnets are thought to bring blessings, love, wellness, friendship, and devotion to those lucky enough to be born in January. It certainly worked for Kate Middleton, Duchess of Cambridge.
Prior to marrying her now-husband, Prince William, Duke of Cambridge, Kate was gifted a gorgeous ring with her garnet birthstone, as well as pearls, her now-husband's birthstone. The ring was a sign of the Prince's commitment to his now-wife.
Garnets are always a great choice because, as the epitome of affordable luxury, they make for a great birthday gift….or anniversary, Christmas, Mother's Day, Valentine's Day, or just a day ending in a day!
Kate Middleton isn't the only celebrity sporting garnet, some other famous faces such as Kristen Bell and Sofía Vergara have rocked this gorgeous gem. Check out James Allen's collection of luxurious garnet earrings and receive all the good energy garnet has to offer.
Garnet Birthstone History
Once believed to offer protection from poison and even nightmares, garnets have a long and storied history.
Garnets have been found in the tombs of pharaohs in Egypt and in ancient Persia, where only kings were allowed to own or wear the gem.
In ancient Rome, garnets were typically worn by noble patriarchs, in the form of carved signet rings. They also believed the gem provided protection to travelers and that sparkles were a sign of impending danger.
Children in ancient Greece thought they were protected from drowning by the gem and in ancient China, it was believed that the gems were the incarnation of a tiger's soul. The Navajo use the gem to bring luck and protection. Navajos also believe, similar to ancient Romans, that garnets bring protection to travelers.
Numerous famous historical figures are thought to have been adorned by this famous gem, including Plato and the King of Saxony, who is said to have had a garnet of over 465 carats!
How to Wear Your Garnet
The deep red brilliance of garnets makes it a beautiful choice to wear as earrings, necklaces, rings, and bracelets. They can glamorize an easy-going day look, accessorize a night on the town, or compliment a black-tie outfit.
The hues of garnet are complementary to all skin tones, allowing everyone to achieve that royal look.
Garnets look exceptionally spectacular when paired with black or white outfits, however, they also go great with more neutral tones like deep greens and browns.
January Birthstone Gifts: Garnet Rings
Garnets are the perfect January birthstone. As the gem of love, they are an ideal romantic prelude to Valentine's Day. Garnets are often given as signs of intimacy and romance, and their rich color makes them a meaningful and gorgeous gift to receive.
January Birthstone Gifts: Garnet Earrings
Garnets are said to have healing properties, in addition to their protective ones. Many people believe that the gems bring peace, passion, and can help cleanse and balance energy. These are just some of the many reasons that garnets have retained their popularity, from ancient times to today.
January Birthstone Gifts: Garnet Necklaces
Garnets affordable luxury and fiery red color make garnet necklaces a popular gift choice for any occasion.
Dress up any outfit, add a pop of color to your outfit, or become known as "the gift whisperer," a garnet necklace will get you where you need to go and is a must-have for any accessory collection.
Rock That Red
Garnets, which can symbolize both love and friendship, makes a considerable and personal gift to a romantic partner, good friend, family member, or yourself!
So find that perfect piece (or let's be real, pieces!) of gorgeous red garnet and release that royal shine.
Check out our other birthstone guides
December Blue Topaz ♦ November Citrines ♦ September Sapphires ♦ February Amethysts ♦ March Aquamarines ♦ April Diamonds ♦ May Emeralds ♦ July Rubies.
Check out celebrity engagement rings and looks:
Sofia Vergara * Hailey Bieber * 2020 Oscars * Royal Engagements * Pippa Middleton * Miranda Kerr * Gwen Stefani, Demi Lovato, & More!
Subscribe to our email list for access to secret sales, practical ring-buying tips, and $100 off your first order!