Super Bowl rings are known for their opulent use of diamonds and gemstones. The rings feature the winning team's name, the year, and the Super Bowl number. This year's game featured the Cincinnati Bengals meeting the Los Angeles Rams. The Bengals have not won a Super Bowl in years and the Rams have never won one in their new hometown (they won once in 2000 when they were the St. Louis Rams)….both teams were looking to make history and rock that championship bling.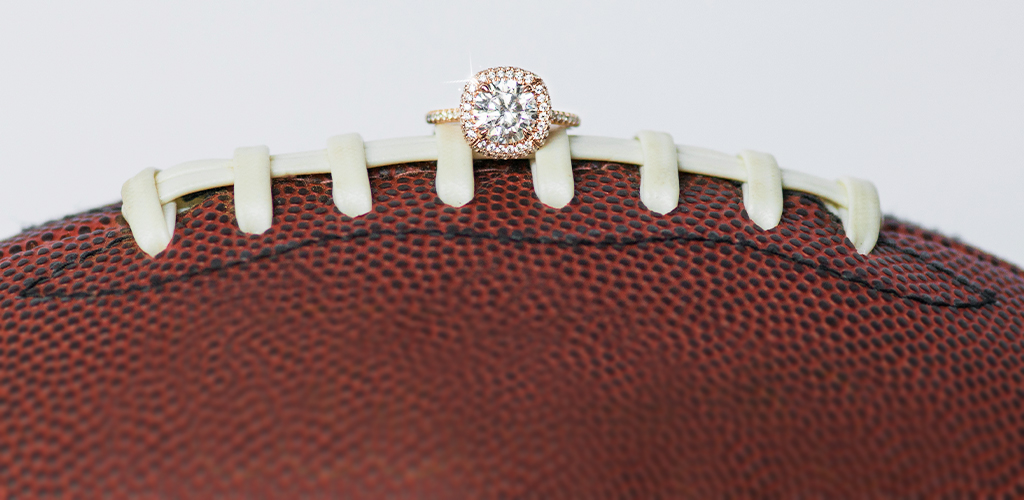 All That Glitters…
Upsetting a division champion, breaking a multi-game losing streak, the Bengals and Rams were an unlikely pairing for Super Bowl LVI. Leaving us only our imaginations to guess how much and what bling will be used for the championship ring.
The NFL contributes between $5,000 to $7,000 per ring, but the average ring costs six to ten times that amount. The winning team covers the remaining costs and it is yet unknown how much the winners will spend, and thus, how many diamonds and gemstones will be used.
All Super Bowl rings have diamonds and gems, but which gems are anyone's guess. Some teams stick to diamonds only, while most have gemstones reflecting their team's colors. The blue and yellow of the Rams, and the orange, black, and white of the Bengals are reflected in blue sapphires, yellow citrine, and of course diamonds.
Want to rock the colors of the Rams? Check out the pieces below:
Prefer to rock the colors of the Bengals? Go for these pieces!
Looking for more options! Check these out:
This Bling Is Brought To You By…..
The Super Bowl is a contest to see who is the best of the best! A dream of then-Green Bay Packers Head Coach Vince Lombardi, the big game is a contest between the division champions of the American Football Conference (AFC) and the National Football Conference (NFC).
Since its inception, the majority of Super Bowl rings have been designed by Jostens, but Tiffany & Co. (who also designs the Super Bowl's Vince Lombardi trophy), as well as Balfour have also gotten in on the game. Check out this piece inspired by the infamous Lombardi trophy:
What this year's Championship ring will look like is still unknown. Ring design can only start now that there is a champion. Though we know from past rings that they will certainly be blindingly bling-tastic, filled with diamonds and gemstones. See the spectacular sparkles of past rings here.
Whereas merchandise was printed for both teams, with the losing team's merch finding itself in donation bins, the ring is a different matter. Superstition abounds and only now that there is a winner will design get input from the winning team.
Design and production will take about three months, after which the rings are presented in a private ceremony. Platinum is sometimes used, but gold is normally the metal of choice for this championship glitz. The number of diamonds and gemstones used is determined in the design, but it is safe to say the shine is so bright, you might need shades when looking at it.
Everyone Wants To Be Champion
All the work, the training, the games, injuries, and recovery, are all part of the emotional rollercoaster that is football. The journey to finally receiving a Super Bowl ring is a long and winding road and anything less than victory, can simply feel like heartbreak.
Owning a genuine Super Bowl ring is highly sought after, and not just by the champions. For example, New England Patriots owner Robert Kraft gifted one of his Super Bowl rings, either accidentally or purposefully, depending on whose story you believe, to Russian President Vladimir Putin.
But the ring and the game are not the only stars of the Super Bowl. The halftime show is just as much a part of the experience. This year's show featured artists Mary J. Blige, Snoop Dog, Eminem, Dr. Dre, and Kendrick Lamar.
Blige, Dre, Snoop, Eminem, and Lamar brought their powerhouse vocals, smooth rhymes, and commanding performances, marked by their unique styles.
Mary is frequently seen sporting classic gold hoops. Get your own pair and feel as powerful as this music icon:
Intertwined Oval Hoop Earrings
Snoop can be seen sporting all sorts of pieces, fitting his eccentric personality. Get your own version of Snoop's ice here:
Eminem keeps his shine classic and can often be seen wearing a gold chain. Grab your own version here:
Super Proposals
Receiving the ring that marks the ultimate achievement in football is a moment that cannot be matched. Yet a few athletes, and even fans, have tried. Quarterback for the Kansas City Chiefs, Patrick Mahomes, took this incredible moment of professional performance and added a moment of personal bliss. The day he got his Super Bowl ring, he also gave a precious ring.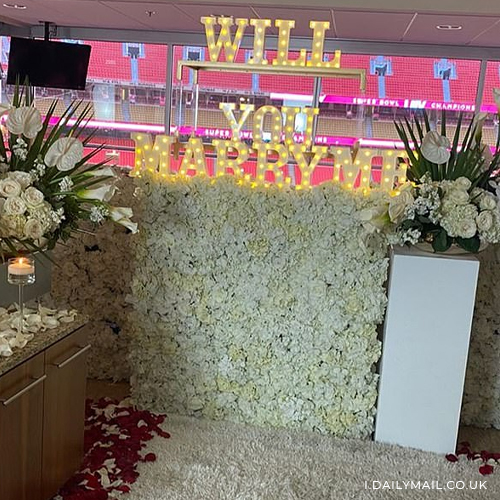 Following the ceremony where the Chiefs received their rings, Mahomes surprised his long-time girlfriend with a ring of her own, proposing in an opulent surprise ceremony. She of course said yes!
Petite Pavé Cathedral Engagement Ring
Also entering the romantic Super Bowl proposal arena was linebacker for the New York Giants Greg Jones. After beating the Patriots, Jones proposed to his college sweetheart, but Jones couldn't wait for the ring ceremony.
During the joyful chaos of the on field celebrations, he got down on one knee and proposed, bringing his longtime girlfriend Many Piechowski to tears. Check out this ring that will bring your partner to (happy) tears too!
Grande Falling Edge Halo Engagement Ring
While you may not be able to play in the Super Bowl, you can up the ante by popping the question with a ring worthy of a Super Bowl-size proposal. Check out these options!
While most people are not NFL Champions, you can at least sparkle like one! Whether sporting a bling-tastic ring or fine jewelry with gemstones dedicated to your favorite team, James Allen is here to help give you that Super Bowl sparkle.
Check out celebrity and athlete engagement rings and looks here:
Sofia Vergara * Hailey Bieber * 2020 Oscars * Royal Engagements * Pippa Middleton * Miranda Kerr * NBA Inspired * MLB Inspired * Gwen Stefani, Demi Lovato, & More!
Subscribe to our email list for access to secret sales, practical ring-buying tips, and $100 off your first purchase!