Burst into 2021 and leave the past year behind you. All you have to do – slip on some of the new year's trending styles to get you in the mood to totally own the next 12 months.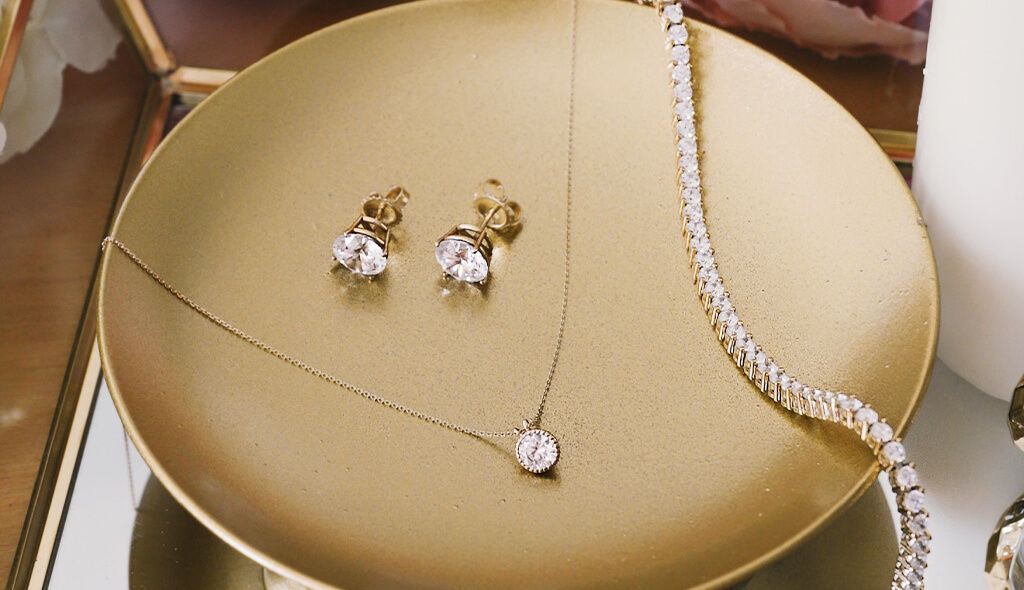 After the rollercoaster ride that was 2020, jewelry shopper preferences have turned to the classics: pieces that hold a timeless charm. The fine jewelry trends of 2021 are pieces that put diamonds front-and-center and are particularly popular. Why? They're universally stylish. They won't ever trend-out. And they make gifts that never fail to delight!
We can say with confidence that 2021 will be the year of the lab grown diamond. 30% more affordable than earth created diamonds, lab-grown diamonds are chemically and optically identical to traditionally mined diamonds. The only difference is that they've created, as you may have guessed, in a laboratory! Yes, and they are 100% pure diamonds.
How it's done: scientists create these cutting-edge diamonds by first placing a tiny carbon "seed" in a specialized diamond-growing chamber. These chambers simulate the intense pressure and high heat conditions that facilitate diamond growth deep underground. As the heat and pressure work their magic, carbon vapor is gradually applied, microscopic layer by layer, onto the slowly growing diamond seed. After a few months, the lab-grown diamond is ready to be cut and polished! Thus the diamond creation process, which normally occurs on a geologic time scale, is sped up to take only a few months.
Growing a diamond in a lab uses minimal time and resources compared to mining an earth-created diamond, which is why it costs so much less to produce. Those savings are passed on to you, allowing you to nab an honest-to-goodness diamond for 30% less than you thought you could.
And now the best news of all: James Allen's diamond studs and diamond pendants can all be set with lab-grown diamonds! Stick to your budget and still score the carat size of your dreams.
1. Diamond Rings
This just in: rings featuring small, glittering diamonds are trending in 2021. Diamond rings don't always have to come in the form of wedding or engagement rings. Diamonds' sparkle makes them perfectly wearable additions to a normal weekday outfit. Plus, they can be worn however you'd like: the diamond rings below are subtle enough to add to a ring stack, yet strong enough to be worn alone for a more minimalist look. They also make the perfect gift if you're looking for something special, but not too extravagant.
Peeking Diamond Ring
The small, off-set center diamond emanates an uncommon cheekiness! Its 14K yellow gold solitaire band makes this ring perfect for mixing and matching in a ring stack.
Open Luxe Diamond Ring
This is a diamond ring with a unique perspective. The striking open style teams up with graceful baguette-cut diamonds for a true head-turner of a ring.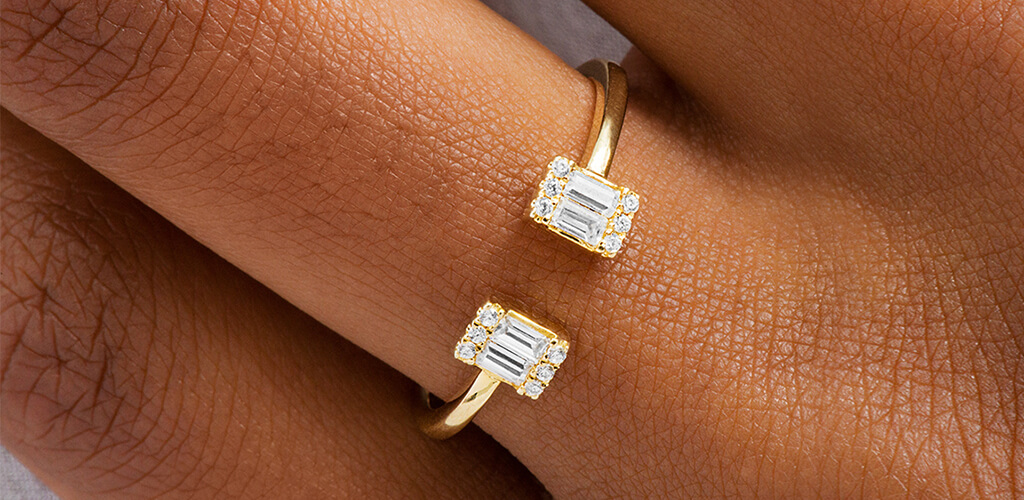 Bezel-Set Diamond Bubble Ring
This is a diamond ring for wearers that live on the lighter side of life. A fun whirl of bezel-set diamonds in various shapes dances across the wearer's finger!
Milgrain Blossom Ring
A delicate solitaire ring that blossoms into a six-petalled diamond flower. Simple, feminine, and cute as anything.
2. Diamond Pendant Necklaces
One of the biggest fine jewelry trends of 2021 is necklaces that showcase an eye-catching center stone. And what better than a pendant necklace to show off a singular diamond? You can even suit it to your style with a custom setting. Dainty and simple, diamond pendants look stunning around absolutely any neck. This means that they're a gift that always succeeds. Plus, these diamond necklaces:
Suit most necklines – wear them with anything!
Are lightweight and easy to wear throughout the day
Make for excellent layering pieces
Emerald-Cut Diamond Necklace
Emerald-cut diamonds are a classic shape that gives off an undeniable air of royalty. We're thinking of Grace Kelly, actress-turned-Princess of Monaco, and her astonishing emerald-cut diamond engagement ring, or Princess Diana and her penchant for emerald-cut gemstones. Go royal with this understated diamond necklace.
Double Prong Diamond Necklace
Double prongs add a twist to a classic four prong setting. The basket is somewhat conical, so this pendant tends to tilt slightly to catch the light even with minimal movement by the wearer.
Milgrain Halo Diamond Necklace
A gracefully beaded halo adds depth and 360° coverage to the diamond of your choice. And the domed mounting allows your diamond's facets to turn toward the light with every move.
3. Stacked Tennis Bracelets
Maybe one diamond isn't enough. Maybe what you really dream of is a wrist full of diamonds – dozens of them! Tennis bracelets can span the bling spectrum. While they're definitely packed with enough shine to stand alone, they're also wearable enough to add to your daily jewelry stack – layer various styles of diamond bracelets to suit your glitter level to the occasion. Mix-and-match various styles and metals of tennis bracelets for an extremely on-trend 2021 jewelry wardrobe. Want celeb style inspo? A tennis bracelet is a constant presence on the red carpet! Stars like Meghan Markle, Jennifer Lopez, and Nicole Kidman often make it a point to accessorize their gowns with a graceful line of diamonds on their wrists.
Rose Gold Bezel-Set Diamond Tennis Bracelet
Go for a modern look with rose gold! The bezel settings on this tennis bracelet will keep all 64 diamonds snug, secure, and smooth. Wear this bracelet during any activity you want – it won't snag on fabric or get in the way of your active lifestyle!
White Gold Four-Prong Diamond Tennis Bracelet
The classic white gold tennis bracelet in a four-prong setting that holds your diamonds securely and flushes to your wrist. This is a beauty that you'll never want to take off.
Yellow Gold Flower Clasp Diamond Tennis Bracelet
Add a touch of whimsy to your wrist with the diamond-studded, flower-shaped clasp on this classic three-prong tennis bracelet!
4. Diamond Earrings
Diamond stud earrings had a meteoric rise this past year. Even as the world hunkered down to weather the COVID pandemic, diamond earrings saw a steady increase in popularity. Why? Well, we have a few theories:
They're utterly wearable. They're so lightweight that you can put them on, forget about them, and look fabulous the entire day without even trying. Even on Zoom.
They suit any budget. The larger your budget, the more you can scale up your carat size. But even if your budget is relatively small, diamond studs afford you the most sparkle per dollar of any jewelry style.
They're excellent self-gifts. Got an important milestone you want to mark? Maybe a graduation, a big promotion at work, or a personal achievement you're proud of? Celebrate yourself with diamond earrings.
Their sparkle is easy to flaunt! If you want your diamonds to stand out, then earrings make sure they'll always be at everyone's eye level!
Scalloped Basket Diamond Earrings
A rounded scalloped basket holds your diamonds of choice snugly against your lobes. This 6-armed mounting allows light to enter the diamond both from the sides and the front.
Milgrain Bezel Diamond Earrings
The milgrain bezel setting on these stunning earrings mixes modern with vintage. The rolled wire basket carries your diamond slightly off the ear without sacrificing comfort.
Four Prong Diamond Earrings
Ooooh what a classic! These four prong diamond earrings are mounted in minimalist settings, allowing your diamonds to shine as light strikes their facets from every angle.
Princess Cut Diamond Earrings
Why go round? Choose any cut of diamond, including princess cut. This large square cut takes up more surface area on your lobe than a round diamond of the same carat weight. Meaning, that's more wow for your budget.
Must-Know Diamond Fine Jewelry :
Subscribe to our email list for access to secret sales, practical ring-buying tips, and $100 off your first purchase!