Getting your jewelry engraved with a personalized message is the ultimate way to create a unique and thoughtful sentiment.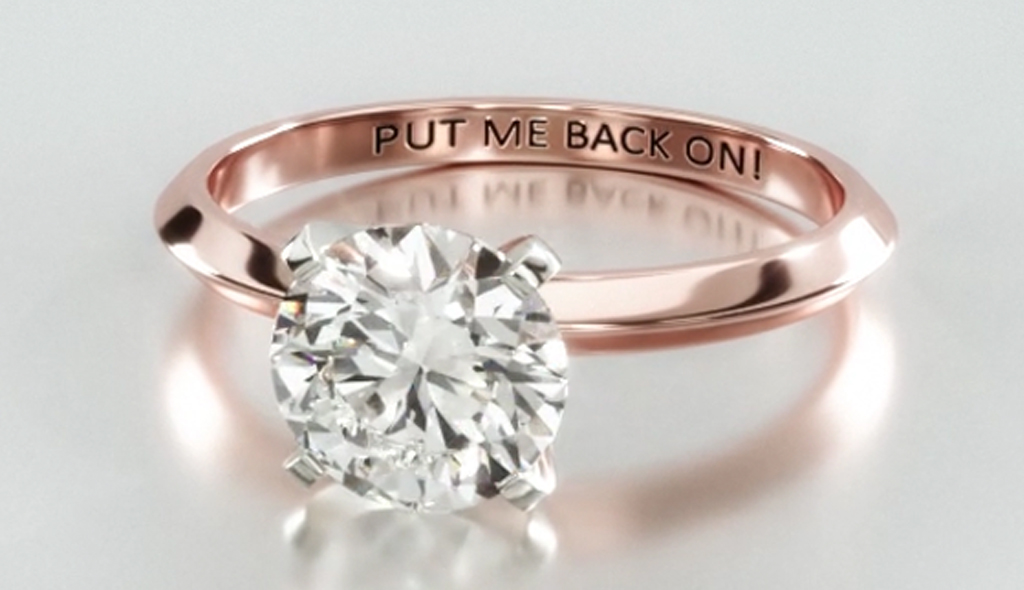 Engraved rings are the romantic gesture you never knew you needed. Not only is it reasonably easy to get your wedding ring or engagement ring custom-engraved, but it's affordable too.
Perhaps you and your partner have an inside joke you want to be engraved on your wedding rings. Maybe, you're planning on adding that personal touch but have no idea what to put on your engraved ring? That's where we come in.
We have plenty of romantic, funny, and traditional ideas to share with you as well as some helpful facts and tips about engraving your rings and jewelry. Read on to learn more and get inspired.
Engraved Engagement Rings
Planning a proposal is one thing, but gifting your love with a custom-engraved engagement ring will take the touching moment to a whole new level. When engraving engagement rings, sentiment plays a huge role, but personality is definitely more important, so skies the limit.
Dare to be cute, funny, and even a little cheesy! Your proposal is sure to be a happy and memorable occasion, so use this opportunity to make sure the inscription you choose adds to the laughs, smiles, and happy tears.
Here are some romantic and funny ideas for engagement ring engravings:
Romantic:
I love you
Yours forever
My eternity
Keeper of my heart
All my love
Yours eternally
Mine forever, always yours
Funny:
Resistance is futile
Non-refundable
Dibs
Do not remove
Finders keepers
Why is this off?
Insert finger here
Our tip: keep this engraving a secret (if your partner has helped you pick out or design the engagement ring, this will make the reveal so much sweeter.
Engraved Wedding Rings
Wedding rings – the final piece of forever that seals the deal when you and your partner say, "I do." For this magical moment in time, your engraved rings should hold the utmost sentiment.
Unlike an engagement ring, this engraving should bring a tear to the eye and tug on those heartstrings.
We recommend going traditional here:
Add your wedding location
A line from your wedding song
A line from a poem you both love
A bible verse
The date of your wedding
The date you first met
Your initials
Mr & Mrs _____
Split message; you will be one half of a whole, after all!
Our tip: take your time to choose the perfect engraving for your wedding ring. Either work with your partner to do a split message or use a combination of ideas you both like.
Engraved Anniversary Rings
Celebrate your anniversary with a stunning anniversary ring or check out our range of sparkling eternity rings for alternative options. We have a couple of lovely ideas for engravings to make this milestone truly memorable.
The date of your honeymoon
The initials of your children
The dates of your child/children's birthdays
The written number of years you've been together
An image of your choice (two hearts) or something that represents you two
A sentimental quote like, "still going strong" or "as beautiful/handsome as the day we met"
Our tip: we know it's not always easy to think of a suitable inscription and so remember that it's okay to wait until you know what the perfect engraving is. It can always be added in the future.
The Most Asked Questions About Engravings
Traditionally, engravings are done by machines that use a diamond tip instrument and a clamping technique. However, with the introduction of the latest technology, laser engravings, your choice of engravings on your wedding, anniversary, or engagement ring are now boundless.
What is Laser Engraving?
Laser engraving is performed using a machine equipped with a pencil-like laser that a person or artist controls. A laser beam allows the device to trace words, images, symbols, and patterns, to create the perfect custom engraved rings. Laser engraving can be done on just about any surface and works on all precious and alternative metals.
Fun fact: Laser engraving is different from machine engraving, as it allows for more accurate engravings with clear-cut and deeper lines. Plus, it's not limited to any particular font either.
Why is Laser Engraving Easier to Read?
Laser engraving is much easier to read than machine engraving because it has a higher precision rate. It doesn't chip away at the metal, and there is no wear and tear from tool usage because it's a laser.
The laser burns the metal, turning the messaging or imagery darker, making it easier to read. The laser is also more detail-driven and can produce the tiniest features, making unique personalized engraved rings or jewelry all the more appealing.
Will the Engraving Scratch off?
Our rings go through natural erosion the longer we wear them. Men's wedding rings, for example, often need to be polished and mended for damage or breakage. The tougher your lifestyle, the more strain your ring will take long-term.
If you're planning to make a personalized engraving on the outside of your ring, chances are, somewhere along the line, you may need to have the engraving redone. But, the durability of the engraving relies mainly on the durability of the metal itself.
Opt for stronger metals like tungsten or platinum when engraving on the ring's exterior, as softer metals, like white gold, are more vulnerable to chips and scratches.
On a more encouraging note, engravings on the inside of a ring are likely never to wear away or become scratched, no matter the ring's metal.
What's the Cost for Engraving?
Laser engraved wedding bands are the most popular jewelry to receive personalized messages and details. Experts estimate that getting a ring engraved can cost between $25 for up to 30 characters, including spaces.
Here at James Allen, our customers can opt for a free engraving at checkout, on us! We offer you the choice between block or script fonts. You choose the engraving and we'll take care of the rest.
Pro tip: choose the block font if your band is less than 2mm thick.
Keep Us In Mind
Here at James Allen, we love the little extra things we can do to make your experience all the more special. If you want to learn more about engraved rings, see our featured articles below.
Don't forget that you get your own customer engraving for free with any ring purchased from our on-site store. Contact our 24/7 customer service agents for any questions. We're happy to help you find the ring of your dreams or the perfect gift for your loved one.
Searching for more wedding ring engraving ideas? Read more below!
Subscribe to our email list for access to secret sales, practical ring-buying tips, and $100 off your first purchase!