At JamesAllen, engagement ring engravings are free at checkout! Looking for the right words? Get inspired by dozens of our favorite engagement ring inscriptions so you can create your moment in your own words.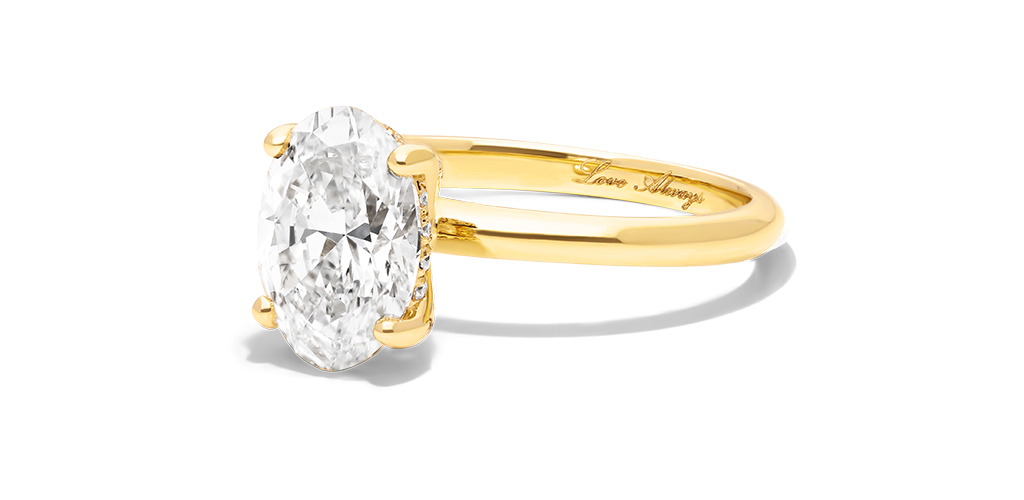 Engrave Your Engagement Ring
Every couple has their own special way of communicating with each other, filled with tokens of love and had-to-be-there private jokes. We're all about those love languages! Whatever proposal you plan will be a personalized tribute to your shared language – so why not personalize your engagement ring, too? With a special inscription, you don't have to go all-out on custom engagement rings to get personalized bands.
Engagement Ring Engraving Ideas
At a loss for words? We've got the inspiration for your perfect engagement ring inscription. They are chock-full of awe-inspiring personalized messages for you to take your pick of.
Get inspired by our customers' unique engagement rings! Consider engraving your engagement ring or wedding band with your anniversary date, where you fell in love, your initials, a romantic quote, or a phrase with a special meaning only you two understand.
Engraving Romantic Phrases
Sometimes, the biggest emotions are best expressed in the fewest words. We love the power of these abbreviated love letters!
WRITTEN IN THE STARS
JUST THE BEGINNING
UNDER YOUR SPELL
JUST GETTING STARTED
KEEPS GETTING BETTER
IT WAS ALWAYS YOU
YOU AND ME FOREVER
MY EVERYTHING
TILL NOW AND FOREVER
ALWAYS & FOREVER
TWO WISHES LEFT
CHALLENGE ACCEPTED
ME BETTER HALF
Song Verses
Nothing beats the classics! Some timeless melodies just get better with age. Take a page out of a songwriter's book and borrow a romantic lyric for yourself.
Time After Time – Cyndi Lauper
My Love Has Come Along – Etta James
How Sweet It Is – James Taylor
All Of Me Loves All Of You – John Legend
You Make Loving You Easy. – Zac Brown Band
I Will Always Love You – Whitney Houston
You are the sunshine of my life – Stevie Wonder
I Belong With You, You Belong With Me – The Lumineers
You and Me, We Got Two Minds That Think as One – Coldplay
I'm yours, and you're mine – Vance Joy
You're All I Ever Need – Sam Smith
With You, I'm Safe and Sound." – Capital Cities
I Will Love You Better Now – Ed Sheeran
Bible Verse Inscriptions
1 Corinthians 13:4 "Love is patient and kind; love does not envy or boast; it is not arrogant or rude. It does not insist on its own way; it is not irritable or resentful; it does not rejoice at wrongdoing, but rejoices with the truth."
Ecclesiastes 4:9-12 "Two are better than one, because they have a good return for their work: If one falls down, his friend can help him up. But pity the man who falls and has no one to help him up! Also, if two lie down together, they will keep warm. But how can one keep warm alone? Though one may be overpowered, two can defend themselves. A cord of three strands is not quickly broken."
1 Corinthians 13:13: "Three things will last forever — faith, hope and love — and the greatest of these is love."
Engrave Your Proposal Date
Your engagement ring engraving will always bring you back to the moment you proposed, tears, joy, and all.
Inscribe Your Initials
As romantic as they are simple, engagement ring engravings of initials or names put your soulmate-status in writing.
Funny & Goofy Engraving Ideas
It's what's on the inside that counts! Choose to inscribe your ring with a reference that holds special meaning for the two of you, whether it's a sports term, internet speaks, or Irish Gael.
…AAAND SCENE.
Do Not Remove
MY LOVE BUN
My Lobster
Put My Back On!
You + Me = Duh
Hot Wifey (Hubby) Award
Happy Now?
You Wore Me Down
SUCKER
Finders Keepers
To Love, Honor, & Irritate
Love, laughter, and laundry
You're stuck with me
Non-refundable
Why is this off?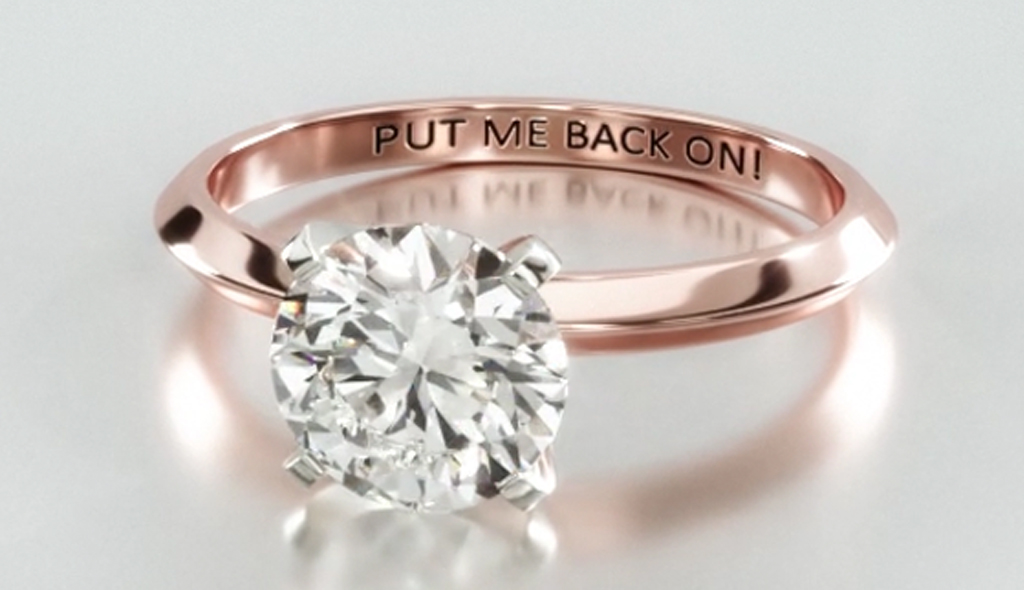 Matching Phrases For Engravings
You two already finish each other's sentences, so why not finish each other's wedding rings? Get all matchy-matchy with complementary engravings. This is particularly good for couples with distinct wedding ring styles, but still want to match each other.
To Infinity…
…And beyond!
∞
+ 1
Free Engagement Ring Engraving At Checkout
Personalization + no extra cost – why wouldn't you engrave your ring for free as an extra meaningful touch?
How to add a complimentary engraving to your engagement ring at JamesAllen.com at checkout:
Choose your font: either block text or cursive script
Type a phrase up to 20 characters in length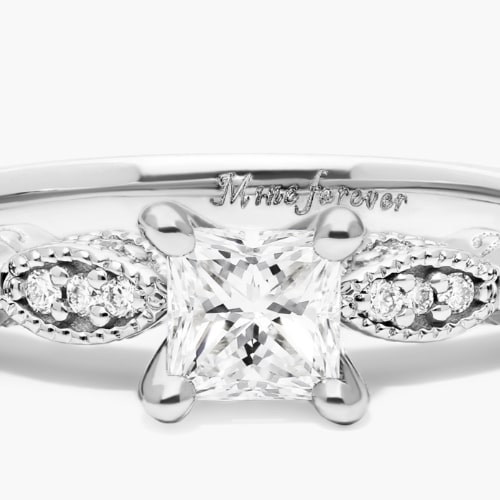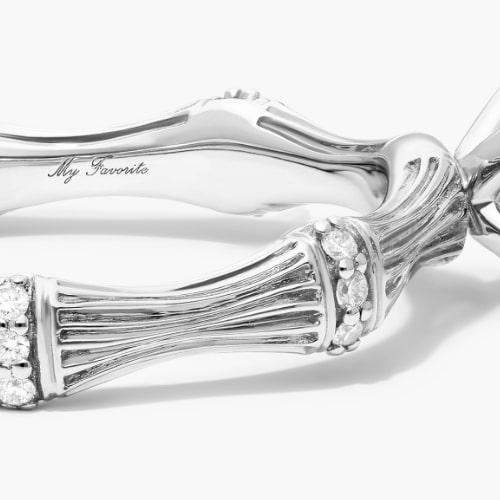 FAQs
Can I engrave on any metal?
The ability to engrave on a specific metal depends on its hardness and the engraving method used. Common metals like gold, platinum, and silver are generally suitable for engraving, as they are relatively soft and can be engraved using various techniques, including hand engraving and laser engraving.
Can I get a ring engraved after I've purchased it?
Yes, you can usually get a ring engraved after purchasing it, even if it wasn't originally engraved. Many jewelers offer engraving services, and they can add the engraving to your ring.
Is there a limit to the number of characters I can engrave on a ring?
Yes, ring engravings typically have a character limit, usually ranging from 20 to 30 characters, including spaces. It's important to check with your chosen jeweler for their specific limitations. Keep in mind that shorter engravings may be easier to read and more visually appealing on smaller ring bands.
What is the cost of engraving an engagement ring?
Engraving an engagement ring typically costs between $50 and $200, depending on various factors, such as the complexity of the design, the number of characters, and the jeweler you choose. Simple text engravings are usually less expensive, while intricate designs or custom fonts may cost more.
To Sum It Up
Make your engagement ring just that much more special with a custom engraving, in a custom font, for absolutely free! Just add your text at the checkout, and your personalized ring will arrive, word-worthy and ready-to-wear.
Ready to get started? Write here, right now: find the perfect engagement ring for your inscription.
SHOP RELATED PRODUCTS