Remember when you were bored in homeroom and you strung together with paper clips from your pencil case to pass the time. Or maybe you gave them to your friends to cement your friend clique. Either way, paper clip jewelry has come a long way! They are now THE trend so get on board! Whether a single strand or layering, paper clips have reached a new level of chic.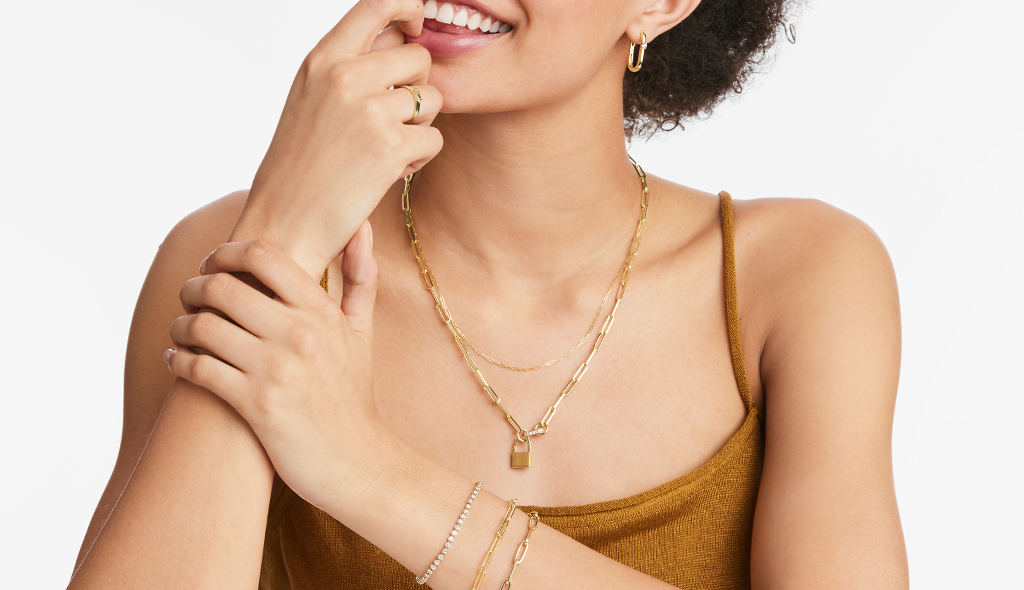 National Paper Clip Day
There truly is a day for everything and paper clips are no different. Created back in the 1800s and popularized in the early 1900s to the shape we know today, the paper clip was originally created to attach tickets to the fabric. Its use to keep paper together was soon discovered and thus it got its current name.
The man who popularized the paper clip's current shape, Johan Vaaler, was mistakenly thought to be Norwegian. This led students at Oslo University to wear the paper clip during World War II as a symbol of resistance, unity, and national pride. The non-violent symbol was chosen because it represented binding things together.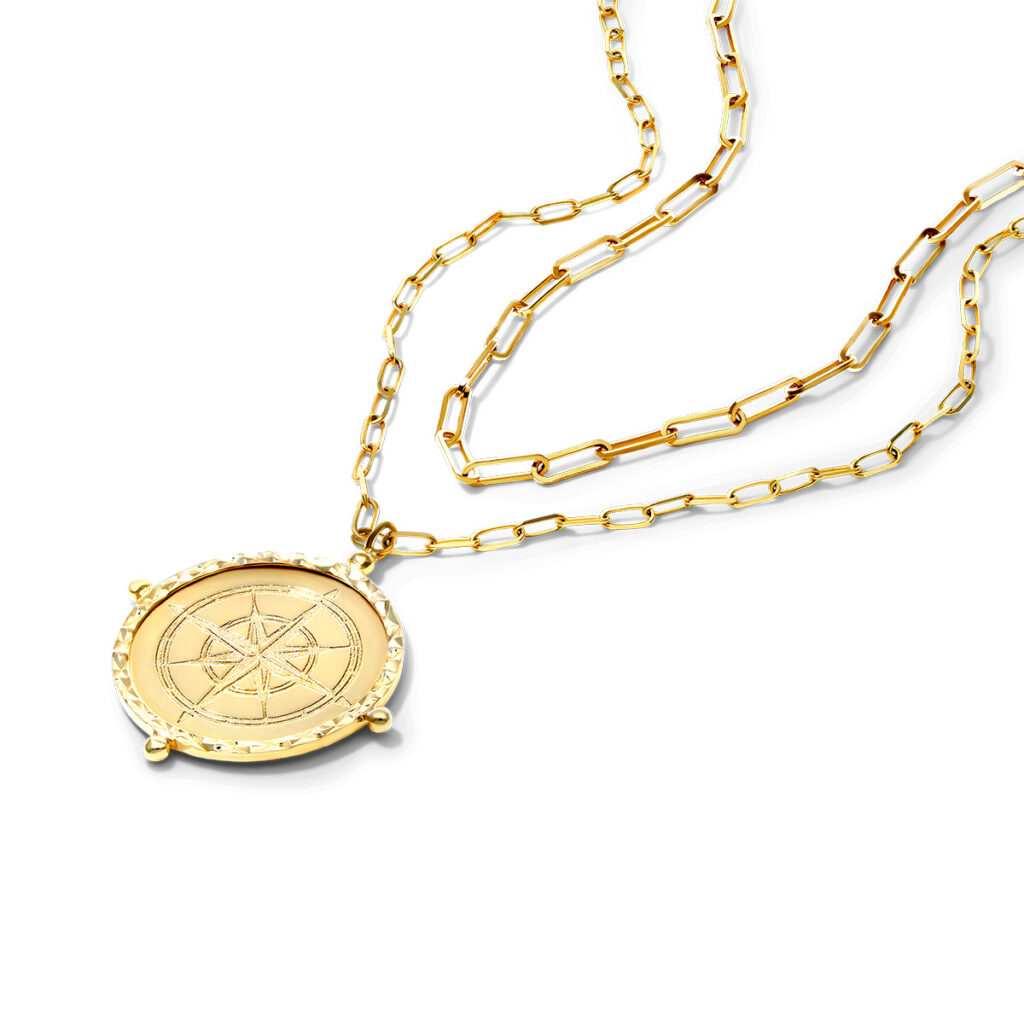 National Paper Clip Day came into existence in 2015 and continues to be celebrated annually. Join James Allen as we celebrate National Paper Clip Day with our collection of paper clip fine jewelry.
Paper Clip Jewelry: Style Revamped
Whether this trend takes you back to homeroom or makes you nostalgic for the style of the 80's, the paper clip necklace may be trendy but is anything but new. Created by Coco Chanel and made famous by none other than Jackie O herself, paper clip jewelry is actually a classic masquerading as a trend.
Paper clip necklaces have come a long way since you strung them together as a kid. Available in both yellow and white gold, as plain paper clip chains, and even accented with pearls, paper clip pieces need to be part of your fine jewelry collection. After all, if Jackie O and Coco Chanel approve, how can you go wrong?!
Join these style icons with a paper clip necklace from James Allen:
Why We Love The Paper Clip Jewelry
This industrial-chic style utilizes anywhere from one to multiple strands of paper clips in both slim and chunky styles. You can also jazz it up with a locket or something similar to close the piece, wear it in white or yellow gold, and pair it with both casual and fancier looks.
Traditionally, paper clip jewelry has been necklaces, but now you can find them as bracelets and earrings too! We love the versatility of this little piece of office equipment turned fine jewelry!
This fashion statement works great on its own but we love that it pairs effortlessly with diamond and gemstone jewelry. Any color, any shape, any size, it all works because the paper clip is so adaptable. Grab your own magnificently malleable paper clip pieces today!
How To Wear Paper Clip Jewelry
You already know this style is so amazing that you can wear it alone, layered, and with multiple other styles! But another reason to love this style is that it looks good in both short and long lengths. So whatever your height or body type, there is a paper clip necklace that is right for you! Are you taller? Go for a longer necklace to accentuate your height.
Are you all about that bass? Go for a necklace that stops just below your neckline. But truly, the right length for you is the one you love best! No matter which length you choose, the paper clip is sure to flatter.
And if you're thinking, well I can only pair this with other modern pieces, think again! The paper clip look goes great with both modern, classic, and even vintage pieces. You truly have the freedom to express your personal style with this staple.
Layered or a single strand, around your neck, around your wrist, or hanging from your ears, paper clip jewelry is a look that continues to top the trendy charts. It is no wonder that everyone, including countless celebs, are loving this look.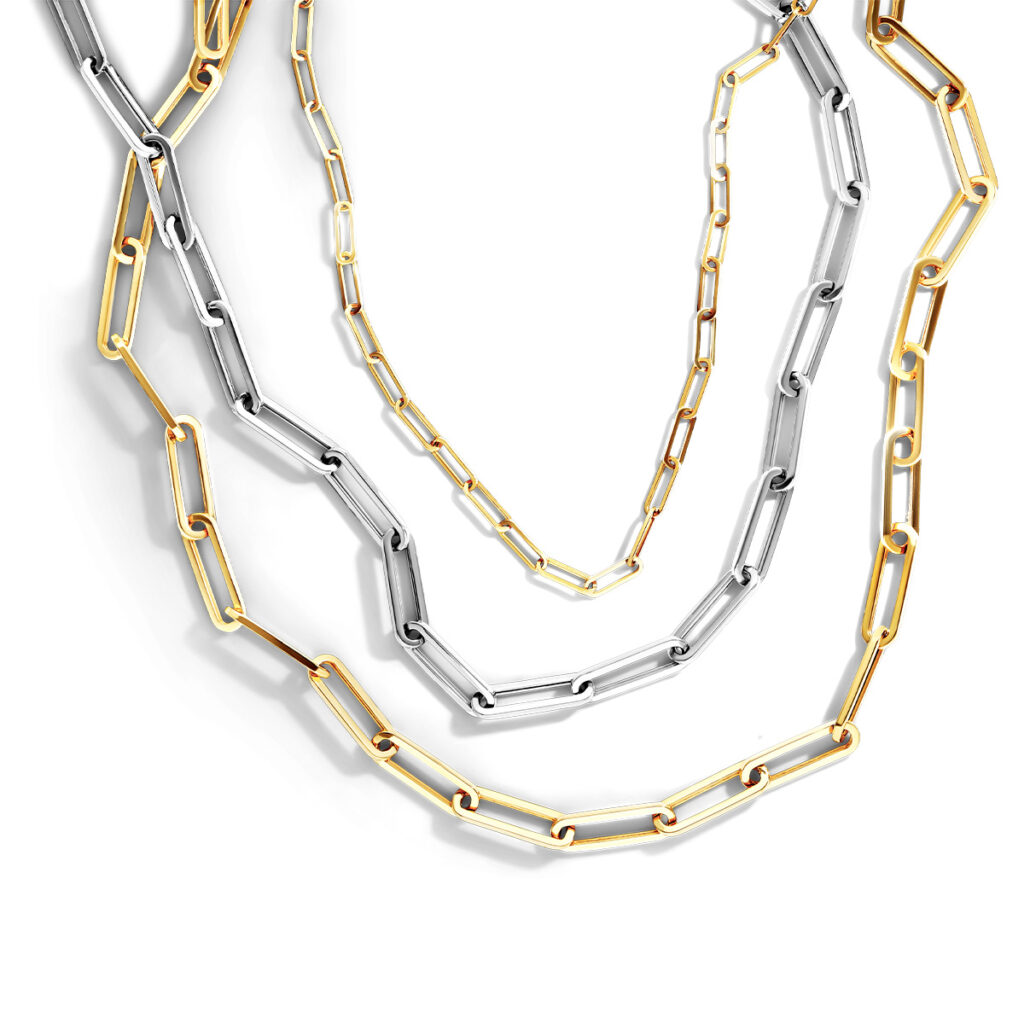 Paper Clip Trivia
The world's largest paper clip is currently a stainless steel creation standing approximately 30 feet high in Miass, Russia. Before this, a red paper clip memorial in Kiplin, Saskatchewan, stood as the largest paper clip in the world.
The red paper clip stood as a monument to Kyle MacDonald, who traded his way from a single red paper clip to a house. Prior to this, the world's largest paper clip was in Sandvika, Norway, standing five meters tall as a national monument and a reminder of the paper clip's role in the country's history.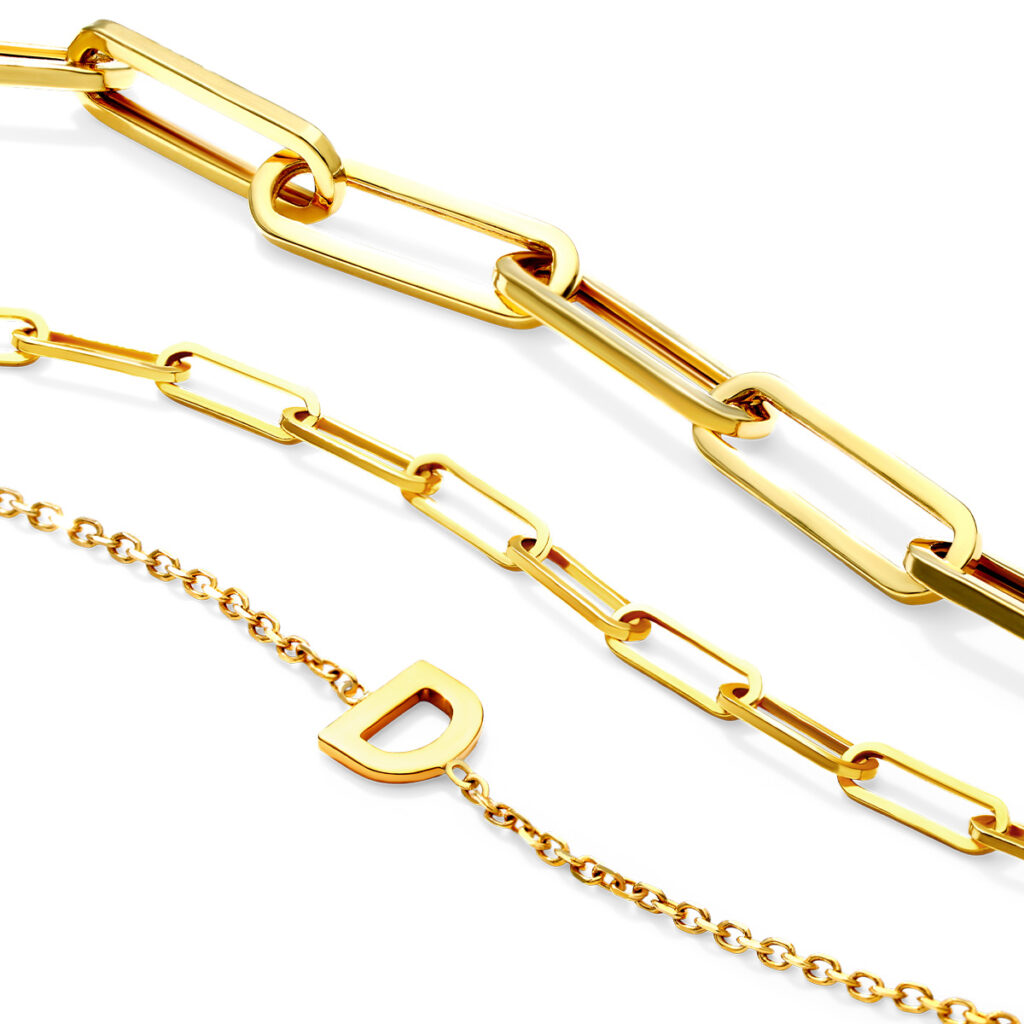 Paper Clip FAQs
Is it spelled paperclip or paper clip?
You can actually spell it both ways, but the more common way to spell it is as two words: paper clip
What is the paper clip theory?
Some philosophers have hypothesized that if AI or artificial intelligence were tasked with creating paper clips, it could cause an apocalypse! This is because more and more resources would be diverted to this effort and the AI would ultimately rebuff attempts to be turned off.
Better be safe and stick to paper clip jewelry instead!
What is a paper clip used for?
Paper clips were originally created to attach tickets to fabric and then became famous for what we know today, holding papers together.
Yet they do so much more! Forms of the paper clip are used to hold bags of unfinished chips together, fresher is better for that extra crunch! Or to hold fabric while a seamstress takes in that dress, or as a symbol to attach a document to an email.
The essential technology of the paper clip is unchanged. It is both as classic in its technology as it is in fashion.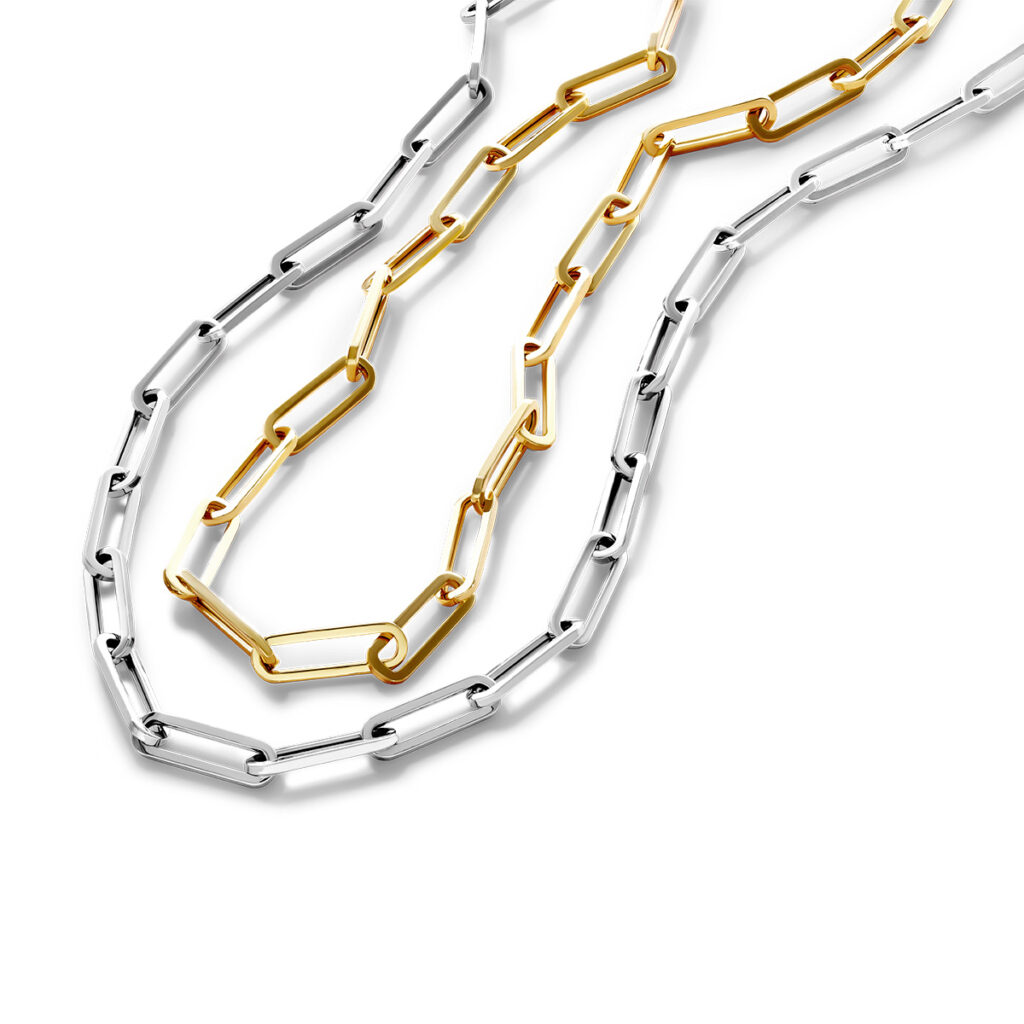 What can I use instead of a paperclip?
You can use various clips, versions of the paper clip, rubber bands, or other binders. Instead of paper clip jewelry you can wear classic style chains or ball chains.
Clip That Paper
As the world moves in a more and more paperless direction, the paper clip continues to remain relevant. The paper clip emoji or symbol is used to indicate there is an attachment or as an indication that you can attach a relevant document or picture by clicking on the symbol.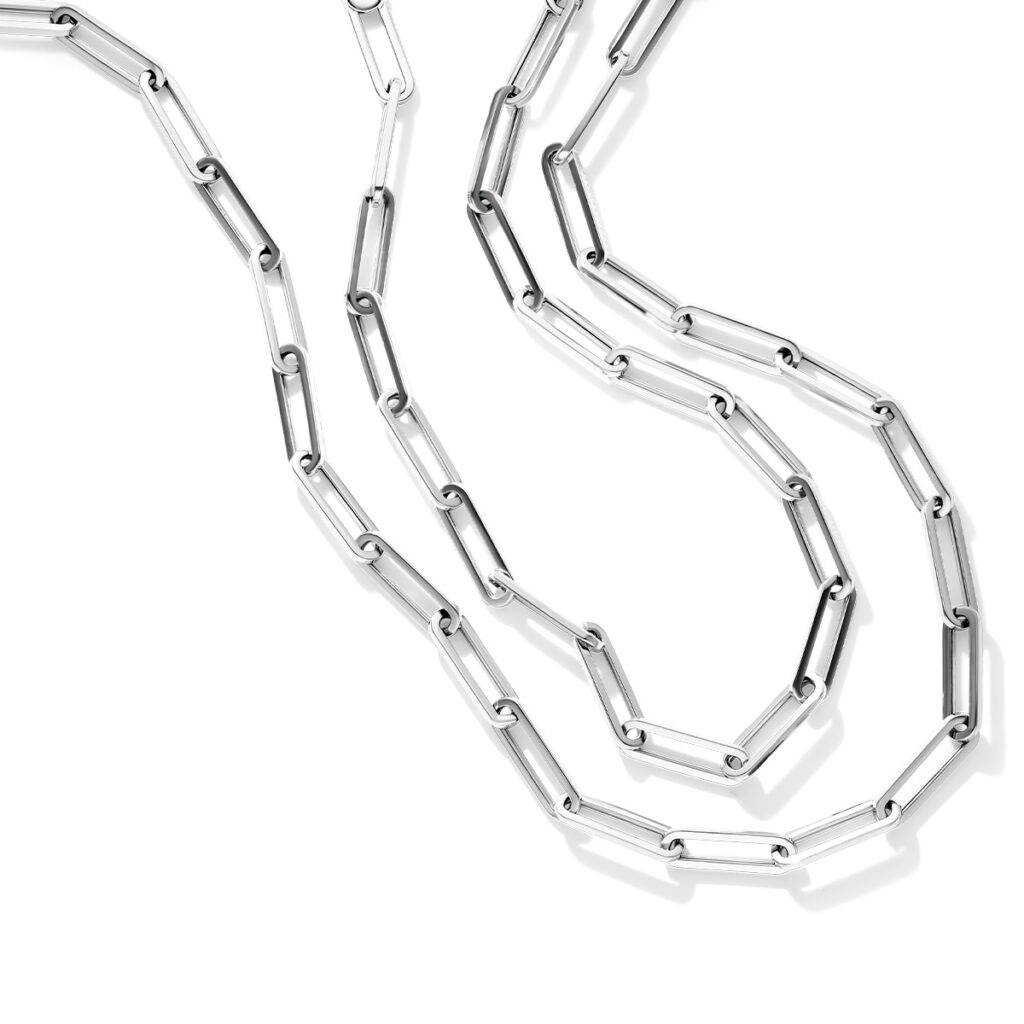 While paper clips have many uses, our favorite is of course fine jewelry. Holding papers together is well and good, but completing an outfit is the best! So celebrate National Paper Clip Day every day with one of our fabulous pieces and always be on trend.
Subscribe to our email list for access to secret sales, practical ring-buying tips, and $100 off your first purchase!