Are you gearing up for that special proposal or perhaps ready to invest in new sparkle? Take a peek at our fancy shaped diamonds, and see our top picks!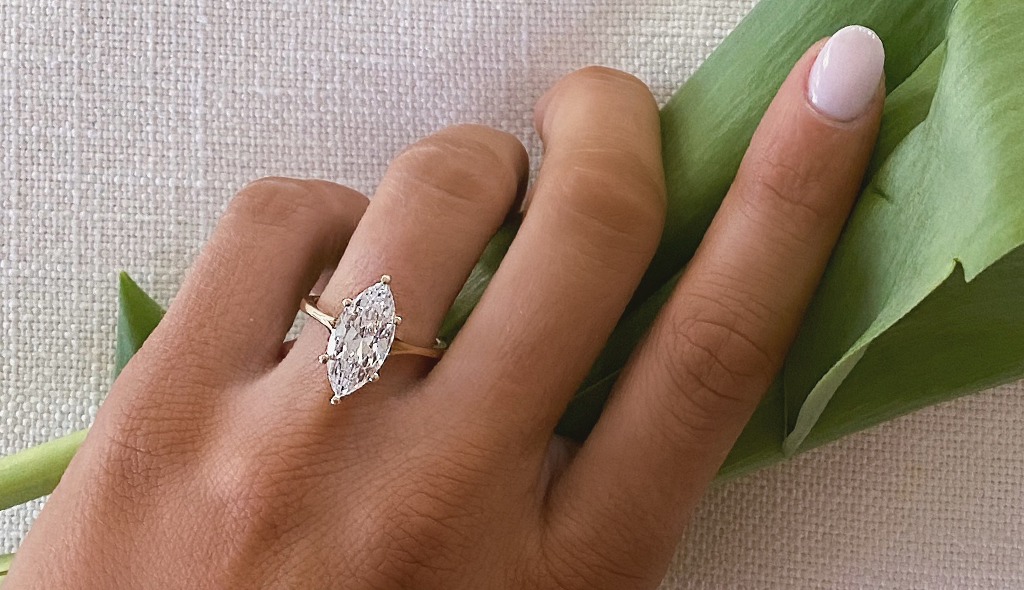 A fancy shaped diamond is a perfect choice for anyone who wants to dazzle with a trendy yet timeless diamond. If you're not sure what these diamonds look like, don't panic. We've taken the time to explain why we love our favorite diamond cuts and why you'll fall head over heels for them, too.
We've covered just about any style, from elongated shapes like marquise and oval to square favorites like cushion and Asscher. Each diamond cut comes with its own pros and cons, but we'll let you be the judge of what shape intrigues you most. 
Over time, popularity shifts between which diamond shapes are going to offer the most finger space coverage and sparkle. No matter your preference, there's a unique diamond for everyone and yearly engagement ring trends to help sway you. Keep reading to learn more about our top picks.
Oval Cut Diamonds
The oval cut is considered to be the second most popular fancy shaped diamond, after the classic round cut. This cut proves to be elegant in every way that matters and can often appear larger than it is because of its elongated shape.
Its slender body often helps to make the hand and fingers appear slimmer, a tidbit we surely can't ignore, right, ladies? Finally, the diamond has no sharp corners, making it a better investment if you're afraid of chipping.
Emerald Cut Diamonds
Emerald cut diamonds are a stunning choice for those who want clean-cut lines and symmetry. Stonecutters created this fancy shaped diamond by using the same cut as emeralds. This diamond, as a result, has a large surface area with pristine clarity, a feature that will make anyone wearing it the emerald green-envy of their friends.
One of the most famous emerald cuts sits on the hand of Queen B herself, and who doesn't want to feel like they're mirroring Beyonce's style?
Asscher Cut Diamonds
The Asscher cut is similar to an emerald cut, except it's in square form with cropped corners. It pairs beautifully with smaller diamonds to create a three stone design with the asscher diamond at the center.
These stunning diamonds are clear and bright, often sparkling the way they do because of their centralized facets.
They won't give the same finger coverage as a pear or oval shape, but their unique pattern is enchanting for anyone looking to wear vintage glamor.
Pear Shaped Diamonds
A shimmering delight is what you'll get when wearing this pear shaped diamond. It shares a common structure with the marquise cut; the only difference is a pointed tip with a rounded edge on top. A pear cut is effortlessly graceful and never fails to get that 'wow" reaction.
These diamonds come with a bow tie as a result of the stretching facets. As a fancy shaped diamond, this dark spot could be a stunning character feature of the piece or one that you choose to minimize by finding a long and narrow pear shape.
Marquise Cut Diamonds
We consider this boat-shaped diamond to be the most "fancy" as its historical heritage goes back centuries and was modeled by royalty. Known as the "navette" diamond, French for "little ship," the marquise cut captures the eye with its point to point symmetry and Elvin sophistication.
This cut is not only perfect for diamond engagement rings but compliments other gems like sapphires, rubies, and emeralds.
Cushion Cut Diamonds
Cushion cut diamonds have a lot going for them. You'll find these gorgeous beauties on the hands of celebrities from the likes of Gabrielle Union, to Sofia Vegara. Not only do they have a classic appeal with a rich history, but they're overwhelmingly wholesome given their complexities.
Their soft pillow-like appearance is a pleasant contrast from our other favorite fancy shaped diamonds, which sport sharper edges. We highly recommend this shape if you're looking for a delicate temperament diamond.
Final Thoughts
When it comes to picking the right fancy shaped diamond for you, James Allen has all the tools and convenience you need to browse and design your own engagement ring online. Visit our education center for all you need to know about diamond shapes to fine jewelry, and more!
Fancy Yourself A Diamond? Check Out Our Shape Series For More Inspo:
Subscribe to our email list for access to secret sales, practical ring-buying tips, and $100 off your first purchase!