If you love inspecting diamonds in 360° HD and 40x zoom, wait until you get to do it with the guidance of a professional gemologist! Our Real-Time Diamond Inspection is a game-changer for online ring shoppers.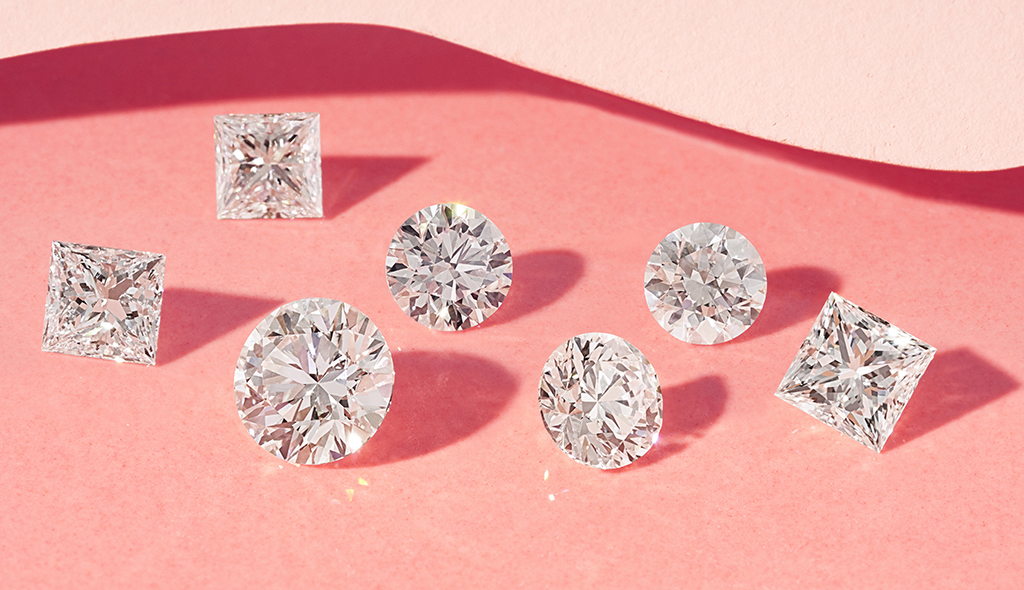 When shopping for a diamond online, it's a requirement to be able to examine the stone close up and from every angle. At JamesAllen.com, we take this a step further, allowing you to spin diamonds in 360° HD at up to 40x SuperZoom.
However, not every diamond shopper is a diamond expert. Even with the inspection tools at your fingertips, how do you know what you should be looking for?
That's where our Real-Time Diamond Inspection comes in! Browse the diamonds you're interested in alongside a professional by scheduling a free online diamond consultation with a non-commissioned certified gemologist. Ask questions, mark points of interest on the screen while chatting with your diamond expert in real-time, and review everything from the specs to the grading certificate together.
What are the benefits of the Real-Time Diamond Inspection?
Our gemologists can:
Find you the best diamond for your budget
Point out important diamond qualities you might miss on your own
Save you money
Guide you toward the unique diamond that suits your lifestyle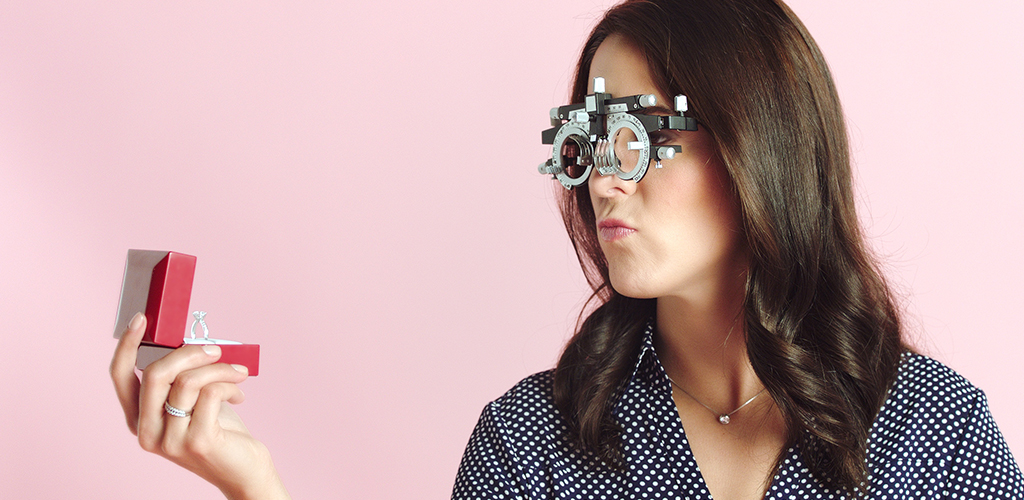 When Can I Use the Real-Time Diamond Inspection?
This feature is pretty much available around the clock. If you don't see the blue "Real-Time Diamond Inspection" button on your diamond's page, click the pink speech bubble icon in the bottom right corner of the page to start chatting with a representative. Then, request to use the inspection feature. In no time, you'll be consulting with a professional about your specific diamond!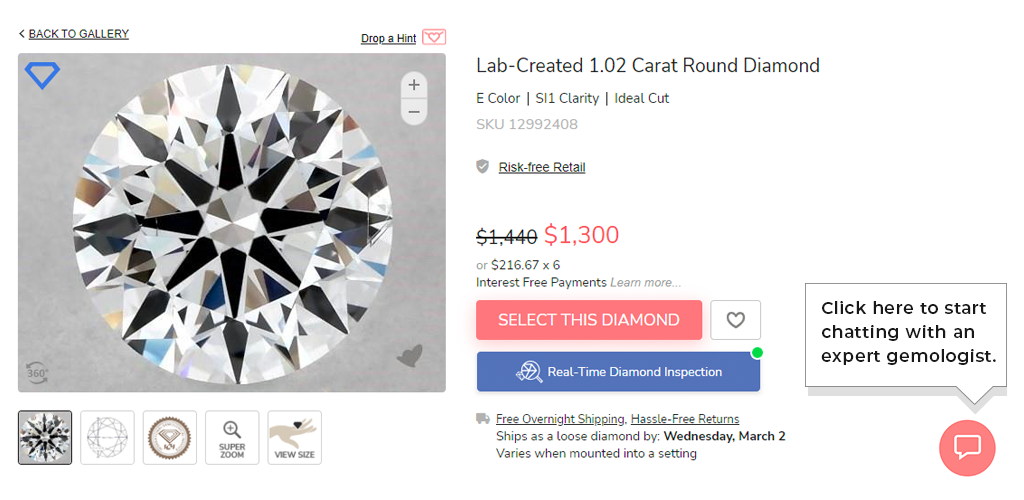 How Does the Real-Time Diamond Inspection Work?
We'll go into more detail below, but here is the rough plan of action:
Select a loose diamond from the gallery
Click on "Real-Time Diamond Inspection"
Inspect your diamond in extreme detail
That's why we've created the first-ever Real-Time Diamond Inspection; a personalized consultation with a bona fide diamond expert. It's hands-down the best way to get to grips with your diamond.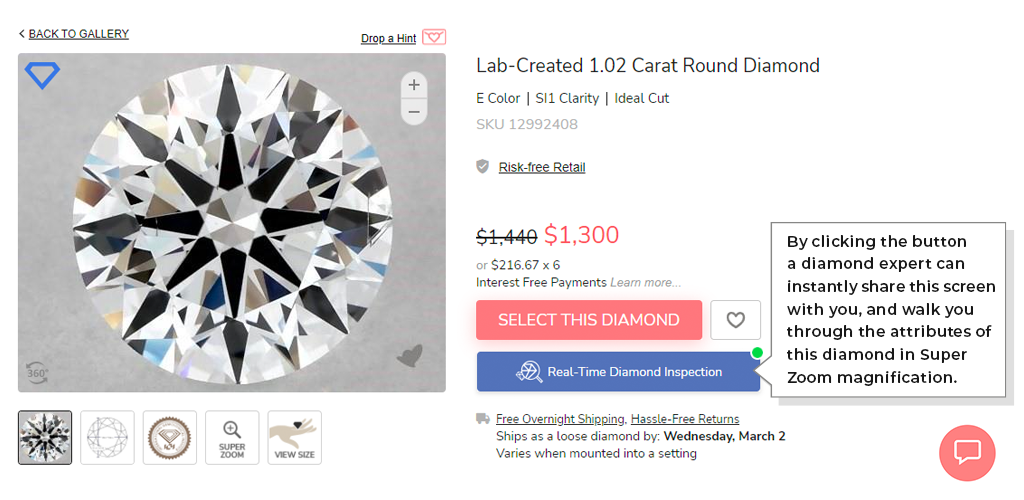 Step 1: Find Your Diamond
Before you embark on a diamond consultation, it's important to narrow down your options. When you come with a few diamonds and questions prepared, you'll get the most out of your conversation with a gemologist.
How should you go about it? If you've got a good idea of what you want, search JamesAllen.com for loose diamonds that catch your eye. If you're unsure, check out our site for comprehensive information regarding the 4 C's: diamond cut, diamond clarity, diamond color, and diamond carat weight.
If at any step in your research process you feel like you need some help deciphering the ins and outs of the 4 C's, chat with one of our legendary customer service representatives!
Step 2: Start Your Diamond Inspection
To start your Real-Time Diamond Inspection, simply click the Diamond Inspection button next to any loose diamond on our site. If you don't see the blue button, you can click the speech bubble icon to start chatting.
You'll be instantly connected with one of our certified gemologists, who will share their screen with you. No scheduling, no additional software. Just you and your diamond consultant discussing everything you need to know. And because our experts don't work on commission, you can be sure they're giving you fair, impartial advice.
Step 3: View EVERYTHING About Your Diamond
View Your Diamond's Inclusions
JamesAllen.com lets you inspect your diamond up close, but sometimes you need a bit of help interpreting what you're seeing. To this point, our Diamond Inspection feature is particularly helpful when it comes to identifying inclusions.
If you've been doing your homework, you will probably have come across the term inclusions. These are the tiny imperfections that occur naturally in diamonds and can affect their overall beauty. While some inclusions are visible to the naked eye, others require up to 40x magnification to be seen. Using SuperZoom technology, our experts are able to pinpoint any inclusions and mark them directly on the image of the diamond.
View the Grading Certificate
When you purchase a diamond from JamesAllen.com, it comes with a certificate from one of the top three grading labs: GIA, AGS, or IGI. This document contains the diamond's technical specifications as well as its grading information – all very important stuff.
Now, admittedly, all this technical jargon can seem pretty intimidating at first glance. I mean, what even are grading scales?!
Once our experts break it down for you, you'll see how metrics such as cut, color, clarity, and carat determine a diamond's quality and price. They can even show you how to tell two technically identical stones apart and identify which one is superior. In fact, the Diamond Inspection feature allows you to compare up to four diamonds simultaneously.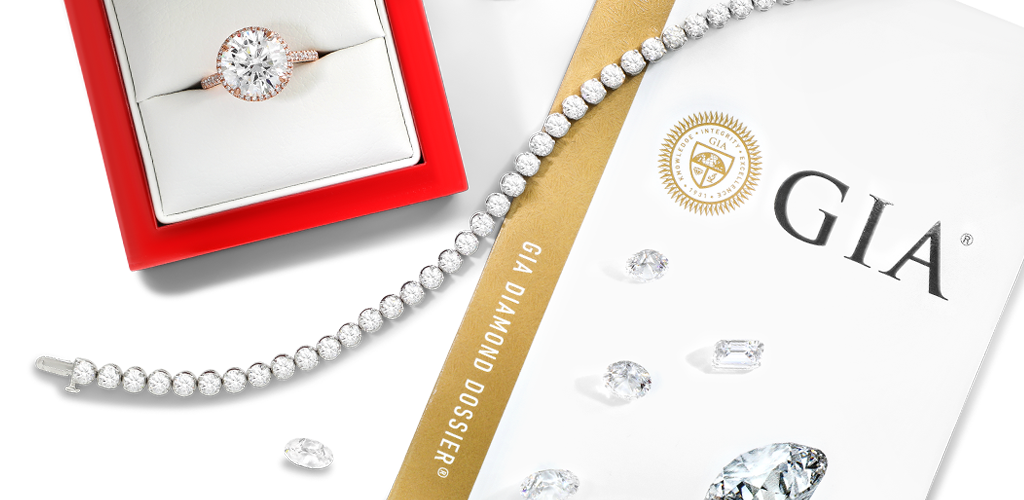 Step 4: Make Your Selection
Seen a diamond that merits closer inspection? Click the Diamond Inspection button next to any loose diamond on our James Allen site to begin your free consultation. Utilize More Ring-Shopping Tools!
Subscribe to our email list for access to secret sales, practical ring-buying tips, and $100 off your first order!