If you thought our 360° HD Diamond Display was a game changer, wait till you try our Real-Time Diamond Inspection!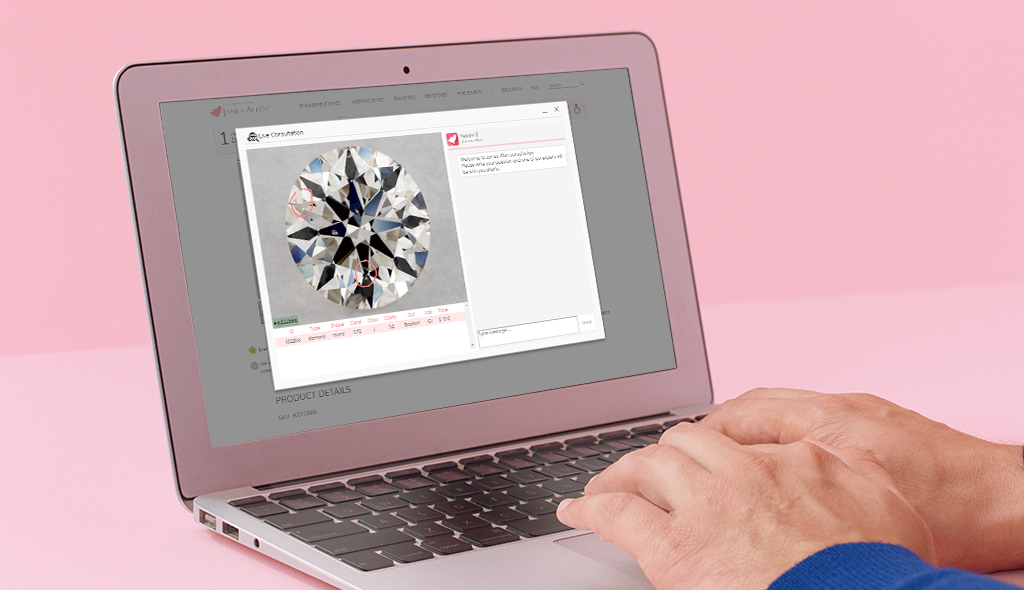 When shopping for a diamond online, you must be able to examine the stone close up and from every angle. We take this a step further, allowing you to spin diamonds in 360° HD at up to 40x SuperZoom. But even with the latest technologies at your disposal, it's not always clear what you should be looking out for. To ensure you're getting the best deal, you may want someone there to guide you.
That's why we've created the first ever Real-Time Diamond Inspection; a personalized consultation with a bona fide diamond expert. The free service is available Monday – Friday from 9 AM – 10 PM EST (subject to availability). It's hands-down the best way to get to grips with your diamond.
Add a Human Dimension with a Diamond Inspection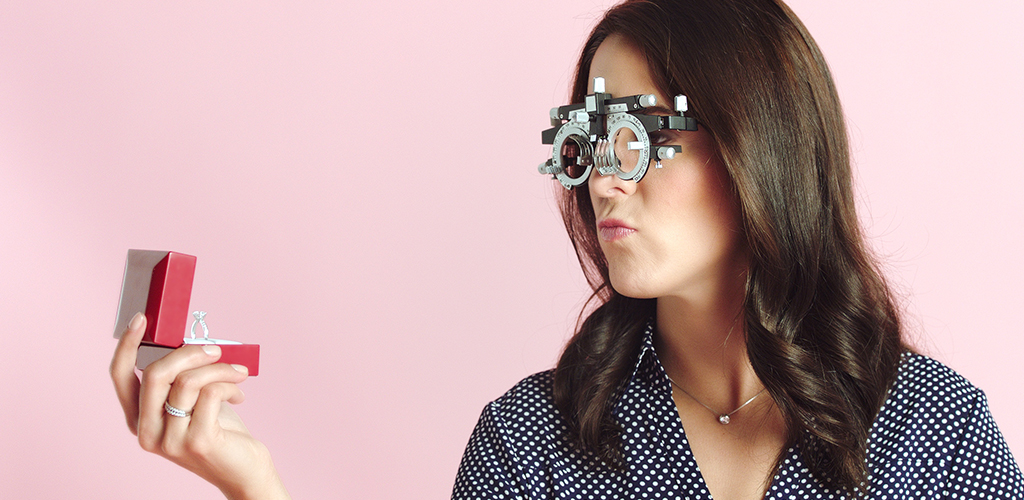 To start your Real-Time Diamond Inspection, simply click the Diamond Inspection button next to any loose diamond on our site.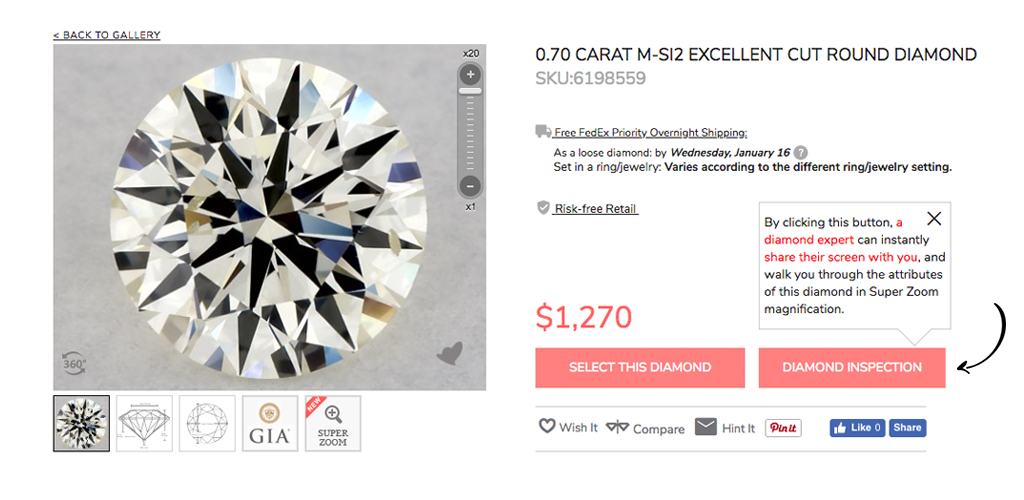 You'll be instantly connected with one of our certified gemologists, who will share their screen with you. No scheduling, no additional software. Just you and your diamond consultant discussing everything you need to know. And because our experts don't work on commission, you can be sure they're giving you fair, impartial advice.
Draw Near to Perfection with a Diamond Inspection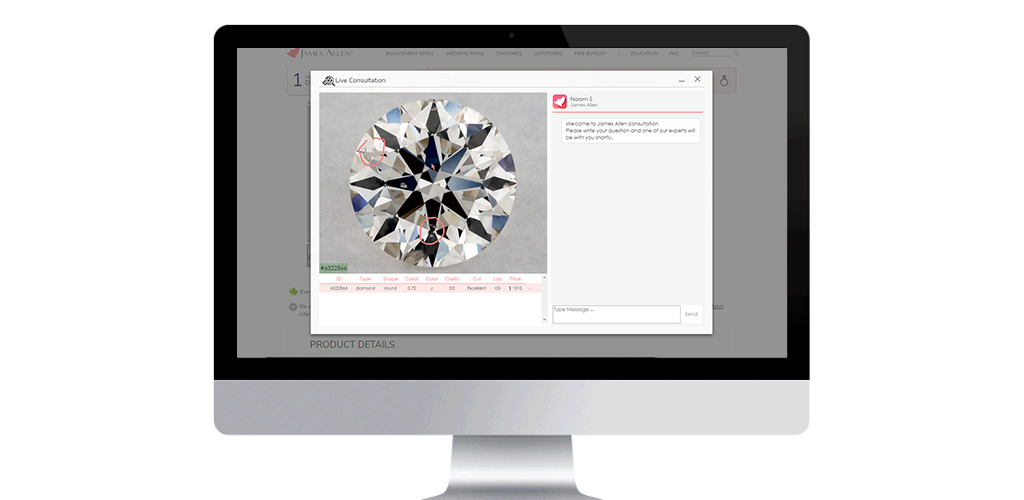 If you've been doing your homework, you will probably have come across the term inclusions. These are the tiny imperfections that occur naturally in diamonds and can affect their overall beauty. While some inclusions are visible to the naked eye, others require up to 40x magnification to be seen. Using SuperZoom technology, our experts are able to pinpoint any inclusions and mark them directly on the image of the diamond.
Put the 'Spec' in Diamond Inspection

When you purchase a diamond from JamesAllen.com, it comes with a certificate from one of the top three grading labs: GIA, AGS, or IGI. This document contains the diamond's technical specifications as well as its grading information – all very important stuff.
Now, admittedly, all this technical jargon can seem pretty intimidating at first glance. I mean, what even are grading scales?!
Once our experts break it down for you, you'll see how metrics such as cut, color, clarity, and carat determine a diamond's quality and price. Ask them nicely and they may even show you how to tell two technically identical stones apart and identify which is the superior. But why stop at two when you can compare up to four diamonds simultaneously?
Make Your Selection with a Diamond Inspection
Seen a diamond that merits closer inspection? Click the Diamond Inspection button next to any loose diamond on our site to begin your free consultation.
Share your experience with us in the comments below or on Instagram, Facebook, Twitter, or Snapchat.
Get up close and observational (Pin it!)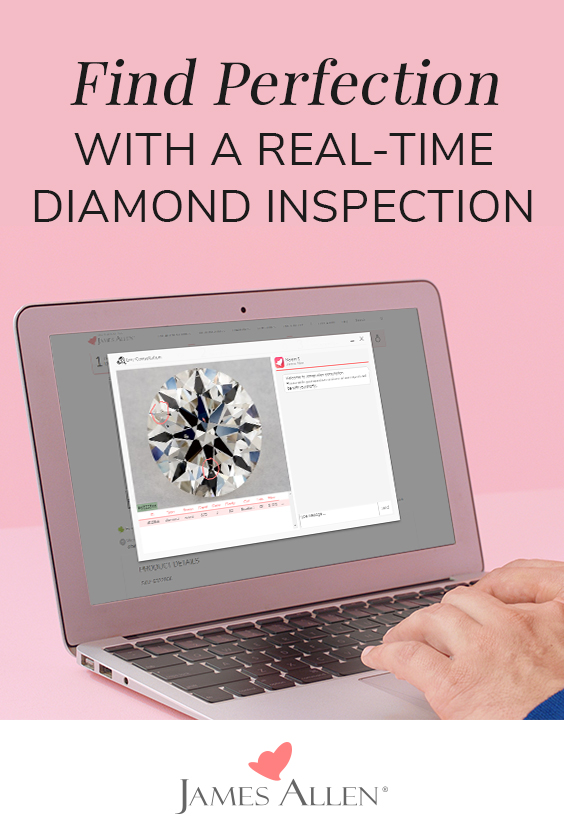 Subscribe to our email list for access to secret sales, practical ring-buying tips, and $100 off your first order!