Finally! Full creative control over the entire ring design process! Create a custom engagement ring, from scratch by hand-picking the style and metal of a ring's head and shank, complete with your specific center stone. Or, tweak a James Allen design you love to make it even better.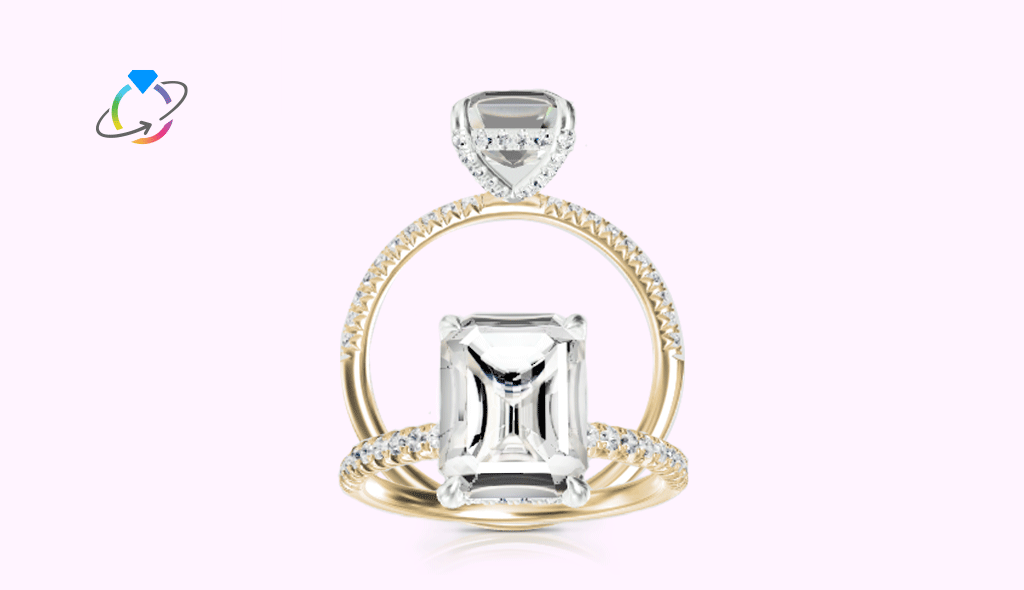 At James Allen, you can choose from over 500 unique engagement ring designs. Every single design allows a degree of customization: you choose your ring metal and your specific center stone. However, sometimes that's just not enough! If you haven't yet found your ideal ring, we're giving you the chance to fulfill your ring dreams. That's why we've developed The Ring Studio.
The Ring Studio is an area of JamesAllen.com that allows you nearly unlimited customization options. You've got two ways to customize via The Ring Studio: Start with a setting or create a custom engagement ring from scratch. This means using a ring design that's 90% of the way there, and then perfecting the remaining 10%. Or build it from the ground up! Choose your head, your shank, your metal, your diamond shape, and even your diamond carat.
For the first time, customize your dream engagement ring, even further.
The Ring Studio: Start With a Setting
Every ring setting you see with a rainbow icon can be further customized in The Ring Studio. Click on the icon, where you'll be taken to The Ring Studio. One by one, you'll be able to adjust every aspect of your design.
Choose from up to 14 styles of baskets, 12 styles of ring bands, and every metal and stone shape we offer.
As you make your changes, your ring will be updated in real-time. You'll be able to view it from every angle, spin it in 360 degrees, and zoom in to view the finer details. Take a good look. Be 100% sure that your ring is 100% what you want!
Remember: Some baskets, bands, and stone shapes aren't necessarily compatible with one another. For example, only certain stone shapes will fit into certain baskets. If your heart is set on a specific combination that's not available in the Ring Studio, contact our 24/7 customer service team to request a custom ring. They'll do everything they can to achieve your specifications.
Now, let's get into the nitty-gritty! How precisely does The Ring Studio work?
Step 1: Select A Head
The head holds your diamond firmly in place. Start by selecting your preferred metal and style.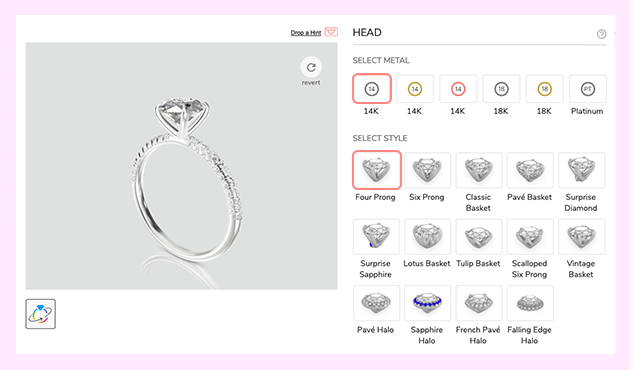 Step 2: Select A Shank
Choose a shank metal and style and combine it with the head of your choice!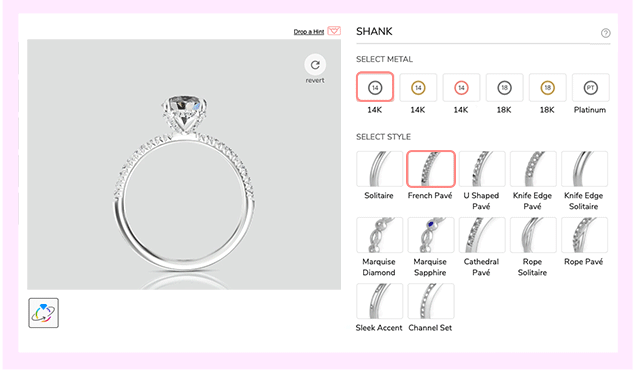 Step 3: Finishing Touches
Complete your ring by previewing your preferred diamond shape and size.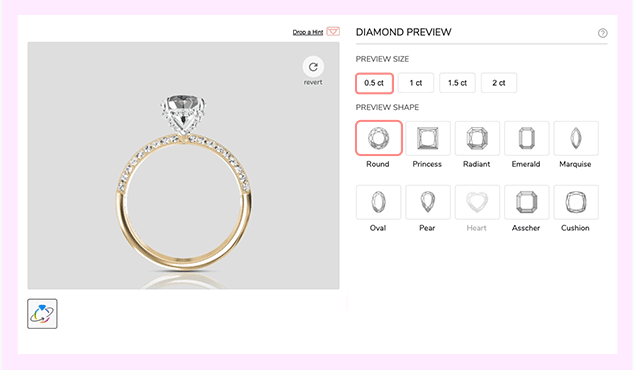 Once you're satisfied with everything about your ring, scroll down and choose "Select This Setting."
Now it's time to choose a center stone. Choose a diamond, gemstone, or go with a recommended diamond for the custom engagement ring you've designed.
The Ring Studio: Create A Custom Engagement Ring From Scratch
This is the time to build your ring up from scratch! You get full creative control of your ring by choosing the style and metal of its head and shank – in addition to your chosen center stone. Start wherever you'd like, either with a head, shank or diamond. And go from there!
We recommend beginning with the aspects you love the most, and then adding ring elements that complement them.
Choose the head that you've had your heart set on, and select your preferred metal and style. then play around with your shank.
If a certain shank strikes your eye, try out every one of our 14 available baskets until you find the one!
Love the knife-edge pavé band? And a pavé basket? Now's the time to play around with the diamond shape and carat that will look best with your lovely pavé-covered ring.
James Allen's Classic Customization FTW
Like what you see? Skip the Ring Studio and go with James Allens' always-popular ring design process. There's a reason we're an industry leader. What we do – what we've done for years – works. Need a little inspiration? Check out our collection of customer-created 3 carat diamond rings and imagine yourself with big diamond sparkle!
Choose a Setting
Browse over 500 ring designs. Take your pick from a huge range of solitaire, pavé, channel set, side stone, three stone, tension, halo, and vintage styles.
Choose a Diamond
Pick your diamond by its shape, color, clarity, cut, carat, and desired price range.
Get excited by our collection of earth-created and lab-grown diamonds in 10 fancy colors.
Lab-grown diamonds and earth-created diamonds are optically and chemically identical, the only difference being their relative origins. And this difference in origin leads lab grown diamonds to flaunt a much lower price point: they're nearly 30% more affordable!
Choose a Ring Metal
Your Options:
Yellow gold (14k or 18k)
White gold (14k or 18k)
Rose gold (14k)
Platinum
Choose the ring metal that best suits your lifestyle. It's important to choose a metal you love, but it's got to love you back.
Yellow Gold:
Why it's awesome:
Its warm tone masks the slight yellowish hues of non-colorless diamonds. Meaning, you can save a buck on your diamond by choosing yellow gold.
What to watch out for:
Yellow gold is a relatively soft metal, so the more you wear your yellow gold engagement ring, the more tiny scratches it will accumulate over the years. You can remove these via regular buffing with a jewelry polishing cloth. Your local jeweler can quickly take care of any more serious scratches.
Find out whether 14k or 18k yellow gold is the ring metal for you.
White Gold:
Why it's awesome:
This is the affordable white ring metal! It displays a similar sheen to platinum, without emptying your wallet.
It's extremely malleable, making it the perfect vehicle for engravings and filigrees.
What to watch out for:
White gold receives its silvery lustre via rhodium plating. Over time, this plating wears down in spots to reveal the yellow gold alloy underneath. To preserve the color of your white gold, you'll need to take it to a jeweler every 5 years or so for replating.
Here's how to decide between white gold and platinum!
Rose Gold:
Why it's awesome:
It's more durable than both white gold and yellow gold, while boasting a similar price point.
Like yellow gold, its warmth hides the yellowness of less expensive diamonds; you can spend less on a diamond and none will be the wiser!
What to watch out for:
Rose gold receives its unique coloring due to its copper content. While copper contributes to rose gold's affordability and durability, it's not hypoallergenic. Anyone with copper allergies should avoid rose gold.
Platinum:
Why it's awesome:
The most durable metal, platinum will stand up to most anything you throw at it. Plus, it won't ever tarnish!
What to watch out for:
Platinum's uncontested strength and sheen means it's also the most expensive ring metal.
Final Thoughts:
An engagement ring is a piece of jewelry you'll be wearing for the rest of your life – so make it exactly what you want to wear 24/7. Create a custom engagement ring of your very own, one that you'll be delighted to wear day in and day out. Design your ring the classic James Allen way or use The Ring Studio to take your ring customization to the next level.
Are you ready? Make your ring yours, your way.
More Engagement Ring Customization Inspiration:
Subscribe to our email list for access to secret sales, practical ring-buying tips, and $100 off your first order!