Spring is just around the corner, making it the perfect time for an outdoor (and COVID-friendly) proposal!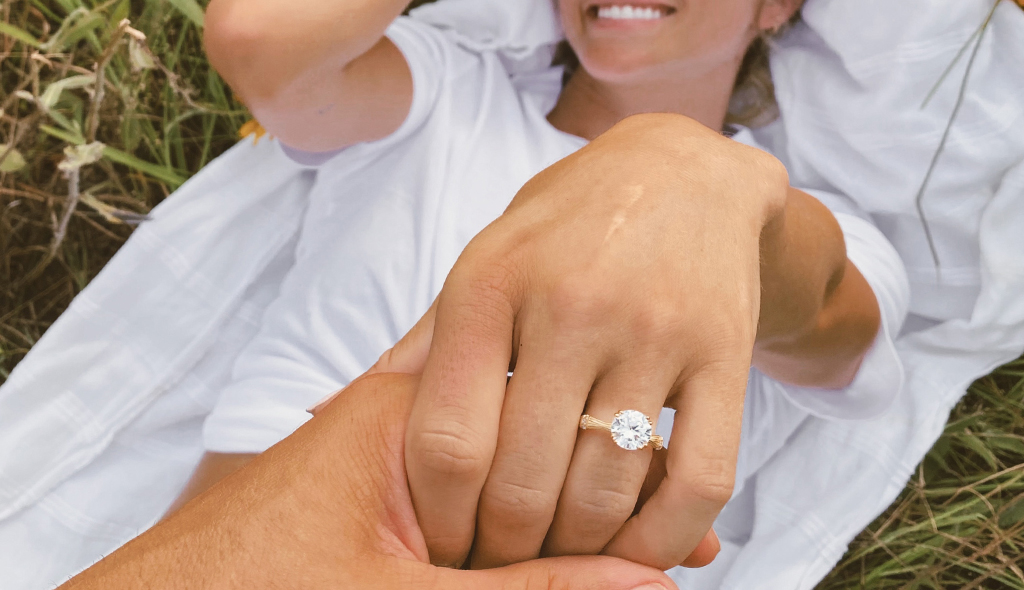 If you're looking for spring proposal ideas during the COVID era, we've got tips on planning the perfect one below. From beaches to camping, to drive-ins and hikes, there is a myriad of options to make your engagement unforgettable. As an added bonus, outdoor springtime proposals are usually also pet friendly – and who doesn't want their unofficial, furry family members included on such a special day? Finally, if you're in the market for an engagement ring, we've got good news for you: James Allen is always COVID-friendly.
While planning a proposal can be a lot of work, just remember – within every spring lies the word ring. Coincidence? We think not.
1. Hike Proposal with a View
If your partner loves exercise and nature, why not combine the two with a hike proposal? To get started, pick a trail filled with local flora and fauna. Revel at nature's beauty as you make your way up to a scenic viewpoint – don't worry, your hard work will pay off once you get to the top! Find a secluded spot with a great view and pop the question.
Planning Tip: Spring proposal ideas can be sometimes thwarted by weather, so make sure to take into consideration the forecast (you don't want rain or even a very cloudy day to dampen the mood), your partner's level of fitness (most hikes are categorized into easy, medium and hard) and fill a backpack with water and snacks – just make sure not to forget the engagement ring!
Ring Tip: Consider an engagement ring that speaks to your partner's appreciation of the outdoors like our Entangled Vines Ring.
Entangled Vines Engagement Ring
2. Sunset Proposal at the Beach
There's a reason why the beach is a classic spring proposal idea: the sea is as beautiful as it is romantic. If your significant other loves spending time on the coast, a beach proposal might be the way to go. Enjoy the gorgeous sky as the sun descends over a vast, blue ocean. Breathe in the gentle breeze before getting down on one knee and asking the question of a lifetime.
Planning Tip: The coast is generally cooler than the inland, especially as the sun goes down, so make sure to bring jackets or blankets to account for the change in temperature. To make sure the timing is just right, be sure to check sunset times in advance and give yourself a buffer for any possible delays, like traffic jams and bathroom breaks. Romantic touches like candles and rose petals in the sand are best left for other settings – the wind will likely blow them away.
Ring Tip: Consider an engagement ring that evokes the serenity of the ocean and the beauty of the sunset, like our Rope Solitaire Ring.
Rope Solitaire Engagement Ring
3. Lake Proposal
The ancient Chinese philosopher Lao Tzu advised: "Make your heart like a lake with a calm, still surface and great depths of kindness." If you don't live near the coast and your partner loves water, a lake offers an incredible backdrop for a proposal. Pack a picnic basket with your favorite foods and head out to the lake of your choice. Take in the beauty of nature reflected back at you through a still body of water, as you and your partner contemplate your future, together as one.
Planning Tip: Lakes are often surrounded by rocks, which can be uncomfortable to sit on. You might want to bring foldable chairs or a bench, in addition to a few blankets.
Ring Tip: Consider an engagement ring with sapphire accents, to give a pop of blue color, like this gorgeous French-Cut Pavé Ring. Or think about using sapphire as your center stone.
French Cut Pavé Blue Sapphire Engagement Ring
4. Field of Flowers
Springtime makes everything bloom, so what better place to celebrate your love than in a field filled with flowers? Whether lavender, daisies or tulips, flowers provide not only a gorgeous backdrop but also a sweet smelling setting. Be sure to check for superblooms in your area – rare opportunities in which an unusually high number of wildflowers bloom at the same time. Flowers are a staple of every relationship – why not use them to signal the start of your engagement?
Planning Tip: To really nail your spring proposal idea, make sure to take into consideration the color palate. For example, if you'll be proposing in a field of yellow daisies, you might want to think about choosing a contrasting wardrobe to make your pictures pop.

Ring Tip: Consider an engagement ring inspired by your surroundings, like the gorgeous flower design below. Or choose a fancy color lab diamond for a center stone that really pops.
Open Lace Pavé Halo Engagement Ring
5. Drive-In Movie Theater Proposal
If your significant other is a cinephile, a drive-in movie pays homage to their personal preferences while also being COVID-friendly. Pack your car with popcorn and your favorite candy. Think about which parking spot makes the most sense for a proposal – do you prefer to be towards the back, for more privacy? Would you propose before, after or during the movie? Drive in and get ready for the most memorable movie experience of your lives!
Planning Tip: Many drive-ins have limited movie selections, so be sure to research different options to understand in advance which movie your partner prefers. If you're unsure, consider a classic romantic comedy, which is a propos for day's events.
Ring Tip: Consider an engagement ring that screams classic Hollywood, like this Art Deco Inspired design.
Art Deco Inspired Halo Engagement Ring
6. Camping Proposal
This spring proposal idea is for the adventure seekers: if you and your significant other are the outdoors-y types, how romantic is a proposal under the stars? Escape the city and take advantage of all Mother Nature has to offer – hikes with spectacular views, crisp river water and cuddling over a campfire at night (don't forget the s'mores!). You might even cross paths with wildlife like deer, elk or bears. Springtime offers the perfect weather for camping and lush greenery – and proposals!
Planning Tip: Make sure to reserve your campsite well in advance and check the weather before heading out. If you don't want to invest in a ton of camping gear, ask friends if they'd be willing to let you borrow their gear.
Ring Tip: Consider an engagement ring that gives a nod to the beauty of nature, like our Organic Bamboo Engagement Ring.
Organic Bamboo Engagement Ring

7. Bring Spring Indoors
If your significant other isn't the outdoors type, you can still hit your spring proposal idea out of the park by bringing spring to you! Start by finding out your partner's favorite flowers and filling your home with them. Sprinkle petals and light candles around the house for added effect. If you're not the decorating kind, take to Pinterest for inspiration or enlist the help of a visually savvy friend. To make this sweet day even sweeter, top it off with your partner's favorite dessert – what could be better than Calla Lilies and cupcakes or freesia and fondue?
Planning Tip: Some flowers are harder to find than others, so make sure to take this into consideration when figuring out your timeline. Some people prefer potted plants because they last longer – it never hurts to do a little detective work to find out your partner's preferences!
Ring Tip: Consider an engagement ring that combines delicate beauty with strength and elegance. Our recommendation? A dazzling Petite Pavé design.
Petite Pavé Engagement Ring
8. Back-Up Plan
Life throws curveballs, so consider having a contingency plan. If all else fails, hit up your local outdoor farmers market (don't forget your masks!), choose fresh ingredients and whip up a delicious dinner for two. You can also order a meal prep kit, which delivers all of the ingredients to your house, ready for you and your significant other to cook in unison. If you're not the cooking kind, opt for a meal delivery service (also a great way to support your favorite restaurants!) paired with a beautifully set table and candles.

Ring Tip: Bring out the classics for this one! You'll never go wrong with any of our best-selling solitaire, halo or three-stone designs.
Comfort Fit Solitaire Engagement Ring
Pavé Halo & Shank Engagement Ring
Marquise Three-Stone Engagement Ring
Proposal plans sorted? Check out the articles below to get more inspiration!
Engagement ring catch your eye? Share the love on Instagram, Facebook, Twitter, Snapchat, or in the comments below!
Subscribe to our email list for access to secret sales, practical ring-buying tips, and $100 off your first purchase!