Now that you've found the perfect partner, it's time to start the hunt for the perfect wedding rings!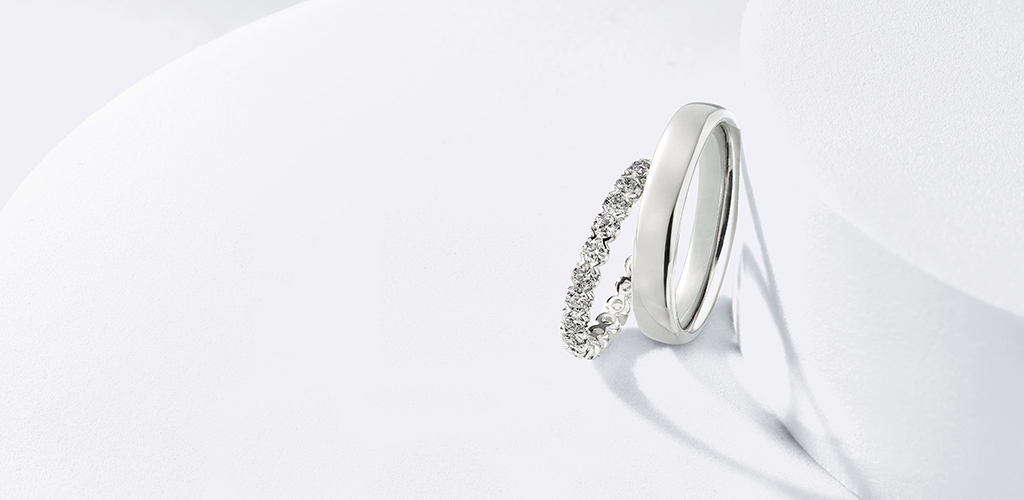 When it comes to wedding rings, sometimes simple is better. If you're not used to wearing showy or ornate jewelry, there are plenty of options that are both subtle and stylish. Whether you're looking for something dainty, thin, or classic, there is a simple wedding band out there that you'll never want to take off!
Remember, paring down on opulence doesn't mean paring down on beauty! A minimalist wedding band is often more practical for everyday wear while remaining sophisticated and striking.
We're here to guide you through the process and help you find the perfect simple wedding bands for you and your partner! Go out and find your favorite forever rings!
What Is A Wedding Ring?
Your wedding rings are going to be the most important pieces of jewelry you and your partner own: you'll likely wear them every single day! The two rings will be presented at the wedding ceremony to symbolize the lifelong union between you and your partner.
Whether you opt for matching wedding bands, alternative metals, or carved patterns, make sure they mean something special to both of you! Whenever you look down at that special ring, you'll be reminded of your loved one and the bond you share!
Engagement Ring vs. Wedding Ring
We all know that the engagement ring is a vital part of any proposal- but people often mistake it for the wedding band. There are actually several key differences between the two rings and what they symbolize!
An engagement ring is received at the time of the marriage proposal. In traditional proposals, women receive the ring and wear it until the time of the wedding. While engagement rings can vary in style and extravagance, they typically feature a center diamond and can be embellished with extra diamonds and intricate details. The engagement ring is worn on what is known as "the ring finger", or the third finger on the left hand.
Unlike engagement rings, wedding bands are exchanged at the wedding ceremony and worn by both partners. Due to their traditionally simple design and lack of gemstones, they typically cost less than engagement rings.
Many brides wear their engagement rings on their right hand during the ceremony and then move them back to their left hand so they can stack both rings.
Keep in mind, there is no right or wrong way to symbolize your marriage! Two rings, one ring, or no ring- opt for whatever feels right to you.
Simple Wedding Rings For Women
Classic Wedding Bands
Classic wedding bands for women are traditionally on the thinner side and typically 14K yellow gold, white gold, rose gold, or platinum.
Classic wedding bands are ideal if you plan on stacking your two rings- a thin gold metal band will compliment your engagement ring beautifully!
Stackable Wedding Rings
Stackable wedding rings are a trendy way to showcase your personal style wherever you go. They give you the option to show off or stay low-key for everyday wear or formal events.
Stackable rings can be anything from diamond rings to plain metal rings, to gemstone rings – the choice is yours! A ring stack can commemorate your engagement, your wedding, and your anniversary- all in one!
Dainty Wedding Rings
Not every bride wants a huge rock sitting on her finger- and that's totally OK! There are plenty of smaller, simpler, and dantier rings that are just as special. A ring is usually considered dainty when it has a thin band and a smaller stone- if any stone at all.
Donning a simple wedding ring doesn't mean you have to sacrifice on style. Dainty wedding rings are classic, easy to clean, and great for those who prefer a more understated look.
Simple Wedding Bands For Men
Classic wedding bands
It's hard to go wrong with a classic wedding band. Simple, sleek, and certainly timeless, classic bands are ideal for most lifestyles and preferences. The yellow gold classic men's wedding band is a popular option that has truly stood the test of time.
Men's classic wedding bands tend to be on the thicker side but come in a variety of comfort-fit settings that can be domed, curved, or flat.
Thin wedding bands
You may feel that the tradition of wearing a thick wedding band is not for you. But don't worry, you can always opt for a ring on the thinner side. There are plenty of men who rock bands that are under 7mm!
If your ring size is smaller than 9, consider a thinner style, like a 4mm men's gold wedding band, so the ring doesn't power over your fingers.
A thin wedding ring in 14K white or yellow gold offers low-profile style with plenty of appeals.
Alternative metal wedding bands
If your lifestyle requires you to use your hands a lot, you may want to look into alternative metal wedding bands. If you lift weights or come into close contact with strong machinery often, look for a durable metal like tantalum. Tantalum rings won't scratch or damage easily, so you can use your hands with ease.

A gray or black wedding ring is a great way to mix things up a bit and show off your personal style. Alternative metal wedding rings always make a bold statement and always turn heads. Men's titanium wedding bands, for example, are edgy and sophisticated. Titanium is a great option for those looking to cut down on the budget. If taking the road less traveled sounds appealing to you, check out our extensive list of black wedding rings.
What Is The Average Cost Of Wedding Rings?
Generally, the average wedding ring costs less than an engagement ring. Most couples spend around $1,000 on the bride's wedding band and $500 on the groom's. But remember: it doesn't matter if you spend $200 or $2,000- it's what the ring symbolizes that counts!
Who Is Supposed To Buy The Wedding Rings?
In a traditional wedding, each partner will pay for the other's ring. But don't feel compelled to follow suit! If tradition is not for you, one partner can pay for both- or the other can. You can even shop for them together! Make sure to do whatever feels right for you and your loved one.
Simple Engagement And Wedding Ring Combinations
The sky's the limit with engagement and wedding ring combinations- even if you want to keep things simple!
While it may be trendy to mismatch the metal types of your two rings, you can opt for keeping them the same for a more simple and streamlined look. A simple gold or platinum band will compliment a solitaire engagement ring beautifully, for example.
Choosing a simple, thin band will add to your engagement ring without drawing focus away from its center stone.
FAQs About Simple Wedding Rings
What's the difference between wedding rings vs. wedding bands?
There is no difference! The terms wedding ring and wedding band are used interchangeably.
Do you need to have a wedding ring?
Nope! There is no right or wrong way to symbolize the union between you and your partner. Some people wear one ring, some wear two or more, some don't wear anything at all! Whether it's a matter of preference, cost, or lifestyle, decide on whatever makes you feel good.
Which hand do you wear my wedding ring on?
Traditionally, both men and women wear their wedding rings on their fourth finger on their left hand. In some cultures, women wear their rings on their right hand.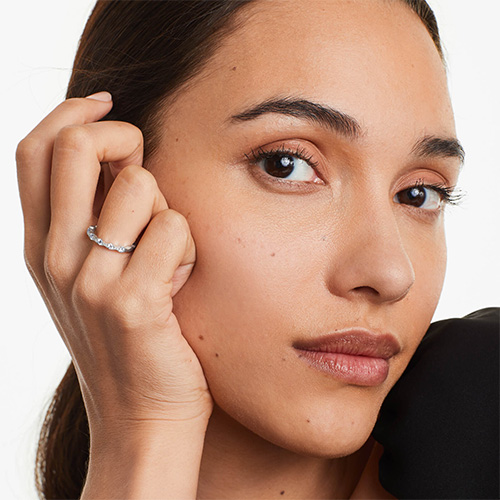 Do you wear your wedding ring and engagement ring together?
You totally can if you want to! Those that do, typically wear their wedding ring first and their engagement ring on top. But, you can feel free to wear one ring on your right hand and the other on your left. Personal preference is always key!
Parting Thoughts
Finding the perfect wedding ring is an exciting challenge! From cost to style to metal, it can certainly feel overwhelming. But remember: you can choose to match, to mismatch, to go down the traditional route, to be bold and alternative, to pay for them alone or together- it's all up to you!
There are no rules on how to wear a simple wedding ring. Make sure you're doing only what feels right, comfortable, and exactly to your taste!
We're certain the ring of your dreams is out there! You can start your search at Jamesallen.com