When the gorgeous thing that is the Hilary Duff Engagement Ring first appeared on Instagram on May 9th, 2019, her followers went crazy for it. The large-carat cushion-cut diamond marked the engagement of Hilary Duff and singer-songwriter Matthew Koma. The two had already had a whirlwind of a year, having recently welcomed their first child, a baby girl, in October 2018.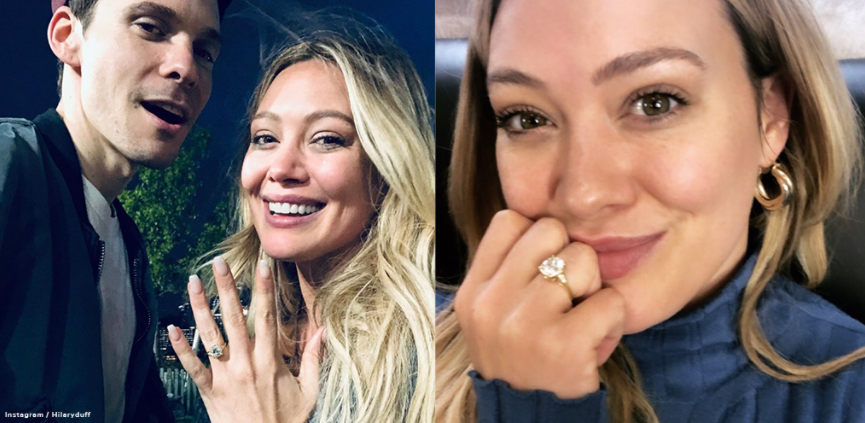 Upon getting engaged, Hilary captioned her Instagram post by writing: "He asked me to be his wife♥️," flashing a huge smile and a large cushion-cut diamond set in a solitaire white gold or platinum band.
Hilary Duff and Matthew Koma originally met when collaborating on her 2015 album "Breathe In. Breathe Out." They began dating in 2017 and eventually, the two made it official in December 2019 by tying the knot in a sweet, intimate backyard wedding.
But you're here for Hilary Duff's engagement ring! And you're in the right place.
You'll find out:
What Diamond Shape is Hillary Duff's Engagement Ring?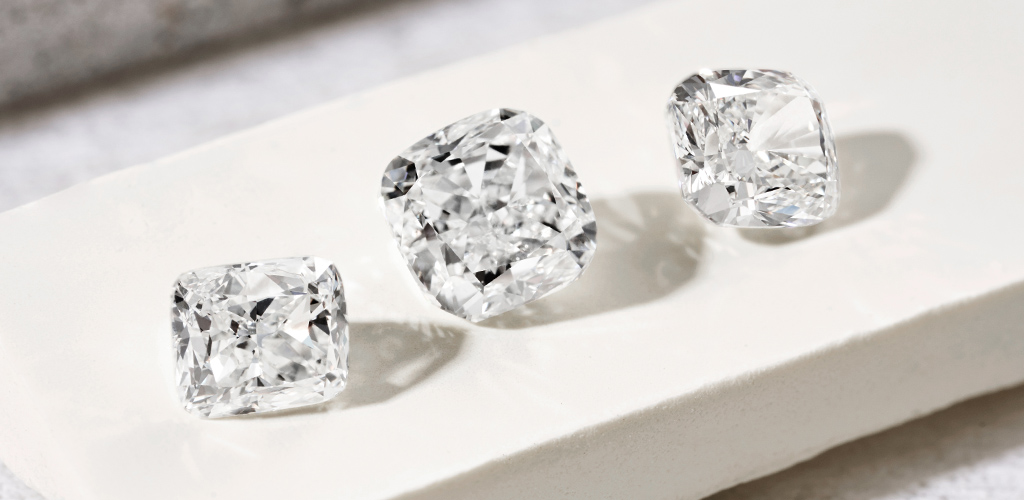 Hilary Duff's ring looks to be a large, colorless, cushion cut diamond. Its slightly elongated shape isn't out of the ordinary for cushion cuts, which aren't beholden to any standard industry measurements. The longer shape also has the advantage of making the stone look even bigger!
The cushion cut is the chic descendant of the historic old mine cut, which was a highly-faceted cut popular in the Victorian and Georgian eras. Jewelers made a few improvements over the centuries, resulting in today's modern 58-facet cushion-cut diamond. This cut is prized for its squarish shape with rounded corners, as well as its many delicate facets which sparkle fantastically.
How Many Carats is Hillary Duff's Engagement Ring?
It looks like Matthew Koma popped the question with an approximately 4-carat stone that's extremely colorless. It seems to be at least an F or higher on the color scale.
What Style Setting Is Hillary Duff's Engagement Ring?
Hilary Duff's engagement ring is set in a simple split-shank solitaire ring. The classic 4-prong setting is a perfect choice for a cushion-cut diamond; it allows as much light as possible to enter the stone, letting it sparkle as much as possible.
Is Hilary Duff's setting white gold or platinum? At a glance, there's no knowing. The difference between white gold and platinum only becomes apparent 5-10 years down the road; due to daily wear-and-tear, white gold will need to be refinished with rhodium, while platinum will always keep its original sheen.
Solitaire engagement rings are also the most popular ring setting in the US! A 2019 survey by theknot.com showed that over 25% of the respondents owned solitaire engagement rings. There are a few good reasons for that:
Solitaire engagement rings place all the focus on your center diamond. There are no stones on the band to distract from your main sparkle.
Solitaire settings are affordable! You'll have more of your remaining budget to put toward a truly incredible center diamond.
Interested in learning more about solitaire ring settings? We've got you covered.
How Much Did Hillary Duff's Engagement Ring Cost?
Nearly all of this ring's value is in its center diamond. That's because, as a solitaire ring, there's no need to take into account the cost of any stones on the band.
This particular center diamond, assuming it's an earth-created diamond, is probably valued between $50,000 to $100,000.
For comparison, have a look at this similarly-priced comparable 4-carat diamond with F color and VS1 clarity from JamesAllen.com.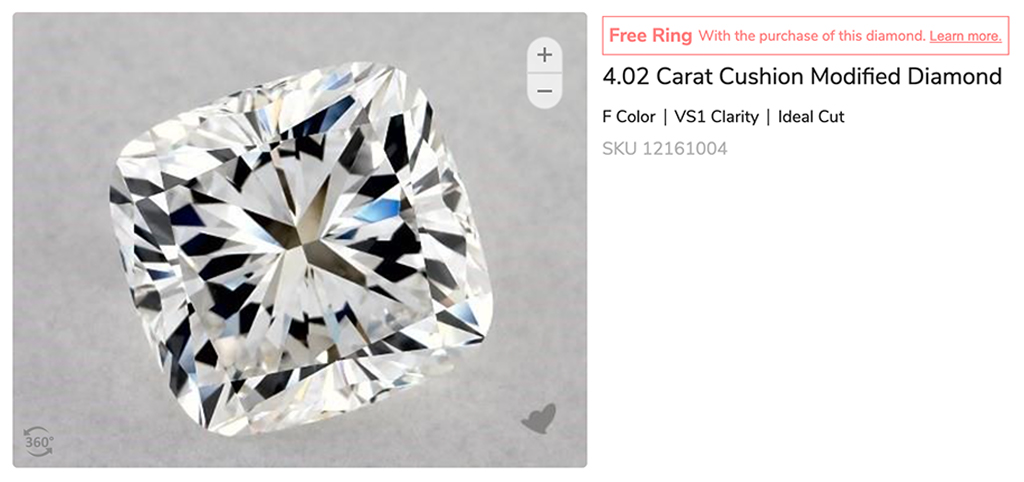 However, if it's a lab-created diamond, it could have cost just half of that. That's because the process of producing lab-created diamonds is much less resource-intensive, and thus they're sold for much more affordable prices.
This 4-carat lab-created diamond with E color and VS1 clarity has near-identical specifications to the above diamond but at less than half the price.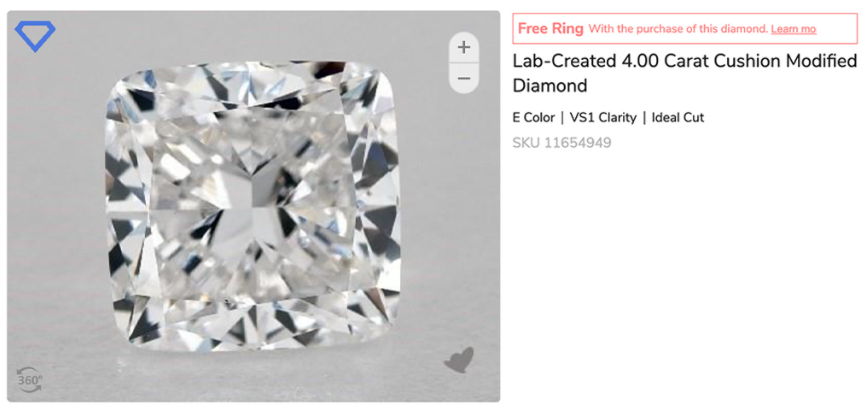 A "Copy" of Hilary Duff's Engagement Ring
If you're inspired by Hilary Duff's engagement ring and want to mimic her style, you're in luck. Due to its simplicity, this ring is actually quite easy to replicate for yourself! We've put together two options to get you started.
The first is a very close match – a white gold split shank solitaire. This elegant band splits slightly as it approaches the center diamond, adding some intrigue to the classic solitaire. It's just 2 mm in width, which means its thin size will make any diamond appear even larger in comparison.
You can customize this with any diamond shape; stick with Hilary Duff's cushion cut, or go for another square shape – like princess-cut or emerald!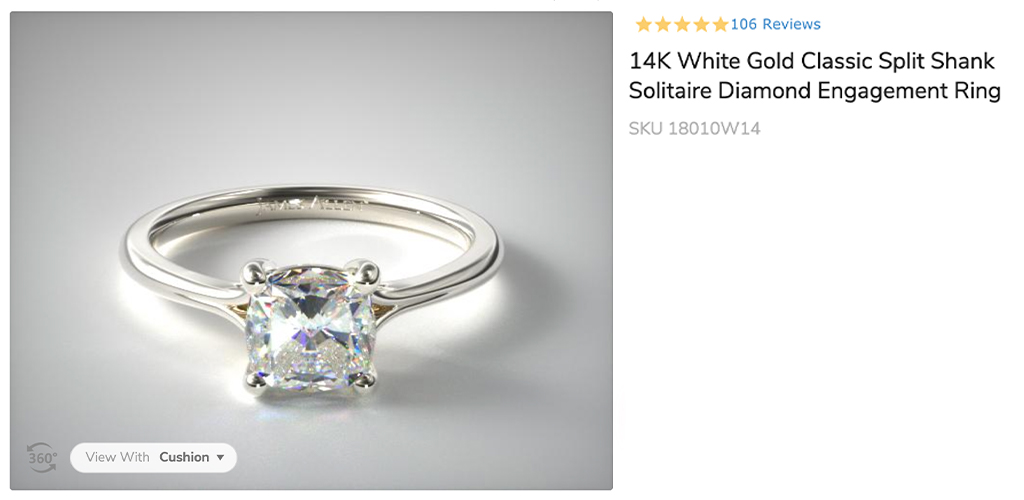 The next option leans more heavily into the "split shank" side of Hilary Duff's engagement ring setting. In this setting, two parallel bands run alongside each other for the entire length of the shank, finally twisting as they approach the center diamond. This ring setting is wider, measuring 3.1 mm, making it a more comfortable and secure setting for larger diamond carats.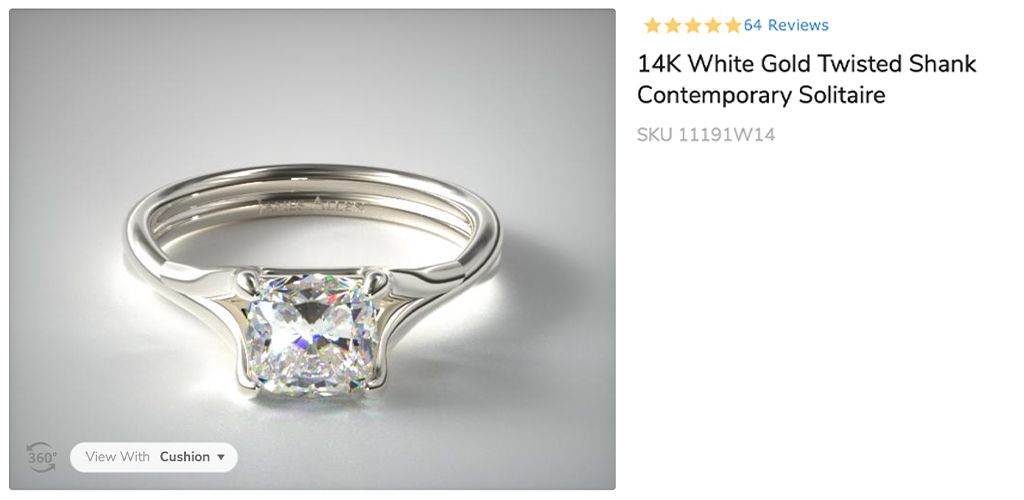 To build your own, Hilary Duff-inspired engagement ring, you can start with either a cushion-cut diamond or a solitaire setting.
Hilary Duff's Engagement Ring Pictures
Have a look at these gorgeous pictures of Hilary Duff's engagement ring.
We're Here To Help
Designing your perfect ring isn't always the easiest task! That's why you can contact our customer service team, chat with non-commissioned expert gemologists 24-7 regarding any questions you have about the ring-buying process or visit our website JamesAllen.com