Shine through the winter with blue topaz, the December birthstone.
Celebrate the month of December with its icy blue birthstone. Though topaz comes in a range of colors, the blue variety is the wintry birthstone. From pale blue to a deep, sapphire-like azure, topaz's tones are perfect for any December birthday or simply any cool-hued adorer.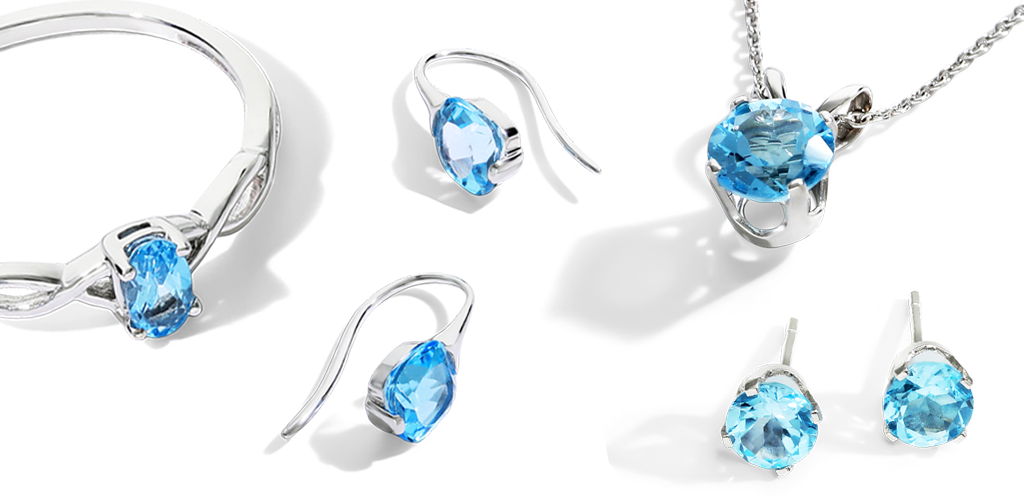 What is Topaz?
Topaz is a silicate mineral that in its purest state is totally colorless. It's the trace minerals that give it such a vibrant range of colors, from deep blue to pink, orange, and even purple.
The index of refraction for topaz is somewhat low (around 1.62), meaning that their many facets sparkle less than gemstones with a higher rating. Topaz tends to look best in oblong cuts that complement its naturally-occurring columnar shape. For that reason, topaz often appears in jewelry in baguette-, pear-, and oval shapes.
Topaz is an ideal jewelry stone thanks to its high rating on the Mohs Hardness Scale. It scores an 8, which is near the maximum solidity of 10 (a grade claimed by the rock-hard diamond). Practically, this means that topaz is quite impervious to daily wear in all situations. There's no need to fret about scratching or chipping topaz; it will accompany you throughout your day, no worries.
One of the cooler characteristics of Topaz is its pleochroism: depending on the angle that light hits topaz's facets, the gemstone may appear to vary in color. This gives blue topaz an incredible variety of aquatic shades.
The History of Topaz
In the past, the most famous variety of topaz was actually yellow. The Bible mentions topaz; although it probably referred to a different yellow stone, the name topaz went on to refer, generally, to any yellow semi-precious stone. Eventually, in the mid-1700's, topaz started referring to the mineral we now know and love.
The most popular type of topaz nowadays is the blue variety. Though blue topaz occurs naturally, the popularity of blue skyrocketed in the 1970's when gem treatments were developed. Gemologists discovered that they could take colorless topaz, expose it to certain types of radiation, and then heat it up. The result was a gorgeous blue gemstone whose popularity immediately shot through the roof.
Famous Topaz
By far the most famous topaz in existence is the Marbella Topaz, a whopping 8,225 carat faceted blue topaz currently owned by the Spanish government. Yep, that's a comma – not a full stop. How big is 8,225 carats, you ask? Well, it's akin to wearing a grapefruit on your finger. A bit heavy, but oh-so breathtaking.
Cate Blanchett has been known to sport blue topaz on the red carpet – a gemstone that perfectly highlights her icy blue eyes. By wearing her topaz jewelry as close to her eyes as possible in the form of earrings, she maximizes the blue-on-blue effect.
And onto another (C)Kate! Kate Middleton's circular topaz and diamond earrings have made multiple high-profile appearances, and seem to be one of her favorite pieces. The cool tone highlights her green eyes, and the bright white jewelry metal pops against her paler skin.
How to wear topaz
Blue is a beautiful catch-all. If you love blue, topaz is for you, since it comes in every shade – from pale aquamarine to a dark sapphire, topaz has it all.
Pale complexions: if you have a pale complexion, dark blue topaz will look stunning on you. Especially topaz set in white jewelry metal like white gold or platinum.
Dark complexions: complement your dark complexion by choosing an eye-popping pale topaz set in warm gold.
Blue & green eyes: Choose topaz in the same shade as your irises to make your baby blues (or green) really pop.
Outfit coordination: topaz looks lovely when paired with its complementary color, orange. Practically, this means you can increase topaz's visual impact by wearing golden or amber-color fabrics alongside your gemstone.
December Birthstone Gifts:
Blue Topaz Rings
Blue topaz jewelry is perfect for December birthday gifts, 4th, and 19th wedding anniversary presents. Not only is it more affordable than other blue gemstones like sapphire, but it also features a unique variety of hues. And why blue topaz rings? They're easy to wear, will stand up to anything you put them through, and will always be close at hand for you to admire.
December Birthstone Gifts:
Blue Topaz Earrings
Topaz has a history of mind-strengthening powers. Well, at least according to a host of old European folklore. An English superstition states that topaz can cure insanity, while in the Middle Ages it was worn to protect against the evil eye and mind-weakening curses. If you agree with our predecessors, wearing blue topaz earrings close to your noggin will keep you up to speed.
December Birthstone Gifts:
Blue Topaz Necklaces
Statement pieces? Oh yes. Topaz's relative affordability means that you can go big on the carat weight without going over budget. Plus, a blue topaz pendant completes any outfit with a vivid burst of color. Whether you give it as a present, or you adorn and adore yourself, topaz is a winning December purchase.
Check out our other birthstone guides
January Garnets * February Amethysts * March Aquamarines * April Diamonds * May Emeralds * June Pearls * July Rubies * August Peridots * September Sapphires * November Citrines * December Blue Topaz.
Subscribe to our email list for access to secret sales, practical ring-buying tips, and $100 off your first purchase!