Know what to look out for when shopping men's wedding bands.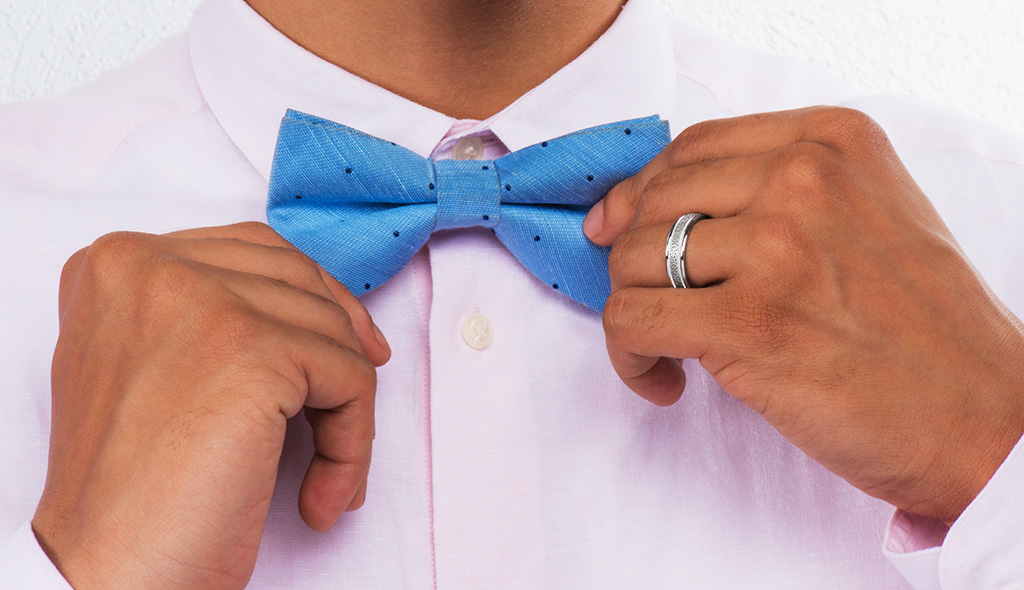 Men's wedding bands often get outshined by the sparkle-fest that is the engagement ring. But these boy bands are more than mere one-hit wonders. They're likely the single most important piece of jewelry you'll ever own. You owe it to yourself to explore all your options before settling down with your lustrous loop.
Wedding Rings for Men: Test Your Metal
First thing first: decide on a metal. If you're the conventional type, you can't go wrong with a traditional gold or platinum wedding ring. Gold rings are known for their distinct character; yellow gold's warm glow, white gold's snowy purity, and rose gold's unique vintage look. Men's platinum wedding bands, while similar in appearance to men's white gold wedding bands, are very rare and exceptionally hardwearing.
When choosing a metal for your wedding band, there's more to consider than cost alone. Think about how it will look next to your partner's ring. Do you want them to match or do you prefer a contrast? How much maintenance is required? (The ring, not your partner!) Are you allergic to any of the materials? The last thing you want to do is make a rash decision about such an important purchase.
If you're more of a trendy non-conformist, an alternative metal such as titanium or cobalt chrome might float your boat. Men's titanium wedding bands are a popular option as they're durable enough to withstand the rigors of daily life, yet surprisingly lightweight.
Black Titanium Comfort Fit Ring
Crafted from aircraft-grade titanium, this Black wedding band for men is sophisticated and undeniably eye-catching.
Cobalt chrome is another solid choice. Literally. It's four times harder than gold and has a non-corrosive, scratch-resistant surface. Like titanium, cobalt is a hypoallergenic metal, making it suitable for those with sensitive skin (we're looking at you, tough guy!).
Cobalt Chrome Comfort Fit Ring
This Cobalt Chrome Comfort Fit Ring features a natural and long-lasting high luster that won't fade or discolor over time.
Wedding Rings for Men: A Broad Band
The width of your wedding ring is entirely a matter of personal style. However, as a general rule of thumb, those with larger hands are better off going with a thicker wedding ring, and vice versa. Because wider rings require more precious metal, they tend to be more expensive. Pro tip: Offset the cost of a larger ring by choosing a more affordable metal. White gold, for instance, looks very similar to platinum but costs less.
Slightly Domed Comfort Fit Wedding Ring
Beveled Comfort Fit Wedding Band
Wedding Rings for Men: The Finishing Touch
Wedding rings for men owe their handsome appearance in large part to the texture, or finish, of the metal. James Allen wedding rings come in all different finishes including high polish, satin, and hammered. A high polish finish is considered a traditional choice whereas satin might appeal more to lovers of contemporary design. If you're looking for something that's off the beaten path, the hammered look is bound to get your heart pounding.
Classic Low Dome Wedding Ring
Hammered Comfort Fit Wedding Band
Wedding Rings for Men: The Bevel's in the Detailing
Wedding rings for men have come a long way in recent years, shedding their bland band reputation in favor of more daring designs. These days, it's not uncommon to see rings sporting diamond or gemstone accents.
Beveled Bezel Set Diamond Wedding Ring
This Beveled Bezel Set Diamond Wedding Ring features a satin finish and a high polished beveled edge. But the main attraction is the single round ideal cut diamond at its center.
Etched Bezel Set Diamond Wedding Ring
This elegant Etched Bezel Set Diamond Wedding Ring features a high polished center trim between multiple round cut stones.
Wedding Rings for Men: Make Your Mark
If you want to make your wedding ring extra meaningful, why not personalize it with a loving inscription? James Allen offers free engraving on most of its wedding bands. Have your SO's name or initials etched in the metal, a song lyric or inside joke, or the date of your wedding. Now there's no excuse for forgetting your anniversary!
Let's Band Together
Discover more yellow gold and rose gold wedding bands for him.
Subscribe to our email list for access to secret sales, practical ring-buying tips, and $100 off your first order!