Jewelry that is given in the name of love always has extra sparkle. Eternity rings and anniversary rings definitely fall into this category. Symbolic of life-changing moments and epic love, these diamonds are not just your best friend but remind you of your best friend.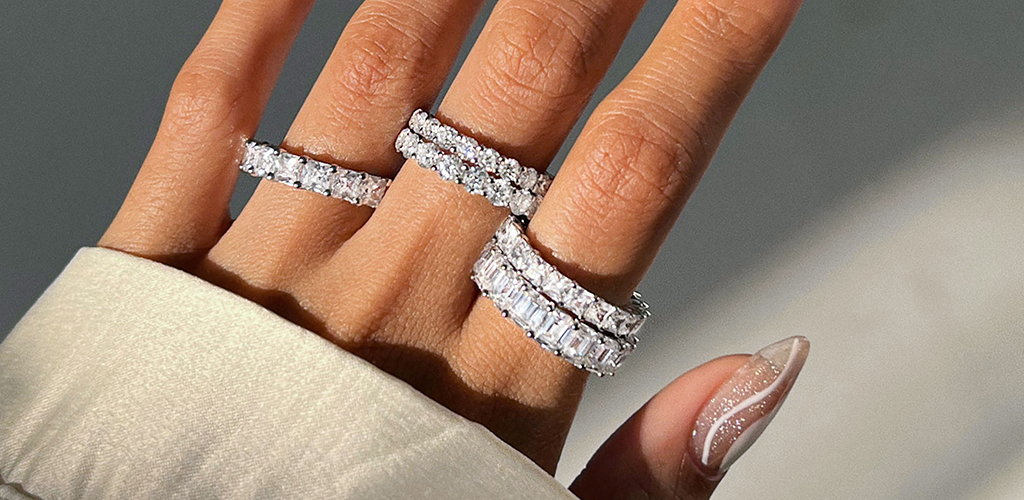 Eternity Rings vs. Anniversary Rings: What's The Difference?
While similarly popular, eternity rings and anniversary rings are different in both look and purpose. From the number of stones to the style of the band and the dates they are given, we explain the differences and clear up which ring you should buy and when.
Eternity rings are characterized by a band of uninterrupted diamonds, while anniversary rings feature a row of diamonds on the upper half of the band. Both consistently feature diamonds, which is not necessarily the case for wedding rings.
Whether you prefer sparkles so bright you need sunglasses, or something more muted, James Allen has the right ring for you.
What IS An Eternity Ring?
Eternity rings are available in a variety of diamond shapes and sizes, as well as different metal types, ensuring there is sure to be an eternity ring for you!
You might be wondering, can't I just use an eternity ring for my anniversary or wedding ring? The answer is yes and no. Eternity rings have come to be given on very special occasions, and certainly, a wedding and an anniversary ARE special occasions!
Eternity rings are given on birthdays, landmark anniversaries (such as at the five, ten, and twenty-year marks), or even graduation!
Eternity rings shine bright with diamonds along with the entire band. The seemingly never-ending diamonds symbolize your never-ending love. And since your love is eternal, an eternity ring does not need an occasion! So feel free to profess your eternal love any day with an eternity ring!
These diamonds are your pledge to your partner. And since diamonds are ALWAYS in style, so will be your eternity ring. This piece of jewelry is not just a momentary trend, you can safely wear your eternity ring for well…eternity! And you will always be en vogue!
Eternity Rings: How To Wear Them
While there are no hard and fast rules, eternity rings are often worn next to the engagement ring and wedding ring sitting on the ring finger on your left hand.
When choosing an eternity ring, you want to keep in mind the style of the engagement and wedding rings. If your engagement ring and wedding ring are more subtle, then you may want to go for ALL the flash of an eternity ring.
And if your engagement and wedding rings are already blinged out, you may want to match that bling with styles such as a pavé or fishtail style, as seen below.
If you like a consistent look, then you'll want to stick to the same diamond shape. So, if your engagement ring features an Asscher cut diamond, you'll want to stick with that and choose an Asscher cut eternity ring.
Whatever style you choose, your eternity ring will certainly enhance the radiance not just of your ring finger, but of your whole hand!
If your engagement ring features a gemstone, then you will want to keep that color in mind when choosing the metal for your eternity ring. Not sure which metal goes best with which gemstone? Click here to learn about gemstone engagement rings!
Most importantly! When choosing your eternity ring KNOW YOUR SIZE! Eternity rings are VERY hard to resize due to the entire band being covered in diamonds. Often, it simply isn't possible.
If the ring is a surprise, click here to get tips and tricks to get your partner's ring size. Measure their finger in their sleep if you have to! We promise it is easier than trying to resize an eternity ring.
What IS An Anniversary Ring?
Anniversary rings are often given on the anniversary of your wedding and are meant to enhance your wedding ring. They feature diamonds, with a variety of settings, along with half the band, which is available in multiple metals. The metal of an anniversary ring is also chosen to compliment an existing wedding band.
Rings are a VERY popular choice for an anniversary gift. Traditionally, gold is the gift for your first wedding anniversary, so for this event, many couples will choose a white or yellow gold band as seen below:
Whether choosing a five, seven, or nine stone option, you can't go wrong with an anniversary ring. Enough diamonds for those who want to look ballin' but not so much for those who prefer a quieter glam.
Anniversary rings are the goldilocks of iced out rings. However many diamonds, whichever metal, James Allen has a ring your partner is sure to love.
How To Wear Your Anniversary Ring
So if your engagement ring and wedding ring are on your ring finger on your left hand, where do you wear your anniversary ring? Literally, any finger you want! One of the beauties of an anniversary ring is that there is no "traditional" finger to wear them on, so choose any finger you like!
Many people do choose to wear their anniversary ring on the ring finger on their right hand (the finger next to your pinky). This allows the ring to both compliment your engagement, eternity, and wedding rings, but stand out on its own as well.
You can also wear your anniversary ring on your left hand on a different finger, allowing your left hand to be dripping in diamonds. Or you can stack your anniversary ring with your engagement ring, wedding ring, and eternity ring, giving your left hand's ring finger the appearance of a diamond-encrusted wand!
Wherever you decide to wear it, you are sure to enjoy the sparkle that came from a place of love.
Which Ring Is Right For You?
Top Things To Remember
| | |
| --- | --- |
| Eternity Rings | Anniversary Rings |
| Diamonds All Around The Band | Diamonds On Top Half Of The Band |
| VERY Difficult To Resize | Popular For Wedding Anniversaries |
| Great For Any Special Occasion | Available In Five, Seven, Or Nine Stones |
| Symbolize Unending Love | Symbolize Continued Commitment |
Eternity and anniversary rings are a gorgeous way to express your love for your partner. Something they can always wear, that will always be in style. These rings tell your partner how special they are, without you even having to utter the words.
Whether expressing your love with an anniversary ring or celebrating your love with an eternity ring (or both!), you are sure to be nominated for the partner hall of fame after gifting one of these beauties!
Subscribe to our email list for access to secret sales, practical ring-buying tips, and $100 off your first purchase!