Show your husband that every day is Husband Appreciation Day with a gift that celebrates his unique style. James Allen has a brilliant array of accessories, ensuring you will find the perfect gift for your perfect husband.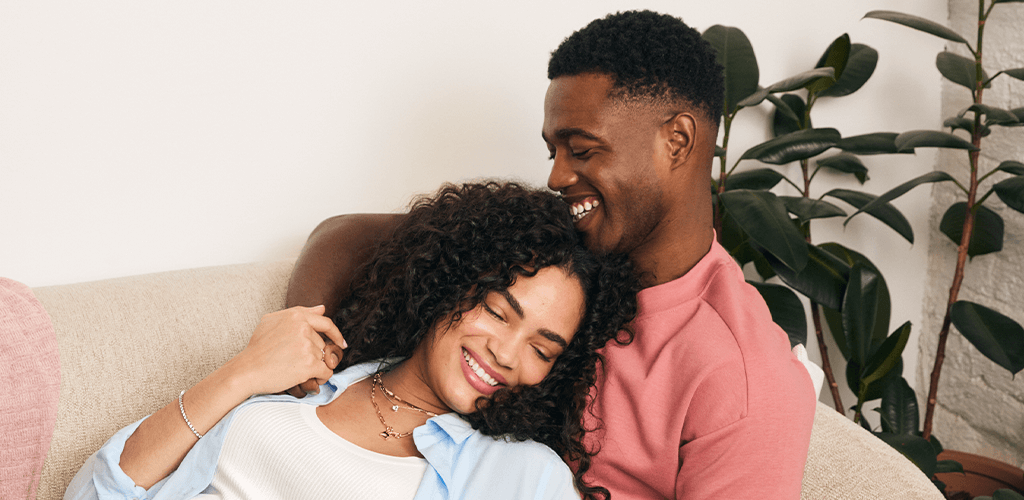 At first this might sound like one of those random "holidays," but Husband Appreciation Day is actually a great opportunity to spoil your spouse, and give the gift of sparkle to the man who makes you shine everyday.
Didn't know this was a holiday? No need for panic-Googling, let James Allen ease your anxiety! Read on to find the gift your husband didn't even know he wanted! We have options for every husband, in every budget.

Whether you want your husband dripping in diamonds, or you're looking for a more classic look, we are here to help. Whatever his taste and lifestyle, we've got the perfect gift.
Isn't Jewelry A Weird Gift For Husbands?
While funny beer mugs, monogrammed boxers, or survivalist knives might be more "traditional" gifts, more and more partners are choosing to get something sophisticated that reflects their husband's unique style.
Get them the gift that not only expresses their personal taste, but that they can sport everyday. Allowing them to feel the spirit of Husband Appreciation Day everyday.
The best gift is the one they love but would never buy themselves, the one they moon over but never buy because they don't need it. Below we showcase a variety of pieces from traditional to luxurious, from understated elegance to show stopping sparkle.
When selecting your gift, keep in mind that many of our options, particularly rings, can be engraved with a personal message. Show your love for your pookie bear (or insert your own nickname) with a personal inscription.
No matter what you choose, any gift filled with love, to show your appreciation, will make their heart shine.
Alternative Metal Wedding Rings
Whether you want to upgrade your husband's wedding ring, buy an additional wedding ring, or gift him a unique wedding ring, we have what you need. After all, your husband should have a ring as amazing as he is.
Alternative metal rings for men are increasing in popularity for a reason. Allowing them to express their personal style and showcase their unique taste, non-traditional rings for men for engagements, weddings, and of course for fun, come in a variety of gorgeous patterns and materials.
This is the ring your husband wears every day to show the world his love and commitment to you. Give him a ring as beautiful as your partnership. Love the rings above but need to see more? Check out more non-traditional wedding rings for men HERE.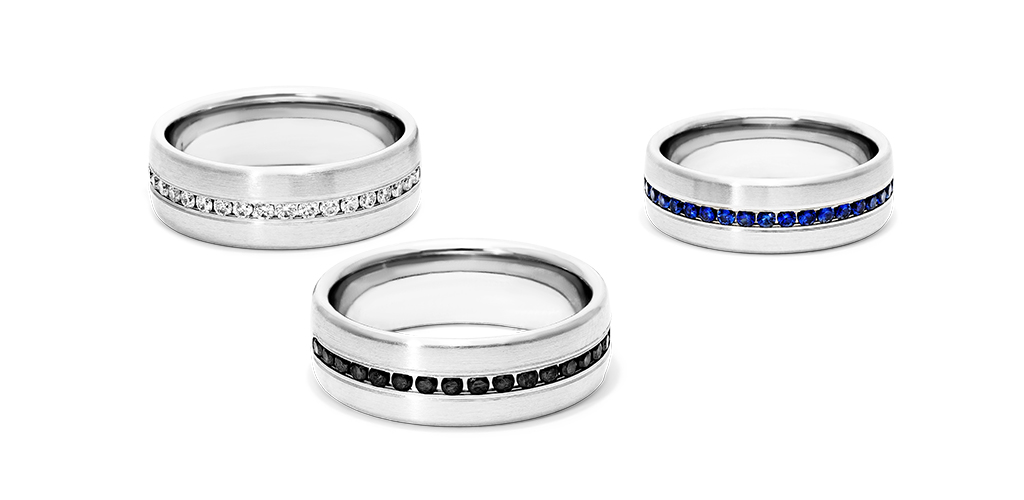 Give Him The Classic Look
Perhaps your husband has a more traditional style. The classic partner sporting a classic look. If alternative rings aren't his thing, we have a variety of traditional rings he will love.
Perfect for the man who prefers a simple, unadorned look. Classic wedding rings are the perfect way for your husband to be reminded of how much you love and appreciate him, every single day.
And don't forget you can update your classic gift with a meaningful, personalized inscription on the inside of the ring, which James Allen will add for free! Whatever you decide, adding a personal sentiment to such a special gift allows you to take your appreciation of your husband to the next level.
See the inspo below and check out more options HERE.
The Gift Of Creative Carvings
Looking for something in between alternative and classic? Carved rings are your jam! Combining classic metal with alternative design, carved rings allow your husband to showcase his unique style.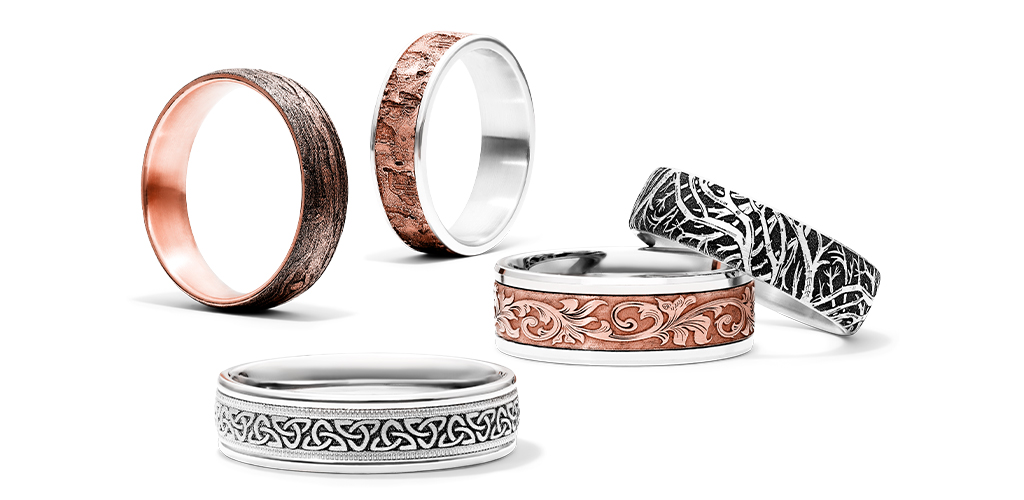 Does he already have a wedding ring? No problem! Carved rings work great as fashion rings. Available in different colors and materials, carved rings make a stunning gift. Show him you appreciate his style as much as you appreciate him.
Diamonds Are ALSO Your Husband's Best Friend
Diamonds may be a girl's best friend but husband's are also getting in the game. From sporting stud earrings to blinged out rings, diamonds are a great way to show your husband he is more than just the apple of your eye, he is your diamond in the rough.
Give your husband a pair of classic diamond studs so he can shine bright:
Or give your hubs a blinged out ring to add to his sparkle:
Diamonds are always in style. Whether dressing up a suit or accessorizing a more casual look, diamond jewelry can make a bold and classic statement all at once.
Diamond jewelry is no longer just for rockstars and rappers, more and more men are hoping for this dazzling trend. Explore our collections of diamond jewelry and help your husband take on the look of icons.
Because He's Famous To You
Male celebrities have been spotted more and more wearing unique wedding and fashion rings. While your husband may not be a celebrity, show him he is famous in your eyes with a gift of superstar style.
Give your husband the style of a black ring that will have him fighting off his own paparazzi.
Love the look? Grab a similar ring or two to mix and match!
Is your husband the rock star of your life? Is he cutting edge and not afraid to break fashion barriers? Then bold rings like these are the perfect choice!
Is your husband as famous for his forward fashion choices as much as for being an incredible partner? Does your husband bend the rules of style? Then these rings for him!
Which of these amazing pieces will you give to celebrate Husband Appreciation Day? Love what you see and want to see more? Go to JamesAllen.com and start shopping today!
And check out these articles for even more inspo and tips!
Subscribe to our email list for access to secret sales, practical ring-buying tips, and $100 off your first order!