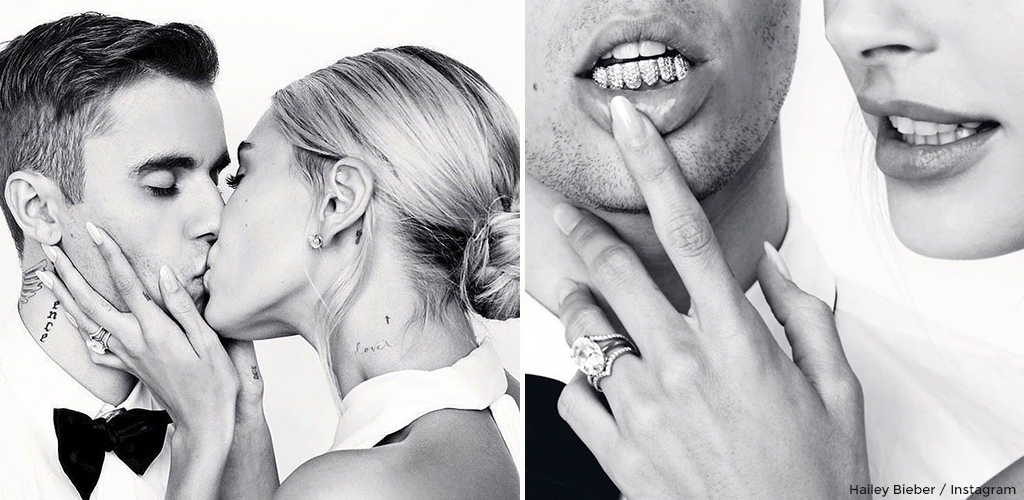 Hailey Baldwin met Justin Bieber when the two were youngsters backstage at one of his concerts. The two became fast friends and dated on and off before Justin proposed to Baldwin in the Bahamas in July of 2018.
After news traveled fast, Bieber posted a lengthy and heartfelt post, confirming their engagement and his clear devotion to his wife-to-be.
The next day, Hailey was seen sporting an impressive sparkler around the island, noticeable for its resemblance to another star's engagement ring- Blake Lively- no surprise as Hailey had once retweeted a post that read, "If my ring isn't as big as Blake Lively's, I don't want to get married." Clearly, the Biebs got the hint because the two engagement rings could be sister twins except for some minor unique yet stunning details.
We're going to share the following fun facts with you:
The style of Hailey's engagement ring
The diamond shape
The diamonds carat size
How much Hailey's engagement ring cost
Hailey's engagement ring lookalikes
Hailey Bieber's Engagement Ring Pictures
Hailey Bieber knows how to work both her engagement and wedding rings. In these pictures, we see her and her now-husband posing at their wedding while showing off her blinged-out left hand, with her world-famous engagement ring and her curved pavé wedding ring.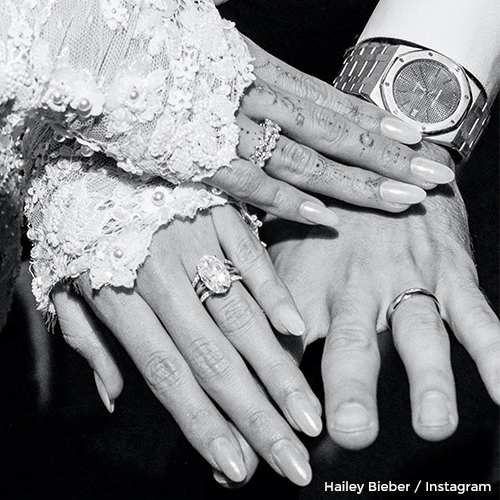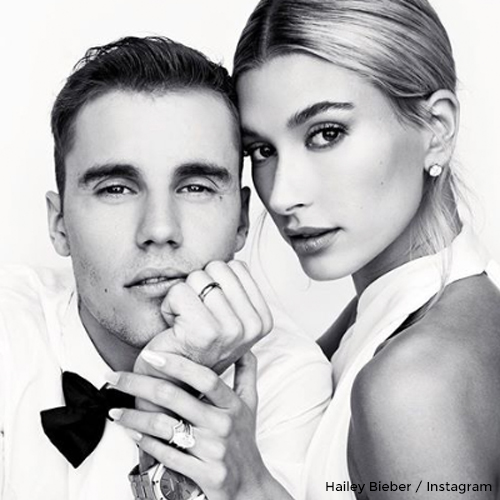 What Style Setting is Hailey Bieber's Engagement Ring?
Hailey Bieber's engagement ring appears to be a classic 18K yellow gold solitaire band with a hidden diamond halo basket elevating the oval center stone. The ring was a custom-designed piece by Jack Solow of Solow & Co. Inc Diamond Jewelers.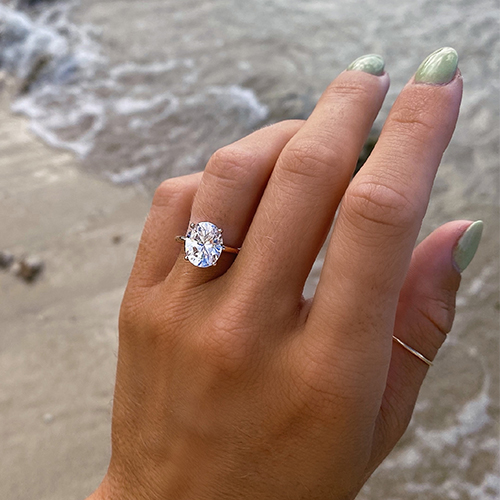 The solitaire setting is by far the most traditional style and speaks to classic elegance. With a solitaire setting, there are no added diamonds along with the band, but the band can be shaped to your taste. Styles like knife edge, comfort fit, etched rope, and cable solitaire are all trendy ways to add your personality to an engagement ring.
Yellow gold is the most common gold used for engagement rings and is considered the most traditional metal. This metal is easier to maintain than white gold, giving you that perfect vintage feel. It's also more malleable, making it cheaper to resize.
What Diamond Shape is Hailey's Engagement Ring?
Hailey Bieber's engagement ring is set with a glowing oval cut diamond. This diamond cut has been recorded since the 1300s and is usually priced lower than round brilliant cut center stones.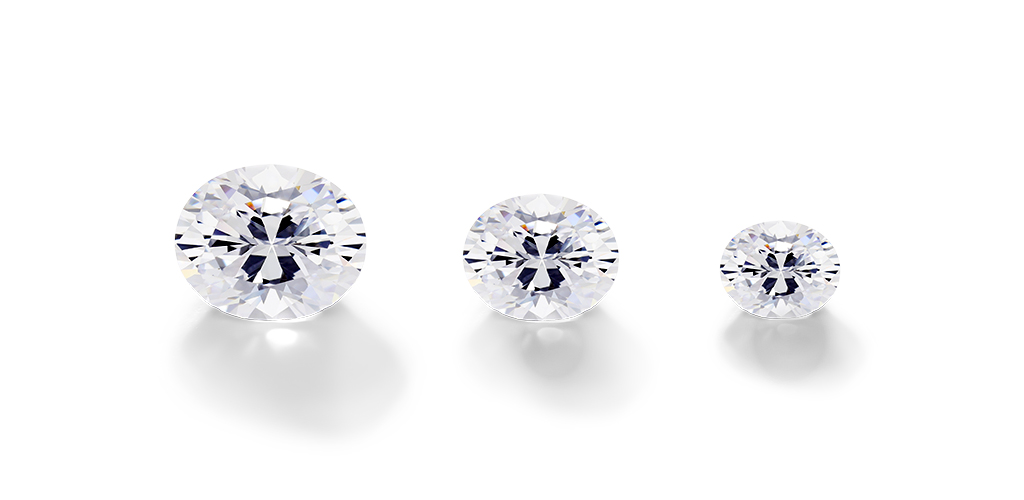 Oval cut diamonds are considered to be "fancy-shaped" diamonds, with an elongated design that makes them appear larger than diamonds of the same carat weight.
This style is perfect for a wearer who prefers a longer-looking diamond and one that will make the fingers appear slimmer. Oval-shaped diamonds pair perfectly with almost every setting and work incredibly well with three stone and vintage styles.
How Many Carats is Hailey Bieber's Engagement Ring?
Hailey's massive oval cut engagement ring is estimated to be between 6-10 carats. The center diamond is colorless.
How Much Did Hailey Bieber's Ring Cost? And What's It Really Worth?!
Justin Bieber went all out when buying Hailey's engagement ring. Experts say the ring costs around $500,000.
Looking at an ideal oval cut diamond with excellent specifications (F Color, VVS1 Clarity) at James Allen, the estimate seems accurate.
Hailey Bieber Engagement Ring Lookalikes
This piece is classic and refined and offers understated elegance and unsurpassed comfort while highlighting the oval-cut center diamond. Designed with smaller carat weight diamonds in mind, it is sophisticated and petite without sacrificing stability.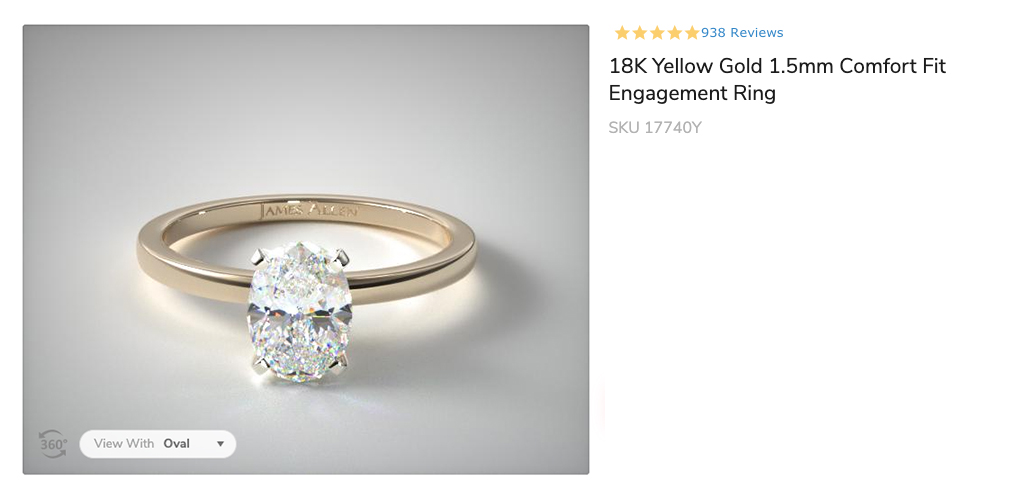 Who says affordability and beauty don't go hand-in-hand? This diamond edge knife solitaire offers the best of both worlds with its classic appeal at a cost-effective price. Unlink Hailey's ring; there is no diamond basket, and it has more traditional features.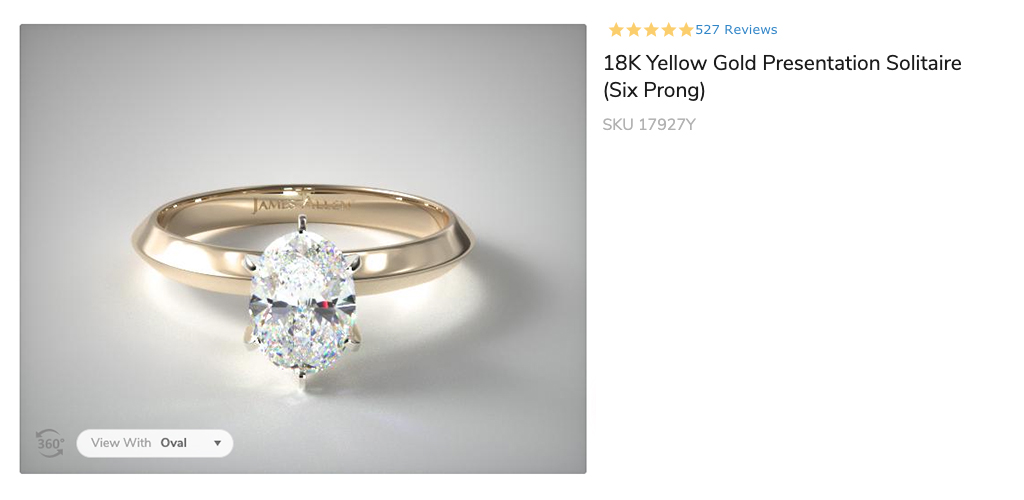 This elegant solitaire engagement ring features a delicate pinched shank with an intricate wire basket that allows you to see the oval-shaped diamond fully. This engagement ring is just as polished as Hailey's, with the same timeless appeal.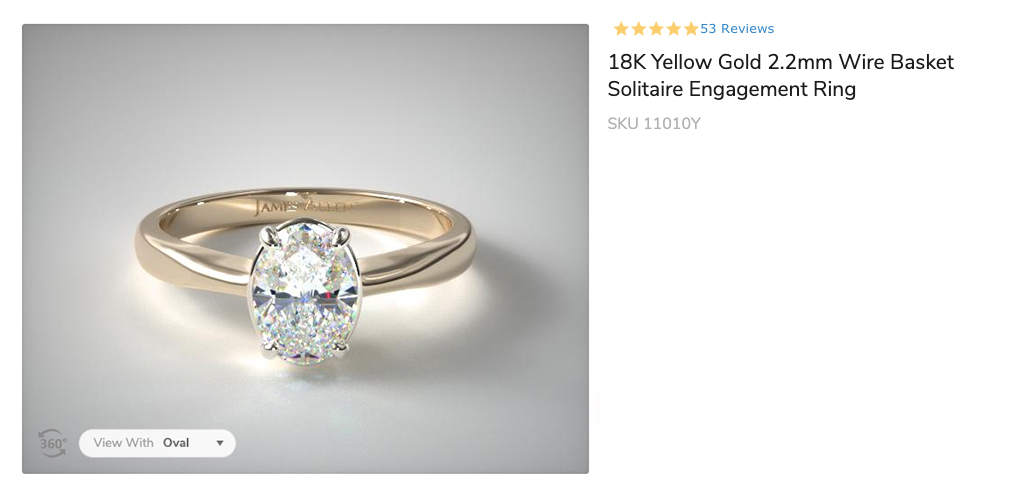 We're Here To Help
Buying an engagement ring comes with stress, questions, and a lot of second-guessing. At James Allen, we're here to offer you 100% free advice and will assist you in understanding the best diamond quality for your budget and unique preferences.
Contact our customer service team and chat with non-commissioned diamond and jewelry experts 24-7 regarding any questions you have about the ring-buying process.
SHOP RELATED PRODUCTS