Your engagement is unique and special- so your ring should be, too! Let's talk about all things marquise cut diamonds…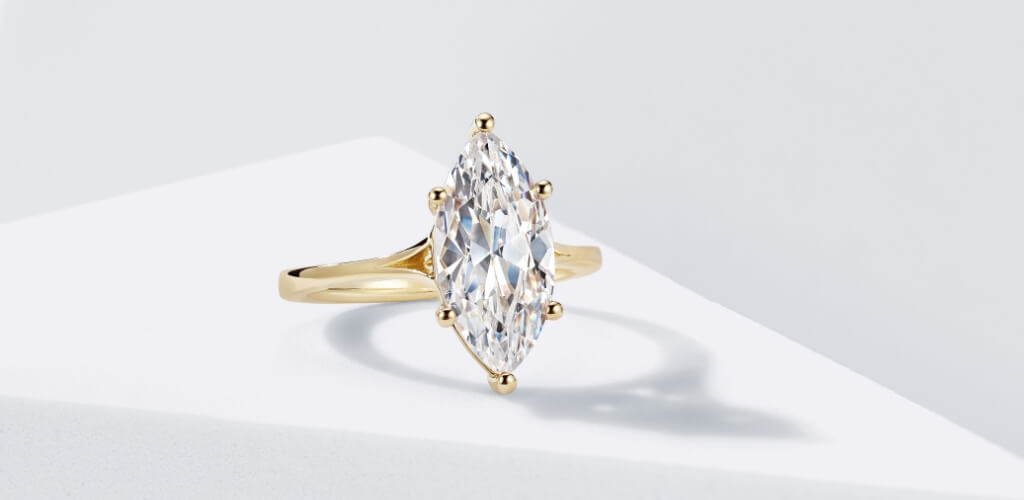 What Is A Marquise Cut Diamond?
A marquise cut diamond is known for its elongated oval shape and pointed ends. Its straight lines and sharp angles make it a bold and unique choice for any engagement ring.

Believe it or not, this diamond cut was named after Marquise de Pompadour, who was a mistress of King Louis XV. Legend has it that he requested a diamond be cut in the shape of her mouth. And the memorable marquise diamond was born!
In the 1960s and '70s, the marquise diamond cut gained in popularity as modern and unconventional engagement ring styles were in fashion. Today, people continue to love these beautiful stones on their engagement rings- though it is still considered somewhat unconventional.
Compared to round diamonds or princess cut diamonds, the marquise remains unique.
Marquise Engagement Ring Benefits
Apart from being distinctive and elegant, there are many benefits to wearing a beautiful marquise engagement ring:
The shape and cut maximize the surface area of the diamond, creating the illusion of a larger stone. Its high crown and narrow base allow more light to enter the diamond, increasing its brilliance. Paired with a solitaire setting, all eyes will be on your radiant ring!
The elongated shape of this diamond can also make your fingers appear longer and more slender.
Lastly, a marquise cut can be a great choice for those who want a diamond with a larger carat weight but want to stay within a certain budget.
Overall, a marquise cut diamond makes a classic and beautiful stone for any engagement ring.
What to Consider with a Marquise Cut Diamond
Despite their elegance, there are a few things to consider before committing to a marquise cut diamond:
Firstly, pay attention to something called the bow-tie effect. Also visible in oval diamonds, there may be a shadow across the stone's center when viewed in a face-up position. While not all bow-ties are necessarily negative, an overly pronounced one can decrease the diamond's shine and make the entire setting appear less vibrant.
The next point is relevant to all diamonds, but especially relevant to a marquise: It needs to be protected! The marquise cut has several fragile points that can easily be chipped or broken if not cared for properly.
Consider your lifestyle before choosing a marquise cut diamond- you don't want to accidentally chip one of its beautiful corners!
The Best Ring Settings For Marquise Cut Diamonds
Three Stone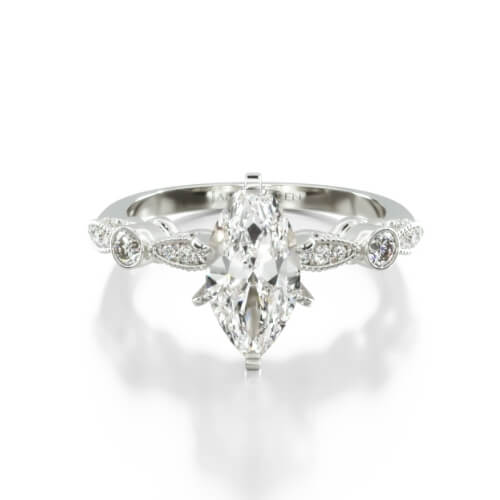 A three stone setting with a marquise cut diamond is a great choice for your engagement ring! This setting typically features three diamonds placed side by side, with the marquise in the center. The smaller diamonds are a great way to draw attention to the marquise diamond and highlight its size. The three diamonds are typically set in a row on the ring's band, but they can also be set at different heights or in a way that creates a graduated look. A three stone setting is an elegant and sophisticated choice for your gorgeous marquise!
Halo
A halo setting features a center diamond surrounded by a "halo" of smaller diamonds. This halo creates a beautiful frame that compliments the center stone and draws the eye to its sparkle. The halo diamonds may be the same shape as the center diamond, or completely different- there are endless possibilities! The center diamond and the halo diamonds are usually set in a way that allows the halo diamonds to support and enhance the center one, enhancing its size and shine.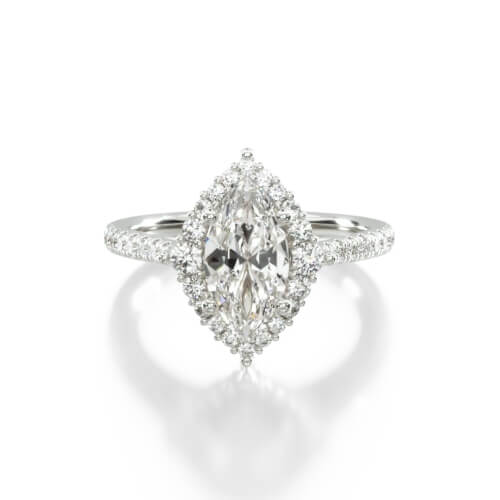 Bezel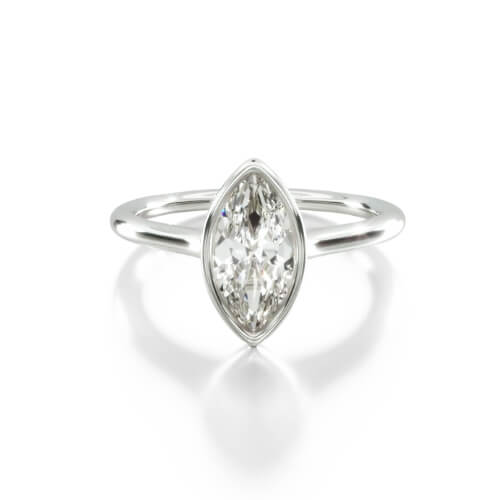 A bezel is a thin metal rim that surrounds the center diamond and holds it in place. Choosing a bezel setting for your marquise is a great option; it not only adds a sleek and modern look to the ring but also helps protect the diamond from potential damage. A bezel set marquise cut diamond will draw attention- while remaining safe and practical!
Pavé
A pavé setting will have a center diamond surrounded by a band of smaller diamonds set closely together. These smaller diamonds enhance the center marquise, making it appear bigger and brighter. A pavé setting is sure to add extra sparkle to your diamond- and an element of elegance.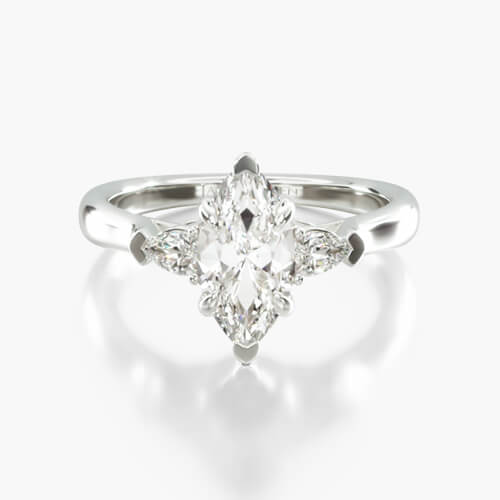 Solitaire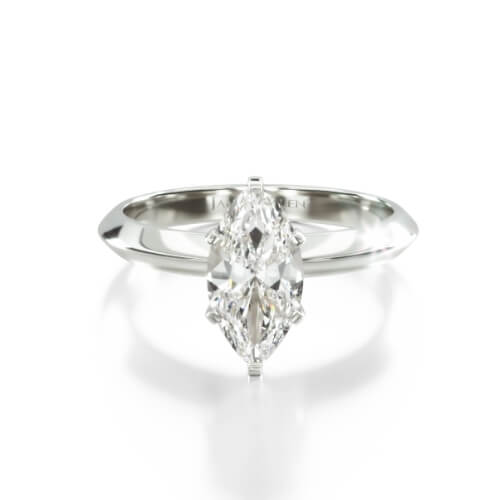 Solitaire settings are wildly popular- and for great reason! Solitaire settings feature a single center diamond with no added gems or stones. Simple and understated, this setting draws focus to the center stone in a classic way. This choice of setting for a marquise cut diamond will ensure that there are no distractions- your beautiful diamond will always be the star of the show!
Wedding Rings for Marquise Ring Settings
Every beautiful diamond deserves an equally beautiful band!
Curved Wedding Rings
As the name would suggest, curved wedding rings are literally curved. They are shaped to follow the engagement ring's contours so they can fit snugly against one another on your finger.

Curved wedding bands are a popular choice for those who want to create a cohesive and sleek look with their two rings.

Especially with marquise cut diamonds, a curved wedding ring will ensure that no part of the diamond is getting obscured or hit. Wearing a curved wedding band with your marquise engagement ring will show off your diamond the way it was supposed to be!
FAQs
Are marquise cut diamonds more expensive?
Marquise cut diamonds can vary in price depending on a number of factors, such as carat weight, clarity, color, and overall quality of the diamond. In general, marquise cut diamonds may be more expensive than other popular diamond shapes, such as round or princess cuts, because they require more rough diamond to be cut away.
Are marquise engagement rings out of style?
Just like all styles, marquise cut diamond engagement rings have dipped in and out of fashion. However, their prevalence for so many decades proves that they remain coveted as ever! Remember to choose a diamond shape that you truly love, whether it's at its peak popularity or not.
Conclusion
Now you know all about marquise cut diamond engagement rings! This diamond makes a beautiful and timeless choice for those who appreciate unique shapes and elegant lines. While they may be more expensive than other diamond shapes, and potentially easier to chip, they make stunning additions to any engagement ring.
Whether you are drawn to the elongated and slender shape of the marquise cut or simply adore its vintage-inspired aesthetic, this diamond will look stunning on any ring- and any finger!

Subscribe to our email list for access to secret sales, practical ring-buying tips, and $100 off your first purchase!
Armed with five years of writing experience, Rachel aims to turn dense topics into easily understandable content, one shining word at a time.