Here at James Allen, we understand the significance of your engagement ring. It acts as a symbol of love, commitment, and cherished memories. It's no wonder you want it to look its best- all the time! That's why we have an extensive guide that will help you clean your engagement ring in the comfort of your home with easy-to-find materials.
With our tips and techniques, you can restore the sparkle and brilliance of your ring, ensuring it always looks its best.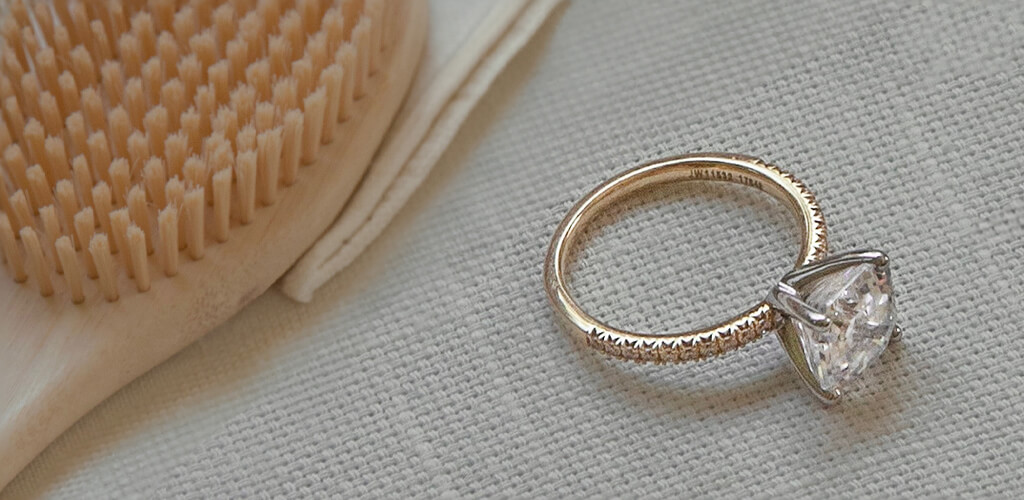 Your Engagement Ring
Before diving into the cleaning process, you should get to know your engagement ring.
Typically, an engagement ring consists of a center stone (usually a diamond) surrounded by smaller accent stones or a band. The metal used can vary, with popular options being platinum, gold, or silver.
Knowing the materials and structure of your ring will help you determine the best cleaning methods.
Supplies You'll Need To Clean Your Ring
To clean your engagement ring at home, you'll need a few simple supplies:
A small bowl or container
Mild dish soap or specialized jewelry cleaner
A soft-bristled toothbrush or jewelry brush
Lint-free cloth or microfiber cloth
Distilled water
Pro Tip: Make sure your dish soap or jewelry cleaner is specifically made for delicate gems and metals. Harsh chemicals and abrasive materials can damage your ring!
Cleaning Solution
Simply fill the small bowl or container with warm distilled water. Add a few drops of mild dish soap or jewelry cleaner to create a gentle cleaning solution. Avoid using hot water, as it can loosen the settings of your ring and potentially cause damage. Swirl the solution gently to mix it.
Cleaning
Carefully place your engagement ring into the cleaning solution until fully submerged. Allow it to soak for about 20-30 minutes. This will help loosen any dirt, oils, or residue that has gathered on the ring's surface.
After soaking, take the soft-bristled toothbrush or jewelry brush and gently scrub the band and your diamond or gemstone. Pay close attention to hard-to-reach areas and beneath-the-stone settings. Be gentle but thorough, ensuring all ring surfaces are cleaned.
Rinsing & Drying
Once you've completed the cleaning process, remove the ring from the cleaning solution and rinse it under lukewarm water (but keep it away from any drains!) Use your fingers to remove any remaining soap or residue.
To dry your engagement ring, pat it gently with a lint-free or microfiber cloth. Avoid using tissues or paper towels, which can leave behind lint or scratch the surface of your ring.
Polishing & Buffing
To bring the shine back to your ring, you can further polish it using a jewelry polishing cloth. Gently rub the cloth against the metal and stones to remove any remaining smudges or fingerprints. This step will add an extra sparkle to your ring, making it look as good as new!
Frequency of Cleaning
Regular cleaning is essential to maintain the beauty and longevity of your engagement ring! We recommend cleaning your ring once every two weeks to prevent the buildup of dirt and oils. If you lead an active lifestyle or frequently expose your ring to lotions, perfumes, or harsh chemicals, you can clean it more often- whatever works for you!
Remember, even if you can't see the buildup, it's likely still present on the ring's surface.
Extra Tips For Cleaning Your Engagement Ring At Home
Remember to remove your ring when participating in activities that may cause damage. This can include exercising, gardening, swimming, or cleaning.
Store your ring in a clean, dry place, preferably in a fabric-lined jewelry box or a soft pouch to prevent scratching and tangling. And if you want to ensure your ring's sparkle, schedule professional cleanings and inspections with a trusted jeweler at least once a year.

Before long, you will notice that a little cleaning goes a long way. You – and your ring – deserve to shine!
FAQs
Is it safe to clean my engagement ring at home?
Yes, it is entirely safe to clean your own engagement ring- as long as you follow the steps! Cleaning your ring can (and should) be a regular occurrence that you can accomplish without leaving the comfort of your home. Just follow the tips, be careful while handling, and remember to cover any open drains!
How often should I clean my engagement ring?
While it may depend on your lifestyle, it is recommended to clean your ring at home on a semi-weekly basis. Your ring can easily pick up debris and dirt, so make sure to keep it looking shiny!
What type of cloth should I use on an engagement ring?
Avoid using paper towels, tissue paper, or any other harsh fabrics. As long as you opt for a microfiber cloth or soft fabrics made of cotton, you will be sure to have a scratch-free shiny surface!
SHOP RELATED PRODUCTS
Armed with five years of writing experience, Rachel aims to turn dense topics into easily understandable content, one shining word at a time.