Everyone has their favorite go-to earrings. A pair that can be dressed up or down is classic yet effortless. For many people, those earrings are often a pair of hoops. We'll explore why you'll love to wear hoop earrings with any look!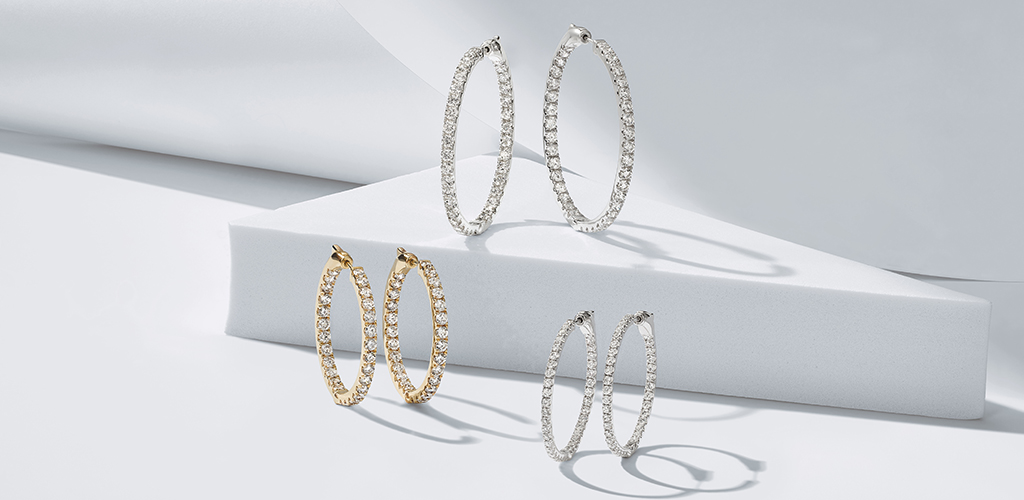 If you're looking for a pair of earrings that can do it all, hoop earrings might just be a perfect choice! Versatile, fashionable, and deceptively simple, there are so many reasons to love hoop earrings.
From their ability to add an extra flair to any outfit to the unique way they can be styled, here are seven amazing reasons why hoop earrings are a must-have for any jewelry enthusiast.
What Do Hoop Earrings Symbolize?
Hoop earrings are a timeless fashion staple that many different cultures have worn throughout history. From ancient Egyptians to Latino communities, hoops might be the most ubiquitous of all earrings. Hoops have been used to denote status, wealth, and even spirituality. Today, hoop earrings can symbolize many things depending on the person wearing them. 
For some, they are simply a way to express their personal style. For others, they may signify a connection to their cultural heritage or spiritual beliefs. No matter what hoop earrings symbolize to you, one thing is certain – they are truly timeless!
What Face Shape Is Best For Hoop Earrings?
When it comes to choosing the best hoops for your face shape, there is no one-size-fits-all answer. Different face shapes can look great with different styles of hoop earrings.
For example, if you have an oval face shape, go for medium-sized hoops slightly wider than yours. This will help to frame your face and draw attention to your features. 
If you have a round face, larger hoops can help to add definition and create a more angular look. Similarly, if you have a square or triangular face shape, smaller hoops can help to soften your angles and create a more balanced look.
But it's important to remember that the best earrings are the ones that make you feel good! Confidence is key.
7 Reasons To Wear Hoop Earrings
They're Versatile
One of the best things about hoop earrings is that they can be worn with just about anything. Whether you're rocking a casual look or dressing up for a special occasion, they make the perfect finishing touch. And because they come in such a wide variety of sizes, styles, and materials, there's sure to be a pair of hoop earrings out there that's perfect for you and your needs.
They Make a Statement
Looking to make a fashion statement? Hoop earrings can help! Oversized hoops or hoops adorned with gems and other details are sure to get you noticed. And if you really want to stand out from the crowd, try pairing thick hoops with other statement pieces like a bold necklace or bright rings.
They're Fashionable
Love for hoop earrings goes back for generations, and it's easy to see why. Not only are they incredibly versatile, but they also can instantly elevate any outfit. Whether you're wearing a little black dress or a simple pair of jeans, a great pair of hoops can go a long way.
They're Easy to Style
Another great thing about hoop earrings is that they're effortless to style. Hair up or down, dressed for every day or a special night out, hoops are a great way to accessorize. You can wear hoops with cascading studs on your ear, a matching necklace, or no other jewelry pieces. Worn alone or not, hoops allow you the freedom to dress as you please and feel confident doing so!
They're Comfortable
Unlike some other types of earrings, hoops are actually quite comfortable to wear. Because they sit directly on the earlobe, they don't pull or tug like some other earrings can. And because they're often quite lightweight, you'll hardly even notice you're wearing them.
They're Timeless
Hoop accessories are the perfect choice for anyone looking for a timeless piece of jewelry. They've been around for centuries and show no signs of going out of style anytime soon. You can throw on a small pair before heading out to work or select a bold set before a party. No matter the occasion, hoops make a great option. 
From the 1920s to the 2020s, hoop earrings maintained their status as iconic and stylish.

They're Affordable
Another great thing about earrings that are so common is that they can be found anywhere and at many different price points.
Plain gold hoops can cost anywhere from $150 to $200.
And if you want hoops adorned with gemstones, diamonds, or pearls, they can cost anywhere from $700 to $3,000 and up.
From affordable to more expensive, there are tons of options out there that can fit your budget.
FAQs
Are hoop earrings out of style?
Nope! And they probably won't be going out of style anytime soon. From everyday street looks
to red-carpet outfits, hoops are just as popular as ever.
Why do hoop earrings make you look prettier?
These earrings have a great way of adding a touch of elegance to your look. Having something shiny and bright dangling from your ears can nicely frame your face and elongate your neck. Any pair of hoops will help you look put together- even if you just got out of bed.
Can hoop earrings be classy?
Definitely- a small pair of gold hoops can do no wrong. That's the great thing about these earrings: depending on the size and style, you can make them look casual, classy, dressy, or simple. The choice is yours.
Do hoops look good on everyone?
We think they do! While these earrings may not necessarily be comfortable for everyone, we think they add a nice touch to any ensemble. White gold, yellow gold, big, small, bold, or minimal, there is a pair that looks great on you, too!
Conclusion
If you're looking for a new staple for your jewelry collection, hoop earrings might just be a perfect choice!
With so many styles and types, there's no wonder they're such enduring pieces of jewelry. From their versatility to their accessibility, there are many reasons to love and wear hoop earrings. 
SHOP RELATED PRODUCTS
Armed with five years of writing experience, Rachel aims to turn dense topics into easily understandable content, one shining word at a time.