Learn all there is to know about Sophia Richie's stunning engagement ring, from size, diamond shape, and price, and how to recreate the perfect lookalike at an affordable price.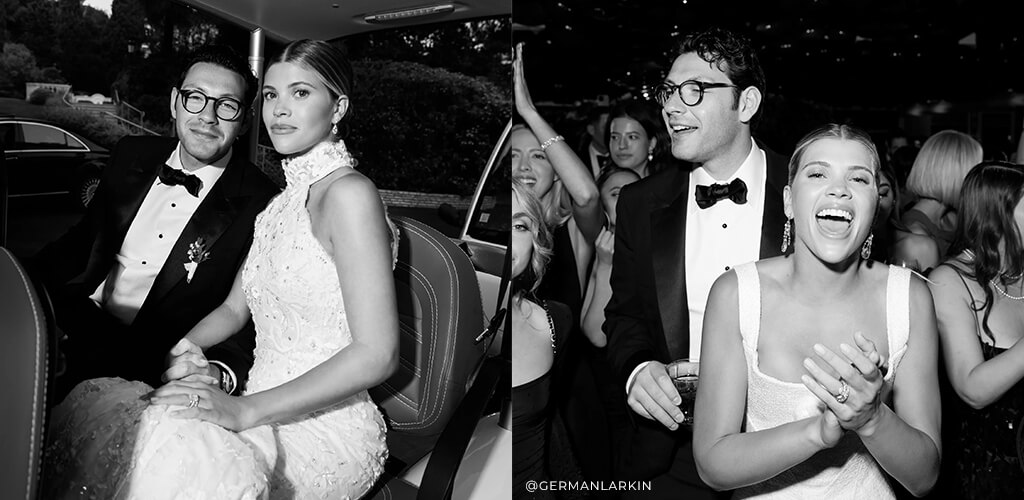 Last April, we were blown away by Sofia's stunning engagement ring, and in typical fashion, we need to share all there is to know about this particular style and how to get the look on a budget!
Sofia Richie announced her engagement to music executive Elliot Grainge in early 2022 on Instagram, sharing photos of their special proposal and also giving us a good look at her breathtaking diamond ring.
Sofia Richie's Engagement & Wedding Ring Pics
What Style Setting is Sofia's Engagement Ring?
Her ring is a simple solitaire setting, a classic and popular choice for brides-to-be. At a closer look, the dainty band appears to be yellow gold, the perfect match to suit her warm skin tone.
Yellow gold is the most traditional choice, suits almost all budgets, and is easy to engrave and resize.
What Diamond Shape is Sofia Richie's Engagement Ring?
Sofia's center stone is an emerald cut diamond.
Like other fancy shapes, emerald cuts are excellent at consuming much of the rough diamond's carat weight. Their shape has trimmed corners, a small feature that brings out an old-school glamour that comes with wearing any emerald cut diamond.
How Many Carats is Sofia's Engagement Ring?
It's estimated that Sofia's diamond ring is 6 carats. Given that emeralds are an elongated diamond shape, they offer maximum finger coverage and often appear much larger than other diamonds of the same carat weight.
Sofia Richie's Engagement Ring Lookalikes
Want to recreate the perfect lookalike to Sofia's engagement ring? Take a peek at some of our custom-designed rings.
We've got some stunning options– whether you're looking for an exact replica or something similar with unique features – like a hidden pavé basket. 
P.S. Use your smartphone to access our virtual try-on and see what these rings will look like on your hand!
Sofia Richie's Wedding Ring Lookalikes
Sofia's wedding band appears to be a stunning eternity ring with either a white gold or platinum band. The diamonds appear to match her emerald cut engagement ring, too.
Eternity rings are becoming more popular as a diamond wedding ring choice, especially among younger couples.
And rightly so! We love their romantic symbolism and how they suit most engagement ring types.
We're Here To Help
Buying an engagement ring comes with stress, questions, and a lot of second-guessing. At JamesAllen.com, we're here to offer you 100% free advice and will assist you in understanding the best diamond quality for your budget and unique preferences.
Contact our customer service team and chat with non-commissioned diamond and jewelry experts 24-7 regarding any questions you have about the ring-buying process.
Subscribe to our email list for access to secret sales, practical ring-buying tips, and $100 off your first purchase!