Want to find out everything you need to know about tennis bracelets? Read on to learn all about these beauties that will remain eye-catching for years to come.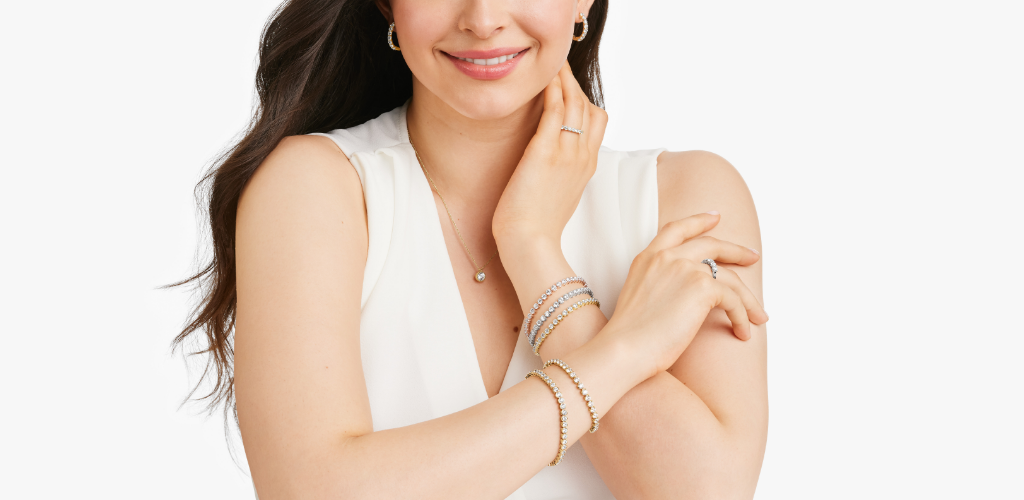 Tennis bracelets have been a go-to staple for decades- and rightfully so! Diamond tennis bracelets are comfortable, sophisticated, and make the perfect accessory for virtually any occasion. But with so many varieties and price points, shopping for the right one can quickly get overwhelming. Our guide has everything you need to know about this iconic piece of jewelry and how to find the right one for you!
What Is A Tennis Bracelet?
Why are tennis bracelets called tennis bracelets? While the name 'tennis bracelet' can be traced back to the 1970s, and the style has been around since the 1920s, the term only gained popularity in the 1980s. The story goes that during the 1987 US Open, Tennis champion Chris Evert was playing on the court when her diamond bracelet broke and flew off her wrist. Since then, the name has stuck.
Some say that the game actually took place in 1978. Some say that Evert's bracelet never even broke. Whatever the story is, it resulted in a long trend of wearing sparkles on the court.
Today, tennis bracelets are worn both on and off the court- they can be seen on red carpets, magazine covers, and on everyday wrists for everyday wear!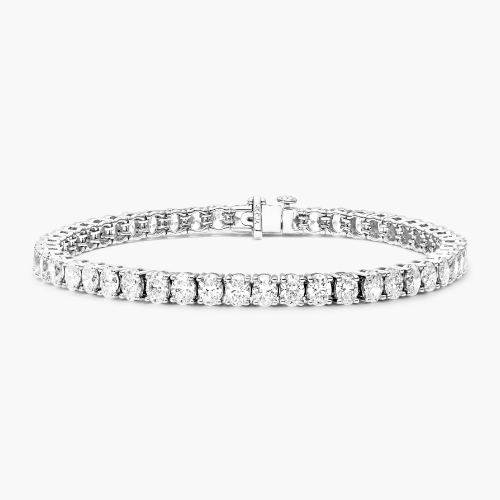 How Much Do Tennis Bracelets Cost?
The price of a tennis bracelet is determined by several factors: the type of metal, the number of diamonds, the carats of the diamonds, and whether the diamonds are lab created or natural.
The most popular metals are yellow gold, white gold, rose gold, and platinum. The rarer the metal is, the higher the price will be. For example, a platinum tennis bracelet can cost about $8,500, whereas the same bracelet in rose gold can cost around $7,500.
One of the most compelling advantages of lab-grown diamond tennis bracelets is that they're entirely indistinguishable from a bracelet with natural diamonds! Opting for a tennis bracelet with lab-grown diamonds will be kinder on your wallet without any noticeable difference.
Given all these variables, a tennis bracelet can cost anywhere between $1,000 and $10,000!
As with any piece of jewelry, it all comes down to personal preference and what you feel comfortable spending!
Tennis Bracelet Styles And Settings
You can choose three different types of settings: prong, channel, and bezel. Each type holds the diamonds in place slightly differently.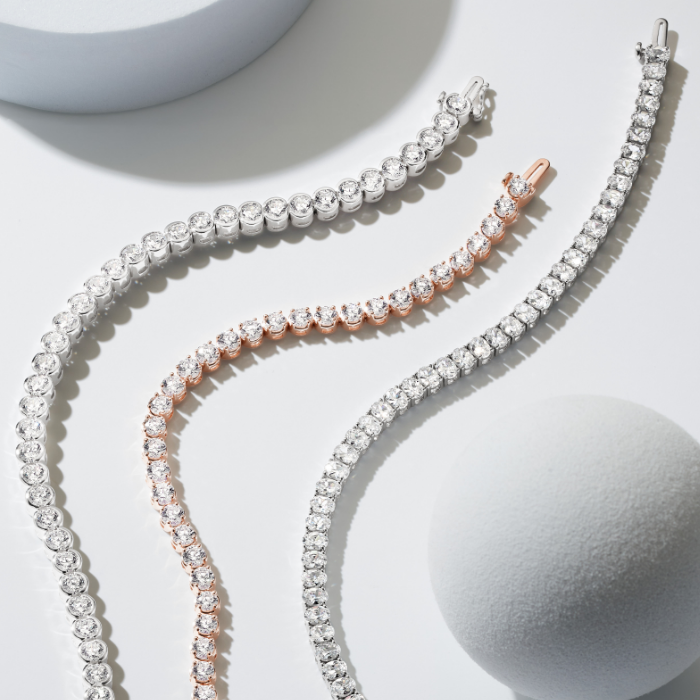 Prong Setting
The prong setting consists of two, three, or four-prong baskets for each of the diamonds in a tennis bracelet. A four-prong setting is ideal, as it will keep your diamonds firmly in place without compromising on the bracelet's elegance.
Typically, larger carat diamonds require at least for prongs, while smaller carat diamonds can be held by two or three prong settings.
Channel Setting
A channel setting is a popular tennis bracelet setting that features a seamless row of tension-set diamonds. Opting for a channel setting means that the diamonds on your bracelet are all the same size and lined up perfectly, creating a sleek and modern look.
Bezel/Half Bezel Setting
A bezel setting features circle mounts or small bars that hold the diamonds in place. Unlike other popular settings, a bezel-set tennis bracelet can hold various diamonds of different sizes and carats. All or only some parts of the diamonds are encircled with a metal strap, providing a robust and secure mount.
On the other hand, the half-bezel setting holds the diamonds in place with half circles. This brings a truly unique and easily distinguishable look to your bracelet.
If you lead an active lifestyle (maybe you play tennis!) a bezel or half-bezel setting would make a great option: you'll always know your diamonds are safe and secure.
How To Determine The Sizing Of a Tennis Bracelet
Wrap a measuring tape tightly around your wrist to determine your wrist size. Make sure you place the tape right below your wrist bone.
If you don't have a measuring tape, simply get a strip of paper or ribbon, wrap that around your wrist, mark where one end of the paper meets the other, and then use a ruler to measure the strip.
If you are purchasing this bracelet as a surprise gift, keep in mind that tennis bracelets for women tend to be around 7-7.5 inches. You can use that as a guide.
Remember, a comfort fit will typically be three quarters of an inch larger than your actual wrist measurement!
After following these steps you can get the perfect bracelet with the perfect fit!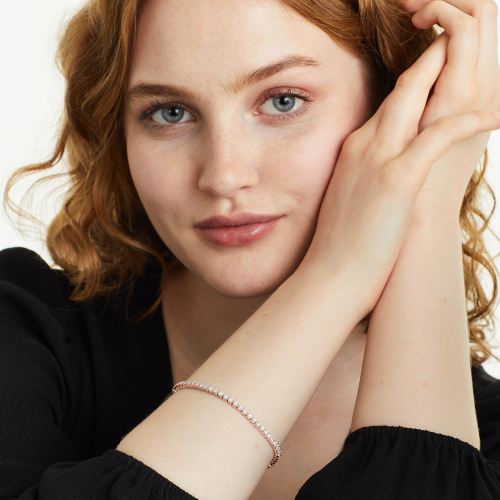 How and When To Wear a Tennis Bracelet
Given that most people are right-handed, it's very common for tennis bracelets to be worn on the left hand. Doing so will ensure that your dominant hand is free to do tasks without the bracelet getting in the way. You can even wear your tennis bracelet with your favorite watch or other pieces of jewelry. Make the look your own!
While many people opt to wear their tennis bracelets to important celebrations or events, it is totally safe to have your bracelet on all the time! As long as you take care of it, there is no issue taking your bracelet with you wherever you go!
Remember, there is no right or wrong way, place, or time to wear your bracelet! Do whatever makes you feel best!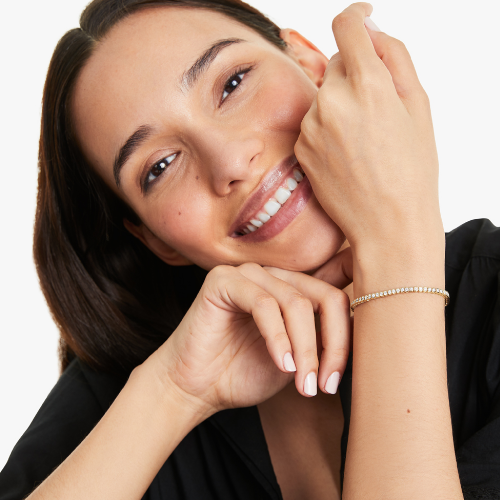 How to Take Care of Your Tennis Bracelet
After continuous daily wear, it's very common to find your tennis bracelet lacking in luster. But don't worry, taking care of your tennis bracelet can be done in 6 simple steps.
Step 1: Fill a small bowl with warm, soapy water. Feel free to use dish soap or a gentle degreasing solution. You'll need just enough water to cover the bracelet completely.
Step 2: Submerge your bracelet in the water and move it around gently with your finger. This will help loosen up some of the surface dirt that has accumulated on the diamonds.
Step 3: Leave the bracelet in the cleaning solution for 10-15 minutes.
Step 4: Remove your tennis bracelet from the bowl, and with a toothbrush (or jewelry cleaning brush), gently brush the diamonds slowly.
Step 5: Once you're satisfied with how clean your bracelet is, pat it dry with a microfibre cloth.
Step 6: Before getting rid of the cleaning mixture, double-check that any diamonds didn't come loose and fall inside the liquid.
And that's that! Your tennis bracelet will look good as new! You can repeat the process whenever your bracelet needs a little more shine.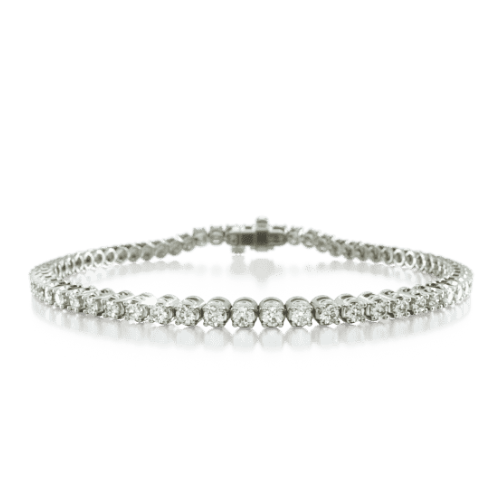 Affordable Alternatives to a Diamond Tennis Bracelet
Lab Created Diamond Tennis Bracelets
If you're looking to purchase a diamond tennis bracelet but want a more sustainable and affordable option- look no further! Lab created diamond tennis bracelets are both eco-friendly and budget-friendly. Lab grown diamonds offer the same eye-catching sparkle at a lower cost. Today, endless tennis bracelets for women can be found with lab created diamonds!
Gemstone/Birthstone Tennis Bracelets
Despite popular belief, a tennis bracelet doesn't need to feature only diamonds. If you're looking for an affordable alternative to a diamond tennis bracelet, you can look for a gemstone or birthstone bracelet instead!
Opting for gemstones can bring a colorful and eye-catching element to your bracelet. With an array of semi-precious or precious gemstones to choose from, your bracelet can sparkle with emeralds, rubies, amethysts, and more!
And surprising a loved one with a birthstone tennis bracelet can add a personalized touch to your birthday gift. For example, any May baby would be absolutely delighted to don a bracelet covered in emeralds!
By choosing a tennis bracelet with gemstones or birthstones instead of diamonds, you can cut on cost without cutting on the glam!
Moissanite Tennis Bracelets
Moissanite is the second hardest stone and makes the perfect alternative to diamonds! From one to ten, diamonds are ranked at a 10, while moissanite is ranked at 9.25-9.5. Moissanite is a very durable option for your tennis bracelet as they don't scratch easily but still shines just as bright!
While a trained eye will be able to tell the difference between a moissanite and a diamond, at first glance they are hard to tell apart. A moissanite tennis bracelet will help you get the look without breaking the bank.
When To Buy A Tennis Bracelet
Tennis bracelets make a great gift for any occasion! You can buy a tennis bracelet as a gift for a loved one (or even for yourself!) on any of these special days:
Wedding anniversary (i.e. 5th, 10th, 15th, 25th)
Wedding day gift (for spouse, mother, mother-in-law, grandmother)
Valentine's Day
Birthday
Graduation (high school, college, graduate school, medical school)
Birth of a child
Job promotion
Achievement of an exciting milestone
Retirement
Christmas, Hanukkah, Kwanzaa or other holidays
FAQs
How Many Carats is a Tennis Bracelet?
Typically, a diamond tennis bracelet will be between 3 and 4 carats. Keep in mind that the number of carats will vary between different styles and types of bracelets. Some bracelets can reach a total weight of 10 carats or more- it all depends on the individual piece of jewelry.
How Loose Should a Tennis Bracelet Be?
Typically, a tennis bracelet should be loose enough that it isn't causing discomfort or irritation for your wrist, but tight enough that it doesn't easily slip off or get caught on your clothing.
Which Wrist Should You Wear a Tennis Bracelet On?
Since most people are right-handed, it's common for tennis bracelets to be worn on the left hand. Feel free to wear it on your non-dominant hand or not! You can switch it up, or keep it traditional, whatever feels most comfortable.
Can You Wear a Tennis Bracelet Every Day?
Yes! A tennis bracelet can liven up any outfit, no matter the occasion- even a trip to the grocery store. As long as you take care of your bracelet, there is no harm in wearing it every day of the week.
Can You Shower With a Tennis Bracelet?
Showering with your tennis bracelet can result in residual soaps and products dimming the shine of your diamonds. It is best to get into the habit of removing your bracelet before stepping into the shower. That way, it'll stay shining for longer!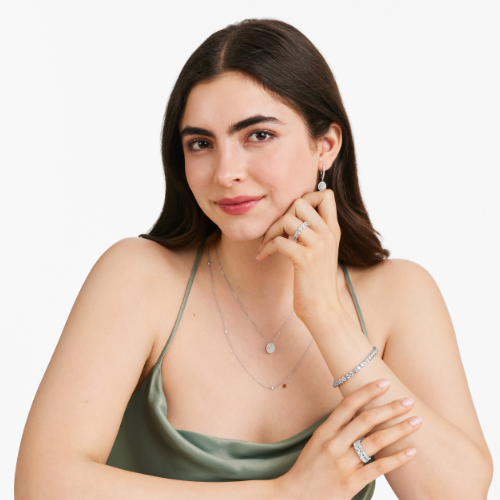 Parting Thoughts
Whether you're buying a diamond tennis bracelet for yourself or someone else, there are plenty of options out there to make this gift a special one!
If you have any questions or concerns surrounding your future tennis bracelet, visit our website www.jamesallen.com or get in contact with one of our 24/7 customer service agents who are always ready to help.
Subscribe to our email list to keep up to date with all tips, guides, and upcoming sales!