Congratulations, you're engaged! Between the fun and excitement of the engagement ring and the ongoing wedding planning, you may have neglected one detail—your own wedding ring!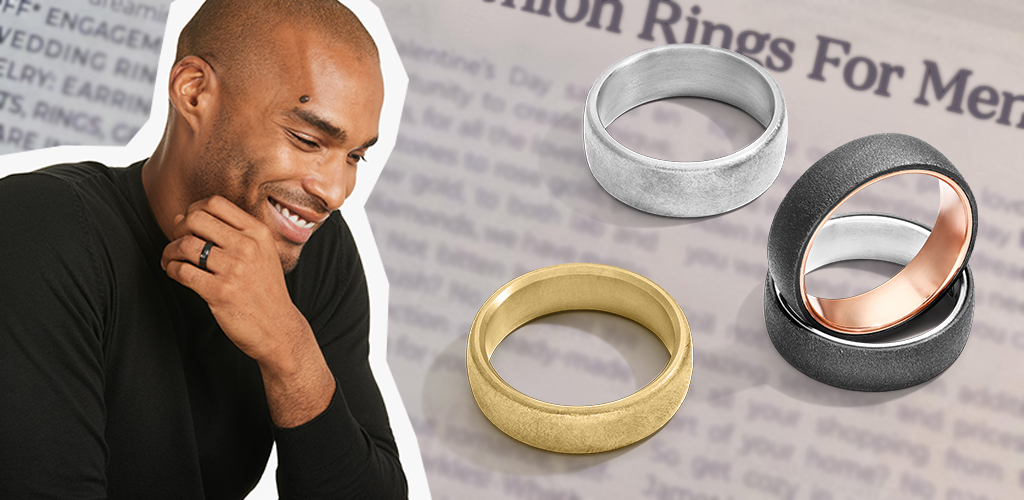 While shopping for men's wedding bands is an essential step in the wedding planning process, sadly it is very often outshined by everything else going on. But the truth is, men deserve to find a significant and special ring, too!
If you or your significant other are like most traditional men who have never worn a piece of jewelry except for maybe a watch, then a wedding ring might be the first meaningful piece of jewelry they own. Luckily, there is no shortage of ring options to choose from, regardless of the groom's budget, unique personality, or lifestyle.
Still, looking for more information and ring inspo? We're here to help! Keep reading our handy guide to find out all there is to know about men's wedding and fashion rings. Just remember, there are no rules! Pick the one that you are most confident wearing, and know you'll honor forever!
A Brief History
While wedding rings, in general, have been around for many decades, it is believed that the earliest men's wedding ring was called "Gimmel Rings." Engagement and wedding rings also symbolized everlasting love and devotion during Ancient Egyptian times.
During World War II, many men who fought on the front line began wearing wedding rings as a keepsake or memory of their wives and families back home.
The same custom was carried through WWII, so it is presumed that during the 20th century, men started wearing wedding rings to symbolize their marital status. In recent years, we have seen a spike in popularity and focus on the groom. And today, we could not imagine a wedding ceremony without the classic ring exchange, right?
Men's wedding rings are a tradition that is here to stay and a beautiful token of the love and commitment two people share.
Select A Metal Type
When deciding on a metal for your wedding ring, there is indeed a range of options. You may also want to ask yourself a few questions before the big purchase.
Are you allergic to any materials?
Do you and your partner want matching rings?
What kind of lifestyle do you lead?
What best suits your complexion?
You don't want to make a hasty decision when making such an important purchase.
Yellow Gold Wedding Rings
Although yellow gold wedding rings are the most popular choice for men, there are other gold hues that are available too. Generally, men who are the conventional type tend to opt for the traditional gold ring.
This classic metal gives off a warm, subtle glow and is best suited for people with warm skin tones. Another great advantage of opting for yellow gold is that it does not tarnish easily. We stock both 14K and 18K yellow gold rings.
Related Post: Yellow Gold vs. White Gold: Key Differences
White Gold Wedding Rings
Another very popular metal is white gold. Rings made of white gold have a silvery radiance that makes their appearance classic and contemporary. This option is not only an affordable one but is lightweight and is also an easy-to-wear metal. These rings are also ideal for those who want to add delicate detailing or engraving to create the perfect unique men's wedding band.
Rose Gold Wedding Rings
One of the less common choices among the metals is rose gold. However, this beautiful hue is rising in popularity and becoming very trendy for both men and women. Rose gold wedding rings are perfect for grooms who want a more daring and distinctive look. 
Platinum Wedding Rings
If these metals have not yet grabbed your attention and you much prefer a completely conventional ring. Then perhaps a platinum wedding ring is what you need. Now, you may think that platinum is the same as white gold, but actually, this is incorrect!
Although the two are very similar, they have some differences too, including the cost, appearance, and structure. Platinum is ideal for those who frequently work with their hands or are exposed to activities that result in friction against the ring surface. Considered to be the most durable metal, platinum is also one of the many hypoallergenic metals.
Related Post: White Gold Vs. Platinum: What's The Difference?
Choose A Style
Another benefit of selecting a wedding ring is the variety of styles and designs available. We understand that with all the choices available, the overall process of searching for the perfect "one" can become overwhelming. Here is a list of some of our most popular styles along with some details to make things a little simpler.
Classic
Classic wedding rings commonly feature an all-metal band that is either smooth or has a slight texture. Timeless and traditional rings are one of the most popular choices amongst customers. Our classic wedding rings are available in platinum, yellow, white, and rose gold.
Carved
Carved men's rings are a trendy and popular choice for those looking for a twist on the classic wedding ring. With the evolution of men's fashion and jewelry, our unique collection of men's carved rings is not just the perfect accessory; these affordable options complement every masculine style. All our men's carved wedding rings are available in white gold, yellow gold, rose gold, and platinum.
Diamond
Gone are the days when the groom had to settle for a plain yellow or white gold wedding ring while the bride got all the glitz and glam. Thankfully JamesAllen.com stocks a wide selection of male wedding bands featuring diamond accents that are a great way to add that extra bit of personality to your ring.
Alternative
As we mentioned previously, most of the time when we think of men's wedding rings, we tend to only think of metals such as yellow or white gold. However, these are not the only materials that can be used for wedding rings. In fact, more men are now stepping out and embracing elaborate and very swank looks.
Black wedding rings for men are all the rage right now and becoming increasingly popular due to their striking, masculine look. Of course, this is an excellent way to show your personality and break tradition.  They are sleek and modern and serve as a versatile piece of jewelry that can be worn for any occasion as a fashion ring – #ootd.
At JamesAllem.com we have a gorgeous collection of men's alternative wedding rings created with metals that include, cobalt chrome™, titanium, black titanium, and ceramic. These rings are designed with every kind of man in mind, especially those who love some modern luxe.
Pros of alternative metal rings
Budget-friendly
Many of these metals are hypoallergenic
So trendy right now
Most are scratch-resistant
Durable yet lightweight
Great for men who work with their hands
Decide On A Band Shape
Now let's take a look at the advantages of the different kinds of ring shapes available at JamesAllen.com.
| | | | | |
| --- | --- | --- | --- | --- |
| Domed (D-Shaped) | Channel-Set | | Comfort Fit | |
| Classic | Securely holds and protects the diamonds | | More popular for the younger generation | |
| Perfect for long wear | Unlikely to snag on clothing | | Extremely comfortable | |
| Soft, rounded appearance | Incredibly unique and aesthetic | | Modern look and feel | |
Ring Finishes
A ring's finish describes the surface texture of the metal. A large part of the appeal of wedding rings for men lies with the texture, or finish, of the metal. We believe that most wedding rings owe their handsome appearance in large part to the texture, or finish, of the metal. This is why our wedding rings are available in a variety of different finishes, including polished, satin, brushed, matte, and hammered. Take a look at the different finishes to see what you prefer.
Polished – this classic finish is considered a traditional choice and the most common, specifically for wedding rings. This describes a band that features a smooth, reflective finish.
Satin – although a satin finish is also known to have a smooth surface, it is not reflective like a polished finish. A satin finish is generally more appealing to men who prefer a contemporary design.
Hammered – this style gets its name from the tiny "dents" featured around the band created using a specialized jewelry hammer.
Brushed – similar to a satin finish, a brushed texture on a band resembles slight brush strokes. It has a similar soft shine to a matte finish. For men who lead active lifestyles, a brushed finish is the best choice as it can hide scratches better than other finishes.
Keep Your Lifestyle In Mind
Once you've gone through all the details you need to look at before purchasing a wedding ring, it's also important to consider your lifestyle.
As you or your partner will be wearing the ring every day, or at least we hope so, the ring you choose needs to perfectly match your Keep in mind how much time you spend with your hands throughout the day. You don't need to be hesitant about wearing a wedding ring while working but. If for example, you are a construction worker, athlete, or even a nurse,
One of the biggest things to consider is how much you work with your hands during the day. For example, if you play sports or have a career as a mechanic or chef, a ring that is durable, scratch resistant, and has maximum comfort is crucial.
On the other hand, if his (or your) day-to-day life is less demanding on his hands, something more detailed and stylish is a perfect choice. But, always remember to also keep his personal style in mind.
FAQs
How much should a man's wedding ring cost?
Wedding rings for men can cost anywhere from $100 to $2,000 on average. However, people generally spend around $600 on their wedding bands. The price will largely depend on the materials and chosen style.
Who typically buys the man's wedding ring?
A bride traditionally shops and purchases the man's wedding bands. In today's world, tradition is becoming a thing of the past, and every couple has their own preferences. It's possible that one couple's approach may not work well for others.
Which is the ring finger for men?
In Western traditions, wedding rings go on the left ring finger (second from the left). However, this does not apply to all cultures and countries around the world. There is no set rule, so you can wear your ring on any finger you prefer.
Final Thoughts
More than just a "must-have", a wedding band represents a new beginning. It can be challenging to choose the right ring, especially when it comes to men's wedding bands. However, with numerous options available, choosing the perfect style that reflects you or your man's personality has never been easier.
Once you have chosen your dream wedding ring, why not make your mark with a meaningful inscription? James Allen offers free engraving on most of our wedding bands.
Still got questions? Our high-rated 24/7 customer service team will gladly assist you.
SHOP RELATED PRODUCTS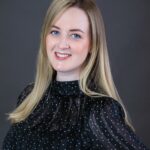 An experienced content writer with four years' experience, Tarryn enjoys educating and guiding jewelry shoppers, providing them with valuable insights and best practices for making informed purchases.