Make your day unforgettable with a free wedding ring engraving.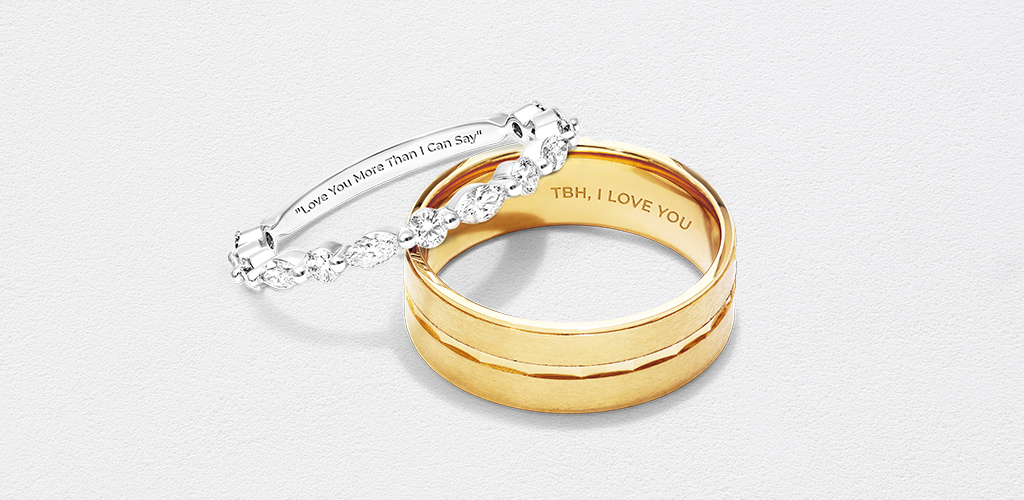 Amidst the hectic, public extravaganza that is your wedding, a meaningful wedding ring engraving gives the person you love a little extra attention. And DYK? You can engrave your wedding ring for free at checkout.
WEDDING RING ENGRAVINGS: WRITTEN IN THE STARS
But out of everything you could say, what's the right inscription for you? Take a look below at our customers' words for some amazing wedding ring engraving ideas!
Why engrave your wedding ring?
It's free
It's personal
You can match it to your partner's
Suits the ceremony
RING ENGRAVING IDEAS: A ROMANTIC PHRASE
More Ideas:
For a lifetime
Dreams Do Come True
Best Thing That Ever Happened to Me
With You Always
Joined for Life
Yours Forever
You & Only You
Truly, Madly, Deeply
"ALWAYS & FOREVER"
"TO MY WIFE"
RING ENGRAVING IDEAS: YOUR SPECIAL DATE
This is your biggest day! Incorporate your wedding date into your ring engraving as a way to emphasize the importance of your special day.
RING ENGRAVING IDEAS: GET GOOFY
Why hide it? You're adorable.
More ideas:
DIGGIN' YOU
WOOT WOOT!
YOU'RE HOT
NO TAKE BACKS
DO NOT REMOVE
LOVE YOU, DORK
BETTER THAN AVOCADO
Multilingual Engravings
More ideas:
In Omnia Paratus (Latin: Ready For Anything)
Ma Raison D'être (French: My Reason For Being)
עם כל ליבי (Hebrew: With All My Heart)
Mi Tesoro (Spanish: My Treasure)
RING ENGRAVING IDEAS: SONG LYRICS
Engraving song lyrics is a wonderful way to honor you and your partner's favorite song or to memorialize the lyrics of the first song you'll dance to as a married couple! Warning: be ready to cry!
More ideas
" Fly Me to the Moon," Frank Sinatra.
" You Are the Best Thing," Ray LaMontagne
"It Had to Be You," Dooley Wilson
 it's always better when we're together" "Better Together," Jack Johnson
"I Am The Luckiest" "The Luckiest," Ben Folds
"Love You Forever And Forever" "I Will," The Beatles
Bible Verses
By inscribing a bible verse in your rings, you can say a LOT in just a few characters. These ancient texts hold rich messages that have been beloved for thousands of years. Imbue your bands with an additional special meaning by connecting it to the verse that most resonates with you.
More ideas
Be completely humble and gentle; be patient, bearing with one another in love. Ephesians 4:2
I thank my God every time I think of you. Philippians 1:3
Therefore what God has joined together, let no one separate. Mark 10:9
God has poured out his love into our hearts. Romans 5:5
I have found the one whom my soul loves. Song of Solomon 3:4
I am my beloved's, and my beloved is mine. Song of Solomon 2:16
Where You Go I Will Go Ruth 1:16

Love Writ Large (and small)
How will you and your partner engrave your rings? This is an excellent chance for you both to eloquently personalize them in a way that honors the nuances of your specific relationship.
SHOP RELATED PRODUCTS