There is so much more than what meets the eye when it comes to jewelry metal types! Beyond color and weight, there are many factors to consider when shopping for new jewelry. Keep reading to learn all about different metal types and their characteristics.
Buying Different Metal Types
Different metals come with different colors, strengths, durabilities, benefits, and downsides. Before making a big purchase, it's important to consider all your options to ensure you're getting the best possible piece for you! Let's break down the different characteristics to consider when shopping for different metal types.
Color
When looking for new jewelry, understanding the natural colors of metals and how they complement your skin can be very helpful. Certain metals also change color depending on their reaction to other materials and wear.
Generally speaking, cooler skin tones work best with cooler metals, such as white gold and platinum. Warmer skin tones match well with hues of yellow gold. As always, the best way to determine the right color for you is to try on various pieces and see how they complement your look!

Certain metals also change color depending on their reaction to other materials and wear – so keep this in mind!
Sometimes a piece of jewelry looks great on you, regardless of these guidelines. Wear what makes you feel confident and beautiful!

Related blog post: How To Pick The Right Engagement Ring For Your Skin Tone
Weight
Naturally, different metal types have different densities, which directly influences their weights. When wearing large earrings, for example, you may want to opt for a lighter metal (such as titanium) to make sure you feel comfortable.
Denser metals are also more expensive. This is something to consider when shopping on a budget!
Ultimately, metal weights have a lot to do with personal preference and comfort levels. The weight of jewelry will affect the way it hangs, feels on the skin, and its overall presence.
Hardness and Durability
Durability is a very important factor when purchasing jewelry that you'll want to stand the test of time. Metals like platinum are known for their durability and resistance to tarnish and wear. Metals like gold are known for their softness and are often alloyed with metals like copper to give it extra strength (which can be found in 14K or 18K gold).
Understanding different metals and their strengths will help you pick the right metal for your daily activities and uses.
Keep reading for a breakdown of each metal type and its durability!
Scratch resistance
If you're constantly on the run or are prone to bangs and scratches, pay special attention to metals that are more forgiving than others. Some metals, such as the aforementioned platinum, are far more resistant to scratches than metals such as gold.
If you know, you'll wear your jewelry daily, think ahead and purchase a scratch-resistant metal. It will save you anxiety in the long run and last you ages!
Hypoallergenic vs Irritant To Skin
Whether you have sensitive skin or not, it's a good idea to consider a metal's potential to cause allergic reactions.
| Metal Type | Hypoallergenic | Irritant to Skin |
| --- | --- | --- |
| Yellow Gold | Hypoallergenic | Potential Irritant |
| White Gold | Not Hypoallergenic | Potential Irritant |
| Rose Gold | Not Hypoallergenic | Potential Irritant |
| Silver | Generally Hypoallergenic | Possible Irritant |
| Platinum | Hypoallergenic | Usually Not Irritant |
| Titanium | Hypoallergenic | Unlikely Irritant |
| Tungsten | Hypoallergenic | Rarely Irritant |
| Tantalum | Hypoallergenic | Rarely Irritant |
| Cobalt Chrome | Not Hypoallergenic | Common Irritant |
Important Points:
Hypoallergenic metals like platinum, titanium, tungsten, and tantalum are generally less likely to cause skin irritation.
Silver is usually hypoallergenic, but it might still cause irritation in some cases.
Yellow gold, white gold, and rose gold are not typically hypoallergenic and could irritate skin.
Cobalt chrome is a more common irritant and may provoke allergic reactions.
What is Metal Carat?
Not to be confused with the carat weight of a diamond, a metal carat refers to the quantity of pure gold that is found in metal.
9ct – Is hallmarked with "375" and is made up of 37.5% pure gold. The rest of which is composed of other metal alloys. This durable metal is ideal for everyday wear.

14ct – is hallmarked with "585" and is made up of 58.5% pure gold. This is the most popular gold due to its relatively high gold content, color, and affordable price tag.

18ct – is hallmarked with "750" and contains 75% pure gold. This metal displays durability and a rich yellow hue. 18ct gold is ideal for engagement and wedding rings.

22ct – is hallmarked with "916" and contains 91.5% pure gold. This is the purest form of gold commercially available in jewelry.
Types of Jewelry Metals
Now that we have a general overview of metal characteristics, we can dive deeper into specific metal types and what they offer!
Precious Metals
Yellow Gold
Yellow gold is a historically coveted precious metal known for its warm and rich luster. While its purest form, 24K, is far too malleable for everyday wear, it is commonly alloyed with other metals, such as copper and zinc, to improve its durability.
Pros: Looks great on most skin tones, offers a timeless and traditional look that never goes out of style
Cons: Soft, not the most contemporary color
White Gold
White gold is a popular alloy that combines gold with other metals such as palladium or zinc. Doing so gives the metal a luminous white sheen. White gold is often plated with rhodium to enhance its strength and color.
Pros: Has the look of platinum at a lower cost, has a contemporary look and feel.
Cons: Over time, the rhodium may wear off, requiring maintenance.
Rose Gold
Rose gold imbues any look with color and warmth. Rose gold is made by mixing pure gold with copper. Similar to yellow gold, rose gold does not require plating and can easily be polished.
Pros: Looks great on different skin tones.
Cons: Is made with copper, which may cause allergic reactions.
Platinum
Platinum is one of the most popular jewelry metals out there! Platinum offers both eye-catching beauty and strength that can withstand everyday wear. Platinum will not tarnish from air exposure and can be polished if damaged. Platinum's positive qualities are reflected in its price, making it one of the more expensive options on the list.
Pros: A durable metal, ideal for everyday wear.
Cons: More expensive than other metals.
Silver
Silver is another metal option that is both popular, stunning, and affordable. While many different percentages of silver alloys exist, sterling silver is the most common. Due to silver's malleability. it is not ideal for engagement or wedding rings. Instead, silver is ideal for intricate pieces. Frequent polishing will keep silver looking clean and bright.
Pros: Affordable option without compromising on beauty.
Cons: Require maintenance due to oxidation.
What Is Hypoallergenic Jewelry?
So what exactly does 'hypoallergenic' even mean? Hypoallergenic jewelry is jewelry specifically designed to be less irritating to those with sensitive skin. Such pieces are made from materials known to be softer on the skin. Materials such as titanium, surgical-grade stainless steel, and niobium are all great options.
Hypoallergenic jewelry is often used for body piercings since piercings are highly likely to produce adverse reactions. But gentler metals are also favored by those with nickel allergies, as hypoallergenic jewelry does not contain nickel. In recent years, hypoallergenic jewelry has grown in popularity as more people search for jewelry that looks and feels good on the skin.
A List Of Hypoallergenic Materials
The most common hypoallergenic metals are the following:
Gold: Gold is a soft, non-reactive metal that is naturally hypoallergenic and corrosion-resistant.

Silver: Silver is a durable metal naturally resistant to corrosion and rust. Thankfully, it is also hypoallergenic.

Titanium: Titanium is a strong, lightweight metal highly resistant to corrosion and rust and unlikely to cause an adverse reaction on your skin.

Stainless Steel: Stainless steel is a durable, low-maintenance, hypoallergenic metal.

Platinum: Platinum is a rare metal that is naturally hypoallergenic and resistant to corrosion and rust.
Alternative Metals
While silver and gold have long held the spotlight in the jewelry world, there are many other metals to choose from. Options such as titanium, ceramic, and stainless steel offer unique aesthetics and functionality that cater to several different needs.

From their contemporary look to their hypoallergenic or lightweight properties, alternative metals are surely something to look into. In 2023, alternative metals are particularly popular for men's wedding rings- offering style and comfort for all kinds of grooms.
Titanium
Titanium has recently grown in popularity due to its rich black color and lightweight feel. While titanium is quite durable, it is not heavy or cumbersome to wear. Instead, titanium is a popular metal for men's wedding rings, offering a contemporary twist and versatility ideal for everyday usage.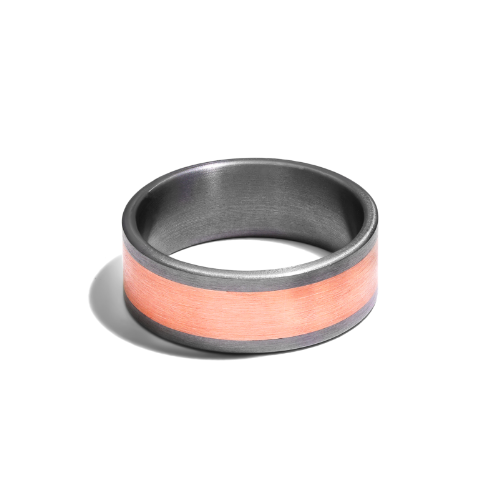 Tantalum
Similar to titanium, tantalum went from traditional uses in technology to being a niche jewelry favorite. Tantalum is incredibly resistant to wear and corrosion, rivaling most traditional metals. Its dark hue offers a contemporary, sleek aesthetic for those looking for a distinct and resilient metal.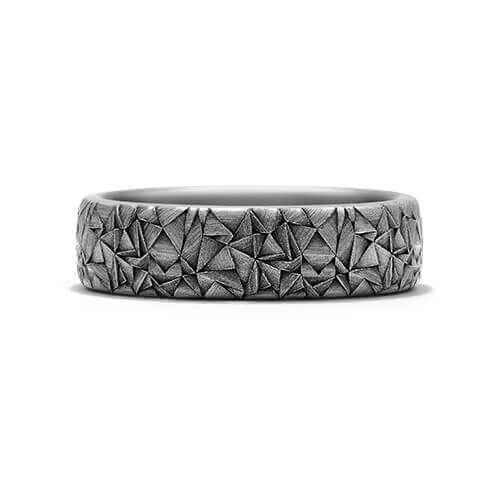 Tungsten
While tungsten may most commonly be associated with industrial uses, it has quickly found its place amongst popular robust jewelry metals. Tungsten offers an almost scratch-proof finish, ensuring longevity and strength.
While tungsten has a weightier feel than similar metals, this can be ideal for those looking for a metal that imbues strength, modernity, and tradition.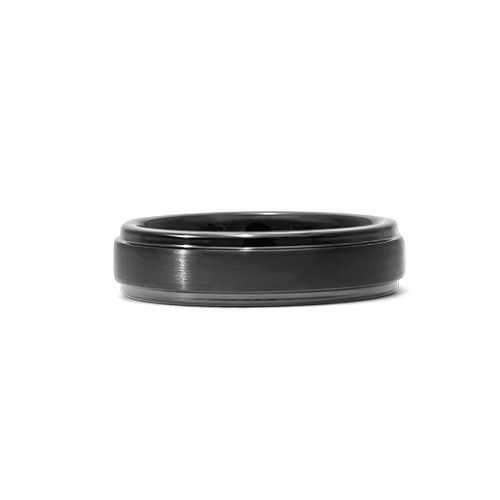 Colbat Chrome
Cobalt chrome is a unique blend of cobalt and chromium that has recently seen a surge in popularity. Known for its radiance that closely mirrors platinum or white gold, cobalt chrome has more than what meets the eye.
This metal stands out due to its durability, scratch resistance, and hypoallergenic properties.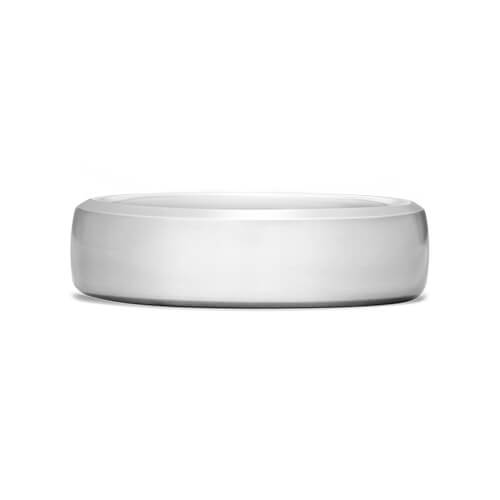 Ceramic
Ceramic has recently emerged as a popular choice for those looking to step a little bit outside the (jewelry) box. Not to be confused with the common ceramics used in pottery, ceramic in jewelry is a high-tech material known for its lightweight, scratch resistance, and luster.
Conclusion
In the ever-expanding and exciting world of jewelry, the number of choices available to you is always growing. From timeless classics like gold and silver to contemporary alternative metals like titanium and tungsten, each material brings forth its unique narrative, characteristics, aesthetics, and benefits.
Choose the best metal for you and your needs, from functionality to comfort to history. After all, the metals we wear tell a story just as multifaceted and nuanced as the individuals who wear them!
SHOP RELATED PRODUCTS