In celebration of Disney's Disenchanted, now streaming on Disney+, we're feeling very inspired to help you get that look that will make you feel like royalty.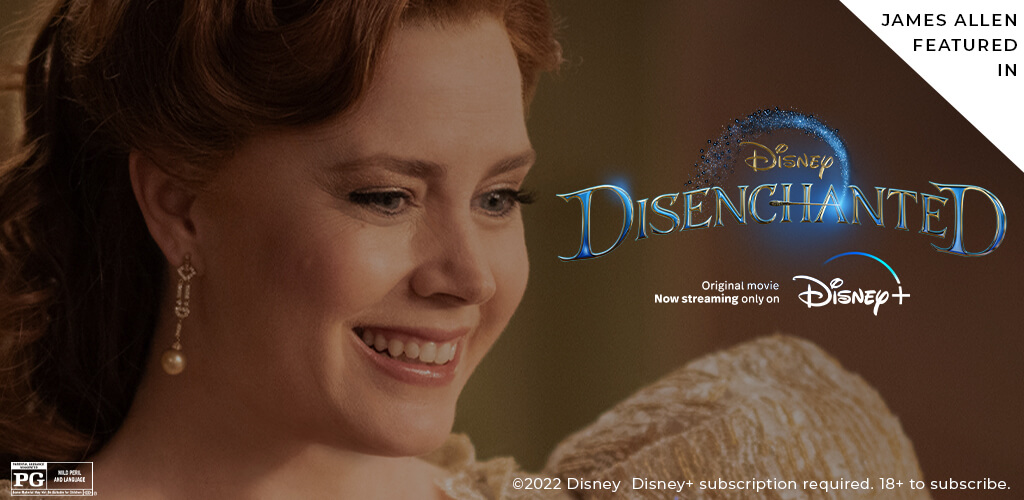 Not everyone's happily ever after looks the same, but if you picture yours with a fairytale wedding and the whole shebang, we foresee many potential occasions where you and your bride or groom-to-be may need some help dressing the part.
So settle in and make some popcorn because we're celebrating Disney's Disenchanted, now streaming on Disney+, featuring a stunning pair of James Allen pearl earrings. Let us walk you through every step of your journey to looking just as gorgeous as the Disney princesses and princes you know and love.
The Proposal
Everyone deserves their dream engagement ring. Make your proposal moment extra special by investing in a ring that truly reflects the love you have for your partner, and you're sure to get extra points if it matches your unique style! 
So, how do you get the ring you know they'll love? You could get their friends and family involved, use their current jewelry as a style guide, or design the ring together. Many couples opt for this more unconventional way, but it's foolproof to get that perfect sparkler!
Related Post: How To Buy An Engagement Ring: 10 Tips For Men & Women
Pre-Wedding Celebrations
Pre-wedding celebrations span from your engagement party, bachelor/bachelorette bash to your rehearsal dinner and other exciting events in between. It's the build up to your special day, and you deserve to look your best.
Not everyone likes to be the center of attention, but you're getting married! Let the people around you shower you with love, positive vibes, and maybe a cute accessory or two. Diamond jewelry for her, and plain metal jewelry for him, is the perfect way to dress up your celebratory looks.
Say I Do In Style
Choosing your wedding day jewelry can be nerve-racking, but knowing you can simply match your jewelry to your dress or suit should keep those pesky butterflies at bay. Bridal jewelry typically sways more towards timeless pearl pieces. Pearl jewelry is versatile in color and design and can prove to be inexpensive, particularly when bought from trusted online jewelry retailers. 
Get this stunning pair of James Allen pearl earrings featured in Disney's Disenchanted, now streaming on Disney+.
Out Of Office
It's honeymoon time, and there's an accessory for any adventure you've got planned. If you're going on an outdoor trip, on-the-go jewelry is the best choice for you. Don't let anyone tell you you can't wear a tennis bracelet with your activewear!
If your honeymoon plans look more like you on a beach day drinking and taking wow-worthy Insta pics, first, we're jealous, and second, we recommend a layered and stacked jewelry look with simple fine jewelry pieces.
And They All Lived…You know The Rest
We hope you get your happy ever after with a jewelry box full of items to remind you of your special journey. At JamesAllen.com, we love that we're a part of our customer's unique moments, from helping couples choose their engagement rings to finding the best anniversary gifts as the years go by. 
If you've found your princess or prince charming and you're ready to get down on one knee, visit us here, and we'll make sure every occasion is a sparkling one.